Abstract
Decisions and determinants of decisions to prolong or shorten life in the course of fatal diseases like ALS are poorly understood. Decisions and desire for hastened death of N = 93 ALS patients were investigated in a prospective longitudinal approach three times in the course of 1 year. Determinants of decisions were evaluated: quality of life (QoL), depression, feeling of being a burden, physical function, social support and cognitive status. More than half of patients had a positive attitude towards life-sustaining treatments and they had a low desire for hastened death. Of those with undecided or negative attitude, 10 % changed attitudes towards life-sustaining treatments in the course of 1 year. Patients' desire to hasten death was low and decreased significantly within 1 year despite physical function decline. Those with a high desire for hastened death decided against invasive therapeutic treatments. QoL, depression and social support were not predictors for vital decisions and remained stable. Feeling of being a burden was a predictor for decisions against life-supporting treatments. Throughout physical function loss, decisions to prolong life are flexibly adapted while desire to shorten life declines. QoL was stable and not a predictor for vital decisions, even though anticipated low QoL has been reported to be the reason to request euthanasia. In contrast, feeling of being a burden in decision making needs more attention in clinical counselling. Considering a patient's possible adaptation processes in the course of a fatal disease is necessary.
Access options
Buy single article
Instant access to the full article PDF.
US$ 39.95
Tax calculation will be finalised during checkout.
Subscribe to journal
Immediate online access to all issues from 2019. Subscription will auto renew annually.
US$ 159
Tax calculation will be finalised during checkout.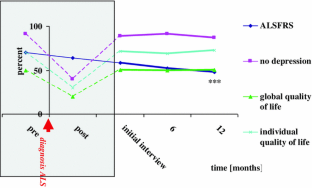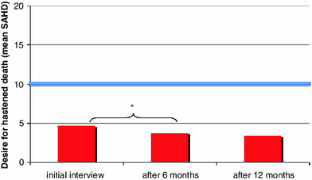 References
1.

Maessen M, Veldink JH, Onwuteaka-Philipsen BD, de Vries JM, Wokke JH, van der Wal G, van den Berg LH (2009) Trends and determinants of end-of-life practices in ALS in the Netherlands. Neurology 73(12):954–961

2.

Oliver DJ, Turner MR (2010) Some difficult decisions in ALS/MaND. Amyotroph Later Scler 11(4):339–343

3.

Veldink JH, Wokke JH, van der Wal G, Vianney de Jong JM, van den Berg LH (2002) Euthanasia and physician-assisted suicide among patients with amyotrophic lateral sclerosis in The Netherlands. N Engl J Med 346:1638–1644

4.

Ganzini L, Block S (2002) Physician-assisted death—a last resort? N Engl J Med 346:1663–1665

5.

Smets T, Bilsen J, Cohen J, Rurup ML, Mortier F, Deliens L (2010) Reporting of euthanasia in medical practice in Flanders, Belgium: cross sectional analysis of reported and unreported cases. BMJ 341:c5174

6.

Ganzini L, Johnston WS, Mcfarland BH, Tolle SW, Lee MA (1998) Attitudes of patients with amyotrophic lateral sclerosis and their care givers toward assisted suicide. N Engl J Med 339:967–973

7.

Ganzini L, Silveira MJ, Johnston WS (2002) Predictors and correlates of interest in assisted suicide in the final month of life among ALS patients in Oregon and Washington. J Pain Symptom Manage 24(3):312–317

8.

Ganzini L, Goy ER, Dobscha SK (2009) Oregonians' reasons for requesting physician aid in dying. Arch Intern Med 169(5):489–492

9.

Kühnlein P, Kübler A, Raubold S, Worell M, Kurt A, Gdynia HJ, Sperfeld AD, Ludolph AC (2008) Palliative care and circumstances of dying in German ALS patients using non-invasive ventilation. Amyotroph Later Scler 9:91–98

10.

Stutzki R, Schneider U, Reiter-Theil S, Weber M (2012) Attitudes toward assisted suicide and life-prolonging measures in Swiss ALS patients and their caregivers. Front Psychol 3:443

11.

Hogden A, Greenfield D, Nugus P, Kiernan MC (2012) What influences patient decision-making in amyotrophic lateral sclerosis multidisciplinary care? A study of patient perspectives. Patient Prefer Adherence 6:819–838

12.

Burchardi N, Rauprich O, Hecht M, Beck M, Vollmann J (2005) Discussing living wills. A qualitative study of a German sample of neurologists and ALS patients. J Neurol Sci 237(1–2):67–74

13.

Robinson EM, Phipps M, Purtilo RB, Tsoumas A, Hamel-Nardozzi M (2006) Complexities in decision making for persons with disabilities nearing end of life. Top Stroke Rehabil 13(4):54–67

14.

Bach JR (2003) Threats to "informed" advance directives for the severely physically challenged? Arch Phys Med Rehabil 84(4:2):23–28

15.

Matuz T, Birbaumer N, Hautzinger M, Kübler A (2010) Coping with amyotrophic lateral sclerosis: an integrative view. J Neurol Neurosurg Psychiatry 81(8):893–898

16.

Kübler A, Winter S, Ludolph AC, Hautzinger M, Birbaumer N (2005) Severity of depressive symptoms and quality of life in patients with amyotrophic lateral sclerosis. Neurorehabil Neural Repair 19:182–193

17.

Lulé D, Häcker S, Ludolph A, Birbaumer N, Kübler A (2008) Depression and quality of life in patients with amyotrophic lateral sclerosis. Dtsch Arztebl Int 105(23):397–403

18.

Lulé D, Ehlich B, Lang D, Sorg S, Heimrath J, Kübler A, Birbaumer N, Ludolph AC (2013) Quality of life in fatal disease: the flawed judgement of the social environment. J Neurol 260(11):2836–2843

19.

Ganzini L, Goy ER, Dobscha SK (2008) Prevalence of depression and anxiety in patients requesting physicians' aid in dying: cross sectional survey. BMJ 337:a1682

20.

Singer PA, Martin DK, Kelner M (1999) Quality end-of-life care: patients' perspectives. JAMA 281:163–168

21.

Phukan J, Elamin M, Bede P, Jordan N, Gallagher L, Byrne S, Lynch C, Pender N, Hardiman O (2012) The syndrome of cognitive impairment in amyotrophic lateral sclerosis: a population-based study. J Neurol Neurosurg Psychiatry 83(1):102–108

22.

Gordon PH, Salachas F, Lacomblez L, Le Forestier N, Pradat PF, Bruneteau G, Elbaz A, Meininger V (2012) Predicting survival of patients with amyotrophic lateral sclerosis at presentation: a 15-year experience. Neurodegener Dis 12(2):81–90

23.

Rowland LP, Shneider NA (2001) Amyotrophic lateral sclerosis. N Engl J Med 344:1688–1700

24.

Sullivan AD, Hedberg K, Fleming DW (2000) Legalized physician-assisted suicide in Oregon—the second year. N Engl J Med 342:598–604

25.

Cedarbaum JM, Stambler N, Malta E, Fuller C, Hilt D, Thurmond B, Nakanishi A (1999) The ALSFRS-R: a revised ALS functional rating scale that incorporates assessments of respiratory function. BDNF ALS Study Group (Phase III). J Neurol Sci 169(1–2):13–21

26.

Folstein MF, Folstein SE, McHugh PR (1975) Mini-mental state (a practical method for grading the state of patients for the clinician). J Psychiatr Res 12:189–198

27.

Rosenfeld B, Breitbart W, Stein K, Funesti-Esch J, Kaim M, Krivo S, Galietta M (1999) Measuring desire for death among the medically ill: the schedule of attitudes toward hastened death. Am J Psychiatry 156:94–100

28.

Bernheim JL (1999) How to get serious answers to the serious question: 'How have you been?': subjective quality of life (QOL) as an individual experiential emergent construct. Bioethics 13:272–287

29.

Hickey AM, Bury G, O'Boyle CA, Bradley F, O'Kelly FD, Shannon W (1996) A new short form individual quality of life measure (SEIQoL-DW): application in a cohort of individuals with HIV/AIDS. BMJ 313:29–33

30.

Hautzinger M, Bailer M, Hofmeister D, Keller F (2012) ADS—Allgemeine Depressionsskala., Tests infoHogrefe, Göttingen

31.

Fydrich T, Sommer G, Tydecks T, Brähler E (2009) Fragebogen zur sozialen Unterstützung (F-SozU): Normierung der Kurzform (K-14)Social Support Questionnaire (F-SozU): Standardization of short form (K-14). Z Med Psychol 18:1

32.

Aschenbrenner A, Tucha O, Lange K (1999) RWT Regensburger Wortflüssigkeits-test., HandanweisungHogrefe, Göttingen

33.

Brickenkamp R (1962) Aufmerskamkeits-Belastungs-Test (d2). Hogrefe, Göttingen

34.

Lulé D, Heizmann C, Sorg S, Ludolph AC (2010) With the blink of an eye: d2 attention test in the severely paralysed. Amyotroph Lateral Scler 11(1):143–149

35.

Robbins R, Simmons Z, Bremer B, Walsh S, Fischer S (2001) Quality of life in ALS is maintained as physical function declines. Neurology 56:442–444

36.

Roach AR, Averill AJ, Segerstrom SC, Kasarskis EJ (2009) The dynamics of quality of life in ALS patients and caregivers. Ann Behav Med 37(2):197–206

37.

Czell D, Bauer M, Binek J, Schocjh OD, Weber M (2013) Outcome of percutaneous endoscopic gastrostomy insertion in respiratory impaired amyotrophic lateral sclerosis patients under non-invasive ventilation. Respir Care 58(5):838–844

38.

Johnson JO, Sulmasy DP, Nolan MT (2007) Patients' experiences of being a burden on family in terminal illness. J Hosp Palliat Nurs 9(5):264–269

39.

McDonald ER, Hillel A, Wiedenfeld S (1996) Evaluation of the psychological status of ventilatory-supported patients with ALS/MND. Palliat Med 10:35–41

40.

Munroe CA, Sirdofsky MD, Kuru T, Anderson ED (2007) End-of-life decision making in 42 patients with amyotrophic lateral sclerosis. Respir Care 52(8):996–999
Acknowledgments
This is an EU Joint Programme—Neurodegenerative Disease Research (JPND) project. The project is supported through the following organisations under the aegis of JPND—http://www.jpnd.eu e.g. Germany, Bundesministerium für Bildung und Forschung (BMBF, FKZ), Sweden, Vetenskaprådet Sverige, and Poland, Narodowe Centrum Badán i Rozwoju (NCBR). This work was supported by the Deutsche Forschungsgemeinschaft (DFG 336/13-2 und BI 195/54-2) and the (BMBF #01GQ0831 and BMBF #01GM1103A).
Conflicts of interest
The authors declare that they have no conflict of interest.
About this article
Cite this article
Lulé, D., Nonnenmacher, S., Sorg, S. et al. Live and let die: existential decision processes in a fatal disease. J Neurol 261, 518–525 (2014). https://doi.org/10.1007/s00415-013-7229-z
Received:

Revised:

Accepted:

Published:

Issue Date:
Keywords
Palliative care

Quality of life

Depression

Decision

Amyotrophic lateral sclerosis