Abstract
The detection of Parkinson's disease (PD) at stages earlier than current diagnostic criteria allow for may increase the efficacy of disease-modifying therapies. Here we studied the relationship between retrospectively reported prodromal non-motor and motor features of PD, their pre-diagnostic presentation to physicians, and the extrapolated potential of an earlier diagnosis of PD considering early diagnostic markers detected at presence. One hundred and fifteen PD patients (41 women; age 63.2 ± 8.6 years) underwent a structured face-to-face interview on 22 prediagnostic symptoms. Present olfactory function, motor symptoms, and substantia nigra hyperechogenicity (SN-h) were assessed using standardized tools. Most frequently self-perceived symptoms in the early and very early prediagnostic phase (>2, >7 years prior to diagnosis) were hyposmia (23, 10 %), musculoskeletal pain (21, 9 %), and depression/anxiety (14, 11 %). In the late prediagnostic phase (≤2 years) mild motor signs, especially asymmetric bradykinesia and rest tremor, increasingly dominated the self-perception. In the prediagnostic phase, 99 % of patients consulted a physician because of motor symptoms but only 36 % with non-motor symptoms, mostly pain (20 %), depression/anxiety (9 %), constipation, bladder urgency, insomnia, REM sleep behaviour disorder, sexual dysfunction, and malignant melanoma (each, <6 %). Assuming the potential detectability of present hyposmia, asymmetric motor slowing and SN-h, a triad highly specific for PD, as early as 5 years prior to diagnosis, up to 84 (73 %) patients could have been identified in the prediagnostic phase using their or their physicians' awareness of early symptoms. We conclude that educating the general population and physicians on the importance of distinct prodromal features and applying symptom-specific diagnostic programs can improve the early detection of PD.
Access options
Buy single article
Instant access to the full article PDF.
USD 39.95
Price excludes VAT (USA)
Tax calculation will be finalised during checkout.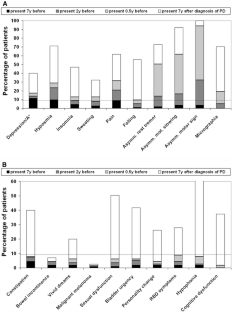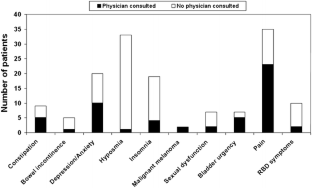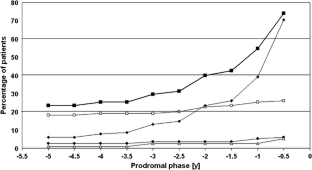 References
Fearnley JM, Lees AJ (1991) Ageing and Parkinson's disease: substantia nigra regional selectivity. Brain 114:2283–2301

Hawkes CH (2008) The prodromal phase of sporadic Parkinson's disease: does it exist and if so how long is it? Mov Disord 23:1799–1807

Tolosa E, Gaig C, Santamaría J, Compta Y (2009) Diagnosis and the premotor phase of Parkinson disease. Neurology 72(suppl 7):S12–S20

Vingerhoets FJ, Snow BJ, Lee CS, Schulzer M, Mak E, Calne DB (1994) Longitudinal fluorodopa positron emission tomographic studies of the evolution of idiopathic parkinsonism. Ann Neurol 36:759–764

Marek K, Jennings D (2009) Can we image premotor Parkinson disease? Neurology 72(suppl 7):S21–S26

Gaenslen A, Swid I, Liepelt-Scarfone I, Godau J, Berg D (2011) The patients' perception of prodromal symptoms before the initial diagnosis of Parkinson's disease. Mov Disord 26:653–658

Lang AE (2011) A critical appraisal of the premotor symptoms of Parkinson's disease: potential usefulness in early diagnosis and design of neuroprotective trials. Mov Disord 26:775–783

Stern MB, Siderowf A (2010) Parkinson's at risk syndrome: can Parkinson's disease be predicted? Mov Disord 25(suppl 1):S89–S93

Postuma RB, Gagnon JF, Vendette M, Desjardins C, Montplaisir JY (2011) Olfaction and color vision identify impending neurodegeneration in rapid eye movement sleep behavior disorder. Ann Neurol 69:811–818

Gonera EG, van't Hof M, Berger HJ, van Weel C, Horstink MW (1997) Symptoms and duration of the prodromal phase in Parkinson's disease. Mov Disord 12:871–876

Olsen JH, Friis S, Frederiksen K (2006) Malignant melanoma and other types of cancer preceding Parkinson disease. Epidemiology 17:582–587

Berg D, Godau J, Walter U (2008) Transcranial sonography in movement disorders. Lancet Neurol 7:1044–1055

Berg D, Behnke S, Seppi K et al (2013) Enlarged hyperechogenic substantia nigra as a risk marker for Parkinson's disease. Mov Disord 28:216–219

Busse K, Heilmann R, Kleinschmidt S et al (2012) Value of combined midbrain sonography, olfactory and motor function assessment in the differential diagnosis of early Parkinson's disease. J Neurol Neurosurg Psychiatry 83:441–447

Iranzo A, Lomeña F, Stockner H et al (2010) Decreased striatal dopamine transporter uptake and substantia nigra hyperechogenicity as risk markers of synucleinopathy in patients with idiopathic rapid-eye-movement sleep behaviour disorder: a prospective study. Lancet Neurol 9:1070–1077

Siderowf A, Jennings D, Eberly S et al (2012) Impaired olfaction and other prodromal features in the Parkinson At-Risk Syndrome Study. Mov Disord 27:406–412

Postuma RB, Lang AE, Gagnon JF, Pelletier A, Montplaisir JY (2012) How does parkinsonism start? Prodromal parkinsonism motor changes in idiopathic REM sleep behaviour disorder. Brain 135:1860–1870

Winkler J, Ehret R, Büttner T et al (2011) Parkinson's disease risk score: moving to a premotor diagnosis. J Neurol 258(suppl 2):S311–S315

Berg D, Marek K, Ross GW, Poewe W (2012) Defining at-risk populations for Parkinson's disease: lessons from ongoing studies. Mov Disord 27:656–665

Meara J, Bhowmick BK, Hobson P (1999) Accuracy of diagnosis in patients with presumed Parkinson's disease. Age Ageing 28:99–102

Fahn S, Elton RL, Members of the UPDRS Development Committee (1987) Unified Parkinson's disease rating scale. In: Fahn S, Marsden CD, Goldstein M, Calne DB (eds) Recent developments in Parkinson's disease II, 1st edn. Macmillan, New York, pp 153–163

Longstreth GF, Thompson WG, Chey WD, Houghton LA, Mearin F, Spiller RC (2006) Functional bowel disorders. Gastroenterology 130:1480–1491

Nègre-Pagès L, Regragui W, Bouhassira D, Grandjean H, Rascol O, DoPaMiP Study Group (2008) Chronic pain in Parkinson's disease: the cross-sectional French DoPaMiP survey. Mov Disord 23:1361–1369

Chaudhuri KR, Martinez-Martin P, Schapira AH et al (2006) International multicenter pilot study of the first comprehensive self-completed nonmotor symptoms questionnaire for Parkinson's disease: the NMSQuest study. Mov Disord 21:916–923

Schrag A, Barone P, Brown RG et al (2007) Depression rating scales in Parkinson's disease: critique and recommendations. Mov Disord 22:1077–1092

Lubeck DP, Prebil LA, Peeples P, Brown JS (1999) A health related quality of life measure for use in patients with urge urinary incontinence: a validation study. Qual Life Res 8:337–344

Hummel T, Konnerth CG, Rosenheim K, Kobal G (2001) Screening of olfactory function with a four-minute odor identification test: reliability, normative data, and investigations in patients with olfactory loss. Ann Otol Rhinol Laryngol 110:976–981

Walter U (2013) How to measure substantia nigra hyperechogenicity in Parkinson disease: detailed guide with video. J Ultrasound Med 32:1837–1843

Flohil SC, de Vries E, Neumann HA, Coebergh JW, Nijsten T (2011) Incidence, prevalence and future trends of primary basal cell carcinoma in the Netherlands. Acta Derm Venereol 91:24–30

Husmann G, Kaatsch P, Katalinic A, Bertz J, Haberland J, Kraywinkel K, Wolf U (2010) Malignant melanoma of the skin. In: Robert Koch Institute and Association of Population-based Cancer Registries in Germany (ed) Cancer in Germany 2005/2006. Incidence and trends. Robert Koch-Institut, Berlin, pp 52–55

Haehner A, Hummel T, Hummel C, Sommer U, Junghanns S, Reichmann H (2007) Olfactory loss may be a first sign of idiopathic Parkinson's disease. Mov Disord 22:839–842

Ross GW, Petrovitch H, Abbott RD et al (2008) Association of olfactory dysfunction with risk for future Parkinson's disease. Ann Neurol 63:167–173

Iwanami M, Miyamoto T, Miyamoto M, Hirata K, Takada E (2010) Relevance of substantia nigra hyperechogenicity and reduced odor identification in idiopathic REM sleep behavior disorder. Sleep Med 11:361–365

Müller B, Larsen JP, Wentzel-Larsen T, Skeie GO, Tysnes OB, Parkwest Study Group (2011) Autonomic and sensory symptoms and signs in incident, untreated Parkinson's disease: frequent but mild. Mov Disord 26:65–72

de Lau LM, Koudstaal PJ, Hofman A, Breteler MM (2006) Subjective complaints precede Parkinson disease: the Rotterdam study. Arch Neurol 63:362–365

Liu R, Gao X, Lu Y, Chen H (2011) Meta-analysis of the relationship between Parkinson disease and melanoma. Neurology 76:2002–2009

Stamey W, Davidson A, Jankovic J (2008) Shoulder pain: a presenting symptom of Parkinson disease. J Clin Rheumatol 14:253–254

Farnikova K, Krobot A, Kanovsky P (2012) Musculoskeletal problems as an initial manifestation of Parkinson's disease: a retrospective study. J Neurol Sci 319:102–104

Leentjens AF, Van den Akker M, Metsemakers JF, Lousberg R, Verhey FR (2003) Higher incidence of depression preceding the onset of Parkinson's disease: a register study. Mov Disord 18:414–418

Politis M, Wu K, Molloy S, Bain PG, Chaudhuri KR, Piccini P (2010) Parkinson's disease symptoms: the patient's perspective. Mov Disord 25:1646–1651

Paisán-Ruiz C, Houlden H (2010) Common pathogenic pathways in melanoma and Parkinson disease. Neurology 75:1653–1655

Diederich NJ, Pieri V, Hipp G, Rufra O, Blyth S, Vaillant M (2010) Discriminative power of different nonmotor signs in early Parkinson's disease. A case-control study. Mov Disord 25:882–887
Acknowledgments
The authors wish to thank Mrs. Kerstin Lange und Mrs. Cornelia Berger, technical assistants at the Parkinson Clinic "Waldklinik Bernburg GmbH", for performing the SS-12 tests.
Conflicts of interest
On behalf of all authors, the corresponding author states that there is no conflict of interest.
Additional information
S. Kleinschmidt and K. Busse contributed equally.
Electronic supplementary material
Below is the link to the electronic supplementary material.
About this article
Cite this article
Walter, U., Kleinschmidt, S., Rimmele, F. et al. Potential impact of self-perceived prodromal symptoms on the early diagnosis of Parkinson's disease. J Neurol 260, 3077–3085 (2013). https://doi.org/10.1007/s00415-013-7125-6
Received:

Revised:

Accepted:

Published:

Issue Date:

DOI: https://doi.org/10.1007/s00415-013-7125-6
Keywords
Parkinson's disease

Prodromal phase

Hyposmia

Pain

Substantia nigra hyperechogenicity