Abstract
Decisions to prolong or shorten life in fatal diseases like amyotrophic lateral sclerosis are strongly influenced by healthy individuals, such as caregivers and physicians. Furthermore, many believe that amyotrophic lateral sclerosis (ALS) patients should decide ahead of time on advanced directives to circumvent confounding effects of subsequent cognitive impairments. The ability of healthy persons (caregivers and age-matched healthy subjects) to anticipate patients' quality of life (QoL), depression and vital decisions was determined in a cross-sectional approach. Eighty-nine ALS patients, 86 caregivers and 102 age-matched healthy subjects were asked to judge ALS patients' QoL and depression and the patients' wish for hastened death. Patients judged their own, the caregivers judged that of the patient under their care, healthy subjects were asked to judge that of a virtual patient. Additionally, healthy persons were asked to judge their own QoL and depression. Patients reported a satisfactory well-being and a low wish for hastened death. Healthy persons rated the patients' QoL significantly lower and the rate of depression significantly higher. The wish for hastened death was significantly lower in the patient group compared to what healthy subjects thought the patient would wish. The assessment by others was closely related to the persons' own well-being. Significant differences were identified between caregiver's perspectives and the patient's own perception of their psychological well-being. Our data suggest that caregivers and the general public significantly underestimate the QoL of ALS patients. A positive affective state can indeed be preserved in a progressive, fatal disease.
Access options
Buy single article
Instant access to the full article PDF.
USD 39.95
Price excludes VAT (USA)
Tax calculation will be finalised during checkout.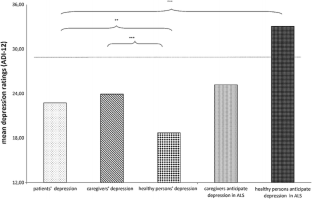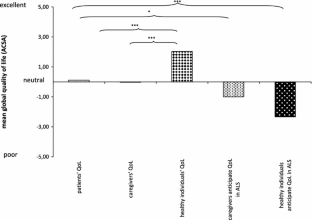 References
Kiernan MC, Vucic S, Cheah BC, Rurner MR, Eisen A, Hardiman O, Burrel JR, Zoing MC (2011) Amyotrophic lateral sclerosis. Lancet 377(9769):942–955

Miller RG, Jackson CE, Kasarskis EJ, England JD, Forshew D, Johnston W, Kalra S, Katz JS, Mitsumoto H, Rosenfweld J, Shoesmith C, Strong MJ, Woolley SC (2009) Practice parameter update: the care of the patient with amyotrophic lateral sclerosis: multidisciplinary care, symptom management, and cognitive/behavioral impairment (an evidence-based review): report of the Quality Standards Subcommittee of the American Academy of Neurology. Neurology 73(15):1227–1233

Livneh H, Antonak RF (2005) Psychosocial adaptation to chronic illness and disability: a primer for counselors. J Couns Develop 83(1):12–20

Kübler A, Winter S, Ludolph AC, Hautzinger M, Birbaumer N (2005) Severity of depressive symptoms and quality of life in patients with amyotrophic lateral sclerosis. Neurorehabil Neural Repair 19(3):182–193

Lulé D, Häcker S, Ludolph A, Birbaumer N, Kübler A (2008) Depression and quality of life in patients with amyotrophic lateral sclerosis. Dtsch Arztebl Int 105(23):397–403

Lulé D, Sorg S, Nonnenmacher S, Heimrath J, Lang D, Meyer T, Kübler A, Birbaumer N, Ludolph AC (2012) Wind of change—well-being and decisions in the course of ALS. Amyotroph Lateral Scler 13(1):1–58

Lulé D, Pauli S, Altintas E, Singer U, Merk T, Uttner I, Birbaumer N, Ludolph AC (2012) Emotional adjustment in amyotrophic lateral sclerosis (ALS). J Neurol 259(2):334–341

Neudert C, Wasner M, Borasio GD (2004) Individual quality of life is not correlated with health-related quality of life or physical function in patients with amyotrophic lateral sclerosis. J Palliat Med 7(4):551–557

Matuz T, Birbaumer N, Hautzinger M, Kübler A (2010) Coping with amyotrophic lateral sclerosis: an integrative view. J Neurol Neurosurg Psychiatry 81(8):893–898

Maessen M, Veldink JH, Onwuteaka-Philipsen BD, de Vries JHJ, Wokke G, van der Wal G, can den Berg LH (2009) Trends and determinants of end-of-life practices in ALS in the Netherlands. Neurology 73(12):954–961

Oliver DJ, Turner MR (2010) Some difficult decisions in ALS/MND. Amyotroph Lateral Scler 11(4):339–343

Sulmasy DP, Hughes MT, Thompson RE, Astrow AB, Terry PB, Kub J, Nolan MT (2007) How would terminally ill patients have others make decisions for them in the event of decisional incapacity? A longitudinal study. J Am Geriatr Soc 55(12):1981–1988

Bach JR (2003) Threats to "informed" advance directives for the severely physically challenged? Arch Phys Med Rehabil 84(4–2):23–28

Munroe CA, Sirdofsky MD, Kuru T, Anderson ED (2007) End-of-life decision making in 42 patients with amyotrophic lateral sclerosis. Respir Care 52(8):996–999

Moss AH, Casey P, Stocking CB, Roos RP, Brooks BR, Siegler M (1993) Home ventilation for amyotrophic lateral sclerosis patients: outcomes, costs, and patient, family, and physician attitudes. Neurology 43(2):438–443

Robinson EM, Phipps M, Purtilo RB, Tsoumas A, Hamel-Nardozzi M (2006) Complexities in decision making for persons with disabilities nearing end of life. Top Stroke Rehabil 13(4):54–67

Sharma RK, Hughes MT, Nolan MT, Tudor C, Kub J, Terry PB, Sulmasy DP (2011) Family understanding of seriously-ill patient preferences for family involvement in healthcare decision making. J Gen Intern Med 26(8):881–886

Shalowitz DI, Garrett-Mayer E, Wendler D (2006) The accuracy of surrogate decision makers: a systematic review. Arch Intern Med 166(5):493–497

Henderson G (2012) Why the way we are living may be bad for our mental well-being, and what we might choose to do about it: responding to a 21st Century public health challenge. Public Health 126(1):11–14

Budych K, Helms TM, Schultz C (2012) How do patients with rare diseases experience the medical encounter? Exploring role behavior and its impact on patient-physician interaction. Health Policy 105(2–3):154–164

Cedarbaum JM, Stambler N, Malta E, Fuller C, Hilt D, Thurmond B, Nakanishi A (1999) The ALSFRS-R: a revised ALS functional rating scale that incorporates assessments of respiratory function. BDNF ALS Study Group (Phase III). J Neurol Sci 169(1–2):13–21

Hammer EM, Häcker S, Hautzinger M, Meyer TD, Kübler A (2008) Validity of the ALS-Depression-Inventory (ADI-12)–a new screening instrument for depressive disorders in patients with amyotrophic lateral sclerosis. J Affect Disord 109(1–2):213–219

Bernheim JL (1999) How to get serious answers to the serious question: 'How have you been?': subjective quality of life (QOL) as an individual experiential emergent construct. Bioethics 13:272–287

Rosenfeld B, Breitbart W, Stein K, Funesti-Esch J, Kaim M, Krivo S, Galietta M (1999) Measuring desire for death among the medically ill: the schedule of attitudes toward hastened death. Am J Psychiatry 156:94–100

Grehl T, Rupp M, Budde P, Tegenthoff M, Fangerau H (2011) Depression and QOL in patients with ALS: how do self-ratings and ratings by relatives differ? Qual Life Res 20(4):569–574

Olsson AG, Markhede I, Strang S, Persson LI (2010) Well-being in patients with amyotrophic lateral sclerosis and their next of kin over time. Acta Neurol Scand 121(4):244–250

Pagnini F, Lunetta C, Rossi G, Banfi P, Gorni K, Cellotto N, Castelnuovo G, Molinari E, Corbo M (2011) Existential well-being and spirituality of individuals with amyotrophic lateral sclerosis is related to psychological well-being of their caregivers. Amyotroph Lateral Scler 12(2):105–108

Foley G, O'Mahony P, Hardiman O (2007) Perceptions of quality of life in people with ALS: effects of coping and health care. Amyotroph Lateral Scler 8(3):164–169

Montel S, Albertini L, Desnuelle C, Spitz E (2012) Evolution of quality of life, mental health, and coping strategies in als: a pilot study. J Palliat Med 15(11):1181–1184

Ganzini L, Block S (2002) Physician-assisted death—a last resort? N Engl J Med 346:1663–1665

Lemoignan J, Ells C (2010) Amyotrophic lateral sclerosis and assisted ventilation: how patients decide. Palliat Support Care 8(2):207–213

King SJ, Duke MM, O'Connor BA (2009) Living with amyotrophic lateral sclerosis/motor neurone disease (ALS/MND): decision-making about 'ongoing change and adaptation'. J Clin Nurs 18(5):745–754

Lulé D, Zickler C, Häcker S, Bruno MA, Demertzi A, Pellas F, Laureys S, Kübler A (2009) Life can be worth living in locked-in syndrome. Prog Brain Res 177:339–351

Kühnlein P, Kübler A, Raubold S, Worrell M, Kurt A, Gdynia HJ, Sperfeld AD, Ludolph AC (2008) Palliative care and circumstances of dying in German ALS patients using non-invasive ventilation. Amyotroph Lateral Scler 9(2):91–98

Veldink JH, Wokke JH, van der Wal G, Vianney de Jong JM, van den Berg LH (2002) Euthanasia and physician-assisted suicide among patients with amyotrophic lateral sclerosis in the Netherlands. N Engl J Med 346:1638–1644

White DB, Braddock CH III, Bereknyei S, Curtis JR (2007) Toward shared decision making at the end of life in intensive care units: opportunities for improvement. Arch Intern Med 167(5):461–467

Nolan MT, Hughes MT, Kub J, Terry PB, Astrow A, Thompson RE, Clawson L, Texeira K, Sulmasy DP (2009) Development and validation of the family decision-making self-efficacy scale. Palliat Support Care 7(3):315–321

Foley G (2011) The complexity of care in amyotrophic lateral sclerosis. Amyotroph Lateral Scler 12(3):160–161

Strong MJ, Grace GM, Freedman M, Lomen-Hoerth C, Woolley S, Goldstein L, Murphy J, Showsmith C, Rosenfeld J, Leigh PN, Bruijn L, Ince P, Figlewicz D (2009) Consensus criteria for the diagnosis of frontotemporal cognitive and behavioural syndromes in amyotrophic lateral sclerosis. Amyotroph Lateral Scler 2009(10):131–146

Rodriguez KL, Young AJ (2006) Patients' and healthcare providers' understandings of life-sustaining treatment: are perceptions of goals shared or divergent? Soc Sci Med 62(1):125–133
Acknowledgments
This work was funded by the Deutsche Forschungsgemeinschaft (DFG) and the Bundesministerium für Bildung und Forschung (BMBF #01GQ0831 und BMBF #01GM1103A).
Conflicts of interest
The authors declare that they have no conflict of interest.
About this article
Cite this article
Lulé, D., Ehlich, B., Lang, D. et al. Quality of life in fatal disease: the flawed judgement of the social environment. J Neurol 260, 2836–2843 (2013). https://doi.org/10.1007/s00415-013-7068-y
Received:

Revised:

Accepted:

Published:

Issue Date:

DOI: https://doi.org/10.1007/s00415-013-7068-y
Keywords