Abstract
Multiple sclerosis (MS) causes dizziness and vertigo. Reports suggest responsible lesions are often in the intra-pontine 8th nerve fascicle. We sought to determine frequency and clinical features of demyelinating acute vestibular syndrome (AVS). This is a prospective observational study (1999–2011). Consecutive AVS patients (vertigo, nystagmus, nausea/vomiting, head-motion intolerance, unsteady gait) with a risk for central localization underwent structured bedside examination and neuroimaging. When applicable, we identified MS based on clinical, imaging, and laboratory features. Of 170 AVS presentations, 4 % (n = 7) were due to demyelinating disease. Five had an acute MS plaque likely responsible for the clinical syndrome. Lesion location varied—1 medulla; 1 inferior cerebellar peduncle; 1 middle cerebellar peduncle; 1 posterior pontine tegmentum; 1 in the intrapontine 8th nerve fascicle; 1 superior cerebellar peduncle; 1 midbrain. Only two had a lesion in or near the intra-pontine 8th nerve fascicle. Three were first presentations (i.e., clinically isolated demyelinating syndrome), while the others were known MS. All had central oculomotor signs. In two patients, the only central sign was a normal horizontal head impulse test (h-HIT) of vestibular function. All patients improved with steroid therapy. Demyelinating disease was an uncommon cause of AVS in our series. Symptomatic lesions were not restricted to the 8th nerve fascicle. Five patients had relatively obvious oculomotor signs, making differentiation from vestibular neuritis straightforward. Two patients had unidirectional, horizontal nystagmus that followed Alexander's law and was suppressed with fixation (true pseudoneuritis). The presence of a normal h-HIT in these suggested central localization.
Access options
Buy single article
Instant access to the full article PDF.
US$ 39.95
Tax calculation will be finalised during checkout.
Subscribe to journal
Immediate online access to all issues from 2019. Subscription will auto renew annually.
US$ 159
Tax calculation will be finalised during checkout.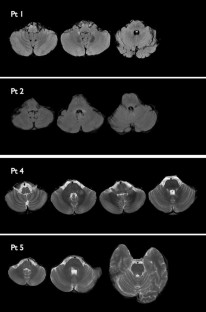 References
1.

Rae-Grant DA, Eckert NJ, Bartz S, Reed JF (1999) Sensory symptoms of multiple sclerosis: a hidden reservoir of morbidity. Mult Scler 5(3):179–183

2.

Tarnutzer AA, Berkowitz AL, Robinson KA, Hsieh YH, Newman-Toker DE (2011) Does my dizzy patient have a stroke? A systematic review of bedside diagnosis in acute vestibular syndrome. CMAJ 183(9):E571–E592

3.

Commins DJ, Chen JM (1997) Multiple sclerosis: a consideration in acute cranial nerve palsies. Am J Otol 18(5):590–595

4.

Frohman EM, Zhang H, Dewey RB, Hawker KS, Racke MK, Frohman TC (2000) Vertigo in MS: utility of positional and particle repositioning maneuvers. Neurology 55(10):1566–1569

5.

Anagnostou E, Mandellos D, Limbitaki G, Papadimitriou A, Anastasopoulos D (2006) Positional Nystagmus and vertigo due to a solitary brachium conjunctivum plaque. J Neurol Neurosurg Psychiatry 77:790–792

6.

Anagnostou E, Varaki K, Anastasopoulos D (2008) A minute demyelinating lesion causing acute positional vertigo. J Neurol Sci 266:187–189

7.

Degirmenci E, Bir LS, Ardic FN (2010) Clinical and electronystagmographical evaluation of vestibular symptoms in relapsing remitting multiple sclerosis. Neurol Res 32:986–991

8.

Newman-Toker DE, Kattah JC, Alvernia JE, Wang DZ (2008) Normal head impulse test differentiates acute cerebellar strokes from vestibular neuritis. Neurology 70(24 Pt 2):2378–2385

9.

Kattah JC, Talkad AV, Wang DZ, Hsieh YH, Newman-Toker DE (2009) HINTS to diagnose stroke in the acute vestibular syndrome: three-step bedside oculomotor examination more sensitive than early MRI diffusion-weighted imaging. Stroke 40(11):3504–3510

10.

Peyvandi A, Naghibzadeh B, Roozbahany N (2011) Neuro-otologic Manifestations of Multiple Sclerosis. Arch Iran Med 13:188–192

11.

Zaffaroni M, Baldini SM, Ghezzi A (2001) Cranial nerve, brainstem and cerebellar syndromes in the differential diagnosis of multiple sclerosis. Neurol Sci 22:S74–S78

12.

Cnyrim CD, Newman-Toker D, Karch C, Brandt T, Strupp M (2008) Bedside differentiation of vestibular neuritis from central "vestibular pseudoneuritis". J Neurol Neurosurg Psychiatry 79(4):458–460

13.

Zhang Y, Chen X, Wang X, Cao L, Dong Z, Zhen J, Li G, Zhao Z (2011) A Clinical Epidemiological Study in 187 patients with vertigo. Cell Biochem Biophys 59:109–112

14.

Schumacher GA (1967) Demyelinating diseases as a cause for vertigo. Arch Otolaryng 85:93–94

15.

Strupp M, Brandt T (2009) Vestibular Neuritis. Semin Neurol 29:509–519

16.

Thömke F, Lensch E, Ringel K, Hopf H (1997) Isolated cranial nerve palsies in multiple sclerosis. J Neurol Neurosurg Psychiatry 63:682–685

17.

Schick B, Brors D, Koch O, Schäfers M, Kahle G (2001) Magnetic resonance imaging in patients with sudden hearing loss, tinnitus and vertigo. Otol Neurotol 2:808–812

18.

Finke C, Ploner C (2009) Pearls and Oysters: vestibular neuritis or not? The significance of head tilt in a patient with rotatory vertigo. Neurology 72:e101–e102

19.

Tsunoda A, Komatsuzaki A, Muraoka H, Gou-Tsu K (1995) A case with symptoms of vestibular neuronitis caused by an intramedullary lesion. J Laryngol Otol 109:545–548

20.

Sasaki O, Ootsuka K, Tagucki K, Kikukawa M (1994) Multiple sclerosis presented acute hearing loss and vertigo. ORL 56:55–59

21.

Frohman EM, Zhang H, Dewey RB, Hawker KS, Racke MK, Frohman TC (2000) Vertigo in MS: utility of positional and particle repositioning maneuvers. Neurology 55:1566–1568
Conflicts of interest
The authors have no conflicts of interest to report
Ethical Standard
This study has been approved by the appropriate ethics committee and has therefore been performed in accordance with the ethical standards laid down in the 1964 Declaration of Helsinki and its later amendments.
About this article
Cite this article
Pula, J.H., Newman-Toker, D.E. & Kattah, J.C. Multiple sclerosis as a cause of the acute vestibular syndrome. J Neurol 260, 1649–1654 (2013). https://doi.org/10.1007/s00415-013-6850-1
Received:

Revised:

Accepted:

Published:

Issue Date:
Keywords
Multiple sclerosis

Acute vestibular syndrome

Vertigo

Dizziness

HINTS

Nystagmus