Abstract
Mutations in the skeletal muscle ryanodine receptor (RYR1) gene are a common cause of inherited neuromuscular disorders and have been associated with a wide clinical spectrum, ranging from various congenital myopathies to the malignant hyperthermia susceptibility (MHS) trait without any associated weakness. RYR1-related myopathies are usually of early-childhood onset. Here we present 11 patients from 8 families with a late-onset axial myopathy associated with RYR1 variants. Patients presented between the third and seventh decade of life to neuromuscular centres in Norway, the Netherlands and the United Kingdom with predominant axial muscle involvement, comprising variable degrees of lumbar hyperlordosis, scapular winging and/or camptocormia. Marked myalgia was commonly associated. Serum creatine kinase levels were normal or moderately elevated. Muscle imaging showed consistent involvement of the lower paravertebral muscles and the posterior thigh. Muscle biopsy findings were often discrete, featuring variability in fibre size, increased internal nuclei and unevenness of oxidative enzyme staining, but only rarely overt cores. RYR1 sequencing revealed heterozygous missense variants, either previously associated with the MHS trait or localizing to known MHS mutational hotspots. These findings indicate that MHS-related RYR1 mutations may present later in life with prominent axial weakness but not always typical histopathological features. We propose a combined effect of RyR1 dysfunction, aging and particular vulnerability of axial muscle groups as a possible pathogenic mechanism. RYR1 is a candidate for cases with "idiopathic" camptocormia or bent spine syndrome (BSS).
Access options
Buy single article
Instant access to the full article PDF.
US$ 39.95
Tax calculation will be finalised during checkout.
Subscribe to journal
Immediate online access to all issues from 2019. Subscription will auto renew annually.
US$ 159
Tax calculation will be finalised during checkout.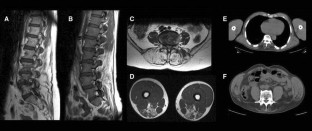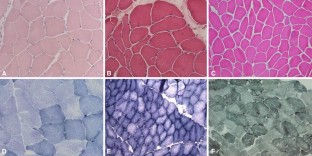 References
1.

Rosenberg H, Rueffert H (2011) Clinical utility gene card for: malignant hyperthermia. Eur J Hum Genet 19(6) doi:10.1038/ejhg.2010.248

2.

Jungbluth H, Sewry CA, Muntoni F (2011) Core myopathies. Semin Pediatr Neurol 18(4):239–249

3.

Wilmshurst JM, Lillis S, Zhou H, Pillay K, Henderson H, Kress W, Muller CR, Ndondo A, Cloke V, Cullup T, Bertini E, Boennemann C, Straub V, Quinlivan R, Dowling JJ, Al-Sarraj S, Treves S, Abbs S, Manzur AY, Sewry CA, Muntoni F, Jungbluth H (2010) RYR1 mutations are a common cause of congenital myopathies with central nuclei. Ann Neurol 68(5):717–726

4.

Clarke NF, Waddell LB, Cooper ST, Perry M, Smith RL, Kornberg AJ, Muntoni F, Lillis S, Straub V, Bushby K, Guglieri M, King MD, Farrell MA, Marty I, Lunardi J, Monnier N, North KN (2010) Recessive mutations in RYR1 are a common cause of congenital fiber type disproportion. Hum Mutat 31(7):E1544–1550. doi:10.1002/humu.21278

5.

Klein A, Lillis S, Munteanu I, Scoto M, Zhou H, Quinlivan R, Straub V, Manzur AY, Roper H, Jeannet PY, Rakowicz W, Jones DH, Jensen UB, Wraige E, Trump N, Schara U, Lochmuller H, Sarkozy A, Kingston H, Norwood F, Damian M, Kirschner J, Longman C, Roberts M, Auer-Grumbach M, Hughes I, Bushby K, Sewry C, Robb S, Abbs S, Jungbluth H, Muntoni F (2012) Clinical and genetic findings in a large cohort of patients with ryanodine receptor 1 gene-associated myopathies. Hum Mutat 33(6):981–988

6.

Jungbluth H, Lillis S, Zhou H, Abbs S, Sewry C, Swash M, Muntoni F (2009) Late-onset axial myopathy with cores due to a novel heterozygous dominant mutation in the skeletal muscle ryanodine receptor (RYR1) gene. Neuromuscul Disord 19(5):344–347

7.

Robinson R, Carpenter D, Shaw MA, Halsall J, Hopkins P (2006) Mutations in RYR1 in malignant hyperthermia and central core disease. Hum Mutat 27(10):977–989

8.

Broman M, Gehrig A, Islander G, Bodelsson M, Ranklev-Twetman E, Ruffert H, Muller CR (2009) Mutation screening of the RYR1-cDNA from peripheral B-lymphocytes in 15 Swedish malignant hyperthermia index cases. Br J Anaesth 102(5):642–649

9.

Groom L, Muldoon SM, Tang ZZ, Brandom BW, Bayarsaikhan M, Bina S, Lee HS, Qiu X, Sambuughin N, Dirksen RT (2011) Identical de novo mutation in the type 1 ryanodine receptor gene associated with fatal, stress-induced malignant hyperthermia in two unrelated families. Anesthesiology 115(5):938–945

10.

Klein A, Jungbluth H, Clement E, Lillis S, Abbs S, Munot P, Pane M, Wraige E, Schara U, Straub V, Mercuri E, Muntoni F (2011) Muscle magnetic resonance imaging in congenital myopathies due to ryanodine receptor type 1 gene mutations. Arch Neurol 68(9):1171–1179

11.

Jungbluth H, Davis MR, Muller C, Counsell S, Allsop J, Chattopadhyay A, Messina S, Mercuri E, Laing NG, Sewry CA, Bydder G, Muntoni F (2004) Magnetic resonance imaging of muscle in congenital myopathies associated with RYR1 mutations. Neuromuscul Disord 14(12):785–790

12.

Renard D, Castelnovo G, Fernandez C, De Paula AM, Penttila S, Suominen T, Udd B (2012) Camptocormia as presenting sign in myofibrillar myopathy. Neuromuscul Disord 22(11):987–989

13.

Lenoir T, Guedj N, Boulu P, Guigui P, Benoist M (2010) Camptocormia: the bent spine syndrome, an update. Eur Spine J 19(8):1229–1237

14.

Laroche M, Delisle MB, Aziza R, Lagarrigue J, Mazieres B (1995) Is camptocormia a primary muscular disease? Spine 20(9):1011–1016

15.

Laroche M, Cintas P (2010) Bent spine syndrome (camptocormia): a retrospective study of 63 patients. Joint Bone Spine 77(6):593–596

16.

Dowling JJ, Lillis S, Amburgey K, Zhou H, Al-Sarraj S, Buk SJ, Wraige E, Chow G, Abbs S, Leber S, Lachlan K, Baralle D, Taylor A, Sewry C, Muntoni F, Jungbluth H (2011) King-Denborough syndrome with and without mutations in the skeletal muscle ryanodine receptor (RYR1) gene. Neuromuscul Disord 21(6):420–427

17.

Sambuughin N, Capacchione J, Blokhin A, Bayarsaikhan M, Bina S, Muldoon S (2009) The ryanodine receptor type 1 gene variants in African American men with exertional rhabdomyolysis and malignant hyperthermia susceptibility. Clin Genet 76(6):564–568

18.

Guis S, Figarella-Branger D, Monnier N, Bendahan D, Kozak-Ribbens G, Mattei JP, Lunardi J, Cozzone PJ, Pellissier JF (2004) Multiminicore disease in a family susceptible to malignant hyperthermia: histology, in vitro contracture tests, and genetic characterization. Arch Neurol 61(1):106–113

19.

Rosenberg H, Davis M, James D, Pollock N, Stowell K (2007) Malignant hyperthermia. Orphanet J Rare Dis 2:21

20.

Andersson DC, Betzenhauser MJ, Reiken S, Meli AC, Umanskaya A, Xie W, Shiomi T, Zalk R, Lacampagne A, Marks AR (2011) Ryanodine receptor oxidation causes intracellular calcium leak and muscle weakness in aging. Cell Metab 14(2):196–207

21.

Dowling JJ, Arbogast S, Hur J, Nelson DD, McEvoy A, Waugh T, Marty I, Lunardi J, Brooks SV, Kuwada JY, Ferreiro A (2012) Oxidative stress and successful antioxidant treatment in models of RYR1-related myopathy. Brain 135(Pt 4):1115–1127

22.

Arbogast S, Beuvin M, Fraysse B, Zhou H, Muntoni F, Ferreiro A (2009) Oxidative stress in SEPN1-related myopathy: from pathophysiology to treatment. Ann Neurol 65(6):677–686
Acknowledgments
The authors wish to thank all participating families. Family members gave consent to the publication of their photographs and information. Support from the National Commissioning Group (NCG) of the United Kingdom to the Dubowitz Neuromuscular Centre and Guy's Hospital is gratefully acknowledged. We would like to thank Dr Mark Davis, Perth, Western Australia, for constructive discussions and critically reading our manuscript.
Conflicts of interest
The authors do have no conflict of interest to declare.
Additional information
S. Løseth and N. C. Voermans contributed equally.
Electronic supplementary material
Below is the link to the electronic supplementary material.
About this article
Cite this article
Løseth, S., Voermans, N.C., Torbergsen, T. et al. A novel late-onset axial myopathy associated with mutations in the skeletal muscle ryanodine receptor (RYR1) gene. J Neurol 260, 1504–1510 (2013). https://doi.org/10.1007/s00415-012-6817-7
Received:

Revised:

Accepted:

Published:

Issue Date:
Keywords
Skeletal muscle ryanodine receptor (RYR1) gene
RYR1 mutations

Malignant hyperthermia susceptibility (MHS)

Axial myopathy

Camptocormia