Abstract
Central neuropathic pain (CNP) occurs in many multiple sclerosis (MS) patients. The provision of adequate pain relief to these patients can very difficult. Here we report the first phase III placebo-controlled study of the efficacy of the endocannabinoid system modulator delta-9-tetrahydrocannabinol (THC)/cannabidiol (CBD) oromucosal spray (USAN name, nabiximols; Sativex, GW Pharmaceuticals, Salisbury, Wiltshire, UK), to alleviate CNP. Patients who had failed to gain adequate analgesia from existing medication were treated with THC/CBD spray or placebo as an add-on treatment, in a double-blind manner, for 14 weeks to investigate the efficacy of the medication in MS-induced neuropathic pain. This parallel-group phase of the study was then followed by an 18-week randomized-withdrawal study (14-week open-label treatment period plus a double-blind 4-week randomized-withdrawal phase) to investigate time to treatment failure and show maintenance of efficacy. A total of 339 patients were randomized to phase A (167 received THC/CBD spray and 172 received placebo). Of those who completed phase A, 58 entered the randomized-withdrawal phase. The primary endpoint of responder analysis at the 30 % level at week 14 of phase A of the study was not met, with 50 % of patients on THC/CBD spray classed as responders at the 30 % level compared to 45 % of patients on placebo (p = 0.234). However, an interim analysis at week 10 showed a statistically significant treatment difference in favor of THC/CBD spray at this time point (p = 0.046). During the randomized-withdrawal phase, the primary endpoint of time to treatment failure was statistically significant in favor of THC/CBD spray, with 57 % of patients receiving placebo failing treatment versus 24 % of patients from the THC/CBD spray group (p = 0.04). The mean change from baseline in Pain Numerical Rating Scale (NRS) (p = 0.028) and sleep quality NRS (p = 0.015) scores, both secondary endpoints in phase B, were also statistically significant compared to placebo, with estimated treatment differences of −0.79 and 0.99 points, respectively, in favor of THC/CBD spray treatment. The results of the current investigation were equivocal, with conflicting findings in the two phases of the study. While there were a large proportion of responders to THC/CBD spray treatment during the phase A double-blind period, the primary endpoint was not met due to a similarly large number of placebo responders. In contrast, there was a marked effect in phase B of the study, with an increased time to treatment failure in the THC/CBD spray group compared to placebo. These findings suggest that further studies are required to explore the full potential of THC/CBD spray in these patients.
This is a preview of subscription content, log in to check access.
Access options
Buy single article
Instant access to the full article PDF.
US$ 39.95
Price includes VAT for USA
Subscribe to journal
Immediate online access to all issues from 2019. Subscription will auto renew annually.
US$ 199
This is the net price. Taxes to be calculated in checkout.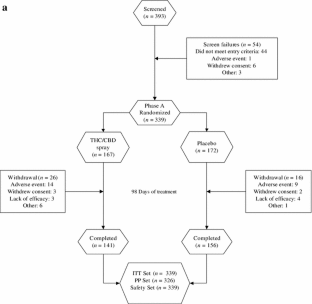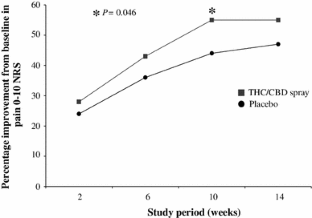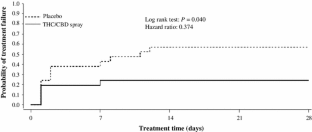 References
1.

Richards RG, Sampson FC, Beard SM, Tappenden P (2006) A review of the natural history and epidemiology of multiple sclerosis: implications for resource allocation and health economic models. Health Technol Assess 6(10):1–73

2.

Fox CM, Bensa S, Bray I, Zajicek JP (2004) The epidemiology of multiple sclerosis in Devon: a comparison of the new and old classification criteria. J Neurol Neurosurg Psychiatry 75:56–60

3.

Merskey H, Bogduk N (1994) Classification of chronic pain. IASP Press, Seattle, pp 1–222

4.

Clifford DB, Trotter JL (1984) Pain in multiple sclerosis. Arch Neurol 41:1270–1272

5.

Vermote R, Ketelaer P, Carton H (1986) Pain in multiple sclerosis patients. Clin Neurol Neurosurg 88:87–93

6.

Moulin DE, Foley KM, Ebers GC (1988) Pain syndromes in multiple sclerosis. Neurology 38:1830–1834

7.

Stenager E, Knudsen L, Jensen K (1991) Acute and chronic pain syndromes in multiple sclerosis. Acta Neurol Scand 84:197–200

8.

Bonica JJ (1991) Introduction Semantic, Epidemiologic, and Educational Issues. In: Casey KL (ed) Pain and Central Nervous System Disease The Central Pain Syndromes. Raven Press, Ltd. New York 21

9.

Dworkin RH, O'Connor AB, Backonja M, Farrar JT, Finnerup NB, Jensen TS et al (2007) Pharmacologic management of neuropathic pain: evidence-based recommendations. Pain 132(3):237–251

10.

Saarto T, Wiffen P. Antidepressants for neuropathic pain (2005) The Cochrane Database of Systematic Reviews, Issue 3. Art. No.: CD005454

11.

Wiffen PJ, McQuay HJ, Moore RA (2005) Carbamazepine for acute and chronic pain. The Cochrane Database of Systematic Reviews, Issue 3. Art. No.: CD005451

12.

Zajicek P, Apostu VI (2011) Role of cannabinoids in multiple sclerosis. CNS Drugs 25(8):187–201

13.

Cheng Y, Hitchcock SA (2007) Targeting cannabinoid agonists for inflammatory and neuropathic pain. Expert Opin Investig Drugs 16(7):951–965

14.

Howlett AC, Barth F, Bonner TI, Cabral G, Casellas P, Devane WA et al (2002) International union of pharmacology. XXVII. Classification of cannabinoid receptors. Pharmacol Rev 54(2):161–202

15.

Pertwee RG (2007) Cannabinoids and multiple sclerosis. Mol Neurobiol 36:45–59

16.

Ryberg E, Larsson N, Sjogren S, Hjorth S, Hermannson NO, Leonova J et al (2007) The orphan receptor GPR55 is a novel cannabinoid receptor. Br J Pharmacol 152:984–986

17.

Pertwee R (2001) Cannabinoid receptors and pain. Prog Neuro-biol 63:569–611

18.

Begg M, Dale N, Llaudet E, Molleman A (2002) Modulation of the release of endogenous adenosine by cannabinoids in the myenteric plexus-longitudinal muscle preparation of the guinea-pig ileum. Br J Pharmacol 137(8):1298–1304

19.

MHRA Public Assessment Report. Nabiximols Oromucosal Spray (delta-9-tetrahydrocannabinol and cannabidiol)—PL 18024/0009; UK/H/2462/001/DC http://www.mhra.gov.uk/home/groups/par/documents/websiteresources/con084961.pdf (2010, accessed November 2011)

20.

Rog DJ, Nurmikko TJ, Friede T, Young CA (2005) Randomized controlled trial of cannabis based medicine in central pain due to multiple sclerosis. Neurology 65:812–819

21.

Rog DJ, Nurmikko TJ, Young CA (2007) Oromucosal delta-9- tetrahydrocannabinol/cannabidiol for neuropathic pain associated with multiple sclerosis: an uncontrolled, open-label, 2-year extension trial. Clin Ther 29(9):2068–2079

22.

Iskedjian M, Brezza B, Gordon A, Piwko C, Einarson TR (2007) Meta-analysis of cannabis based treatments for neuropathic and multiple sclerosis-related pain. Curr Med Res Opin 23(1):17–24

23.

Berman JS, Symonds C, Birch R (2004) Efficacy of two cannabis-based medicinal extracts for relief of central neuropathic pain from brachial plexus avulsion: results of a randomised controlled trial. Pain 299:306

24.

Nurmikko TJ, Serpell MG, Hoggart B, Toomey PJ, Morlion BJ, Haines D (2007) Sativex successfully treats neuropathic pain characterised by allodynia: a randomised double-blind, placebo-controlled clinical trial. Pain 133:210–220

25.

Richter RW, Portenoy R, Sharma U, Lamoreaux L, Bockbrader H, Knapp LE (2005) Relief of painful diabetic peripheral neuropathy with pregabalin: a randomized, placebo-controlled trial. J Pain 6(4):253–260

26.

Selvarajah D, Gandhi R, Witte D, Bowler H, Emery C, Tesfaye S (2006) Treatment of painful diabetic neuropathy with Nabiximols (a cannabis-based medicinal product)—results of a randomised placebo controlled trial. Diabetologia 49(Suppl 1):671–672

27.

The Committee For Medicinal Products For Human Use (CHMP) Guideline On Clinical Investigation Of Medicinal Products Intended For The Treatment Of Neuropathic Pain, London, 18 November 2004 CHMP/EWP/252/03

28.

McQuay HJ, Derry S, Moore RA, Poulain P, Legout V (2008) Enriched enrolment with randomised withdrawal (EERW): time for a new look at clinical trial design in chronic pain. Pain 135(3):217–220
Acknowledgments
This study was sponsored and fully funded by GW Pharma Ltd. Investigators received research grants from GW Pharma Ltd to cover the costs of the study and had an input into the writing of this paper.
Conflicts of interest
R. Langford, J. Mares, A. Novotna, M. Vachora, I. Novakova, W. Notcutt, and S. Ratcliffe were all investigators in this study and their organizations received investigator fees from GW Pharma Ltd. accordingly for their participation in the study. R. Langford, W. Notcutt, and S. Ratcliffe have received consultancy and speaker fees from GW Pharma Ltd. to attend meetings.
Ethical standard
All human studies must state that they have been approved by the appropriate ethics committee and have therefore been performed in accordance with the ethical standards laid down in the 1964 Declaration of Helsenki.
Additional information
Sativex, a THC/CBD oromucosal spray, does not have an INN. Nabiximols is the US Adopted Name (USAN).
About this article
Cite this article
Langford, R.M., Mares, J., Novotna, A. et al. A double-blind, randomized, placebo-controlled, parallel-group study of THC/CBD oromucosal spray in combination with the existing treatment regimen, in the relief of central neuropathic pain in patients with multiple sclerosis. J Neurol 260, 984–997 (2013). https://doi.org/10.1007/s00415-012-6739-4
Received:

Revised:

Accepted:

Published:

Issue Date:
Keywords
Cannabidiol

Cannabinoid

Central neuropathic pain

Delta-9-tetrahydrocannabinol

Multiple sclerosis

THC/CBD oromucosal spray