Abstract
The distressing phenomenon of visual height intolerance (vHI) occurs when a visual stimulus causes apprehension of losing control of balance and falling from some height. Epidemiological data of this condition in the general population are lacking. Assignment of prevalence, determinants, and compensation of vHI was performed in a cross-sectional epidemiological study of 3,517 individuals representing the German population. Life-time prevalence of vHI is 28 % (females 32 %). A higher prevalence is associated independently with a family history of vHI, anxiety disorders, migraine, or motion sickness susceptibility. Women aged 50–59 have a higher prevalence than younger women or men of all ages. Initial attacks occur most often (30 %) in the second decade; however, attacks can manifest throughout life. The main symptoms are fearfulness, inner agitation, a queasy-stomach feeling, subjective postural instability with to-and-fro vertigo, and weakness in the knees. Climbing a tower is the first most common precipitating stimulus; the spectrum of such stimuli widens with time in more than 50 % of afflicted individuals. The most frequent reaction to vHI is to avoid the triggering stimuli (>50 %); 11 % of susceptible individuals consult a doctor, most often a general practitioner, neurologist, ENT doctor, or psychiatrist. In brief, visual height intolerance affects one-third of the general population, considerably restricting the majority of these individuals in their daily activities. The data show that the two terms do not indicate a categorical distinction but rather a continuum from slight forms of visual height intolerance to the specific phobia of fear of heights.
Access options
Buy single article
Instant access to the full article PDF.
US$ 39.95
Tax calculation will be finalised during checkout.
Subscribe to journal
Immediate online access to all issues from 2019. Subscription will auto renew annually.
US$ 159
Tax calculation will be finalised during checkout.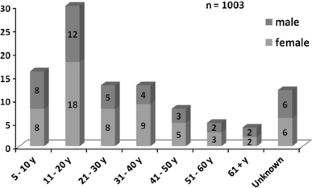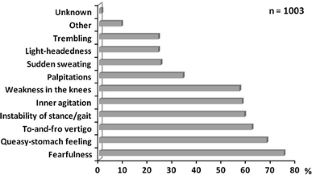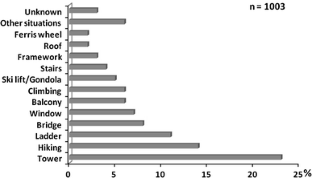 References
1.

Agras S, Sylvester D, Oliveau D (1969) The epidemiology of common fears and phobia. Compr Psychiatry 10:151–156

2.

American Psychiatric Association, Committee on Nomenclature and Statistics (2000) Diagnostic and Statistical Manual of Mental Disorders, 4th edn, text revision. American Psychiatric Press, Washington, DC

3.

Balaban CD, Jacob RG (2001) Background and history of the interface between anxiety and vertigo. J Anxiety Disord 15:27–51

4.

Bauer M, Huppert D, Brandt T (2012) Fear of heights in ancient China. J Neurol 259:2223–2225

5.

Becker ES, Rinck M, Türke V et al (2007) Epidemiology of specific phobia subtypes: findings from the Dresden Mental Health Study. Eur Psychiatry 22:69–74

6.

Bles W, Kapteyn TS, Brandt T, Arnold F (1980) The mechanism of physiological height vertigo. II. Posturography. Acta Otolaryngol 89:534–540

7.

Brandt T, Arnold F, Bles W, Kapteyn TS (1980) The mechanism of physiological height vertigo. I. Theoretical approach and psychophysics. Acta Otolaryngol 89:513–523

8.

Brandt T, Benson J, Huppert D (2012) What to call "non-phobic" fear of heights? Br J Psychiatry 190:81. doi:10.1192/bjp.190.1.81a

9.

Brandt T, Strupp M, Huppert D (2012) Height intolerance: an underrated threat. J Neurol 259:759–760

10.

Coelho CM, Wallis G (2010) Deconstructing acrophobia: physiological and psychological precursors to developing a fear of heights. Depress Anxiety 27:864–870

11.

Curtis GC, Magee WJ, Eaton WW, Wittchen HU (1998) Specific fears and phobias. Epidemiology and classification. Br J Psychiatry 173:212–217

12.

Darwin E (1803) Zoonomia or, the laws of organic life, Volume I. Reprint of initial issue (2009), Scholars Publishing, Cambridge

13.

De Girolamo G, Polidori G, Morosini P et al (2006) Prevalence of common mental disorders in Italy. Results from the European Study of the Epidemiology of Mental Disorders (ESENeD). Soc Psychiatry Psychiatr Epidemiol 41:853–861

14.

Depla MF, ten Have ML, van Balkom AJ, de Graaf R (2008) Specific fears and phobias in the general population: results from the Netherlands Mental Health Survey and Incidence Study (NEMESIS). Soc Psychiatry Psychiatr Epidemiol 43:200–208

15.

Furman JM, Balaban CD, Jacob RG, Marcus DA (2005) Migraine-anxiety related dizziness (MARD): a new disorder? J Neurol Neurosurg Psychiatry 76:1–8

16.

LeBeau RT, Glenn D, Liao B et al (2010) Specific phobia: a review of DSM-IV specific phobia and preliminary recommendations for DSM-V. Depress Anxiety 27:148–167

17.

Neuhauser H, Ellert U, Ziese T (2005) Chronic back pain in the general population in Germany 2002/2003: prevalence and highly affected population groups. Gesundheitswesen 67:685–693

18.

Öst LG (2009) Spezifische Phobien. In: Margraf J (ed) Lehrbuch der Verhaltenstherapie, vol 2. Springer, Berlin Heidelberg New York, pp 29–42

19.

Oosterink F, de Jongh A, Hoogstraten J (2009) Prevalence of dental fear and phobia relative to other fear and phobia types. Eur J Oral Sci 117:135–143

20.

Rennert H (1990) Höhenschwindel, Höhenangst und Höhenphobie. Psychiatr Neurol Med Psychol (Leipzig) 42:333–339

21.

Salassa JR, Zapala DA (2009) Love and fear of heights: the pathophysiology and psychology of height imbalance. Wilderness Environ Med 20:378–382

22.

Stefanucci JK, Proffitt DR (2009) The roles of altitude and fear in the perception of height. J Exper Psychol Hum Percept Perform 35:424–438

23.

Steyerberg EW, Eijkemans MJ, Harrell FE Jr et al (2001) Prognostic modeling with logistic regression analysis: in search of a sensible strategy in small data sets. Med Decis Making 21:45–56

24.

Stinson F, Dawson D, Chou S et al (2007) The epidemiology of DSM-IV specific phobia in the USA: result from the National Epidemiologic Survey on Alcohol and Related Conditions. Psychol Med 37:1047–1059

25.

Teachman BA, Stefanucci JK, Clerkin EM, Cody MW, Proffitt DR (2008) A new mode of fear expression: perceptual bias in height fear. Emotion 8:296–301

26.

von Brevern M, Neuhauser H (2011) Epidemiological evidence for a link between vertigo and migraine. J Vest Res 21:299–304

27.

Walk RD, Gibson EJ, Tighe TJ (1957) Behaviour of light-and-dark-reared rats on a visual cliff. Science 126:80–81

28.

Walk RD, Gibson EG (1961) A comparative and analytical study of visual depth perception. Psychol Monogr 75 (15, whole no. 519)

29.

Williams SL, Dooseman G, Kleifeld E (1984) Comparative effectiveness of guided mastery and exposure treatments for intractable phobias. J Consult Clin Psychol 52:505–518

30.

World Health Organisation (1993) The ICD-10 Classification of Mental and Behavioral Disorders, Clinical Description and Diagnostic Guidelines. WHO, Geneva
Acknowledgments
The authors thank Judy Benson for copyediting the manuscript. The study was supported by the German Ministry of Education and Research, the IFBLMU , and the Hertie Foundation.
Conflicts of interest
None.
Ethical standard
All human studies must state that they have been approved by the appropriate ethics committee and have therefore been performed in accordance with the ethical standards laid down in the 1964 Declaration of Helsinki.
Electronic supplementary material
Below is the link to the electronic supplementary material.
About this article
Cite this article
Huppert, D., Grill, E. & Brandt, T. Down on heights? One in three has visual height intolerance. J Neurol 260, 597–604 (2013). https://doi.org/10.1007/s00415-012-6685-1
Received:

Revised:

Accepted:

Published:

Issue Date:
Keywords
Visual height intolerance

Fear of heights

Acrophobia

Height vertigo

Epidemiology