Abstract
Sativex is an endocannabinoid system modulator principally containing Δ9-tetrahydrocannabinol (THC) and cannabidiol (CBD). During a 6-week randomised controlled trial, Sativex had a clinically relevant effect on spasticity associated with multiple sclerosis (MS). Patients self-titrated oromucosal Sativex to symptom relief or maximum tolerated dose (maximum of 130 mg THC and 120 mg CBD daily). The primary objective was to evaluate the safety and tolerability of long-term treatment by recording the incidence and severity of adverse events (AEs). Secondary outcomes were to determine evidence of developing tolerance and to assess the long-term dosing profile of Sativex. A validated 11-point Numerical Rating Scale of spasticity severity was used to assess efficacy. A total of 146 patients elected to enter this open-label follow-up safety trial. Mean treatment exposure was 334 days (standard deviation, SD = 209 days), and patients administered on average 7.3 (SD = 4.42) actuations per day. Fifty-two (36 %) patients withdrew from the study in the first year, 14 % due to AEs and 9 % due to lack of efficacy. Most AEs were mild/moderate in severity. Common (>10 %) treatment-related AEs were dizziness (24.7 %) and fatigue (12.3 %). Serious AEs occurred in five patients (3.4 %), with two psychiatric events reported by one patient. No psychoses, psychiatric AE trends, or withdrawal symptoms occurred following abrupt cessation of treatment. Baseline symptoms including spasticity did not deteriorate but were maintained to study completion in those patients who did not withdraw. No new safety concerns were identified with chronic Sativex treatment, and serious AEs were uncommon. There was no evidence of tolerance developing, and patients who remained in the study reported continued benefit.
Access options
Buy single article
Instant access to the full article PDF.
US$ 39.95
Tax calculation will be finalised during checkout.
Subscribe to journal
Immediate online access to all issues from 2019. Subscription will auto renew annually.
US$ 159
Tax calculation will be finalised during checkout.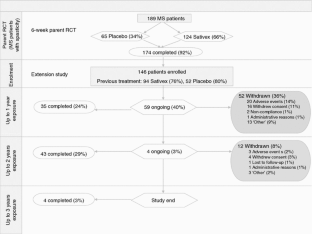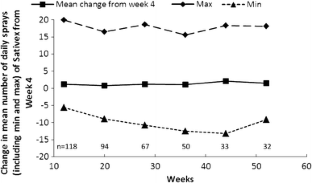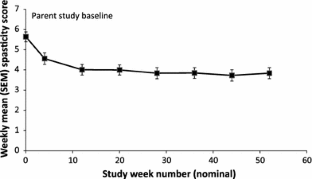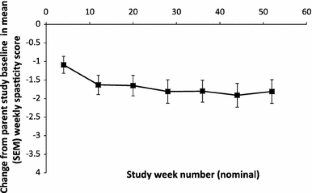 References
1.

Richards RG, Sampson FC, Beard SM et al (2002) A review of the natural history and epidemiology of multiple sclerosis: implications for resource allocation and health economic models. Health Technol Assess 6(10):1–73

2.

Fox CM, Bensa S, Bray I, Zajicek JP (2004) The epidemiology of multiple sclerosis in Devon: a comparison of the new and old classification criteria. J Neurol Neurosurg Psychiatry 75:56–60

3.

Collin C, Davies P, Mutiboko IK, Ratcliffe S (2007) Randomized controlled trial of cannabis-based medicine in spasticity caused by multiple sclerosis. Eur J Neurol 14:290–296

4.

Rizzo MA, Hadjimichael OC, Preiningerova J et al (2004) Prevalence and treatment of spasticity reported by multiple sclerosis patients. Mult Scler 10:589–595

5.

Shakespeare DT, Boggild M, Young C (2001) Anti-spasticity agents for multiple sclerosis (Cochrane Review). In: The Cochrane Library. Issue 3

6.

Beard S, Hunn A, Wright J (2003) Treatments for spasticity and pain in multiple sclerosis: a systematic review. Health Technol Assess 7: iii, ix–x, 1–111

7.

Vaney C, Heinzel-Gutenbrunner M, Jobin P et al (2004) Efficacy, safety and tolerability of an orally administered cannabis extract in the treatment of spasticity in patients with multiple sclerosis: a randomized, double-blind, placebo-controlled, crossover study. Mult Scler 10:417–424

8.

Pertwee RG (2000) Neuropharmacology and therapeutic potential of cannabinoids. Addict Biol 5:37–46

9.

Baker D, Pryce G, Croxford JL et al (2000) Cannabinoids control spasticity and tremor in a multiple sclerosis model. Nature 404:84–87

10.

Zajicek J, Fox P, Nunn A et al (2003) Cannabinoids for treatment of spasticity and other symptoms related to multiple sclerosis (CAMS study): multicentre randomised placebo-controlled trial. Lancet 362:1517–1526

11.

Zajicek JP, Sanders HP, Wright DE et al (2005) Cannabinoids in multiple sclerosis (CAMS) study: safety and efficacy data for 12 months follow up. J Neurol Neurosurg Psychiatry 76:1664–1669

12.

Russo EB (2006) The solution to the medical cannabis problem. In: Schatman ME (ed) Ethical issues in chronic pain management. Taylor & Francis, Boca Raton, pp 165–194

13.

Zuardi AW, Crippa JA, Hallak JE, Moreira FA, Guimaraes FS (2006) Cannabidiol, a Cannabis sativa constituent, as an antipsychotic drug. Braz J Med Biol Res 39:421–429

14.

Nurmikko TJ, Serpell MG, Hoggart B, Toomey PJ, Morlion BJ, Haines D (2007) Sativex successfully treats neuropathic pain characterised by allodynia: a randomised double blind, placebo controlled clinical trial. Pain 133:210–220

15.

Rog DJ, Nurmikko TJ, Friede T, Young CA (2005) Randomized controlled trial of cannabis medicine in central pain due to multiple sclerosis. Neurology 65:812–819

16.

Rog DJ, Nurmikko TJ, Young CA (2007) Oromucosal delta-9-tetrahydrocannabinol/cannabidiol for neuropathic pain associated with multiple sclerosis: an uncontrolled, open-label, 2-year extension trial. Clin Ther 29(9):2068–2079

17.

MHRA 2010 (2010) MHRA Public Assessment Report. Nabiximols Oromucosal Spray (delta-9-tetrahydrocannabinol and cannabidiol)—PL 18024/0009; UK/H/2462/001/DC. http://www.mhra.gov.uk/home/groups/par/documents/websiteresources/con084961.pdf. Accessed January 2012

18.

ICH 2004 (1994) ICH Topic E 1 A population exposure: the extent of population exposure to assess clinical safety (CPMP/ICH/375/95), November 1994

19.

Farrar JT, Troxel AB, Stott C et al (2008) Validity, reliability, and clinical importance of change in a 0–10 Numerical Rating Scale measure of spasticity: a post hoc analyses of a randomized, double-blind, placebo-controlled trial. Clin Ther 30(5):974–985

20.

Wade DT, Collin C, Stott C, Duncombe P (2010) Meta-analysis of the efficacy and safety of Sativex (nabiximols) on spasticity in people with multiple sclerosis. Mult Scle 16:707–714

21.

Viktil KK, Blix HS, Moger TA, Reikvam A (2008) Polypharmacy as commonly defined is an indicator of limited value in the assessment of drug-related problems. Pharmacotherapy 28(2):207–213

22.

Chou R, Peterson K, Helfand M (2004) Comparative efficacy and safety of skeletal muscle relaxants for spasticity and musculoskeletal conditions: a systematic review. J Pain Symptom Manage 28:140–175

23.

Gilron I, Flatters SJL (2006) Gabapentin and pregabalin for the treatment of neuropathic pain: A review of the laboratory and clinical evidence. Pain Res Manag 11(Suppl A):16A–29A

24.

Wong JO, Tan TD, Tseng K, Cheu N, Wu J (2005) Gabapentin for the treatment of chronic intractable neuropathic pain: a long-term follow-up study. Pain Clinic 17:357–365

25.

Henquet C, Krabbendam L, Spauwen J et al (2005) Prospective cohort study of cannabis use, predisposition for psychosis, and psychotic symptoms in young people. Br Med J 330:11–15

26.

Fergusson DM, Horwood LJ, Ridder EM (2005) Tests of causal linkages between cannabis use and psychotic symptoms. Addiction 100:354–366

27.

Moore THM, Zammit S, Lingford-Hughes A et al (2007) Cannabis use and risk of psychotic or affective mental health outcomes: a systematic review. Lancet 370:319–328

28.

Notcutt W, Langford R, Davies P, Ratcliffe S, Potts R (2012) A placebo-controlled, parallel-group, randomized withdrawal study of subjects with symptoms of spasticity due to multiple sclerosis who are receiving long-term Sativex(R) (nabiximols). Mult Scler 18(2):219–228

29.

Huestis MA, Cone EJ (2004) Relationship of Delta 9-tetrahydrocannabinol concentrations in oral fluid and plasma after controlled administration of smoked cannabis. J Anal Toxicol 28:394–399
Acknowledgments
We thank all the patients who took part in the study, and acknowledge the assistance provided by staff at all the investigator centres. GW Pharma Ltd. had an input into the writing of this paper.
Conflicts of interest
This study was sponsored and fully funded by GW Pharma Ltd. Investigators received research grants from GW Pharma Ltd. to cover the costs of the study.
Ethical standard
All patients provided informed consent. The study has been approved by Mutli-Centre Research Ethics Committee for Scotland (MREC/01/0/99), and therefore been performed in accordance with the ethical standards laid down in 1964 Declaration of Helsinki.
Additional information
Sativex, a THC/CBD oromucosal spray, does not have an international nonproprietary name (INN). Nabiximols is the US Adopted Name (USAN) for it.
About this article
Cite this article
Serpell, M.G., Notcutt, W. & Collin, C. Sativex long-term use: an open-label trial in patients with spasticity due to multiple sclerosis. J Neurol 260, 285–295 (2013). https://doi.org/10.1007/s00415-012-6634-z
Received:

Revised:

Accepted:

Published:

Issue Date:
Keywords
Cannabinoid

Long-term safety

Multiple sclerosis

THC/CBD oromucosal spray

Spasticity