Abstract
A distinct polyneuropathy (PNP) syndrome affects up to 66 % of patients with neurofibromatosis II (NF2). Whether this is primarily a diffuse PNP or due to single, surgically amenable mass lesions has not yet been conclusively demonstrated. We aimed to solve this question by investigating the pathomorphological MR imaging correlate of this rare disorder. Eight patients with NF2-PNP were characterized by clinical examination, electrophysiological studies, and genetic analysis. All patients additionally underwent extended peripheral nerve imaging by a novel protocol of large-coverage high-resolution MRI. Quantitative analyses were performed by separately evaluating cross-sectional images, and by categorizing lesions into non-compressive fascicular microlesions (<2 mm), intermediate lesions (2–5 mm), and compressive macrolesions (>5 mm). The predominant imaging findings were non-compressive fascicular microlesions and intermediate lesions. Proximal-to-distal cumulative lesion burden of these lesions correlated strongly with the severity of clinical symptoms of NF2-PNP. In contrast, compressive macrolesions were not found at all in several symptomatic extremities. We conclude that proximal-to-distal accumulation of non-compressive fascicular lesions instead of compressive mass lesions predominantly underlies the clinical manifestation and severity of NF2-associated PNP. Diagnostic management may now be assisted by large-coverage high-resolution imaging of plexus and peripheral nerves. Additionally, the results underscore the feasibility of this new method, which may open up new diagnostic and investigative possibilities for other disseminated disorders of the peripheral nervous system.
This is a preview of subscription content, log in to check access.
Access options
Buy single article
Instant access to the full article PDF.
US$ 39.95
Price includes VAT for USA
Subscribe to journal
Immediate online access to all issues from 2019. Subscription will auto renew annually.
US$ 199
This is the net price. Taxes to be calculated in checkout.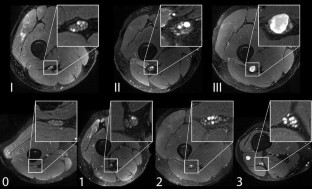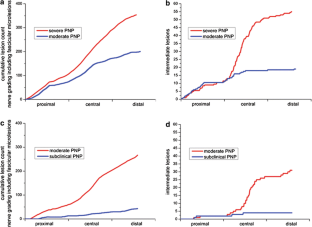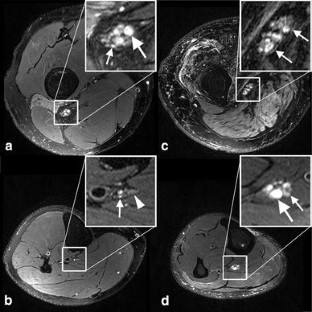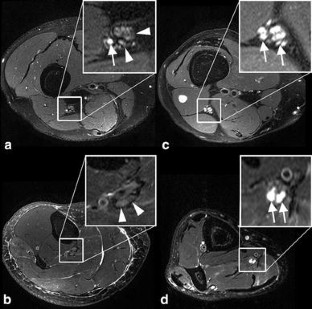 References
1.

Baser ME, Evans DG, Gutmann DH (2003) Neurofibromatosis 2. Curr Opin Neurol 16(1):27–33. doi:10.1097/01.wco.0000053583.70044.ab

2.

Gutmann DH, Aylsworth A, Carey JC, Korf B, Marks J, Pyeritz RE, Rubenstein A, Viskochil D (1997) The diagnostic evaluation and multidisciplinary management of neurofibromatosis 1 and neurofibromatosis 2. JAMA 278(1):51–57

3.

Evans DG, Baser ME, O'Reilly B, Rowe J, Gleeson M, Saeed S, King A, Huson SM, Kerr R, Thomas N, Irving R, MacFarlane R, Ferner R, McLeod R, Moffat D, Ramsden R (2005) Management of the patient and family with neurofibromatosis 2: a consensus conference statement. Br J Neurosurg 19(1):5–12. doi:10.1080/02688690500081206

4.

Baser ME, Friedman JM, Joe H, Shenton A, Wallace AJ, Ramsden RT, Evans DG (2011) Empirical development of improved diagnostic criteria for neurofibromatosis 2. Genet Med 13(6):576–581. doi:10.1097/GIM.0b013e318211faa9

5.

Evans DG (2009) Neurofibromatosis type 2 (NF2): a clinical and molecular review. Orphanet J Rare Dis 4:16. doi:10.1186/1750-1172-4-16

6.

Onishi A, Nada O (1972) Ultrastructure of the onion bulb-like lamellated structure observed in the sural nerve in a case of von Recklinghausen's disease. Acta Neuropathol 20(3):258–263

7.

Bosch EP, Murphy MJ, Cancilla PA (1981) Peripheral neurofibromatosis and peroneal muscular atrophy. Neurology 31(11):1408–1414

8.

Thomas PK, King RH, Chiang TR, Scaravilli F, Sharma AK, Downie AW (1990) Neurofibromatous neuropathy. Muscle Nerve 13(2):93–101. doi:10.1002/mus.880130202

9.

Evans DG, Huson SM, Donnai D, Neary W, Blair V, Newton V, Harris R (1992) A clinical study of type 2 neurofibromatosis. Q J Med 84(304):603–618

10.

Kilpatrick TJ, Hjorth RJ, Gonzales MF (1992) A case of neurofibromatosis 2 presenting with a mononeuritis multiplex. J Neurol Neurosurg Psychiatry 55(5):391–393

11.

Overweg-Plandsoen WC, Brouwer-Mladin R, Merel P, de Vries L, Bijlsma EK (1996) Neurofibromatosis type 2 in an adolescent boy with polyneuropathy and a mutation in the NF2 gene. J Neurol 243(10):724–726

12.

Iwata A, Kunimoto M, Inoue K (1998) Schwann cell proliferation as the cause of peripheral neuropathy in neurofibromatosis-2. J Neurol Sci 156(2):201–204. doi:S0022-510X(98)00032-X

13.

Hagel C, Lindenau M, Lamszus K, Kluwe L, Stavrou D, Mautner VF (2002) Polyneuropathy in neurofibromatosis 2: clinical findings, molecular genetics and neuropathological alterations in sural nerve biopsy specimens. Acta Neuropathol 104(2):179–187. doi:10.1007/s00401-002-0535-7

14.

Sperfeld AD, Hein C, Schroder JM, Ludolph AC, Hanemann CO (2002) Occurrence and characterization of peripheral nerve involvement in neurofibromatosis type 2. Brain 125(Pt 5):996–1004

15.

Kuo HC, Chen SR, Jung SM, Wu Chou YH, Huang CC, Chuang WL, Wei KC, Ro LS (2010) Neurofibromatosis 2 with peripheral neuropathies: electrophysiological, pathological and genetic studies of a Taiwanese family. Neuropathology. doi:10.1111/j.1440-1789.2009.01099.x

16.

Trivedi R, Byrne J, Huson SM, Donaghy M (2000) Focal amyotrophy in neurofibromatosis 2. J Neurol Neurosurg Psychiatry 69(2):257–261

17.

Gijtenbeek JM, Gabreels-Festen AA, Lammens M, Zwarts MJ, van Engelen BG (2001) Mononeuropathy multiplex as the initial manifestation of neurofibromatosis type 2. Neurology 56(12):1766–1768

18.

Grazzi L, Chiapparini L, Parati EA, Giombini S, D'Amico D, Leone M, Bussone G (1998) Type II neurofibromatosis presenting as quadriceps atrophy. Ital J Neurol Sci 19(2):94–96

19.

Cai W, Kassarjian A, Bredella MA, Harris GJ, Yoshida H, Mautner VF, Wenzel R, Plotkin SR (2009) Tumor burden in patients with neurofibromatosis types 1 and 2 and schwannomatosis: determination on whole-body MR images. Radiology 250(3):665–673. doi:10.1148/radiol.2503080700

20.

Bendszus M, Stoll G (2005) Technology insight: visualizing peripheral nerve injury using MRI. Nat Clin Pract Neurol 1(1):45–53. doi:10.1038/ncpneuro0017

21.

Stoll G, Bendszus M, Perez J, Pham M (2009) Magnetic resonance imaging of the peripheral nervous system. J Neurol 256(7):1043–1051. doi:10.1007/s00415-009-5064-z

22.

Pham M, Sommer C, Wessig C, Monoranu CM, Perez J, Stoll G, Bendszus M (2010) Magnetic resonance neurography for the diagnosis of extrapelvic sciatic endometriosis. Fertil Steril 94(1):351.e11–351.e14. doi:10.1016/j.fertnstert.2009.12.046

23.

Pham M, Wessig C, Brinkhoff J, Reiners K, Stoll G, Bendszus M (2011) MR neurography of sciatic nerve injection injury. J Neurol. doi:10.1007/s00415-010-5895-7

24.

Baumer P, Dombert T, Staub F, Kaestel T, Bartsch AJ, Heiland S, Bendszus M, Pham M (2011) Ulnar neuropathy at the elbow: MR neurography–nerve T2 signal increase and caliber. Radiology 260(1):199–206. doi:10.1148/radiol.11102357

25.

Pham M, Oikonomou D, Baumer P, Bierhaus A, Heiland S, Humpert PM, Nawroth PP, Bendszus M (2011) Proximal neuropathic lesions in distal symmetric diabetic polyneuropathy: findings of high-resolution magnetic resonance neurography. Diabetes Care 34(3):721–723. doi:10.2337/dc10-1491

26.

Selvanathan SK, Shenton A, Ferner R, Wallace AJ, Huson SM, Ramsden RT, Evans DG (2010) Further genotype–phenotype correlations in neurofibromatosis 2. Clin Genet 77(2):163–170. doi:10.1111/j.1399-0004.2009.01315.x

27.

Parry DM, Eldridge R, Kaiser-Kupfer MI, Bouzas EA, Pikus A, Patronas N (1994) Neurofibromatosis 2 (NF2): clinical characteristics of 63 affected individuals and clinical evidence for heterogeneity. Am J Med Genet 52(4):450–461. doi:10.1002/ajmg.1320520411

28.

Stemmer-Rachamimov AO, Ino Y, Lim ZY, Jacoby LB, MacCollin M, Gusella JF, Ramesh V, Louis DN (1998) Loss of the NF2 gene and merlin occur by the tumorlet stage of schwannoma development in neurofibromatosis 2. J Neuropathol Exp Neurol 57(12):1164–1167

29.

Does MD, Snyder RE (1996) Multiexponential T2 relaxation in degenerating peripheral nerve. Magn Reson Med 35(2):207–213

30.

Bendszus M, Wessig C, Solymosi L, Reiners K, Koltzenburg M (2004) MRI of peripheral nerve degeneration and regeneration: correlation with electrophysiology and histology. Exp Neurol 188(1):171–177. doi:10.1016/j.expneurol.2004.03.025S0014488604001293

31.

Evans DG, Huson SM, Donnai D, Neary W, Blair V, Newton V, Strachan T, Harris R (1992) A genetic study of type 2 neurofibromatosis in the United Kingdom. II. Guidelines for genetic counselling. J Med Genet 29(12):847–852
Acknowledgments
This work was supported by a postdoctoral-fellowship granted to P.B. and to M.P. from the Medical Faculty of the University of Heidelberg and a grant to M.P. and M.B. from the German Osteoarthritis Foundation (Deutsche-Arthrose-Hilfe e.V.) [P215-A482].
Conflicts of interest
The authors report no conflicts of interests.
Additional information
P. Bäumer and V.F. Mautner contributed equally to this manuscript.
About this article
Cite this article
Bäumer, P., Mautner, V.F., Bäumer, T. et al. Accumulation of non-compressive fascicular lesions underlies NF2 polyneuropathy. J Neurol 260, 38–46 (2013). https://doi.org/10.1007/s00415-012-6581-8
Received:

Revised:

Accepted:

Published:

Issue Date:
Keywords
Neurofibromatosis 2

Polyneuropathy

Magnetic resonance imaging

MR neurography