Abstract
Elevated uric acid levels have recently been found to be associated with slower disease progression in Parkinson's disease, Huntington's disease, multiple system atrophy, and mild cognitive impairment. The aim of this study is to determine whether serum uric acid levels predict survival in amyotrophic lateral sclerosis (ALS). A total of 251 people with ALS enrolled in two multicenter clinical trials were included in our analysis. The main outcome measure was survival time, which was calculated as time to death, tracheostomy, or permanent assistive ventilation, with any event considered a survival endpoint. Cox proportional hazards models were used to estimate the hazard ratio (HR) of reaching a survival endpoint according to baseline uric acid levels after adjusting for markers of disease severity (FVC, total ALSFRS-R score, time since symptom onset, diagnostic delay, BMI, bulbar vs. spinal onset, age, and riluzole use). There was a dose-dependent survival advantage in men, but not women, with higher baseline uric acid levels (logrank test: p = 0.018 for men, p = 0.81 for women). There was a 39% reduction in risk of death during the study for men with each 1 mg/dl increase in uric acid levels (adjusted HR: 0.61, 95% CI 0.39–0.96, p = 0.03). This is the first study to demonstrate that serum uric acid is associated with prolonged survival in ALS, after adjusting for markers of disease severity. Similar to previous reports in Parkinson's disease, this association was seen in male subjects only.
Access options
Buy single article
Instant access to the full article PDF.
US$ 39.95
Tax calculation will be finalised during checkout.
Subscribe to journal
Immediate online access to all issues from 2019. Subscription will auto renew annually.
US$ 159
Tax calculation will be finalised during checkout.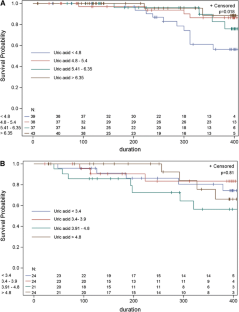 References
1.

Weisskopf MG, O'Reilly E, Chen H, Schwarzschild MA, Ascherio A (2007) Plasma urate and risk of Parkinson's disease. Am J Epidemiol 166:561–567

2.

De Vera M, Rahman MM, Rankin J, Kopec J, Gao X, Choi H (2008) Gout and the risk of Parkinson's disease: a cohort study. Arthritis Rheum 59(11):1549–1554

3.

De Lau LM, Koudstaal PJ, Hofman A, Breteler MM (2005) Serum uric acid levels and the risk of Parkinson disease. Ann Neurol 58:797–800

4.

Alonso A, Rodriguez LA, Logroscino G, Hernan MA (2007) Gout and risk of Parkinson disease: a prospective study. Neurology 69:1696–1700

5.

Ascherio A, LeWitt PA, Xu K, Eberly S, Watts A, Matson WR, Marras C, Kieburtz K, Rudolph A, Bogdanov MB, Schwid SR, Tennis M, Tanner CM, Beal MF, Lang AE, Oakes D, Fahn S, Shoulson I, Schwarzschild MA, Parkinson Study Group DATATOP Investigators (2009) Urate as a predictor of the rate of clinical decline in Parkinson disease. Arch Neurol 66:1460–1468

6.

Schwarzschild MA, Schwid SR, Marek K, Watts A, Lang AE, Oakes D, Shoulson I, Ascherio A, Parkinson Study Group PRECEPT Investigators, Hyson C, Gorbold E, Rudolph A, Kieburtz K, Fahn S, Gauger L, Goetz C, Seibyl J, Forrest M, Ondrasik J (2008) Serum urate as a predictor of clinical and radiographic progression in Parkinson disease. Arch Neurol 65:716–723

7.

Auinger P, Kieburtz K, McDermott MP (2010) The relationship between uric acid levels and Huntington's disease progression. Mov Disord 25:224–228

8.

Euser SM, Hofman A, Westendorp RG, Breteler MM (2009) Serum uric acid and cognitive function and dementia. Brain 132:377–382

9.

Irizarry MC, Raman R, Schwarzschild MA, Becerra LM, Thomas RG, Peterson RC, Ascherio A, Aisen PS (2009) Plasma urate and progression of mild cognitive impairment. Neurodegener Dis 6:23–28

10.

Lee JE, Song SK, Sohn YH, Lee PH (2011) Uric acid as a potential disease modifier in patients with multiple system atrophy. Mov Disord 26:1533–1536

11.

Glantzounis GK, Tsimoyiannis EC, Kappas AM, Galaris DA (2005) Uric acid and oxidative stress. Curr Pharm Des 11:4145–4151

12.

Scott GS, Cuzzocrea S, Genovese T, Koprowski H, Hooper DC (2005) Uric acid protects against secondary damage after spinal cord injury. Proc Natl Acad Sci USA 102:3483–3488

13.

Amaro S, Planas AM, Chamorro A (2008) Uric acid administration in patients with acute stroke: a novel approach to neuroprotection. Expert Rev Neurother 8:259–270

14.

Zoccolella S, Simone IL, Capozzo R, Tortelli R, Leo A, D'Errico E, Logroscino G (2011) An exploratory study of serum urate levels in patients with amyotrophic lateral sclerosis. J Neurol 258:238–243

15.

Keizman D, Ish-Shalom M, Berliner S, Maimon N, Vered Y, Artamonov I, Tsehori J, Nefussy B, Drory VE (2009) Low uric acid levels in serum of patients with ALS: further evidence for oxidative stress? J Neurol Sci 285:95–99

16.

Paganoni S, Deng J, Jaffa M, Cudkowicz ME, Wills AM (2011) Body mass index, not dyslipidemia, is an independent predictor of survival in amyotrophic lateral sclerosis. Muscle Nerve 44:20–24

17.

Cudkowicz ME, Shefner JM, Schoenfeld DA, Zhang H, Andreasson KI, Rothstein JD, Drachman DB (2006) Trial of celecoxib in amyotrophic lateral sclerosis. Ann Neurol 60:22–31

18.

Cudkowicz ME, Shefner JM, Simpson E, Grasso D, Yu H, Zhang H, Shui A, Schoenfeld D, Brown RH, Wieland S, Barber JR, Northeast ALS Consortium (2008) Arimoclomol at dosages up to 300 mg/day is well tolerated and safe in amyotrophic lateral sclerosis. Muscle Nerve 38:837–844

19.

Brooks BR, Miller RG, Swash M, Munsat TL, World Federation of Neurology Research Group on Motor Neuron Diseases (2000) El Escorial revisited: revised criteria for the diagnosis of amyotrophic lateral sclerosis. Amyotroph Lateral Scler Other Motor Neuron Disord 1:293–299

20.

Ganesalingam J, Stahl D, Wijesekera L, Galtrey C, Shaw CE, Leigh PN, Al-Chalabi A (2009) Latent cluster analysis of ALS phenotypes identifies prognostically differing groups. PLoS One 4:e7107

21.

Zoccolella S, Beghi E, Palagano G, Fraddosio A, Samarelli V, Lamberti P, Lepore V, Serlenga L, Logroscino G (2006) SLAP registry (2006) Predictors of delay in the diagnosis and clinical trial entry of amyotrophic lateral sclerosis patients: a population-based study. J Neurol Sci 250:45–49

22.

Nath SD, Voruganti VS, Arar NH, Thameem F, Lopez-Alvarenga JC, Bauer R, Blangero J, MacCluer JW, Comuzzie AG, Abboud HE (2007) Genome scan for determinants of serum uric acid variability. J Am Soc Nephrol 18:3156–3163

23.

Gao X, Curhan G, Forman JP, Ascherio A, Choi HK (2008) Vitamin C intake and serum uric acid concentration in men. J Rheumatol 35:1853–1858
Acknowledgments
We would like to thank Patrick Sluss, Ph.D., and the Clinical Laboratory Research Core at Massachusetts General Hospital for performing the biochemical analyses and for their excellent technical support. We thank David Schoenfeld, Ph.D. and Alberto Ascherio, M.D., Dr. P.H. for helpful discussions about data analysis and interpretation. We thank Swati Aggarwal, M.D. for helping with study design. We would also like to thank the Massachusetts General Hospital Neurology Clinical Trials Unit and the members of the Northeast ALS Consortium (NEALS) for allowing access to the blood samples and clinical data that were used in this study. Finally, we thank patients and their families for participating in these clinical trials and for contributing to clinical research. Drs. Wills and Paganoni had full access to all of the data in the study and take responsibility for the integrity of the data and the accuracy of the data analysis. The study was supported by the Muscular Dystrophy Association and the Digiovanni ALS research fund.
Conflicts of interest
The authors declare that they have no conflicts of interest.
Electronic supplementary material
Below is the link to the electronic supplementary material.
About this article
Cite this article
Paganoni, S., Zhang, M., Quiroz Zárate, A. et al. Uric acid levels predict survival in men with amyotrophic lateral sclerosis. J Neurol 259, 1923–1928 (2012). https://doi.org/10.1007/s00415-012-6440-7
Received:

Revised:

Accepted:

Published:

Issue Date:
Keywords
Uric acid

Urate

Amyotrophic lateral sclerosis

Predictor

Survival