Abstract
Cerebrospinal fluid is vital for normal brain function. Changes to the composition, flow, or pressure can cause a variety of neurological symptoms and signs. Equally, disorders of nervous tissue may alter cerebrospinal fluid characteristics. Analysis of cerebrospinal fluid can provide information on diagnosis, may be therapeutic in certain conditions, and allows a research opportunity into neurological disease. However, inappropriate sampling, inaccurate technique, and incomplete analysis can contribute to significant patient morbidity, and reduce the amount of accurate information obtained. In this article, we will review how cerebrospinal fluid is produced, circulated, and resorbed. We will also review lumbar puncture technique, equipment, and cerebrospinal fluid analysis. We also discuss how to minimize the risks and address the complications associated with lumbar puncture.
This is a preview of subscription content, log in to check access.
Access options
Buy single article
Instant access to the full article PDF.
US$ 39.95
Price includes VAT for USA
Subscribe to journal
Immediate online access to all issues from 2019. Subscription will auto renew annually.
US$ 199
This is the net price. Taxes to be calculated in checkout.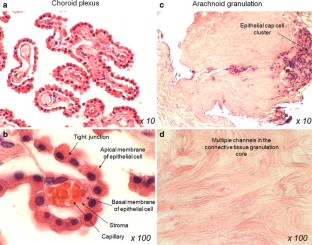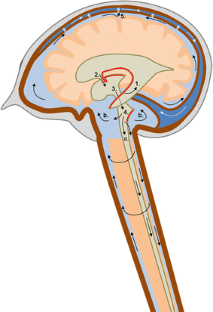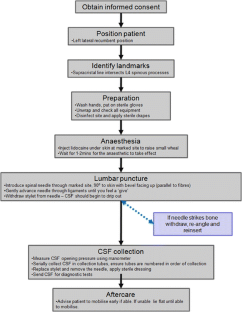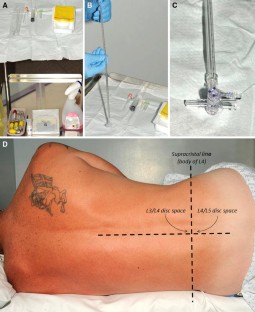 References
1.

Miller JD, Stanek A, Langfitt TW (1972) Concepts of cerebral perfusion pressure and vascular compression during intracranial hypertension. Prog Brain Res 35:411–432

2.

Welch K (1963) Secretion of cerebrospinal fluid by choroid plexus of the rabbit. Am J Physiol 205:617–624

3.

McComb JG (1983) Recent research into the nature of cerebrospinal fluid formation and absorption. J Neurosurg 59(3):369–383

4.

Adams JH, Graham DI (1988) An introduction to neuropathology, 2nd edn. Churchill Livingstone, New York, pp 34–36

5.

Wright EM (1978) Transport processes in the formation of the cerebrospinal fluid. Rev Physiol Biochem Pharmacol 83:3–34

6.

Speake T, Whitwell C, Kajita H, Majid A, Brown PD (2001) Mechanisms of CSF secretion by the choroid plexus. Microsc Res Tech 52(1):49–59

7.

Ernst SA, Palacios JR 2nd, Siegel GJ (1986) Immunocytochemical localization of Na+, K+-ATPase catalytic polypeptide in mouse choroid plexus. J Histochem Cytochem 34(2):189–195

8.

Davson H, Segal MB (1970) The effects of some inhibitors and accelerators of sodium transport on the turnover of 22Na in the cerebrospinal fluid and the brain. J Physiol 209(1):131–153

9.

Zeuthen T, Wright EM (1978) An electrogenic NA+/K+ pump in the choroid plexus. Biochim Biophys Acta 511(3):517–522

10.

Wu Q, Delpire E, Hebert SC, Strange K (1998) Functional demonstration of Na+-K+-2Cl- cotransporter activity in isolated, polarized choroid plexus cells. Am J Physiol 275(6 Pt 1):C1565–C1572

11.

Zeuthen T, Wright EM (1981) Epithelial potassium transport: tracer and electrophysiological studies in choroid plexus. J Membr Biol 60(2):105–128

12.

Murphy VA, Johanson CE (1989) Alteration of sodium transport by the choroid plexus with amiloride. Biochim Biophys Acta 979(2):187–192

13.

Deng QS, Johanson CE (1989) Stilbenes inhibit exchange of chloride between blood, choroid plexus and cerebrospinal fluid. Brain Res 501(1):183–187

14.

Nielsen S, Smith BL, Christensen EI, Agre P (1993) Distribution of the aquaporin CHIP in secretory and resorptive epithelia and capillary endothelia. Proc Natl Acad Sci USA 90(15):7275–7279

15.

Venero JL, Vizuete ML, Ilundain AA, Machado A, Echevarria M, Cano J (1999) Detailed localization of aquaporin-4 messenger RNA in the CNS: preferential expression in periventricular organs. Neuroscience 94(1):239–250 (pii:S0360-4522(99)00182-7)

16.

Halmi P, Parkkila S, Honkaniemi J (2006) Expression of carbonic anhydrases II, IV, VII, VIII and XII in rat brain after kainic acid induced status epilepticus. Neurochem Int 48(1):24–30

17.

Masuzawa T, Sato F (1983) The enzyme histochemistry of the choroid plexus. Brain 106(Pt 1):55–99

18.

Masuzawa T, Hasegawa T, Nakahara N, Iida K, Sato F (1984) Localization of carbonic anhydrase in the rat choroid plexus epithelial cell. Ann NY Acad Sci 429:405–407

19.

Nogradi A, Kelly C, Carter ND (1993) Localization of acetazolamide-resistant carbonic anhydrase III in human and rat choroid plexus by immunocytochemistry and in situ hybridisation. Neurosci Lett 151(2):162–165

20.

Vogh BP, Godman DR, Maren TH (1987) Effect of AlCl3 and other acids on cerebrospinal fluid production: a correction. J Pharmacol Exp Ther 243(1):35–39

21.

Schwalbe G (1869) Der Arachnoidalraum ein Lymphraum und sein Zusammenhang mit den Perichoriodalraum. Zentralbl Med Wiss 7:465–467

22.

Johnston M, Zakharov A, Papaiconomou C, Salmasi G, Armstrong D (2004) Evidence of connections between cerebrospinal fluid and nasal lymphatic vessels in humans, non-human primates and other mammalian species. Cerebrospinal Fluid Res 1(1):2

23.

Sinclair AJ, Carroll C, Davies B (2009) Cauda equina syndrome following a lumbar puncture. J Clin Neurosci 16(5):714–716. doi:10.1016/j.jocn.2008.07.079

24.

Keeling D, Baglin T, Tait C, Watson H, Perry D, Baglin C, Kitchen S, Makris M (2011) Guidelines on oral anticoagulation with warfarin, 4th edn. Br J Haematol 154(3):311–324. doi:10.1111/j.1365-2141.2011.08753.x

25.

Hillemacher T, Bleich S, Wiltfang J, Weber M, Kornhuber J, Frieling H (2006) Should aspirin be discontinued for diagnostic lumbar puncture? J Am Geriatr Soc 54(1):181–182. doi:10.1111/j.1532-5415.2005.00575_12.x

26.

Layton KF, Kallmes DF, Horlocker TT (2006) Recommendations for anticoagulated patients undergoing image-guided spinal procedures. AJNR Am J Neuroradiol 27(3):468–470

27.

van Veen JJ, Nokes TJ, Makris M (2010) The risk of spinal haematoma following neuraxial anaesthesia or lumbar puncture in thrombocytopenic individuals. Br J Haematol 148(1):15–25. doi:10.1111/j.1365-2141.2009.07899.x

28.

Ruff RL, Dougherty JH Jr (1981) Complications of lumbar puncture followed by anticoagulation. Stroke J Cereb Circ 12(6):879–881

29.

Sinniah D, Looi LM, Ortega JA, Siegel SE, Landing B (1982) Cerebellar coning and uncal herniation in childhood acute leukaemia. Lancet 2(8300):702–704

30.

Hasegawa K, Yamamoto N (1999) Nerve root herniation secondary to lumbar puncture in the patient with lumbar canal stenosis. A case report. Spine (Phila Pa 1976) 24(9):915–917

31.

Hasbun R, Abrahams J, Jekel J, Quagliarello VJ (2001) Computed tomography of the head before lumbar puncture in adults with suspected meningitis. N Engl J Med 345(24):1727–1733. doi:10.1056/NEJMoa010399

32.

Gopal AK, Whitehouse JD, Simel DL, Corey GR (1999) Cranial computed tomography before lumbar puncture: a prospective clinical evaluation. Arch Intern Med 159(22):2681–2685

33.

Beresford HR (1980) Informed consent before lumbar puncture. N Engl J Med 303(26):1534

34.

Sinclair A, Burdon M, Ball A, Nightingale N, Good P, Matthews T, Jacks A, Lawden M, Clarke C, Walker E, Tomlinson J, Stewart P, Rauz S (2010) Low-energy diet and intracranial pressure in women with idiopathic intracranial hypertension: prospective cohort study. BMJ 7:341

35.

Stiffler KA, Jwayyed S, Wilber ST, Robinson A (2007) The use of ultrasound to identify pertinent landmarks for lumbar puncture. Am J Emerg Med 25(3):331–334. doi:10.1016/j.ajem.2006.07.010

36.

Neville L, Egan RA (2005) Frequency and amplitude of elevation of cerebrospinal fluid resting pressure by the Valsalva maneuver. Can J Ophthalmol 40(6):775–777

37.

Greenfield JC Jr, Rembert JC, Tindall GT (1984) Transient changes in cerebral vascular resistance during the Valsalva maneuver in man. Stroke J Cereb Circ 15(1):76–79

38.

Corbett JJ, Mehta MP (1983) Cerebrospinal fluid pressure in normal obese subjects and patients with pseudotumor cerebri. Neurology 33(10):1386–1388

39.

Whiteley W, Al-Shahi R, Warlow CP, Zeidler M, Lueck CJ (2006) CSF opening pressure: reference interval and the effect of body mass index. Neurology 67(9):1690–1691

40.

Malm J, Jacobsson J, Birgander R, Eklund A (2011) Reference values for CSF outflow resistance and intracranial pressure in healthy elderly. Neurology 76(10):903–909. doi:10.1212/WNL.0b013e31820f2dd0

41.

Avery RA, Shah SS, Licht DJ, Seiden JA, Huh JW, Boswinkel J, Ruppe MD, Chew A, Mistry RD, Liu GT (2010) Reference range for cerebrospinal fluid opening pressure in children. N Engl J Med 363(9):891–893. doi:10.1056/NEJMc1004957

42.

Bono F, Lupo MR, Serra P, Cantafio C, Lucisano A, Lavano A, Fera F, Pardatscher K, Quattrone A (2002) Obesity does not induce abnormal CSF pressure in subjects with normal cerebral MR venography. Neurology 59(10):1641–1643

43.

Dunn LT (2002) Raised intracranial pressure. J Neurol Neurosurg Psychiatry 73(Suppl 1):i23–i27

44.

Katzman R, Hussey F (1970) A simple constant-infusion manometric test for measurement of CSF absorption. I. Rationale and method. Neurology 20(6):534–544

45.

Eide PK, Brean A (2010) Cerebrospinal fluid pulse pressure amplitude during lumbar infusion in idiopathic normal pressure hydrocephalus can predict response to shunting. Cerebrospinal Fluid Res 7:5. doi:10.1186/1743-8454-7-5

46.

Jonas JB, Harder B (2003) Ophthalmodynamometric estimation of cerebrospinal fluid pressure in pseudotumour cerebri. Br J Ophthalmol 87(3):361–362

47.

Poca MA, Sahuquillo J, Topczewski T, Lastra R, Font ML, Corral E (2006) Posture-induced changes in intracranial pressure: a comparative study in patients with and without a cerebrospinal fluid block at the craniovertebral junction. Neurosurgery 58(5):899–906 (discussion 899–906). doi:10.1227/01.NEU.0000209915.16235.6D

48.

Maira G, Anile C, Cioni B, Menini E, Mancini A, De Marinis L, Barbarino A (1984) Relationships between intracranial pressure and diurnal prolactin secretion in primary empty sella. Neuroendocrinology 38(2):102–107

49.

Cruickshank A, Auld P, Beetham R, Burrows G, Egner W, Holbrook I, Keir G, Lewis E, Patel D, Watson I, White P (2008) Revised national guidelines for analysis of cerebrospinal fluid for bilirubin in suspected subarachnoid haemorrhage. Ann Clin Biochem 45(Pt 3):238–244. doi:10.1258/acb.2008.007257

50.

Beetham R (2009) CSF spectrophotometry for bilirubin–why and how? Scand J Clin Lab Invest 69(1):1–7. doi:10.1080/00365510802651866

51.

Chow SL, Rooney ZJ, Cleary MA, Clayton PT, Leonard JV (2005) The significance of elevated CSF lactate. Arch Dis Child 90(11):1188–1189. doi:10.1136/adc.2005.075317

52.

Aburahma S, Khassawneh M, Griebel M, Sharp G, Gibson J (2011) Pitfalls in measuring cerebrospinal fluid glycine levels in infants with encephalopathy. J Child Neurol 26(6):703–706. doi:10.1177/0883073810389041

53.

Schmiedel J, Jackson S, Schafer J, Reichmann H (2003) Mitochondrial cytopathies. J Neurol 250(3):267–277. doi:10.1007/s00415-003-0978-3

54.

Kurian MA, Gissen P, Smith M, Heales S Jr, Clayton PT (2011) The monoamine neurotransmitter disorders: an expanding range of neurological syndromes. Lancet Neurol 10(8):721–733. doi:10.1016/S1474-4422(11)70141-7

55.

Link H, Huang YM (2006) Oligoclonal bands in multiple sclerosis cerebrospinal fluid: an update on methodology and clinical usefulness. J Neuroimmunol 180(1–2):17–28. doi:10.1016/j.jneuroim.2006.07.006

56.

Polman CH, Reingold SC, Banwell B, Clanet M, Cohen JA, Filippi M, Fujihara K, Havrdova E, Hutchinson M, Kappos L, Lublin FD, Montalban X, O'Connor P, Sandberg-Wollheim M, Thompson AJ, Waubant E, Weinshenker B, Wolinsky JS (2011) Diagnostic criteria for multiple sclerosis: 2010 revisions to the McDonald criteria. Ann Neurol 69(2):292–302. doi:10.1002/ana.22366

57.

Psimaras D, Carpentier AF, Rossi C (2010) Cerebrospinal fluid study in paraneoplastic syndromes. J Neurol Neurosurg Psychiatry 81(1):42–45. doi:10.1136/jnnp.2008.159483

58.

Jedryka-Goral A, Zabek J, Wojciechowski B, Zaborski J, Chwalinska-Sadowska H, Czlonkowska A (2000) Evaluation of cerebrospinal fluid for the presense of anticardiolipin antibodies (aCL) in NP-SLE patients. Clin Rheumatol 19(4):306–310

59.

Joseph FG, Scolding NJ (2009) Neurosarcoidosis: a study of 30 new cases. J Neurol Neurosurg Psychiatry 80(3):297–304. doi:10.1136/jnnp.2008.151977

60.

Scolding NJ, Jayne DR, Zajicek JP, Meyer PA, Wraight EP, Lockwood CM (1997) Cerebral vasculitis–recognition, diagnosis and management. Qjm 90(1):61–73

61.

Al-Araji A, Kidd DP (2009) Neuro-Behcet's disease: epidemiology, clinical characteristics, and management. Lancet Neurol 8(2):192–204. doi:10.1016/S1474-4422(09)70015-8

62.

Glantz MJ, Cole BF, Glantz LK, Cobb J, Mills P, Lekos A, Walters BC, Recht LD (1998) Cerebrospinal fluid cytology in patients with cancer: minimizing false-negative results. Cancer 82(4):733–739

63.

Joseph FG, Scolding NJ (2007) Sarcoidosis of the nervous system. Pract Neurol 7(4):234–244. doi:10.1136/jnnp.2007.124263

64.

Porter MJ, Brookes GB, Zeman AZ, Keir G (1992) Use of protein electrophoresis in the diagnosis of cerebrospinal fluid rhinorrhoea. J Laryngol Otol 106(6):504–506

65.

Sinclair AJ, Viant MR, Ball AK, Burdon MA, Walker EA, Stewart PM, Rauz S, Young SP (2009) NMR-based metabolomic analysis of cerebrospinal fluid and serum in neurological diseases—a diagnostic tool? NMR Biomed 23(2):123–132. doi:10.1002/nbm.1428

66.

Metzger G, Singbartl G (1991) Spinal epidural hematoma following epidural anesthesia versus spontaneous spinal subdural hematoma. Two case reports. Acta Anaesthesiol Scand 35(2):105–107

67.

(2004) The International Classification of Headache Disorders: 2nd edn. Cephalalgia 24 (Suppl 1):9–160

68.

Winsvold BS, Hagen K, Aamodt AH, Stovner LJ, Holmen J, Zwart JA (2011) Headache, migraine and cardiovascular risk factors: the HUNT study. Eur J Neurol 18(3):504–511. doi:10.1111/j.1468-1331.2010.03199.x

69.

Handler CE, Smith FR, Perkin GD, Rose FC (1982) Posture and lumbar puncture headache: a controlled trial in 50 patients. J R Soc Med 75(6):404–407

70.

Dieterich M, Brandt T (1985) Is obligatory bed rest after lumbar puncture obsolete? Eur Arch Psychiatry Neurol Sci 235(2):71–75

71.

Vilming ST, Schrader H, Monstad I (1988) Post-lumbar-puncture headache: the significance of body posture. A controlled study of 300 patients. Cephalalgia Int J Headache 8(2):75–78

72.

Machurot PY, Vergnion M, Fraipont V, Bonhomme V, Damas F (2010) Intracranial subdural hematoma following spinal anesthesia: case report and review of the literature. Acta Anaesthesiol Belg 61(2):63–66

73.

Amorim JA, Remigio DS, Damazio Filho O, de Barros MA, Carvalho VN, Valenca MM (2010) Intracranial subdural hematoma post-spinal anesthesia: report of two cases and review of 33 cases in the literature. Rev Bras Anestesiol 60(6):620–629

74.

Arendt K, Demaerschalk BM, Wingerchuk DM, Camann W (2009) Atraumatic lumbar puncture needles: after all these years, are we still missing the point? Neurologist 15(1):17–20. doi:10.1097/NRL.0b013e318184f476

75.

Strupp M, Brandt T, Muller A (1998) Incidence of post-lumbar puncture syndrome reduced by reinserting the stylet: a randomized prospective study of 600 patients. J Neurol 245(9):589–592

76.

Dieterich M, Brandt T (1988) Incidence of post-lumbar puncture headache is independent of daily fluid intake. Eur Arch Psychiatry Neurol Sci 237(4):194–196

77.

Camann WR, Murray RS, Mushlin PS, Lambert DH (1990) Effects of oral caffeine on postdural puncture headache. A double-blind, placebo-controlled trial. Anesth Analg 70(2):181–184

78.

Vilming ST, Kloster R, Sandvik L (2005) When should an epidural blood patch be performed in postlumbar puncture headache? A theoretical approach based on a cohort of 79 patients. Cephalalgia Int J Headache 25(7):523–527. doi:10.1111/j.1468-2982.2005.00911.x

79.

Martin R, Jourdain S, Clairoux M, Tetrault JP (1994) Duration of decubitus position after epidural blood patch. Can J Anaesth 41(1):23–25. doi:10.1007/BF03009656

80.

Duffy PJ, Crosby ET (1999) The epidural blood patch. Resolving the controversies. Can J Anaesth 46(9):878–886. doi:10.1007/BF03012979

81.

Abouleish E, Vega S, Blendinger I, Tio TO (1975) Long-term follow-up of epidural blood patch. Anesth Analg 54(4):459–463

82.

Woodworth GF, McGirt MJ, Williams MA, Rigamonti D (2009) Cerebrospinal fluid drainage and dynamics in the diagnosis of normal pressure hydrocephalus. Neurosurgery 64(5):919–925 (discussion 925–916). doi:10.1227/01.NEU.0000341902.44760.10

83.

Gallia GL, Rigamonti D, Williams MA (2006) The diagnosis and treatment of idiopathic normal pressure hydrocephalus. Nat Clin Pract Neurol 2(7):375–381. doi:10.1038/ncpneuro0237

84.

Solana E, Poca MA, Sahuquillo J, Benejam B, Junque C, Dronavalli M (2010) Cognitive and motor improvement after retesting in normal-pressure hydrocephalus: a real change or merely a learning effect? J Neurosurg 112(2):399–409. doi:10.3171/2009.4.JNS081664

85.

Baer ET (2006) Post-dural puncture bacterial meningitis. Anesthesiology 105(2):381–393

86.

van de Beek D, Drake JM, Tunkel AR (2010) Nosocomial bacterial meningitis. N Engl J Med 362(2):146–154. doi:10.1056/NEJMra0804573

87.

Dakka Y, Warra N, Albadareen RJ, Jankowski M, Silver B (2011) Headache rate and cost of care following lumbar puncture at a single tertiary care hospital. Neurology 77(1):71–74. doi:10.1212/WNL.0b013e318220abc0

88.

Zetterberg H, Tullhog K, Hansson O, Minthon L, Londos E, Blennow K (2010) Low incidence of post-lumbar puncture headache in 1,089 consecutive memory clinic patients. Eur Neurol 63(6):326–330. doi:10.1159/000311703

89.

Vallejo MC, Mandell GL, Sabo DP, Ramanathan S (2000) Postdural puncture headache: a randomized comparison of five spinal needles in obstetric patients. Anesth Analg 91(4):916–920

90.

Strupp M, Schueler O, Straube A, Von Stuckrad-Barre S, Brandt T (2001) "Atraumatic" Sprotte needle reduces the incidence of post-lumbar puncture headaches. Neurology 57(12):2310–2312

91.

Hammond ER, Wang Z, Bhulani N, McArthur JC, Levy M (2011) Needle type and the risk of post-lumbar puncture headache in the outpatient neurology clinic. J Neurol Sci 306(1–2):24–28. doi:10.1016/j.jns.2011.04.004

92.

Kleyweg RP, Hertzberger LI, Carbaat PA (1998) Significant reduction in post-lumbar puncture headache using an atraumatic needle. A double-blind, controlled clinical trial. Cephalalgia Int J Headache 18(9):635–637 (discussion 591)

93.

Lavi R, Yarnitsky D, Rowe JM, Weissman A, Segal D, Avivi I (2006) Standard vs atraumatic Whitacre needle for diagnostic lumbar puncture: a randomized trial. Neurology 67(8):1492–1494. doi:10.1212/01.wnl.0000240054.40274.8a

94.

Ellenby MS, Tegtmeyer K, Lai S, Braner DA (2006) Videos in clinical medicine. Lumbar puncture. N Engl J Med 355(13):e12. doi:10.1056/NEJMvcm054952

95.

Clarke C, Howard R, Rossor M, Shorvon S (2009) Neurology: a queen square textbook, 1st edn. Wiley-Blackwell, UK
Conflicts of interest
The authors report no conflicts of interest.
About this article
Cite this article
Wright, B.L.C., Lai, J.T.F. & Sinclair, A.J. Cerebrospinal fluid and lumbar puncture: a practical review. J Neurol 259, 1530–1545 (2012). https://doi.org/10.1007/s00415-012-6413-x
Received:

Revised:

Accepted:

Published:

Issue Date:
Keywords
Cerebrospinal fluid

Analysis

Lumbar puncture

Technique

Complications