Abstract
Tinnitus is the perception of sound in the absence of an environmental sound source. Abnormal activity in central auditory pathways is considered as the neuronal correlate of tinnitus. However, there is increasing evidence from neuroimaging studies for an additional involvement of the frontal cortex in the pathophysiology of tinnitus, especially concerning its attentional and emotional aspects. Recently, in a subgroup of tinnitus patients, temporary reduction of tinnitus intensity and tinnitus-related distress has been reported after bifrontal tDCS with the anode over the right and the cathode over the left dorsolateral prefrontal cortex (DLPFC). The aim of this study was to investigate whether repeated application of bifrontal tDCS results in longer-lasting reduction of tinnitus and may represent a potential treatment approach. Thirty-two patients with chronic and treatment-resistant tinnitus received six sessions of bifrontal tDCS (1.5 mA, 30 min, two sessions per week) with the anode over the right and the cathode over the left DLPFC. Treatment outcome was assessed with several standardized tinnitus questionnaires, numeric rating scales, and a depression scale. In the entire group, beneficial effects of bifrontal tDCS on tinnitus were found for numeric rating scores of loudness, unpleasantness, and discomfort, but not in tinnitus or depression scales. Exploratory analysis revealed an effect of gender on treatment effects with female patients demonstrating a better response in several scores. Our open-label pilot study suggests some beneficial effect of bifrontal tDCS (anode right and cathode left) in the treatment of severe tinnitus, warranting further controlled studies.
Access options
Buy single article
Instant access to the full article PDF.
USD 39.95
Price includes VAT (USA)
Tax calculation will be finalised during checkout.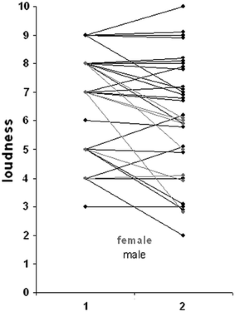 References
1.

Boggio PS, Rocha RR, da Silva MT, Fregni F (2008) Differential modulatory effects of transcranial direct current stimulation on a facial expression go-no-go task in males and females. Neurosci Lett 447:101–105

2.

Butler T, Pan H, Epstein J, Protopopescu X, Tuescher O, Goldstein M, Cloitre M, Yang Y, Phelps E, Gorman J, Ledoux J, Stern E, Silbersweig D (2005) Fear-related activity in subgenual anterior cingulate differs between men and women. Neuroreport 16:1233–1236

3.

Chaieb L, Antal A, Paulus W (2008) Gender-specific modulation of short-term neuroplasticity in the visual cortex induced by transcranial direct current stimulation. Vis Neurosci 25:77–81

4.

Cronlein T, Langguth B, Geisler P, Hajak G (2007) Tinnitus and insomnia. Prog Brain Res 166:227–233

5.

De Ridder D, Elgoyhen AB, Romo R, Langguth B (2011) Phantom percepts: tinnitus and pain as persisting aversive memory networks. Proc Natl Acad Sci USA 108:8075–8080

6.

De Ridder D, Fransen H, Francois O, Sunaert S, Kovacs S, Van de Heyning P (2006) Amygdalohippocampal involvement in tinnitus and auditory memory. Acta Otolaryngol Suppl 556:50–53

7.

De Ridder D, Verstraeten E, Van der KK, De Mulder G, Sunaert S, Verlooy J, Van de HP, Moller A (2005) Transcranial magnetic stimulation for tinnitus: influence of tinnitus duration on stimulation parameter choice and maximal tinnitus suppression. Otol Neurotol 26:616–619

8.

Dobie R (2004) Clinical trials and drug therapy for tinnitus. In: Snow JB (ed) Tinnitus: theory and management. BC Decker, Hamilton, pp 266–277

9.

Dobie RA (1999) A review of randomized clinical trials in tinnitus. Laryngoscope 109:1202–1211

10.

Eggermont JJ (2007) Pathophysiology of tinnitus. Prog Brain Res 166:19–35

11.

Elgoyhen AB, Langguth B (2010) Pharmacological approaches to the treatment of tinnitus. Drug Discov Today 15:300–305

12.

Frank E, Wilfurth S, Landgrebe M, Eichhammer P, Hajak G, Langguth B (2010) Anodal skin lesions after treatment with transcranial direct current stimulation. Brain Stimul 3:58–59

13.

Fregni F, Marcondes R, Boggio PS, Marcolin MA, Rigonatti SP, Sanchez TG, Nitsche MA, Pascual-Leone A (2006) Transient tinnitus suppression induced by repetitive transcranial magnetic stimulation and transcranial direct current stimulation. Eur J Neurol 13:996–1001

14.

Fumagalli M, Vergari M, Pasqualetti P, Marceglia S, Mameli F, Ferrucci R, Mrakic-Sposta S, Zago S, Sartori G, Pravettoni G, Barbieri S, Cappa S, Priori A (2010) Brain switches utilitarian behavior: does gender make the difference? PLoS ONE 5:e8865

15.

Garin P, Gilain C, Van Damme JP, de Fays K, Jamart J, Ossemann M, Vandermeeren Y (2011) Short- and long-lasting tinnitus relief induced by transcranial direct current stimulation. J Neurol. doi:10.1007/s00415-011-6037-6

16.

Goebel G, Hiller W (1994) The tinnitus questionnaire. A standard instrument for grading the degree of tinnitus. Results of a multicenter study with the tinnitus questionnaire. HNO 42:166–172

17.

Hamann S, Canli T (2004) Individual differences in emotion processing. Curr Opin Neurobiol 14:233–238

18.

Hoffman HJ, Reed GW (2004) Epidemiology of Tinnitus. In: Snow JB (ed) Tinnitus: theory and management. BC Decker, London, pp 16–41

19.

Jastreboff PJ (1990) Phantom auditory perception (tinnitus): mechanisms of generation and perception. Neurosci Res 8:221–254

20.

Keeser D, Padberg F, Reisinger E, Pogarell O, Kirsch V, Palm U, Karch S, Moller HJ, Nitsche MA, Mulert C (2011) Prefrontal direct current stimulation modulates resting EEG and event-related potentials in healthy subjects: a standardized low resolution tomography (sLORETA) study. Neuroimage 55:644–657

21.

Kleinjung T, Eichhammer P, Landgrebe M, Sand P, Hajak G, Steffens T, Strutz J, Langguth B (2008) Combined temporal and prefrontal transcranial magnetic stimulation for tinnitus treatment: a pilot study. Otolaryngol Head Neck Surg 138:497–501

22.

Kleinjung T, Fischer B, Langguth B, Sand PG, Hajak G, Dvorakova J, Eichhammer P (2007) Validation of the German-version tinnitus handicap inventory (THI). Psychiatr Prax 34:140–142

23.

Landgrebe M, Langguth B, Rosengarth K, Braun S, Koch A, Kleinjung T, May A, De Ridder D, Hajak G (2009) Structural brain changes in tinnitus: grey matter decrease in auditory and non-auditory brain areas. Neuroimage 46:213–218

24.

Landgrebe M, Zeman F, Koller M, Eberl Y, Mohr M, Reiter J, Staudinger S, Hajak G, Langguth B (2010) The Tinnitus Research Initiative (TRI) database: a new approach for delineation of tinnitus subtypes and generation of predictors for treatment outcome. BMC Med Inform Decis Mak 10:42

25.

Langguth B, De Ridder D, Dornhoffer JL, Eichhammer P, Folmer RLFE, Fregni F, Gerloff C, Khedr E, Kleinjung T, Landgrebe M, Lee S, Lefaucheur JP, Londero A, Marcondes R, Moller AR, Pascual-Leone A, Plewnia C, Rossi S, Sanchez T, Sand PG, Schlee W, Steffens T, Van de Heyning P, Hajak G (2008) Does rTMS/tDCS show efficacy in treating tinnitus patients? Brain Stimul 1:192–205

26.

Langguth B, Goodey R, Azevedo A, Bjorne A, Cacace A, Crocetti A, Del BL, De RD, Diges I, Elbert T, Flor H, Herraiz C, Ganz ST, Eichhammer P, Figueiredo R, Hajak G, Kleinjung T, Landgrebe M, Londero A, Lainez MJ, Mazzoli M, Meikle MB, Melcher J, Rauschecker JP, Sand PG, Struve M, Van de HP, Van DP, Vergara R (2007) Consensus for tinnitus patient assessment and treatment outcome measurement: Tinnitus Research Initiative meeting, Regensburg, July 2006. Prog Brain Res 166:525–536

27.

Langguth B, Landgrebe M, Kleinjung T, Sand GP, Hajak G (2011) Tinnitus and depression. World J Biol Psychiatry. doi:10.3109/15622975.2011.575178

28.

Langguth B, Salvi R, Elgoyhen AB (2009) Emerging pharmacotherapy of tinnitus. Expert Opin Emerg Drugs 14:687–702

29.

Leaver AM, Renier L, Chevillet MA, Morgan S, Kim HJ, Rauschecker JP (2011) Dysregulation of limbic and auditory networks in tinnitus. Neuron 69:33–43

30.

Lorenz I, Muller N, Schlee W, Langguth B, Weisz N (2010) Short-term effects of single repetitive TMS sessions on auditory evoked activity in patients with chronic tinnitus. J Neurophysiol 104:1497–1505

31.

Mak AK, Hu ZG, Zhang JX, Xiao Z, Lee TM (2009) Sex-related differences in neural activity during emotion regulation. Neuropsychologia 47:2900–2908

32.

Møller AR (2003) Pathophysiology of tinnitus. Otolaryngol Clin North Am 36:249–266

33.

Muhlau M, Rauschecker JP, Oestreicher E, Gaser C, Rottinger M, Wohlschlager AM, Simon F, Etgen T, Conrad B, Sander D (2006) Structural brain changes in tinnitus. Cereb Cortex 16:1283–1288

34.

Nater UM, Abbruzzese E, Krebs M, Ehlert U (2006) Sex differences in emotional and psychophysiological responses to musical stimuli. Int J Psychophysiol 62:300–308

35.

Nitsche MA, Cohen LG, Wassermann EM, Priori A, Lang N, Antal A, Paulus W, Hummel F, Boggio PS, Fregni F, Pascual-Leone A (2008) Transcranial direct current stimulation: state of the art 2008. Brain Stimul 1:206–223

36.

Norena A, Cransac H, Chery-Croze S (1999) Towards an objectification by classification of tinnitus. Clin Neurophysiol 110:666–675

37.

Rauschecker JP, Leaver AM, Muhlau M (2010) Tuning out the noise: limbic-auditory interactions in tinnitus. Neuron 66:819–826

38.

Schlee W, Hartmann T, Langguth B, Weisz N (2009) Abnormal resting-state cortical coupling in chronic tinnitus. BMC Neurosci 10:11

39.

Shargorodsky J, Curhan GC, Farwell WR (2010) Prevalence and characteristics of tinnitus among US adults. Am J Med 123:711–718

40.

Shulman A (1995) A final common pathway for tinnitus—the medial temporal lobe system. Int Tinnitus J 1:115–126

41.

Vanneste S, Focquaert F, Van de Heyning P, De Ridder D (2011) Different resting state brain activity and functional connectivity in patients who respond and not respond to bifrontal tDCS for tinnitus suppression. Exp Brain Res 210:217–227

42.

Vanneste S, Langguth B, De Ridder D (2011) Do tDCS and TMS influence tinnitus via a direct cortical and indirect somatosensory modulating effect? A combined TMS-tDCSand TENS study. Brain Stimulation. doi:10.1016/j.brs.2010.12.001

43.

Vanneste S, Plazier M, der Loo E, de Heyning PV, Congedo M, De Ridder D (2010) The neural correlates of tinnitus-related distress. Neuroimage 52:470–480

44.

Vanneste S, Plazier M, Ost J, van der Loo E, Van de Heyning P, De Ridder D (2010) Bilateral dorsolateral prefrontal cortex modulation for tinnitus by transcranial direct current stimulation: a preliminary clinical study. Exp Brain Res 202:779–785

45.

Vanneste S, Plazier M, Van de HP, De RD (2011) Repetitive transcranial magnetic stimulation frequency dependent tinnitus improvement by double cone coil prefrontal stimulation. J Neurol Neurosurg Psychiatry. doi:10.1136/jnnp.2010.213959

46.

Zeman F, Koller M, Figueiredo R, Aazevedo A, Rates M, Coelho C, Kleinjung T, De RD, Langguth B, Landgrebe M (2011) Tinnitus handicap inventory for evaluating treatment effects: which changes are clinically relevant? Otolaryngol Head Neck Surg. doi:10.1177/0194599811403882
Acknowledgments
The study was supported by the Tinnitus Research Initiative. The authors also wish to thank Sandra Pflügl and Helene Niebling for technical support with tDCS.
Conflict of interest
The authors declare that they have no conflicts of interest in relation to the study.
About this article
Cite this article
Frank, E., Schecklmann, M., Landgrebe, M. et al. Treatment of chronic tinnitus with repeated sessions of prefrontal transcranial direct current stimulation: outcomes from an open-label pilot study. J Neurol 259, 327–333 (2012). https://doi.org/10.1007/s00415-011-6189-4
Received:

Revised:

Accepted:

Published:

Issue Date:
Keywords
Prefrontal cortex

Phantom perception

Transcranial direct current stimulation

Treatment

Gender