Abstract
Changes in neuronal activity have been described in patients with hemianopia following ischemic lesions of the visual cortex. This reorganization may facilitate compensation of lost visual function that is rarely fully restituted. Improving exploratory eye movements with appropriate training has been shown to partially compensate for the visuoperceptive impairment during daily life activities. The changes in cortical processing of visual stimuli that may be induced by these training strategies, however, are less well described. We used fMRI to study the training effects of eye-movement training on cortical representation of visual hemifields. Brain activation during hemifield stimulation was measured in eight patients with an occipital cortical lesion of the striate cortex causing homonymous hemianopia. Starting 8 weeks after the stroke, patients received 4 weeks of eye movement training. fMRI measurements were performed at baseline and after training. In five patients, follow-up fMRI was performed 4 weeks after the end of training. Differences in activation between rest and hemifield stimulation as well as before and after training were assessed with statistical parametric mapping. Twelve healthy subjects were scanned twice at a 4-week interval. During stimulation of the affected hemifield, significant activation at baseline was found bilaterally in extrastriate cortical areas, with the strongest increases in the contralesional hemisphere. This activation pattern was maintained after training. Four weeks after the end of training, there was an additional activation of the extrastriate cortex in the contralesional hemisphere compared to baseline. No changes in the size of visual field defects were found. In this group of patients, eye-movement training induced altered brain activation in the unaffected extrastriate cortex.
This is a preview of subscription content, log in to check access.
Access options
Buy single article
Instant access to the full article PDF.
US$ 39.95
Price includes VAT for USA
Subscribe to journal
Immediate online access to all issues from 2019. Subscription will auto renew annually.
US$ 199
This is the net price. Taxes to be calculated in checkout.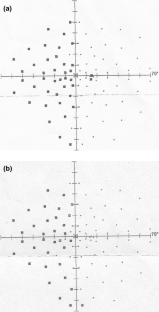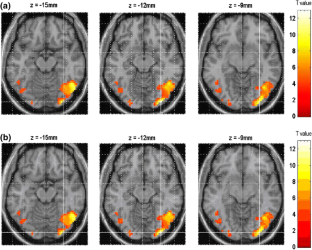 References
1.

Romano JG (2009) Progress in rehabilitation of hemianopic visual field defects. Cerebrovasc Dis 27(suppl 1):187–190

2.

Kasten E, Wust S, Behrens-Baumann W, Sabel BA (1998) Computer-based training for the treatment of partial blindness. Nat Med 4:1083–1087

3.

Kasten E, Bunzenthal U, Sabel BA (2006) Visual field recovery after vision restoration therapy (VRT) is independent of eye movements: an eye tracker study. Behav Brain Res 175:18–26

4.

Balliet R, Blood KM, Bach-Y-Rita P (1985) Visual field rehabilitation in the cortically blind? J Neurol Neurosurg Psychiatry 48(11):1113–1124

5.

Reinhard J, Schreiber A, Schiefer U, Kasten E, Sabel BA, Kenkel S, Vonthein R, Trauzettel-Klosinski S (2005) Does visual restitution training change absolute homonymous visual field defect? Br J Ophthalmol 89(1):30–35

6.

Kerkhoff G, Munssinger U, Meier EK (1994) Neurovisual rehabilitation in cerebral blindness. Arch Neurol 51:474–481

7.

Nelles G, Esser J, Eckstein A, Tiede A, Gerhard H, Diener H (2001) Compensatory visual field training in recovery from hemianopia after stroke. Neurosci Lett 306:192–198

8.

Pambakian AL, Mannan SK, Hodgson TL, Kennard C (2004) Saccadic visual search training: a treatment for patients with homonymous hemianopia. J Neurol Neurosurg Psychiatry 75:1443–1448

9.

Roth T, Sokolov AN, Messias A, Roth P, Weller M, Trauzettel-Klosinski S (2009) Comparing explorative saccade and flicker training in hemianopia. Neurology 72(4):324–331

10.

Schuett S, Kentridge RW, Zihl J, Heywood CA (2009) Adaptation of eye-movements to simulated hemianopia in reading and visual exploration: transfer or specificity? Neuropsychologia 47:1712–1720

11.

Bolognini N, Rasi F, Coccia M, Ladavas E (2005) Visual search improvement in hemianopic patients after audio-visual stimulation. Brain 128:2830–2842

12.

Kinsbourne M (1974) Lateral interactions in the brain. In: Kinsbourne M, Smith WL (eds) Hemispheric disconnection and cerebral function. C.C. Thomas, Springfield

13.

Albert ML (1973) A simple test of visual neglect. Neurology 23:658–664

14.

Heilmann KM, Watson RT, Valenstein E (1992) Neglect and related disorder. In: Heilmann KM, Valenstein E (eds) Clinical neuropsychology. Oxford University Press, Oxford

15.

Frackowiak R, Friston K, Frith C, Dolan R, Mazziotta J (1997) Human brain function. Academic Press, San Diego

16.

Friston KJ, Holmes AP, Price CJ, Buchel C, Worsley KJ (1999) Multisubject fMRI studies and conjunction analyses. Neuroimage 10:385–396

17.

Talairach J, Tournoux P (1988) Coplanar stereotaxic atlas of the human brain. Thieme Verlag, New York

18.

Tootell RB, Mendola JD, Hadjikhani NK, Liu AK, Dale AM (1998) The representation of the ipsilateral visual field in human cerebral cortex. Proc Natl Acad Sci USA 95(3):818–824

19.

Nelles G, Widman G, de Greiff A, Meistrowitz A, Dimitrova A, Weber J, Forsting M, Esser J, Diener HC (2002) Brain representation of hemifield stimulation in poststroke visual field defects. Stroke 33:1286–1293

20.

Nelles G, de Greiff A, Pscherer A, Forsting M, Hufnagel A, Esser J, Diener HC (2007) Cortical representation of visual field defects after stroke. Neurosci Lett 426:34–38

21.

Tardif E, Clarke S (2002) Commissural connections of human superior colliculus. Neuroscience 111:363–372

22.

Ffytche DH, Skidmore BD, Zeki S (1995) Motion-from-hue activates area V5 of human visual cortex. Proc R Soc Lond B Biol Sci 260(1359):353–358

23.

Billino J, Braun DI, Böhm KD, Bremmer F, Gegenfurtner KR (2009) Cortical networks for motion processing: effects of focal brain lesions on perception of different motion types. Neuropsychologia 47(10):2133–2144

24.

Trauzettel-Klosinski S, Reinhard J (1998) The vertical field border in hemianopia and its significance for fixation and reading. Invest Ophthalmol Vis Sci 39:2177–2186

25.

Henriksson L, Raninen A, Näsänen R, Hyvärinen L, Vanni S (2007) Training-induced cortical representation of a hemianopic hemifield. J Neurol Neurosurg Psychiatry 78:74–81

26.

Marshall RS, Ferrera JJ, Barnes A, Zhang Xian, O'Brien KA, Chmayssani M, Hirsch J, Lazar RM (2008) Brain activity associated with stimulation therapy of the visual borderzone in hemianopic stroke patients. Neurorehabil Neural Repair 22:136–144
Acknowledgments
Supported by "Interne Forschungsförderung der Universität Essen, IFORES".
About this article
Cite this article
Nelles, G., Pscherer, A., de Greiff, A. et al. Eye-movement training-induced changes of visual field representation in patients with post-stroke hemianopia. J Neurol 257, 1832–1840 (2010). https://doi.org/10.1007/s00415-010-5617-1
Received:

Accepted:

Published:

Issue Date:
Keywords
Hemianopia

Rehabilitation

Visual field defect

Stroke

Eye movement

Saccades

Functional magnetic resonance imaging (fMRI)