Abstract
Musician's dystonia is a type of task specific dystonia for which the pathophysiology is not clear. In this study, we performed functional magnetic resonance imaging to investigate the motor-related brain activity associated with musician's dystonia. We compared brain activities measured from subjects with focal hand dystonia and normal (control) musicians during right-hand, left-hand, and both-hands tapping tasks. We found activations in the thalamus and the basal ganglia during the tapping tasks in the control group but not in the dystonia group. For both groups, we detected significant activations in the contralateral sensorimotor areas, including the premotor area and cerebellum, during each tapping task. Moreover, direct comparison between the dystonia and control groups showed that the dystonia group had greater activity in the ipsilateral premotor area during the right-hand tapping task and less activity in the left cerebellum during the both-hands tapping task. Thus, the dystonic musicians showed irregular activation patterns in the motor-association system. We suggest that irregular neural activity patterns in dystonic subjects reflect dystonic neural malfunction and consequent compensatory activity to maintain appropriate voluntary movements.
Access options
Buy single article
Instant access to the full article PDF.
USD 39.95
Price excludes VAT (USA)
Tax calculation will be finalised during checkout.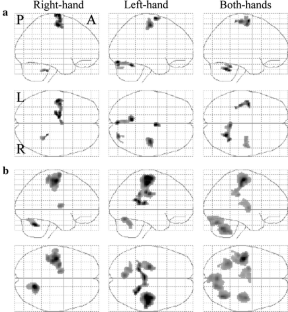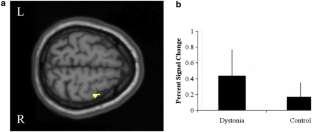 References
Begliomini C, Nelini C, Caria A, Grodd W, Castiello U (2008) Cortical activations in humans grasp-related areas depend on hand used and handedness. Plos One 3:1–9

Berardelli A, Rothwell JC, Hallett M, Thompson PD, Manfredi M, Marsden CD (1998) The pathophysiology of primary dystonia. Brain 121:1195–1212

Blakemore SJ, Frith CD, Wolpert DM (2001) The cerebellum is involved in predicting the sensory consequences of action. Neuroreport 12:1879–1884

Ceballos-Baumann AO, Sheean G, Passingham RE, Marsden CD, Brooks DJ (1997) Botulinum toxin does not reverse the cortical dysfunction associated with writer's cramp. A PET study. Brain 120:571–582

Elbert T, Candia V, Altenmüller E, Rau H, Sterr A, Rockstroh B, Pantev C, Taub E (1998) Alteration of digital representations in somatosensory cortex in focal hand dystonia. Neuroreport 9:3571–3575

Gilio F, Curra A, Inghilleri M, Lorenzano C, Suppa A, Manfredi M, Berardelli A (2003) Abnormalities of motor cortex excitability preceding movement in patients with dystonia. Brain 126:1745–1754

Hallett M (1998) Physiology of dystonia. Adv Neurol 78:11–18

Haslinger B, Erhard P, Dresel C, Castrop F, Roettinger M, Ceballos-Baumann AO (2005) "Silent event-related fMRI" reveals reduced sensorimotor activation in laryngeal dystonia. Neurology 65:1562–1569

Ibáñez V, Sadato N, Karp B, Deiber MP, Hallett M (1999) Deficient activation of the motor cortical network in patients with writer's cramp. Neurology 53:96–105

Lerner A, Shill H, Hanakawa T, Bushara K, Goldfine A, Hallett M (2004) Regional cerebral blood flow correlates of the severity of writer's cramp symptoms. Neuroimage 21:904–913

Lim VK, Altenmüller E, Bradshaw JL (2001) Focal dystonia: current theories. Hum Mov Sci 20:875–914

Munte TF, Altenmüller E, Jancke L (2002) The musician's brain as a model of neuroplasticity. Nat Rev Neurosci 3:473–478

Murase N, Rothwell JC, Kaji R, Urushihara R, Nakamura K, Murayama N, Igasaki T, Sakata-Igasaki M, Mima T, Ikeda A, Shibasaki H (2005) Subthreshold low-frequency repetitive transcranial magnetic stimulation over the premotor cortex modulates writer's cramp. Brain 128:104–115

Nishimura Y, Onoe H, Morichika Y, Perfiliev S, Tsukada H, Isa T (2007) Time-dependent central compensatory mechanisms of finger dexterity after spinal cord injury. Science 318:1150–1155

Oga T, Honda M, Toma K, Murase N, Okada T, Hanakawa T, Sawamoto N, Nagamine T, Konishi J, Fukuyama H, Kaji R, Shibasaki H (2002) Abnormal cortical mechanisms of voluntary muscle relaxation in patients with writer's cramp: an fMRI study. Brain 125:895–903

Pascual-Leone A (2001) The brain that plays music and is changed by it. Ann N Y Acad Sci 930:315–329

Porter R, Lemon R (1993) Motor functions of non-primary cortical motor areas. In: Porter R, Lemon R (eds) Cortical function and voluntary movement. Clarendon Press, Oxford, pp 273–303

Preibisch C, Berg D, Hofmann E, Solymosi L, Naumann M (2001) Cerebral activation patterns in patients with writer's cramp: a functional magnetic resonance imaging study. J Neurol 248:10–17

Pujol J, Roset-Llobet J, Rosines-Cubells D, Deus J, Narberhaus B, Valls-Sole J, Capdevila A, Pascual-Leone A (2000) Brain cortical activation during guitar-induced hand dystonia studied by functional MRI. Neuroimage 12:257–267

Pullman SL, Hristova AH (2005) Musician's dystonia. Neurology 64:186–187

Quartarone A, Bagnato S, Rizzo V, Siebner HR, Dattola V, Scalfari A, Morgante F, Battaglia F, Romano M, Girlanda P (2003) Abnormal associative plasticity of the human motor cortex in writer's cramp. Brain 126:2586–2596

Rosenkranz K, Williamon A, Butler K, Cordivari C, Lees AJ, Rothwell JC (2005) Pathophysiological differences between musician's dystonia and writer's cramp. Brain 128:918–931

Siebner HR, Filipovic SR, Rowe JB, Cordivari C, Gerschlager W, Rothwell JC, Frackowiak RS, Bhatia KP (2003) Patients with focal arm dystonia have increased sensitivity to slow-frequency repetitive TMS of the dorsal premotor cortex. Brain 126:2710–2725

Talairach J, Tournoux P (1988) Co-planar stereotactic atlas of the human brain: Three-dimensional proportional system: an approach to cerebral imaging. George Thieme Verlag, Stuttgart

Torres-Russotto D, Perlmutter JS (2008) Task-specific dystonias: a review. Ann N Y Acad Sci 1142:179–199

Xing-yue H, Li W, Hai L, Shi-Zheng Z (2006) Functional magnetic resonance imaging study of writer's cramp. Chin Med J 119:1263–1271
Acknowledgment
This study was partly supported by the YAMAHA Music Foundation. We wish to thank Prof. Emer. Juntendo University Dr. Yasuo Yamauchi for helpful comments and encouragement.
About this article
Cite this article
Kadota, H., Nakajima, Y., Miyazaki, M. et al. An fMRI study of musicians with focal dystonia during tapping tasks. J Neurol 257, 1092–1098 (2010). https://doi.org/10.1007/s00415-010-5468-9
Received:

Accepted:

Published:

Issue Date:

DOI: https://doi.org/10.1007/s00415-010-5468-9
Keywords
Functional magnetic resonance imaging

Musician

Dystonia

Premotor cortex