Abstract
The malnutrition common among patients with ALS can be attributed in some cases to increased resting energy expenditure (REE). However, the origins and evolution of this hypermetabolism have yet to be fully elucidated. The aim of the present study was to monitor REE over time in patients with ALS and to identify factors that may explain any variation observed. ALS patients underwent nutritional, neurological and respiratory assessment every 6 months for 2 years (or until they died or became physically incapable of being examined). Sixty-one patients were studied. At inclusion, 47.5% exhibited hypermetabolism, with a mean measured REE (mREE) 19.7 ± 6.4% higher than the mean calculated REE (cREE) (P < 0.0001). The hypermetabolism persisted when mREE was normalized for fat free mass (FFM): 35.1 ± 4.2 versus 32.3 ± 4.7 kcal/kg day−1 (P = 0.02) in hypermetabolic and normometabolic patients, respectively. In univariate analysis, mREE was negatively correlated with age and positively correlated with BMI, FFM, energy and protein intakes, and albumin level. No correlation was found with neurological scores, disease characteristics, respiratory function and survival. Multivariate analysis revealed no significant factors. Only 10 of 45 patients in whom REE was measured at least twice changed their metabolic status. Neither mREE nor mREE/cREE varied significantly over time, despite deteriorating neurological, nutritional and respiratory parameters (P < 0.0001), and an increase in mREE/FFM (P = 0.01). This study confirms that about 50% of ALS patients are hypermetabolic, and 80% show no change in metabolic status over time. Thus, metabolic status (a clinically useful indicator of the need for nutritional support) can be determined early in the evolution of the disease. The origin of hypermetabolism in this context remains unknown, but growing evidence points to mitochondria as having an important role.
Access options
Buy single article
Instant access to the full article PDF.
US$ 39.95
Tax calculation will be finalised during checkout.
Subscribe to journal
Immediate online access to all issues from 2019. Subscription will auto renew annually.
US$ 159
Tax calculation will be finalised during checkout.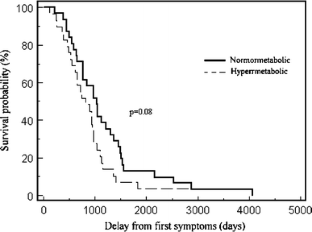 References
1.

Desport JC, Preux PM, Truong TC, Vallat JM, Sautereau D, Couratier P (1999) Nutritional status is a prognostic factor for survival in ALS patients. Neurology 53:1059–1063

2.

Desport JC, Preux PM, Truong CT, Courat L, Vallat JM, Couratier P (2000) Nutritional assessment and survival in ALS patients. Amyotroph Lateral Scler Other Motor Neuron Disord 1:91–96

3.

Desport JC, Preux PM, Magy L et al (2001) Factors correlated with hypermetabolism in patients with amyotrophic lateral sclerosis. Am J Clin Nutr 74:328–334

4.

Desport JC, Torny F, Lacoste M, Preux PM, Couratier P (2005) Hypermetabolism in ALS: correlations with clinical and paraclinical parameters. Neurodegener Dis 2:202–207. doi:10.1159/000089626

5.

Dupuis L, Oudart H, René F, Gonzalez de Aguila JL, Loeffler JP (2004) Evidence for defective energy homeostasis in amyotrophic lateral sclerosis: benefit of a high-energy diet in a transgenic mouse model. Proc Natl Acad Sci USA 101:11159–11164. doi:10.1073/pnas.0402026101

6.

Ferrannini E (1988) The theoretical bases of indirect calorimetry: a review. Metabolism 37:287–301. doi:10.1016/0026-0495(88)90110-2

7.

Gubbay SS, Kahana E, Zilber N, Cooper G, Pintov S, Leibowitz Y (1985) Amyotrophic lateral sclerosis: a study of its presentation and prognosis. J Neurol 232:295–300. doi:10.1007/BF00313868

8.

Harris JA, Benedict FG (1919) A biometric study of basal metabolism in man. Carnegie institute of Washington, Washington DC, publication number 279

9.

Kasarskis EJ, Berryman S, Vanderleest JG, Schneider AR, Mc Clain CJ (1996) Nutritional status of patients with amyotrophic lateral sclerosis: relation to the proximity of death. Am J Clin Nutr 63:130–137

10.

Medical Research Council Aid to the investigation of peripheral nerve injuries (1943) In: Medical research Council. War memorandum, 2nd edn. His Majesty's Stationery Office, London, pp 11–46

11.

Menzies FM, Ince PG, Shaw PJ (2002) Mitochondrial involvement in amyotrophic lateral sclerosis. Neurochem Int 40:543–551. doi:10.1016/S0197-0186(01)00125-5

12.

Nau KL, Bromberg MB, Forshew DA, Katch VL (1995) Individuals with amyotrophic lateral sclerosis are in caloric balance despite losses in mass. J Neurol Sci 129(suppl):47–49. doi:10.1016/0022-510X(95)00061-6

13.

Poehlman ET (1993) Regulation of energy expenditure in aging humans. J Am Geriatr Soc 41:552–559

14.

Ravussin E, Lillioja S, Anderson TE, Christin L, Bogardus C (1986) Determinants of 24-hour energy expenditure in man. Methods and results using a respiratory chamber. J Clin Invest 78:1568–1578. doi:10.1172/JCI112749

15.

Rosen DR, Siddique T, Patterson D, Figlewicz DA, Sapp P, Hentati A et al (1993) Mutations in Cu/Zn superoxide dismutase gene are associated with familial amyotrophic lateral sclerosis. Nature 362:59–62. doi:10.1038/362059a0

16.

Sherman MS, Pillai A, Jackson A, Heiman-Patterson T (2004) Standard equations are not accurate in assessing resting energy expenditure in patients with amyotrophic lateral sclerosis. J Parenter Enteral Nutr 28:442–446. doi:10.1177/0148607104028006442

17.

Shimizu T, Hayashi H, Tanabe H (1991) Energy metabolism of ALS patients under mechanical ventilation and tube feeding. Clin Neurol 31:255–259

18.

Silani V, Kasarskis EJ, Yanagisawa N (1998) Nutritional management in amyotrophic lateral sclerosis: a worldwide perspective. J Neurol 245(suppl. 2):S13–S19. doi:10.1007/PL00014805

19.

Slowie LA, Paige MS, Antel JP (1983) Nutritional considerations in the management of patients with amyotrophic lateral sclerosis (ALS). J Am Diet Assoc 83:44–47

20.

Subcommittee on Motor Neuron Diseases/Amyotrophic Lateral Sclerosis of the World Federation of Neurology Research Group on Neuromuscular Diseases (1994) El Escorial "clinical limits of amyotrophic lateral sclerosis" workshop contributors. El Escorial World Federation of Neurology criteria for the diagnosis of amyotrophic lateral sclerosis. J Neurol Sci 124(suppl):96–107. doi:10.1016/0022-510X(94)90191-0

21.

The ALS (1996) CNTF treatment study (ACTS) phase I–II study group. The amyotrophic lateral sclerosis functional rating scale: assessment of activities of daily living in patients with amyotrophic lateral sclerosis. Arch Neurol 53:141–147

22.

Vielhaber S, Kunz D, Winkler K, Wiedemann FR, Kirches E, Feistner H, Heinze HJ, Elger CE, Schubert W, Kunz WS (2000) Mitochondrial DNA abnormalities in skeletal muscle of patients with sporadic amyotrophic lateral sclerosis. Brain 123:1339–1348. doi:10.1093/brain/123.7.1339

23.

Wiedmann F, Winkler K, Kuznestov A, Bartels C, Vielhaber S, Feistner H, Kunz W (1998) Impairment of mitochondrial function in skeletal muscle of patients with amyotrophic lateral sclerosis. J Neurol Sci 156:65–72. doi:10.1016/S0022-510X(98)00008-2
Acknowledgments
The authors thank Marion Brandolini, dietician, Laboratory of Human Nutrition, for analysing food intake records and Mr. William Francis for reviewing the paper.
Conflicts of interest statement
The authors report no conflicts of interest.
Additional information
The study was supported by an academic grant for a "local hospital program of clinical research".
About this article
Cite this article
Bouteloup, C., Desport, JC., Clavelou, P. et al. Hypermetabolism in ALS patients: an early and persistent phenomenon. J Neurol 256, 1236–1242 (2009). https://doi.org/10.1007/s00415-009-5100-z
Received:

Accepted:

Published:

Issue Date:
Keywords
Amyotrophic lateral sclerosis

Motor neuron disease