Abstract
Infectious agents have been proposed as potential causes of Alzheimer's disease (AD). Recently, we documented a high prevalence of Helicobacter pylori (Hp) infection in patients with AD. We aim to access the effect of Hp eradication on the AD cognitive (MMSE: Mini Mental State Examination and CAMCOG: Cambridge Cognitive Examination for the Elderly) and functional (FRSSD: Functional Rating Scale for Symptoms of Dementia) status parameters. In the first part of the study, a total of 50 consecutive patients with AD and 30 age-matched anaemic controls underwent an upper gastrointestinal endoscopy, and gastric mucosal biopsies were obtained to detect the presence of Hp infection by histologic analysis and rapid urease test. Serum anti-Hp-specific IgG level was analysed by enzyme-linked immunosorbent assay. In the second part, Hp-positive AD patients received a triple eradication regimen (omeprazole, clarithromycin and amoxicillin), and all patients were followed up for 2 years, while under the same treatment with cholinesterase inhibitors. Hp was detected in 88% of AD patients and in 46.7% of controls (P < 0.001). Hp eradication was successful in 84.8% of treated patients. At the 2-year clinical endpoint, cognitive and functional status parameters improved in the subgroup of patients where Hp eradication was successful (P < 0.001 and P = 0.049 for MMSE and CAMCOG, respectively; P < 0.001 for FRSSD), but not in the other patients. Hp eradication may positively influence AD manifestations, suggesting a possible common link between Hp and AD.
Access options
Buy single article
Instant access to the full article PDF.
USD 39.95
Price excludes VAT (USA)
Tax calculation will be finalised during checkout.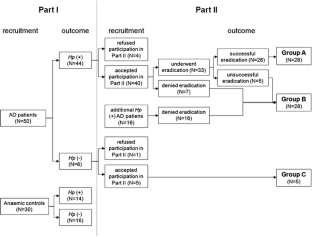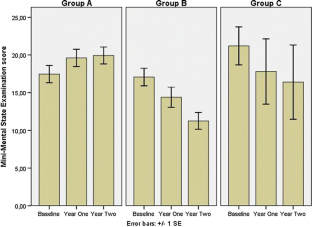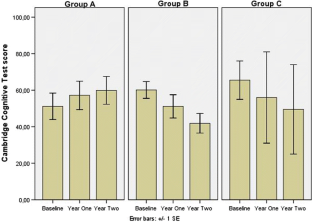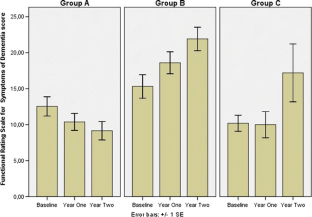 References
Aliyev A, Chen SG, Seyidova D, Smith MA, Perry G, de la Torre J, Aliev G (2005) Mitochondria DNA deletions in atherosclerotic hypoperfused brain microvessels as a primary target for the development of Alzheimer's disease. J Neurol Sci 229–230:285–292

Balin BJ, Little CS, Hammond CJ, Appelt DM, Whittum-Hudson JA, Gérard HC, Hudson AP (2008) Chlamydophila pneumoniae and the etiology of late-onset Alzheimer's disease. J Alzheimers Dis 13:371–380

Barrientos RM, Higgins EA, Biedenkapp JC, Sprunger DB, Wright-Hardesty KJ, Watkins LR, Rudy JW, Maier SF (2006) Peripheral infection and aging interact to impair hippocampal memory consolidation. Neurobiol Aging 27:723–732

Bowen JD, Malter AD, Sheppard L, Kukull WA, McCormick WC, Teri L, Larson EB (1996) Predictors of mortality in patients diagnosed with probable Alzheimer's disease. Neurology 47:433–439

Chiba S, Sugiyama T, Yonekura K, Tanaka S, Matsumoto H, Fujii N, Ebisu S, Sekiguchi K (2002) An antibody to VacA of Helicobacter pylori in cerebrospinal fluid from patients with Guillain-Barre syndrome. J Neurol Neurosurg Psychiatry 73:76–78

NIH Consensus Conference (1994) Helicobacter pylori in peptic ulcer disease: NIH Consensus Development Panel on Helicobacter pylori in peptic ulcer disease. JAMA 272:65–69

Fernández-Vizarra P, Fernández AP, Castro-Blanco S, Encinas JM, Serrano J, Bentura ML, Muñoz P, Martínez-Murillo R, Rodrigo J (2004) Expression of nitric oxide system in clinically evaluated cases of Alzheimer's disease. Neurobiol Dis 15:287–305

Gérard HC, Wildt KL, Whittum-Hudson JA, Lai Z, Ager J, Hudson AP (2005) The load of Chlamydia pneumoniae in the Alzheimer's brain varies with APOE genotype. Microb Pathog 39:19–26

Gérard HC, Dreses-Werringloer U, Wildt KS, Deka S, Oszust C, Balin BJ, Frey WH 2nd, Bordayo EZ, Whittum-Hudson JA, Hudson AP (2006) Chlamydophila (Chlamydia) pneumoniae in the Alzheimer's brain. FEMS Immunol Med Microbiol 48:355–366

Godbout JP, Johnson RW (2006) Age and neuroinflammation: a lifetime of psychoneuroimmune consequences. Neurol Clin 24:521–538

Guerreiro RJ, Santana I, Brás JM, Santiago B, Paiva A, Oliveira C (2007) Peripheral inflammatory cytokines as biomarkers in Alzheimer's disease and mild cognitive impairment. Neurodegener Dis 4:406–412

Hallam DM, Capps NL, Travelstead AL, Brewer GJ, Maroun LE (2000) Evidence for an interferon-related inflammatory reaction in the trisomy 16 mouse brain leading to caspase-1-mediated neuronal apoptosis. J Neuroimmunol 110:66–75

Howden CW, Leontiadis GI (2000) Extragastric manifestations of Helicobacter pylori: are they relevant? In: Hunt RH, Tytgat GNJ (eds) Helicobacter pylori: basic mechanisms to clinical cure 2000. Kluwer, Dordrecht, pp 315–326

Itzhaki RF, Wozniak MA (2008) Herpes simplex virus type 1 in Alzheimer's disease: the enemy within. J Alzheimers Dis 13:393–405

Itzhaki RF, Wozniak MA, Appelt DM, Balin BJ (2004) Infiltration of the brain by pathogens causes Alzheimer's disease. Neurobiol Aging 25:619–627

Kaptan K, Beyan C, Ural AU, Cetin T, Avcu F, Gülşen M, Finci R, Yalçín A (2000) Helicobacter pylori: is it a novel causative agent in vitamin B12 deficiency? Arch Intern Med 160:1349–1353

Kawamoto EM, Munhoz CD, Glezer I, Bahia VS, Caramelli P, Nitrini R, Gorjão R, Curi R, Scavone C, Marcourakis T (2005) Oxidative state in platelets and erythrocytes in aging and Alzheimer's disease. Neurobiol Aging 26:857–864

Kelley BJ, Petersen RC (2007) Alzheimer's disease and mild cognitive impairment. Neurol Clin 25:577–609

Kinoshita J (2004) Pathogens as a cause of Alzheimer's disease. Neurobiol Aging 25:639–640

Kountouras J, Chatzopoulos D, Zavos C (2001) Reactive oxygen metabolites and upper gastrointestinal diseases. Hepatogastroenterology 48:743–751

Kountouras J, Mylopoulos N, Chatzopoulos D, Zavos C, Boura P, Konstas AG, Venizelos J (2002) Eradication of Helicobacter pylori may be beneficial in the management of chronic open-angle glaucoma. Arch Intern Med 162:1237–1244

Kountouras J, Mylopoulos N, Konstas AG, Zavos C, Chatzopoulos D, Boukla A (2003) Increased levels of Helicobacter pylori IgG antibodies in aqueous humor of patients with primary open-angle and exfoliation glaucoma. Graefes Arch Clin Exp Ophthalmol 241:884–890

Kountouras J, Deretzi G, Zavos C, Karatzoglou P, Touloumis L, Nicolaides T, Chatzopoulos D, Venizelos I (2005) Association between Helicobacter pylori infection and acute inflammatory demyelinating polyradiculoneuropathy. Eur J Neurol 12:139–143

Kountouras J, Tsolaki M, Gavalas E, Boziki M, Zavos C, Karatzoglou P, Chatzopoulos D, Venizelos I (2006) Relationship between Helicobacter pylori infection and Alzheimer disease. Neurology 66:938–940

Kountouras J, Gavalas E, Zavos C, Stergiopoulos C, Chatzopoulos D, Kapetanakis N, Gisakis D (2007) Alzheimer's disease and Helicobacter pylori infection: defective immune regulation and apoptosis as proposed common links. Med Hypotheses 68:378–388

Kountouras J, Tsolaki M, Boziki M, Gavalas E, Zavos C, Stergiopoulos C, Kapetanakis N, Chatzopoulos D, Venizelos I (2007) Association between Helicobacter pylori infection and mild cognitive impairment. Eur J Neurol 14:976–982

Kountouras J, Deretzi G, Grigoriadis N, Zavos C, Boziki M, Gavalas E, Katsinelos P, Tzilves D, Giouleme O, Lazaraki G (2008) Guillain-Barré syndrome. Lancet Neurol 7:1080–1081

Larson EB, Shadlen MF, Wang L, McCormick WC, Bowen JD, Teri L, Kukull WA (2004) Survival after initial diagnosis of Alzheimer disease. Ann Intern Med 140:501–509

Lin WR, Shang D, Itzhaki RF, Neurotropic viruses, Alzheimer disease (1996) Interaction of herpes simplex type 1 virus and apolipoprotein E in the etiology of the disease. Mol Chem Neuropathol 28:135–141

Little CS, Hammond CJ, MacIntyre A, Balin BJ, Appelt DM (2004) Chlamydia pneumoniae induces Alzheimer-like amyloid plaques in brains of BALB/c mice. Neurobiol Aging 25:419–429

Malaguarnera M, Bella R, Alagona G, Ferri R, Carnemolla A, Pennisi G (2004) Helicobacter pylori and Alzheimer's disease: a possible link. Eur J Intern Med 15:381–386

Malinski T (2007) Nitric oxide and nitroxidative stress in Alzheimer's disease. J Alzheimers Dis 11:207–218

Markus HS, Mendall MA (1998) Helicobacter pylori infection: a risk factor for ischaemic cerebrovascular disease and carotid atheroma. J Neurol Neurosurg Psychiatry 64:104–107

McKhann G, Drachman D, Folstein M, Katzman R, Price D, Stadlan EM (1984) Clinical diagnosis of Alzheimer's disease: report of the NINCDS-ADRDA Work Group under the auspices of Department of Health and Human Services Task Force on Alzheimer's Disease. Neurology 34:939–944

Mendall MA, Goggin PM, Molineaux N, Levy J, Toosy T, Strachan D, Camm AJ, Northfield TC (1994) Relation of Helicobacter pylori infection and coronary heart disease. Br Heart J 71:437–439

Mendall MA, Patel P, Asante M, Ballam L, Morris J, Strachan DP, Camm AJ, Northfield TC (1997) Relation of serum cytokine concentrations to cardiovascular risk factors and coronary heart disease. Heart 78:273–277

Miklossy J (1993) Alzheimer's disease—a spirochetosis? Neuroreport 4:841–848

Miklossy J, Khalili K, Gern L, Ericson RL, Darekar P, Bolle L, Hurlimann J, Paster BJ (2004) Borrelia burgdorferi persists in the brain in chronic lyme neuroborreliosis and may be associated with Alzheimer disease. J Alzheimers Dis 6:639–649

Minami M, Kimura M, Iwamoto N, Arai H (1995) Endothelin-1-like immunoreactivity in cerebral cortex of Alzheimer-type dementia. Prog Neuropsychopharmacol Biol Psychiatry 19:509–513

Moran AP, Prendergast MM (2001) Molecular mimicry in Campylobacter jejuni and Helicobacter pylori lipopolysaccharides: contribution of gastrointestinal infections to autoimmunity. J Autoimmun 16:241–256

Newton M, Bryan R, Burnham WR, Kamm MA (1997) Evaluation of Helicobacter pylori in reflux oesophagitis and Barrett's oesophagus. Gut 40:9–13

Paradowski B, Jaremko M, Dobosz T, Leszek J, Noga L (2007) Evaluation of CSF-Chlamydia pneumoniae, CSF-tau, and CSF-Abeta42 in Alzheimer's disease and vascular dementia. J Neurol 254:154–159

Peterson WL, Graham DY (2002) Helicobacter pylori. In: Sleisenger and Fordtran's gastrointestinal and liver disease, 7th edn, vol 1. WB Saunders Co, Philadelphia, pp 732–746

Pitiriga VC, Kotsis VT, Gennimata V, Alexandrou ME, Papamichail CM, Mitsibounas DN, Petrocheilou-Paschou VD, Zakopoulos NA (2003) Chlamydia pneumoniae and Epstein-Barr antibodies are not associated with carotid thickness: the effect of hypertension. Am J Hypertens 16:777–780

Pulido R, Jimenez-Escrig A, Orensanz L, Saura-Calixto F, Jiménez-Escrig A (2005) Study of plasma antioxidant status in Alzheimer's disease. Eur J Neurol 12:531–535

Robinson SR, Dobson C, Lyons J (2004) Challenges and directions for the pathogen hypothesis of Alzheimer's disease. Neurobiol Aging 25:629–637

Sevush S, Jy W, Horstman LL, Mao WW, Kolodny L, Ahn YS (1998) Platelet activation in Alzheimer disease. Arch Neurol 55:530–536

Shi Q, Gibson GE (2007) Oxidative stress and transcriptional regulation in Alzheimer disease. Alzheimer Dis Assoc Disord 21:276–291

Tan ZS, Beiser AS, Vasan RS, Roubenoff R, Dinarello CA, Harris TB, Benjamin EJ, Au R, Kiel DP, Wolf PA, Seshadri S (2007) Inflammatory markers and the risk of Alzheimer disease: the Framingham Study. Neurology 68:1902–1908

The EUROGAST Study Group (1993) Epidemiology of, and risk factors for, Helicobacter pylori infection among 3194 asymptomatic subjects in 17 populations. Gut 34:1672–1676

Toda N, Nakanishi-Toda M (2007) Nitric oxide: ocular blood flow, glaucoma, and diabetic retinopathy. Prog Retin Eye Res 26:205–238

Triga MG, Anthracopoulos MB, Saikku P, Syrogiannopoulos GA (2002) Chlamydia pneumoniae infection among healthy children and children hospitalised with pneumonia in Greece. Eur J Clin Microbiol Infect Dis 21:300–303

Tsolia MN, Psarras S, Bossios A, Audi H, Paldanius M, Gourgiotis D, Kallergi K, Kafetzis DA, Constantopoulos A, Papadopoulos NG (2004) Etiology of community-acquired pneumonia in hospitalized school-age children: evidence for high prevalence of viral infections. Clin Infect Dis 39:681–686

Waring SC, Rosenberg RN (2008) Genome-wide association studies in Alzheimer disease. Arch Neurol 65:329–334
About this article
Cite this article
Kountouras, J., Boziki, M., Gavalas, E. et al. Eradication of Helicobacter pylori may be beneficial in the management of Alzheimer's disease. J Neurol 256, 758–767 (2009). https://doi.org/10.1007/s00415-009-5011-z
Received:

Revised:

Accepted:

Published:

Issue Date:

DOI: https://doi.org/10.1007/s00415-009-5011-z
Keywords