This is a preview of subscription content, log in to check access.
Access options
Buy single article
Instant access to the full article PDF.
US$ 39.95
Price includes VAT for USA
Subscribe to journal
Immediate online access to all issues from 2019. Subscription will auto renew annually.
US$ 199
This is the net price. Taxes to be calculated in checkout.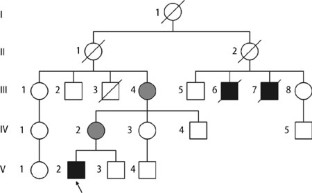 References
1.

Newman NJ (2005) Hereditary optic neuropathies: from the mitochondria to the optic nerve. Am J Ophthalmol 140:517–523

2.

Howell N (1998) Leber hereditary optic neuropathy: respiratory chain dysfunction and degeneration of the optic nerve. Vision Res 38:1495–1504

3.

Battisti C, Formichi P, Cardaioli E, et al. (2004) Cell response to oxidative stress induced apoptosis in patients with Leber's hereditary optic neuropathy. J Neurol Neurosurg Psychiatry 75:1731–1736

4.

Zanna C, Ghelli A, Porcelli AM, Martinuzzi A, Carelli V, Rugolo M (2005) Caspase-independent death of Leber's hereditary optic neuropathy cybrids is driven by energetic failure and mediated by AIF and Endonuclease G. Apoptosis 10:997–1007

5.

Hudson G, Keers S, Yu Wai Man P, et al. (2005) Identification of an X_chromosomal locus and haplotype modulating the phenotype of a mitochondrial DNA disorder. Am J Hum Genet 77:1086–1091

6.

Shaikh S, Ta C, Basham AA, Mansour S (2001) Leber hereditary optic neuropathy associated with antiretroviral therapy for human immunodeficiency virus infection. Am J Ophthalmol 131:143–145

7.

Rufa A, Dotti MT, Cardaioli E, Da Pozzo P, Federico A (2005) Leber hereditary optic neuropathy in 2 of 4 siblings with 11778 mtDNA mutation: clinical variability or effect of toxic environmental exposure? Eur Neurol 53:32–4 [Published Online First: 10 February 2005]

8.

Kovacic P (2005) Role of oxidative metabolites of cocaine in toxicity and addiction: oxidative stress and electron transfer. Med Hypotheses 64:350–356

9.

Zaragoza A, Diez-Fernandez C, Alvarez AM, Andres D, Cascales M (2001) Mitochondrial involvement in cocaine-treated rat hepatocytes: effect of N-acetylcysteine and deferoxamine. Br J Pharmacol 132:1063–1070

10.

Fosslien E (2001) Mitochondrial medicine–molecular pathology of defective oxidative phosphorylation. Ann Clin Lab Sci 31:25–67

11.

Dietrich JB, Poirier R, Aunis D, Zwiller J (2004) Cocaine downregulates the expression of the mitochondrial genome in rat brain. Ann N Y Acad Sci 1025:345–350

12.

Deng X, Cadet JL (1999) Methamphetamine administration causes overexpression of nNOS in the mouse striatum. Brain Res 851:254–257

13.

Jimenez A, Jorda EG, Verdaguer E, et al. (2004) Neurotoxicity of amphetamine derivatives is mediated by caspase pathway activation in rat cerebellar granule cells. Toxicol Appl Pharmacol 196:223–234

14.

Burrows KB, Nixdorf WL, Yamamoto BK (2000) Central administration of methamphetamine synergizes with metabolic inhibition to deplete striatal monoamines. J Pharmacol Exp Ther 292(3):853–860

15.

Beretta S, Mattavelli L, Sala G, et al. (2004) Leber hereditary optic neuropathy mtDNA mutations disrupt glutamate transport in cybrid cell lines. Brain 127(Pt 10):2183–92 [Published Online First: 1 September 2004]

16.

Clay KD, Hanson JS, Pope SD, Rissmiller RW, Purdum PP 3rd, Banks PM (2006) Brief Communication: Severe Hepatotoxicity of Telithromycin: Three Case Reports and Literature Review. Ann Intern Med [Epub ahead of print]
Acknowledgements
Research was partly supported by a grant from University of Siena and Regione Toscana to AF.
Additional information
Received in revised form: 3 July 2006
About this article
Cite this article
Cardaioli, E., Da Pozzo, P., Gallus, G. et al. Leber's Hereditary Optic Neuropathy associated with cocaine, ecstasy and telithromycin consumption. J Neurol 254, 255–256 (2007). https://doi.org/10.1007/s00415-006-0351-4
Received:

Revised:

Accepted:

Published:

Issue Date:
Keywords
Cocaine

Ecstasy

Telithromycin

Increase Reactive Oxygen Species Production

Retinal Ganglion Cell