Abstract
Saliva is a common body fluid with significant forensic value used to investigate criminal cases such as murder and assault. In the past, saliva identification often relied on the α-amylase test; however, this method has low specificity and is prone to false positives. Accordingly, forensic researchers have been working to find new specific molecular markers to refine the current saliva identification approach. At present, research on immunological methods, mRNA, microRNA, circRNA, and DNA methylation is still in the exploratory stage, and the application of these markers still has various limitations. It has been established that salivary microorganisms exhibit good specificity and stability. In this study, 16S rDNA sequencing technology was used to sequence the V3-V4 hypervariable regions in saliva samples from five regions to reveal the role of regional location on the heterogeneity in microbial profile information in saliva. Although the relative abundance of salivary flora was affected to a certain extent by geographical factors, the salivary flora of each sample was still dominated by Streptococcus, Neisseria, and Rothia. In addition, the microbial community in the saliva samples in this study was significantly different from that in the vaginal secretions, semen, and skin samples reported in our previous studies. Accordingly, saliva can be distinguished from the other three body fluids and tissues. Moreover, we established a prediction model based on the random forest algorithm that could distinguish saliva between different regions at the genus level even though the model has a certain probability of misjudgment which needs more in-depth research. Overall, the microbial community information in saliva stains might have prospects for potential application in body fluid identification and biogeographic inference.
Access options
Buy single article
Instant access to the full article PDF.
USD 39.95
Price excludes VAT (USA)
Tax calculation will be finalised during checkout.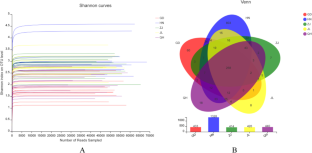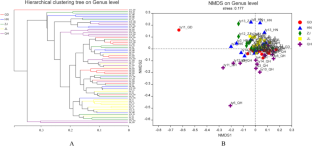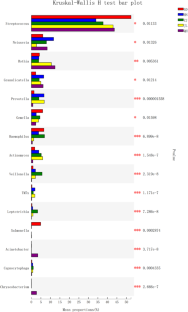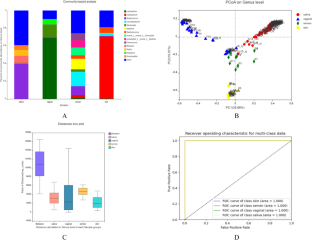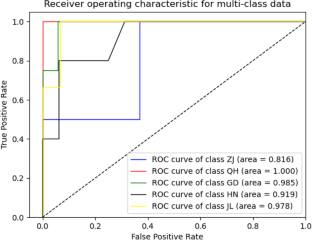 References
Bradbury C, Kottgen A, Staubach F (2019) Off-target phenotypes in forensic DNA phenotyping and biogeographic ancestry inference: a resource[J]. Forensic Sci Int Genet 38:93–104

Kapoor P, Chowdhry A (2018) Salivary signature in forensic profiling: a scoping review[J]. J Forensic Dent Sci 10(3):123–127

Anzai-Kanto E, Hirata MH, Hirata RD et al (2005) DNA extraction from human saliva deposited on skin and its use in forensic identification procedures[J]. Braz Oral Res 19(3):216–222

Tsai LC, Su CW, Lee JC et al (2018) The detection and identification of saliva in forensic samples by RT-LAMP[J]. Forensic Sci Med Pathol 14(4):469–477

Martin NC, Clayson NJ, Scrimger DG (2006) The sensitivity and specificity of red-starch paper for the detection of saliva[J]. Sci Justice 46(2):97–105

Wornes DJ, Speers SJ, Murakami JA (2018) The evaluation and validation of Phadebas((R)) paper as a presumptive screening tool for saliva on forensic exhibits[J]. Forensic Sci Int 288:81–88

Plomp R, de Haan N, Bondt A et al (2018) Comparative glycomics of immunoglobulin A and G from saliva and plasma reveals biomarker potential[J]. Front Immunol 9:2436

Sakurada K, Ikegaya H, Fukushima H et al (2009) Evaluation of mRNA-based approach for identification of saliva and semen[J]. Leg Med (Tokyo) 11(3):125–128

Ohta J, Sakurada K (2019) Oral gram-positive bacterial DNA-based identification of saliva from highly degraded samples[J]. Forensic Sci Int Genet 42:103–112

Diez LC, Vidaki A, Ralf A et al (2019) Novel taxonomy-independent deep learning microbiome approach allows for accurate classification of different forensically relevant human epithelial materials[J]. Forensic Sci Int Genet 41:72–82

Hao Y, Tang C, Du Q et al (2021) Comparative analysis of oral microbiome from Zang and Han populations living at different altitudes[J]. Arch Oral Biol 121:104986

Astasov-Frauenhoffer M, Kulik EM (2021) Cariogenic biofilms and caries from birth to old age[J]. Monogr Oral Sci 29:53–64

Li J, Quinque D, Horz HP et al (2014) Comparative analysis of the human saliva microbiome from different climate zones: Alaska, Germany, and Africa[J]. BMC Microbiol 14:316

Nasidze I, Li J, Quinque D et al (2009) Global diversity in the human salivary microbiome[J]. Genome Res 19(4):636–643

Huang H, Yao T, Wu W et al (2019) Specific microbes of saliva and vaginal fluid of Guangdong Han females based on 16S rDNA high-throughput sequencing[J]. Int J Legal Med 133(3):699–710

Yao T, Han X, Guan T et al (2021) Exploration of the microbiome community for saliva, skin, and a mixture of both from a population living in Guangdong[J]. Int J Legal Med 135(1):53–62

Chen S, Zhou Y, Chen Y et al (2018) fastp: an ultra-fast all-in-one FASTQ preprocessor[J]. Bioinformatics 34(17):i884–i890

Magoc T, Salzberg SL (2011) FLASH: fast length adjustment of short reads to improve genome assemblies[J]. Bioinformatics 27(21):2957–2963

Schloss PD, Westcott SL, Ryabin T et al (2009) Introducing mothur: open-source, platform-independent, community-supported software for describing and comparing microbial communities[J]. Appl Environ Microbiol 75(23):7537–7541

Song J, Gao Y, Yin P et al (2021) The random forest model has the best accuracy among the four pressure ulcer prediction models using machine learning algorithms[J]. Risk Manag Healthc Policy 14:1175–1187

Breiman L (2001) Random forests[J]. Mach Learn 45(1):5–32

Huang H, Liu X, Cheng J et al (2022) A novel multiplex assay system based on 10 methylation markers for forensic identification of body fluids[J]. J Forensic Sci 67(1):136–148

Yao T, Wang Z, Liang X et al (2021) Signatures of vaginal microbiota by 16S rRNA gene: potential bio-geographical application in Chinese Han from three regions of China[J]. Int J Legal Med 135(4):1213–1224

Yao T, Han X, Guan T et al (2020) Effect of indoor environmental exposure on seminal microbiota and its application in body fluid identification[J]. Forensic Sci Int 314:110417

Krishnan K, Chen T, Paster BJ (2017) A practical guide to the oral microbiome and its relation to health and disease[J]. Oral Dis 23(3):276–286

Verma D, Garg PK, Dubey AK (2018) Insights into the human oral microbiome[J]. Arch Microbiol 200(4):525–540

Yamashita Y, Takeshita T (2017) The oral microbiome and human health[J]. J Oral Sci 59(2):201–206

Mughini-Gras L, van Pelt W (2014) Salmonella source attribution based on microbial subtyping: does including data on food consumption matter?[J]. Int J Food Microbiol 191:109–115

Lokmer A, Aflalo S, Amougou N et al (2020) Response of the human gut and saliva microbiome to urbanization in Cameroon[J]. Sci Rep 10(1):2856

Hansen TH, Kern T, Bak EG et al (2018) Impact of a vegan diet on the human salivary microbiota[J]. Sci Rep 8(1):5847

Song JX, Ren H, Gao YF et al (2017) Dietary capsaicin improves glucose homeostasis and alters the gut microbiota in obese diabetic ob/ob mice[J]. Front Physiol 8:602

Li X, Zhang J, Chen W et al (2022) Inter-patient automated arrhythmia classification: a new approach of weight capsule and sequence to sequence combination[J]. Comput Methods Programs Biomed 214:106533

Marsh PD, Do T, Beighton D et al (2016) Influence of saliva on the oral microbiota[J]. Periodontol 2000 70(1):80–92

Wang Q, Garrity GM, Tiedje JM et al (2007) Naive Bayesian classifier for rapid assignment of rRNA sequences into the new bacterial taxonomy[J]. Appl Environ Microbiol 73(16):5261–5267
Acknowledgements
We are grateful to all volunteers who contributed samples for this study.
Funding
This study was supported by the Natural Science Foundation of Guangdong Province (Grant No. 2020A1515010938), the Science and Technology Program of Guangzhou, China (Grant No. 2019030016), and the Opening Fund of Shanghai Key Laboratory of Forensic Medicine (Institute of Forensic Science, Ministry of Justice, China) (Grant No. KF1914).
Ethics declarations
The project was approved by the Ethics Committee of Southern Medical University (No. 2019–0011), and it was carried out in strict accordance with the ethical research principle of Southern Medical University.
Conflict of interest
The authors declare no competing interests.
Additional information
Publisher's note
Springer Nature remains neutral with regard to jurisdictional claims in published maps and institutional affiliations.
Supplementary Information
Below is the link to the electronic supplementary material.
About this article
Cite this article
Liang, X., Han, X., Liu, C. et al. Integrating the salivary microbiome in the forensic toolkit by 16S rRNA gene: potential application in body fluid identification and biogeographic inference. Int J Legal Med 136, 975–985 (2022). https://doi.org/10.1007/s00414-022-02831-z
Received:

Accepted:

Published:

Issue Date:

DOI: https://doi.org/10.1007/s00414-022-02831-z
Keywords
Forensic medicine

Salivary microbiome

16S rRNA gene sequencing

Body fluid identification

Biogeographic inference