Abstract
A 32-year-old male went to the police to claim he just killed his girlfriend by inflicting several stabs with a kitchen knife. He was very nervous and particularly aggressive. About 90 min after the assault, a blood specimen was collected with natrium fluoride as preservative. The blood was free of alcohol, pharmaceuticals and drugs of abuse, but tested positive by LC–MS/MS for metandienone (32 ng/mL) and trenbolone (9 ng/mL). The perpetrator admitted regular consumption of anabolic steroids to enhance his muscular mass, as he was a professional security agent. To document long-term steroid abuse, a hair specimen was collected 3 weeks after the assault, which tested positive for both drugs. Segmental analyses revealed in the proximal 1.5 cm segment, corresponding to the period of the assault, the simultaneous presence of metandienone (11 pg/mg) and trenbolone (14 pg/mg), while only metandienone (3 pg/mg) was identified in the distal 1.5 cm segment. As aggressiveness and violence can be associated with abuse of anabolic steroids, the aetiology of this domestic crime was listed to be due impulsive behaviour in a context of antisocial lifestyle.
This is a preview of subscription content,
to check access.
Access this article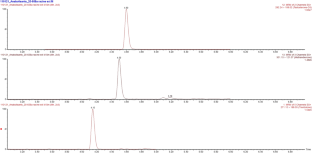 References
Cadwallader AB, Lim CS, Rollins DE, Botrè F (2011) The androgen receptor and its use in biological assays: looking toward effect-based testing and its applications. J Anal Toxicol 35:594–607

Van Amsterdam J, Opperhuizen A, Hartgens F (2010) Adverse health effect of anabolic-androgenic steroids. Regul Toxicol Pharmacol 57:117–123

Trenton AJ, Currier GW (2005) Behavioural manifestations of anabolic steroid use. CNS Drugs 19:571–595

Pope HG, Kouri EM, Hudson JI (2000) Effects of supraphysiologic doses of testosterone on mood and aggression in normal men: a randomized controlled trial. Arch Gen Psychiatry 57:133–140

Khoodoruth MAS, Khan AA (2020) Anabolic steroids-induced delirium. Medicine. https://doi.org/10.1097/MD.0000000000021639

Kindlundh AMS, Lindblom J, Bergström L, Nyberg F (2003) The anabolic-androgenic steroid nandrolone induces alterations in the density of serotoninergic HHT1B and 5HT2 receptors in the male rat brain. Neuroscience 119:113–120

Birger M, Swartz M, Cohen D, Alesh Y, Grishpan C, Kooteir M (2003) Aggression: the testosterone-serotonin link. Isr Med Assoc J 5:653–658

Anderson PD, Bokor G (2012) Forensic aspects of drug-induced violence. J Pharm Pract 25:41–49

Klötz F, Garle M, Granath F, Thiblin I (2006) Criminality among individuals testing positive for the presence of anabolic androgenic steroids. Arch Gen Psychiatry 63:1274–1279

Lundholm L, Käll K, Wallin S, Thiblin I (2010) Use of anabolic androgenic steroids in substance abusers arrested for crime. Drug Alcohol Depend 111:222–226

Lood Y, Eklund A, Garle M, Ahlner J (2012) Anabolic androgenic steroids in police cases in Sweden 1999–2009. Forensic Sci Int 219:199–204

Beaver KM, Vaughn MG, Delisi M, Wright JP (2008) Anabolic-androgenic steroid use and involvement in violent behaviour in a nationally representative sample of young adult males in the United States. Am J Public Health 98:2185–2187

Thiblin I, Pärlklo T (2002) Anabolic androgenic steroids and violence. Acta Psychiatr Scand Suppl 412:125–128

Skärberg K, Nyberg F, Engström I (2010) Is there an association between the use of anabolic-androgenic steroids and criminality? Eur Addict Res 16:213–219

Kintz P, Gheddar L, Ameline A, Dumestre-Toulet V, Verschoore M, Comte J, Raul JS (2019) Complete post-mortem investigations in a death involving clenbuterol after long-term abuse. J Anal Toxicol 43:660–665

Kintz P, Gheddar L, Raul JS (2021) Simultaneous testing for anabolic steroids in human hair specimens collected from various anatomic locations has several advantages when compared with the standard head hair analysis. Drug Test Anal. https://doi.org/10.1002/dta.3020

Lehmann S, Thomas A, Schiwy-Bochat KH, Geyer H, Thevis M, Glenewinkel F, Rothschild MA, Andresen-Streichert H, Juebner M (2019) Death after misuse of anabolic substances (clenbuterol, stanozolol and metandienone). Forensic Sci Int 303:109925. https://doi.org/10.1016/j.forsciint.2019.109925

Kintz P (2017) Hair analysis in forensic toxicology: an updated review with special focus on pitfalls. Curr Pharm Des 23:5480–5486

Pragst F, Balikova M (2006) State of the art in hair analysis for detection of drug and alcohol abuse. Clin Chim Acta 370:17–49

Musshoff F, Schwartz G, Sachs H, Skopp G, Franz T (2020) Concentration distribution of more than 100 drugs and metabolites in forensic hair samples. Int J Legal Med 134:989–995

Salomone A, Gerace E, Di Corcia D, Allardio E, Vincenti M, Kintz P (2019) Hair analysis can provide additional information in doping and forensic cases involving clostebol. Drug Test Anal 11:95–101

Bresson M, Cirimele V, Villain M, Kintz P (2006) Doping control for metandienone using hair analysed by gas chromatography-tandem mass spectrometry. J Chromatogr B Analyt Technol Biomed Life Sci 836:124–128

Kintz P, Vaysette F, Deveaux M (2014) Compendium of results from hair tested for anabolics. Toxicol Anal Clin 26:197–200

Kintz P (2017) A new series of hair test results involving anabolic steroids. Toxicol Anal Clin 29:320–324

Thieme D, Anielski P (2015) Doping, application of hair analysis. In: Kintz P, Salamone A, Vincenti M (eds) Hair analysis in clinical and forensic toxicology. Academic Press, London, pp 275–299

Fabresse N, Grassin-Delyle S, Etting I, Alvarez JC (2017) Detection and quantification of 12 anabolic steroids and analogs in human whole blood and 20 in hair using LC-HRMS: application to real cases. Int J Leg Med 131:989–999

NIDA (2020). Why are anabolic steroids misused? Retrieved from https://www.drugabuse.gov/publications/research-reports/steroids-other-appearance-performance-enhancing-drugs-apeds/why-are-anabolic-steroids-misused. Accessed 23 Mar 2021
Ethics declarations
Ethics approval and consent to participate
This study does not need ethical approval.
Informed consent
not required
Conflict of interest
The authors declare no competing interests.
Additional information
Publisher's note
Springer Nature remains neutral with regard to jurisdictional claims in published maps and institutional affiliations.
About this article
Cite this article
Aknouche, F., Gheddar, L., Kernalléguen, A. et al. Anabolic steroids and extreme violence: a case of murder after chronic intake and under acute influence of metandienone and trenbolone. Int J Legal Med 135, 1449–1453 (2021). https://doi.org/10.1007/s00414-021-02587-y
Received:

Accepted:

Published:

Issue Date:

DOI: https://doi.org/10.1007/s00414-021-02587-y
Keywords