Abstract
An iatrogenic diaphragmatic hernia after major hepatic resection is a rare complication. Incarceration of the abdominal organ through a diaphragmatic defect can have a fatal prognosis. Here, we report a case of incarcerated diaphragmatic hernia after right hepatectomy, which was diagnosed only after the autopsy. The deceased, who had right hepatectomy 1 year previously, complained of severe chest pain, and 4 days later was found dead. Localized decomposition in his chest and abdomen suggested a late complication of the surgery because the location was consistent with the prior surgical area. In the autopsy, there was a small defect in his right diaphragm, resulting in the herniation and incarceration of the small intestine. Gross and microscopic findings of the herniated small intestine were consistent with ischemic enteritis. Different from our case, most of the previously reported cases showed a good prognosis after surgical repair, except one lethal one. Even though its overall incidence is very low, an incarcerated diaphragmatic hernia is one of the critical complications of major hepatic resection. The clinicians should warn the patients to avoid preventable morbidity and mortality. Reviewing this fatal complication would be also helpful for forensic pathologists and death investigators.
Access options
Buy single article
Instant access to the full article PDF.
USD 39.95
Price includes VAT (USA)
Tax calculation will be finalised during checkout.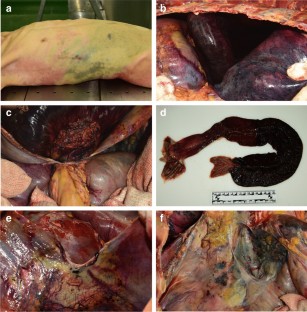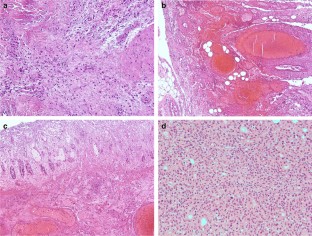 References
1.

Manzini G, Kuemmerli C, Reiner CS, Petrowsky H, Gutschow CA (2019) Enterothorax after hepatic surgery: a single-center experience. World J Surg 43(3):902–909. https://doi.org/10.1007/s00268-018-4838-9

2.

Oh JW, Oh SN, Jung SE, Byun JY (2017) Diaphragmatic hernia after living-donor right hepatectomy: an important late donor complication. J Comput Assist Tomogr 41(5):726–730. https://doi.org/10.1097/RCT.0000000000000591

3.

Esposito F, Lim C, Salloum C, Osseis M, Lahat E, Compagnon P, Azoulay D (2017) Diaphragmatic hernia following liver resection: case series and review of the literature. Ann Hepatobiliary Pancreat Surg 21(3):114–121. https://doi.org/10.14701/ahbps.2017.21.3.114

4.

Livingstone SM, Andres A, Shapiro AM, Kneteman NN, Bigam DL (2016) Diaphragmatic hernia after living donor right hepatectomy: proposal for a screening protocol. Transplant Direct 2(7):e84. https://doi.org/10.1097/TXD.0000000000000596

5.

Tabrizian P, Jibara G, Shrager B, Elsabbagh AM, Roayaie S, Schwartz ME (2012) Diaphragmatic hernia after hepatic resection: case series at a single Western institution. J Gastrointest Surg 16(10):1910–1914. https://doi.org/10.1007/s11605-012-1982-7

6.

Vernadakis S, Paul A, Kykalos S, Fouzas I, Kaiser GM, Sotiropoulos GC (2012) Incarcerated diaphragmatic hernia after right hepatectomy for living donor liver transplantation: case report of an extremely rare late donor complication. Transplant Proc 44(9):2770–2772. https://doi.org/10.1016/j.transproceed.2012.09.014

7.

Kousoulas L, Becker T, Richter N, Emmanouilidis N, Schrem H, Barg-Hock H, Klempnauer J, Lehner F (2011) Living donor liver transplantation: effect of the type of liver graft donation on donor mortality and morbidity. Transpl Int 24(3):251–258. https://doi.org/10.1111/j.1432-2277.2010.01183.x

8.

Hemming AW, Reed AI, Langham MR, Fujita S, van der Werf WJ, Howard RJ (2002) Hepatic vein reconstruction for resection of hepatic tumors. Ann Surg 235(6):850–858. https://doi.org/10.1097/00000658-200206000-00013

9.

Reber PU, Schmied B, Seiler CA, Baer HU, Patel AG, Buchler MW (1998) Missed diaphragmatic injuries and their long-term sequelae. J Trauma 44(1):183–188. https://doi.org/10.1097/00005373-199801000-00026

10.

Lu J, Wang B, Che X, Li X, Qiu G, He S, Fan L (2016) Delayed traumatic diaphragmatic hernia: a case-series report and literature review. Medicine (Baltimore) 95(32):e4362. https://doi.org/10.1097/MD.0000000000004362

11.

Testini M, Girardi A, Isernia RM, De Palma A, Catalano G, Pezzolla A, Gurrado A (2017) Emergency surgery due to diaphragmatic hernia: case series and review. World J Emerg Surg 12:23. https://doi.org/10.1186/s13017-017-0134-5

12.

Patrizi A, Jezequel C, Sulpice L, Meunier B, Rayar M, Boudjema K (2016) Disposable bipolar irrigated sealer (Aquamantys((R))) for liver resection: use with caution. Updates Surg 68(2):171–177. https://doi.org/10.1007/s13304-016-0367-y

13.

Jeng KS, Huang CC, Lin CK, Lin CC, Wu JM, Chen KH, Chu SH (2015) Early incarcerated diaphragmatic hernia following right donor hepatectomy: a case report. Transplant Proc 47(3):815–816. https://doi.org/10.1016/j.transproceed.2015.02.001

14.

Mizuno S, Tanemura A, Isaji S (2014) Incarcerated left diaphragmatic hernia following left hepatectomy for living donor liver transplantation. Transpl Int 27(7):e65-67. https://doi.org/10.1111/tri.12289

15.

Dieter RA Jr, Spitz J, Kuzycz G (2011) Incarcerated diaphragmatic hernia with intrathoracic bowel obstruction after right liver donation. Int Surg 96(3):239–244. https://doi.org/10.9738/cc10.1

16.

Komatsu T, Henteleff H (2010) Colopleural fistula with atypical presentation as a complication of diaphragmatic hernia repair. Ann Thorac Surg 90(2):662–663. https://doi.org/10.1016/j.athoracsur.2010.02.030

17.

Perwaiz A, Mehta N, Mohanka R, Kumaran V, Nundy S, Soin AS (2010) Right-sided diaphragmatic hernia in an adult after living donor liver transplant: a rare cause of post-transplant recurrent abdominal pain. Hernia 14(5):547–549. https://doi.org/10.1007/s10029-009-0594-y

18.

Schellhaas E, Dobler O, Kroesen AJ, Buhr HJ, Hotz HG (2010) Gangrenous intrathoracic appendicitis, a rare cause of right-sided chest pain: report of a case. Surg Today 40(9):874–877. https://doi.org/10.1007/s00595-009-4172-9

19.

Matz D, Kirchhoff P, Kocher TM, Heizmann O (2009) Consecutive cecum perforation due to incarcerated diaphragmatic hernia after liver surgery. Int J Colorectal Dis 24(11):1353–1354. https://doi.org/10.1007/s00384-009-0706-2

20.

Hawxby AM, Mason DP, Klein AS (2006) Diaphragmatic hernia after right donor and hepatectomy: a rare donor complication of partial hepatectomy for transplantation. Hepatobiliary Pancreat Dis Int 5(3):459–461
Ethics declarations
Ethical approval
This study did not require ethical approval; however, the authors made the best effort to comply with the general principles of research ethics.
Informed consent
Informed consent was not available because any relatives of the deceased or other qualified individuals were not identified.
Conflict of interest
The authors declare no competing interests.
Additional information
Publisher's note
Springer Nature remains neutral with regard to jurisdictional claims in published maps and institutional affiliations.
About this article
Cite this article
Lee, S.W., Lee, S.D. & Kim, MY. Incarcerated diaphragmatic hernia after right hepatectomy: an autopsy case with a review of 45 previous cases. Int J Legal Med 135, 1549–1554 (2021). https://doi.org/10.1007/s00414-021-02557-4
Received:

Accepted:

Published:

Issue Date:
Keywords
Diaphragmatic hernia

Postoperative complication

Hepatectomy

Enterocolitis

Ischemia