Abstract
Purpose
Pulmonary fat embolism (PFE) is a relevant diagnosis playing a role as a sign of vitality or a cause of death. Its severity is assessed according to histological grading systems like that of Falzi. The aim of this study was to determine the utility of unenhanced postmortem computed tomography (PMCT) for PFE diagnosis based on the detection of fat layers.
Methods
Consecutive cases with PMCT and autopsy were studied retrospectively. The case group consisted of cases with positive PFE, and the control group included cases with negative PFE. Three observers independently assessed PMCT data for fat layers in the pulmonary trunk and the right and left pulmonary artery. For cases with fat layers, autopsy protocols were assessed for the cause of death, relation to trauma, and undertaken resuscitation measures.
Results
Eight hundred thirty cases were included: 366 PFE positive cases (144 of Falzi grade 1, 63 of 1.5, 99 of 2, 28 of 2.5, and 32 of 3) and 464 PFE negative cases. Interrater reliabilities varied between substantial and almost perfect, and discrepancies were solved according to majority. Eighteen cases showed fat layers on PMCT (2 controls—traumatic instantaneous deaths—, 16 PFE positive cases). PMCT showed low sensitivity but high specificity for PFE diagnosis. The layers were located at the same position in the pulmonary trunk directly adjacent to the pulmonary valve distal to the right ventricle.
Conclusion
Fat layer on PMCT is a rare finding but relates to PFE diagnosis, especially of severe histological grade. It is to be expected in a typical position within the pulmonary trunk.
This is a preview of subscription content, log in to check access.
Access options
Buy single article
Instant access to the full article PDF.
US$ 39.95
Price includes VAT for USA
Subscribe to journal
Immediate online access to all issues from 2019. Subscription will auto renew annually.
US$ 199
This is the net price. Taxes to be calculated in checkout.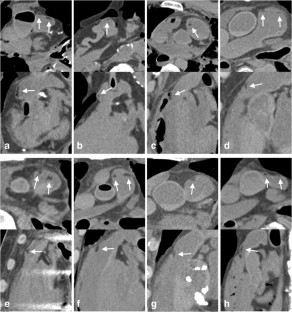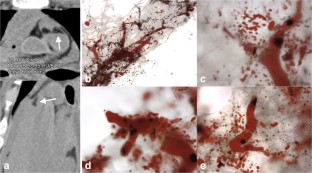 References
1.

DiMaio VJ, DiMaio D (2001) Forensic pathology, 2nd edn. CRC Press LLC, 2000 N.W. Corporate Blvd., Boca Raton, Florida 33431, pp 142, 458

2.

Zenker F (1861) Beiträge zur normalen und pathologischen Anatomie der Lunge. In: Dresden. Schoefeld, Germany

3.

Von Bergmann E (1873) Ein Fall von tödlicher Fettembolie. Berl Klein Wochenschr 10:385

4.

Gurd AR (1970) Fat embolism: an aid to diagnosis. J Bone Joint Surg Br 52:732–737

5.

Saukko P, Knight B (2004) Knight's forensic pathology, 3rd edn. CRC Press LLC, 2000 N.W. Corporate Blvd., Boca Raton, Florida 3343. pp. 342–345

6.

Mudd KL, Hunt A, Matherly RC, Goldsmith LJ, Campbell FR, Nichols GR, Rink RD (2000) Analysis of pulmonary fat embolism in blunt force fatalities. J Trauma 48(4):711–715

7.

Eriksson EA, Pellegrini DC, Vanderkolk WE, Minshall CT, Fakhry SM, Cohle SD (2011) Incidence of pulmonary fat embolism at autopsy: an undiagnosed epidemic. J Trauma 71(2):312.5

8.

Mellor A, Soni N (2001) Fat embolism. Anaesthesia 56:145–154

9.

Levy D (1990) The fat embolism syndrome. a review. Clin Orthop Relat Res 261:281–286

10.

Miller P, Prahlow JA (2011) Autopsy diagnosis of fat embolism syndrome. Am J Forensic Med Pathol 32:291–299

11.

Rosen J, Braman SS, Faysal M, Hasan M, Teplitz C (1986) Nontraumatic fat embolization. A rare cause of new pulmonary infiltrates in an immunocompromised patient. Am Rev Respir Dis 134(4):805–808

12.

Sakashita M, Sakashita S, Sakata A, Uesugi N, Ishige K, Hyodo I, Noguchi M (2004) An autopsy case of non-traumatic fat embolism syndrome. Pathol Int 67:477–482

13.

Brinkmann B, Madea B (2004) Handbuch gerichtliche Medizin, vol 486. Springer, Berlin Heidelberg, pp 276–277

14.

Hulman G (1995) The pathogenesis of fat embolism. J Pathol 176:3–9

15.

Durchlacher SH, Meier JR, Fischer RS, Lovitt WV (1958) Sudden death due to pulmonary fat embolism in chronic alcoholics with fatty liver. Acta Med Leg Soc 11(2):229–230

16.

Katz DA, Ben-Ezra J, Factor SM, Horoupian DS, Goldfischer S (1983) Fatal pulmonary and cerebral fat embolism in systemic lupus erythematosus. JAMA 250(19):2666–2669

17.

Voisard MX, Schweitzer W, Jackowski C (2013) Pulmonary fat embolism – a prospective study within the forensic autopsy collective of the Republic of Iceland. J Forensic Sci 58:102–111

18.

Gauss H (1924) The pathology of fat embolism. Arch Surg 9:592–605

19.

Lehman E, Moore R (1927) Fat embolism, including experimental production without trauma. Arch Surg 14:621–662

20.

Baker PL, Pazell JA, Peltier LF (1971) Free fatty acids, catecholamines, and arterial hypoxia in patients with fat embolism. J Trauma 11:1026–1030

21.

Peltier LF (1988) Fat embolism. A perspective. Clin Orthop Relat Res:263–270

22.

Fracasso T, Karger B, Pfeiffer H, Sauerland C, Schmeling A (2010) Immunohistochemical identification of prevalent right ventricular ischemia causing right heart failure in cases of pulmonary fat embolism. Int J Legal Med 124:537–542

23.

Madea B (2014) Handbook of forensic medicine, 1st edn John Willey and Sons, UK. pp. 226, 238-39, 241

24.

Cotev S, Rosemann E, Eyal Z, Weinberg H, Shafrir E, Davidson JT (1976) The role of hypovolemic stress in the production off at embolism in rabbits. 1. Morphologic alterations of the lungs. Chest 69(4):523–528

25.

Brinkmann B, Bogner M, von Bülow M (1976) Die Fettembolie der Lungen als Todesursache. Ätiologie, Pathogenese und Beweisführung. Z Rechtsmedizin 78:255–272

26.

Falzi G, Henn R, Spann W (1964) Über pulmonale Fettembolie nach Traumen mit verschieden langer Überlebenszeit. Münch Med Wochenschr 106:978–981

27.

Li S, Zou D, Qin Z, Liu N, Zhang J, Li ZSY, Deng K, Chen Y, Huang P (2015) Nonfracture-associated pulmonary fat embolism after blunt force fatality. Am Forensic Med Pathol 36:61–65

28.

Jarmer J, Ampanozi G, Thali MJ, Bolliger SA (2017) Role of survival time and injury severity in fatal pulmonary fat embolism. Am J Forensic Med Pathol 38:74–77

29.

Bolliger SA, Muehlematter K, Thali MJ, Ampanozi G (2011) Correlation of fat embolism severity and subcutaneous fatty tissue crushung and bone fractures. Int J Legal Med 125:453–458

30.

Sevitt S (1960) The significance and classification of fat-embolism. Lancet 15:825–828

31.

Newbigin K, Souza CA, Torres C, Marchiori E, Gupta A, Inacio J, Armstrong M, Peria E (2016) Fat embolism syndrome: state-of-the art review focused on pulmonary imaging findings. Respir Med 113:93–100

32.

Piolanti M, Dalpiaz G, Scaglione M, Coniglio C, Micel M, Violini S, Trisolini R, Barozzi L (2016) Fat embolism syndrome: lung computed-tomography findings in 18 patients. J Comput Assist Tomogr 40:335–342

33.

Gurd AR, Wilson RI (1974) The fat embolism syndrome. J Bone Joint Surg Br 56B:408–416

34.

Trisolini R, Cancellieri A, Giovannitti A, Paioli D, Patelli M (2010) Fat embolism may be responsible for hypoxemia in trauma patients with no radiological pulmonary abnormalities. J Trauma 68:53–54

35.

Unal E, Balci S, Atceken Z, Akpinar E, Ariyurek OM (2017) Nonthrombotic pulmonary artery embolism: imaging findings and review of the literature. AJR Am J Roentgenol 208:505–516

36.

Malagari K, Economopoulos N, Stoupis C, Daniil Z, Papiris S, Müller NL, Kelekis D (2013) High-resolution CT findings in mild pulmonary fat embolism. CHEST 123:1196–1201

37.

Weissleder R (2003) Primer of diagnostic imaging, 3rd edn. Mosby, Philadelphia Pennsylvania, p 59

38.

Bach AG, Schramm D, Surov A (2017) Nichtthrombotische Lungenembolien. Radiologe 57:217–230

39.

Khasper A, Discepola F, Kosiuk J, Qanadli SD, Messurolle B (2012) Nonthrombotic pulmonary embolism. AJR 198:w152–w159

40.

Liu P, Armstrong P, Skippen P (1990) Post-traumatic fat embolism in the inferior vena cava. Can Assoc Radiol J 41(5):303–304

41.

Harris AC, Torregiani WC, Lyburn ID, Zwirewich CV, Ho SGF, Munk PL (2000) CT and sonography of fat embolism in the common femoral vein. AJR Am J Roentgenol 175(6):1741–1742

42.

Chowdhary V, Mehta V, Bajaj T, Scheiner J (2017) Rare imaging of a known entity: fat embolism seen on CT in lower extremity vein after trauma. J Radiol Case Rep 12:488–490

43.

Ravenel JG, Heyneman LE, McAdams P (2002) Computed tomography diagnosis of macroscopic pulmonary fat embolism. J Thorac Imaging 17:154–156

44.

Nucifora G, Hysko F, Vit A, Vasciaveo A (2007) Pulmonary fat embolism: common and unusual computed tomography findings. J Comput Assist Tomogr 31:806–807

45.

Celik SU, Kocaay AF, Sevim Y, Cetinkaya OA, Atman ED, Alacayir I (2015) Renal angiomyolipoma with caval extension and pulmonary fat embolism. Medicine 94(31):e1078

46.

Arawaka H, Kurihara Y, Nakajima Y (2000) Pulmonary fat embolism syndrome: CT findings in six patients. J Comput Assist Tomogr 24(1):24–29

47.

Newbigin K, Souza CA, Armstrong M, Pena E, Inacio J, Gupta A, Rakhra K (2016) Fat embolism syndrome: do the CT findings correlate with clinical course and severity of symptoms? A clinical-radiological study. Eur J Radiol 85(2):422–427

48.

Chatzaraki V, Heimer J, Thali M, Dally A, Schweitzer W (2018) Role of PMCT as a triage tool between external inspection and full autopsy – case series and review. J Forensic Radiol Imaging 15:26–38 l

49.

Filograna L, Bolliger SA, Kneubuehl B, Jackowski C, Hatch G, Thali MJ (2012) A minimally invasive technique for the detection and analysis of pulmonary fat embolism: a feasibility study. J Forensic Sci 57(5):1329–1335

50.

Filograna L, Bolliger SA, Spendlove D, Schön C, Flach P, Thali MJ (2010) Diagnosis of fatal pulmonary fat embolism with minimally invasive virtual autopsy and post-mortem biopsy. Legal Med 12:233–237

51.

Flach P, Ross SG, Bolliger SA, Ampanozi G, Hatch GM, Schön C, Thali MJ, Germerott T (2012) Massive systemic fat embolism detected by postmortem imaging and biopsy. J Forensic Sci 57(5):1376–1380

52.

Egger C, Vaucher P, Doenz F, Palmiere C, Mangin P, Grabherr S (2012) Development and validation of a postmortem radiological alteration index: the RA-index. Int J Legal Med 126:559–566

53.

Flach PM, Gascho D, Schweitzer W, Ruder TD, Berger N, Ross SG, Thali MJ, Ampanozi G (2014) Imaging in forensic radiology: an illustrated guide for postmortem computed tomography technique and protocols. Forensic Sci Med Pathol (4):583–606

54.

Shmukler M (2004) Density of blood. The physics factbook. Archived from the original on 19 September 2006. Retrieved 4 October 2006

55.

Farvid MS, Ng TW, Chan DC, Barrett PH, Watts GF (2005) Association of adiponectin and resistin with adipose tissue compartments, insulin resistance and dyslipidaemia. Diabetes Obes Metab 7(4):406–413

56.

Hofer M (2016) CT-Kursbuch: ein Arbeitsbuch für den Einstieg in die Computertomographie, ninth ed. Didamed Verlag GmbH, Düsseldorf, Germany 2016:16
Acknowledgments
The authors express their gratitude to Emma Louise Kessler, MD, for her generous donation to the Zurich Institute of Forensic Medicine, University of Zurich, Switzerland.
Ethics declarations
Conflict of interest
The authors declare that they have no conflict of interest.
Ethical approval
Ethical approval was obtained by the Cantonal Ethics Committee of Zurich, Switzerland, Nr. 2015-0686. This article does not contain any studies with animals performed by any of the authors.
Additional information
Publisher's note
Springer Nature remains neutral with regard to jurisdictional claims in published maps and institutional affiliations.
Keypoints
1. Fat layers as a sign of PFE are rare finding on PMCT.
2. Detection of fat layers is significantly associated with positive PFE histological diagnosis, especially of high Falzi grades.
3. Traumatic instantaneous deaths can appear with fat layers on PMCT and negative histology.
4. CPR-induced PFE can appear with fat layers on PMCT.
5. Fat layers on PMCT can be interpreted as a reliable vital sign.
6. Fat layers are revealed in the pulmonary trunk adjacent to the pulmonary valve distal to the right ventricle.
About this article
Cite this article
Chatzaraki, V., Heimer, J., Thali, M.J. et al. Approaching pulmonary fat embolism on postmortem computed tomography. Int J Legal Med 133, 1879–1887 (2019). https://doi.org/10.1007/s00414-019-02055-8
Received:

Accepted:

Published:

Issue Date:
Keywords
Virtopsy

Pulmonary fat embolism

Falzi

Postmortem computed tomography

Forensic imaging

Autopsy