Abstract
We report an unusual case of mercury vapor poisoning from using a heated tobacco product. The suspect had added grains of mercury into 20 cigarettes in a pack. When a 36-year-old Japanese man inserted one of these cigarettes into the battery powered holder, it was heated to a temperature of 350 °C, and he inhaled vaporized mercury. After using 14 of the cigarettes over 16 h, he noticed he had flu-like symptoms so he visited the hospital. Although no physical abnormalities were revealed, 99 μg/L of mercury was detected in his serum sample. His general condition improved gradually and his whole blood mercury level had decreased to 38 μg/L 5 days later. When the remaining six cigarettes in the pack were examined, many metallic grains weighing a total of 1.57 g were observed. Energy dispersive X-ray fluorescence spectrometry confirmed the grains as elemental mercury. Accordingly, the victim was diagnosed with mercury poisoning. Because the mercury was incorporated into cigarettes, an unusual and novel intoxication occurred through the heating of the tobacco product. Both medical and forensic scientific examination confirmed this event as attempted murder.
This is a preview of subscription content, log in to check access.
Access options
Buy single article
Instant access to the full article PDF.
US$ 39.95
Price includes VAT for USA
Subscribe to journal
Immediate online access to all issues from 2019. Subscription will auto renew annually.
US$ 199
This is the net price. Taxes to be calculated in checkout.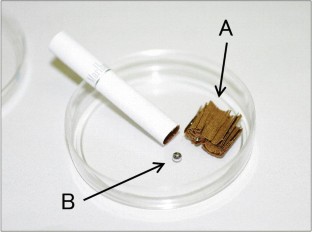 References
1.

Oz SG, Tozlu M, Yalcin SS, Sozen T, Guven GS (2012) Mercury vapor inhalation and poisoning of a family. Inhal Toxicol 24(10):652–658. https://doi.org/10.3109/08958378.2012.708677

2.

Gattineni J, Weiser S, Becker AM, Baum M (2007) Mercury intoxication: lack of correlation between symptoms and levels. Clin Pediatr (Phila) 46(9):844–846. https://doi.org/10.1177/0009922807303893

3.

Solis MT, Yuen E, Cortez PS, Goebel PJ (2000) Family poisoned by mercury vapor inhalation. Am J Emerg Med 18(5):599–602

4.

Asano S, Eto K, Kurisaki E, Gunji H, Hiraiwa K, Sato M, Sato H, Hasuike M, Hagiwara N, Wakasa H (2000) Acute inorganic mercury vapor inhalation poisoning. Pathol Int 50(3):169–174

5.

Lien DC, Todoruk DN, Rajani HR, Cook DA, Herbert FA (1983) Accidental inhalation of mercury vapour: respiratory and toxicologic consequences. Can Med Assoc J 129(6):591–595

6.

Rowens B, Guerrero-Betancourt D, Gottlieb CA, Boyes RJ, Eichenhorn MS (1991) Respiratory failure and death following acute inhalation of mercury vapor. A clinical and histologic perspective. Chest 99(1):185–190

7.

Jung RC, Aaronson J (1980) Death following inhalation of mercury vapor at home. West J Med 132(6):539–543

8.

Zhu SH, Zhuang YL, Wong S, Cummins SE, Tedeschi GJ (2017) E-cigarette use and associated changes in population smoking cessation: evidence from US current population surveys. BMJ 358:j3262. https://doi.org/10.1136/bmj.j3262

9.

Natelson EA, Blumenthal BJ, Fred HL (1971) Acute mercury vapor poisoning in the home. Chest 59:677–679. https://doi.org/10.1378/chest.59.6.677

10.

Hursh JB, Cherian MG, Clarkson TW, Vostal JJ, Mallie RV (1976) Clearance of mercury (HG-197, HG-203) vapor inhaled by human subjects. Arch Environ Health 31(6):302–309

11.

US EPA (1997) volume V: Health effects of mercury and mercury compounds. Mercury study report to congress. EPA-452/R-97-007, 2–1, Washington, DC

12.

WHO (2003) Elemental mercury and inorganic mercury compounds: human health aspects. In Concise international chemical assessment document (CICAD) 50:13–14

13.

De Palma G, Mariotti O, Lonati D, Goldoni M, Catalani S, Mutti A, Locatelli C, Apostoli P (2008) Toxicokinetics and toxicodynamics of elemental mercury following self-administration. Clin Toxicol (Phila) 46(9):869–876. https://doi.org/10.1080/15563650802136241

14.

Halbach S, Welzl G (2010) Levels of organic and inorganic mercury in human blood predicted from measurements of total mercury. J Appl Toxicol 30(7):674–679. https://doi.org/10.1002/jat.1540

15.

Solis MT1, Yuen E, Cortez PS, Goebel PJ (2000) Family poisoned by mercury vapor inhalation. Am J Emerg Med 18(5):599–602
Ethics declarations
Conflict of interest
The authors declare that they have no conflict of interest.
Informed consent
Written informed consent for publishing this scientific report was obtained from the victim of this case.
About this article
Cite this article
Hitosugi, M., Tojo, M., Kane, M. et al. Criminal mercury vapor poisoning using heated tobacco product. Int J Legal Med 133, 479–481 (2019). https://doi.org/10.1007/s00414-018-1923-4
Received:

Accepted:

Published:

Issue Date:
Keywords
Mercury vapor

Poisoning

Heated tobacco product

Blood concentration

Crime