Abstract
Article 25 of the Charter of Fundamental Rights of the European Union (adopted in Nice on 7 December 2000) recognizes and respects the rights of older people to lead a life of dignity and independence and to participate in social and cultural life. It also highlights the importance of prevention and recognition of elder abuse, especially since exposure to violence is likely as the population ages, either in familial or in institutional settings. Elder abuse has some issues in common with child abuse but in spite of this fact currently is less recognized. Health professionals have a major role to play in early detection and management of cases of elder abuse. This protocol summarizes some key concepts and approaches to assist in the timely detection and investigation of elder abuse cases by healthcare professionals and forensic practitioners.
This is a preview of subscription content, log in to check access.
Access options
Buy single article
Instant access to the full article PDF.
US$ 39.95
Price includes VAT for USA
Subscribe to journal
Immediate online access to all issues from 2019. Subscription will auto renew annually.
US$ 199
This is the net price. Taxes to be calculated in checkout.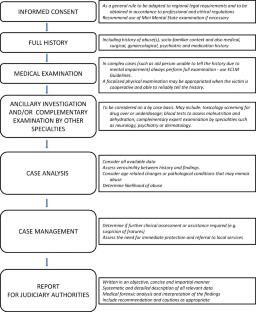 Notes
1.

There is no uniform definition of older person, as the life expectancy shows significant differences between the developed and developing world. The most common reference age for scientific and data collection purposes is 65 years old; however, 60 years has also sometimes been used.
References
1.

European Union (2000) Charter of Fundamental Rights. Proclaimed at the Nice European Council on 7 December 2000. At: http://eur-lex.europa.eu/legal-content/EN/TXT/?uri=CELEX:12012P/TXT

2.

World Health Organization. (2002). World report on violence and health. World Health Organization, Geneva

3.

World Health Organization. (2015). World report on ageing and health. World Health Organization, Geneva

4.

Lachs M, Pillemer K (2015) Elder abuse. N Engl J Med 373:1947–1956

5.

Perel-Levin S (2008) Discussing screening for elder abuse at primary health care level. WHO Document Production Services, Geneva

6.

Vali M (2011) Forensic medical examination living persons. European Council of Legal Medicine. Retrieved from: http://eclm.info/docs/GUIDELINES/8_Forensic_examiantion_living_person.pdf

7.

Herr KA, Garand L (2001) Assessment and measurement of pain in older adults. Clin Geriatr Med 17(3):457–478

8.

Collins KA (2006) Elder mistreatment. A review. Arch Pathol Lab Med 130(9):1290–1296

9.

Neale AV, Hwalek MA, Scott RO, Stahl C (1991) Validation of the Hwalek Sengstock elder abuse screening test. J Appl Gerontol 10(4):406–415

10.

Reis M, Nahmiash D (1995) Validation of the caregiver abuse screen (CASE). Canadian Journal on Aging 14:45–60

11.

Reis M, Nahmiash D (1998) Validation of the indicators of abuse (IOA) screen. The Gerontologist 38(4):471–480

12.

Fulmer T (2003) Elder abuse and neglect assessment. J Gerontol Nurs 29(6):4–5

13.

Yaffe MJ, Wolfson C, Lithwick M, Weiss D (2008) Development and validation of a tool to improve physician identification of elder abuse: the Elder Abuse Suspicion Index (EASI) ©. J Elder Abuse Negl 20(3):276–300 In Press. Haworth Press Inc.

14.

Cohen M (2011) Screening tools for the identification of elder abuse. J Clin Outcomes Manag 18(6):261–270

15.

Burnett, J., Achenbaum, W., & Murphy, K. (2014). Prevention and early identification of screening and detection. In: IOM (Institute of Medicine) & NRC (National Research elder abuse. Clin Geriatr Med 30(4):743–59

16.

Elder Mistreatment (2003) National Research Council (US) panel to review risk and prevalence of elder abuse and neglect. In: Bonnie RJ, Wallace RB (eds) Abuse, neglect, and exploitation in an aging America. National Academies Press (US), Washington (DC)

17.

American Medical Association (1992, 1996) Diagnostic and treatment guidelines on elder abuse and neglect. American Medical Association, Chicago

18.

Carney MT, Kahan FS, Paris BEC (2003) Elder abuse: is every bruise a sign of abuse? Mt Sinai J Med 70(2):69–74

19.

O'Brien JG (1996) A primary care clinician's perspective. In: Baumhover LA, Bell SC (eds) Abuse, neglect and exploitation of older persons: strategies for assessment and intervention. Health Professions Press, Baltimore
About this article
Cite this article
Keller, E., Santos, C., Cusack, D. et al. European council of legal medicine (ECLM) guidelines for the examination of suspected elder abuse. Int J Legal Med 133, 317–322 (2019). https://doi.org/10.1007/s00414-018-1880-y
Received:

Accepted:

Published:

Issue Date:
Keywords
European council of legal medicine

Elder abuse

Forensic medical report