Abstract
Ili is located in northernmost Xinjiang, China. The Uyghur population only accounts for 15.90% of the total population in the nation. There is currently no large population data-based data set in Ili Uyghur. In this study, we investigated the genetic diversities of 18 autosomal short tandem repeat (STR) loci in 1129 Uyghur individuals living in Ili. The values of combined power of discrimination (CPD) and combined probability of exclusion (CPE) were 0.99999999999999999999990244 and 0.99999995645, respectively. Furthermore, we explored the genetic relationships between the Ili Uyghur population and 32 previously published populations. The results indicated that the Ili Uyghur population was more closely related to the Xinjiang Kazakh population. In addition, It was worth noting that significant differences were observed between Ili the Uyghur population and the Uyghur1 and Uyghur2 populations at the shared 15 loci, with significant differences at 7 and 11 loci after Bonferroni adjustment (p = 0.05/495 ≈ 0.00010).
Access options
Buy single article
Instant access to the full article PDF.
US$ 39.95
Tax calculation will be finalised during checkout.
Subscribe to journal
Immediate online access to all issues from 2019. Subscription will auto renew annually.
US$ 119
Tax calculation will be finalised during checkout.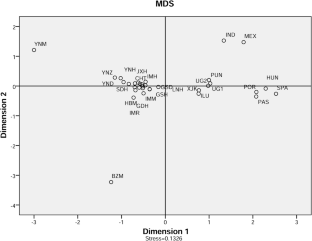 References
1.

Walsh PS, Metzger DA, Higuchi R (1991) Chelex 100 as a medium for simple extraction of DNA for PCR-based typing from forensic material. BioTechniques 10:8

2.

Zhao F, Wu X, Cai G, Xu C The application of Modified-Powerstates software in forensic biostatistics. Chin J Forensic Med 18:297–298

3.

Peakall R, Smouse PE (2012) GenAlEx 6.5: genetic analysis in Excel. Population genetic software for teaching and research--an update. Bioinformatics 28:2537–2539

4.

Excoffier L, Lischer HE (2010) Arlequin suite ver 3.5: a new series of programs to perform population genetics analyses under Linux and Windows. Mol Ecol Resour 10:564–567

5.

Kumar S, Stecher G, Tamura K (2016) MEGA7: molecular evolutionary genetics analysis version 7.0 for bigger datasets. Mol Biol Evol 33:1870–1874
Acknowledgments
We thank all of the participants of this study.
Ethics declarations
Conflict of interest
The authors declare that they have no conflict of interest.
Electronic supplementary material
About this article
Cite this article
Li, Z., Zhang, J., Zhang, Y. et al. Genetic diversities and phylogenetic analysis of 18 autosomal STR loci in the Uyghur population living in Ili, Northwest China. Int J Legal Med 133, 771–773 (2019). https://doi.org/10.1007/s00414-018-1872-y
Received:

Accepted:

Published:

Issue Date:
Keywords
Genetic polymorphisms

Short tandem repeat

Uyghur population

Ili