Abstract
In Switzerland, only cannabis with a total Δ9-tetrahydrocannabinol (THC) content higher than 1% is controlled by the narcotics legislation. Cannabis products rich in cannabidiol (CBD) and low in THC can be legally sold as tobacco substitutes. In this paper, we address analytical and forensic toxicological issues related to the increasing availability and consumption of these products. Based on the analysis of 531 confiscated cannabis samples, we could establish classification thresholds: plant material with a ratio of total THC/total CBD ≥ 3 is graded as THC-rich/CBD-poor, whereas samples with a ratio ≤ 0.33 are categorized as CBD-rich/THC-poor cannabis. We also evaluated an on-site test kit as a rapid alternative to the laborious liquid or gas chromatography (LC or GC)-based techniques normally used for the differentiation between THC- and CBD-cannabis. Furthermore, we determined whole blood and urine cannabinoid levels after smoking different doses of legal CBD-cannabis. A male volunteer smoked one cigarette within 15 min and four cigarettes within 1 h and within 30 min, respectively. Cigarettes contained on average 42.7 mg CBD and 2.2 mg THC. Blood samples were collected up to 1.1 h and urine samples up to 27.3 h after the beginning of smoking. All urine samples tested negative by three immunochemical assays for detection of cannabis use. This is an important finding for abstinence monitoring. However, we found that the trace amounts of THC present in CBD-cannabis can produce THC blood levels above the Swiss legal limit for driving, and thus render the consumer unable to drive from a legal point of view.
Access options
Buy single article
Instant access to the full article PDF.
US$ 39.95
Tax calculation will be finalised during checkout.
Subscribe to journal
Immediate online access to all issues from 2019. Subscription will auto renew annually.
US$ 119
Tax calculation will be finalised during checkout.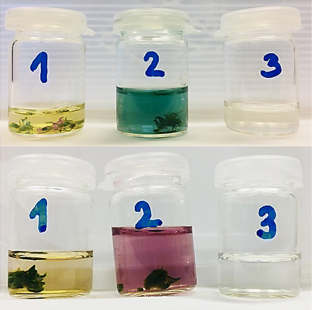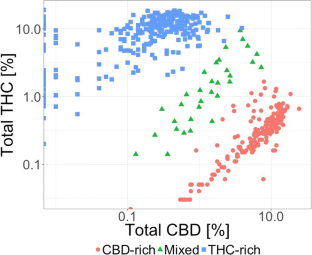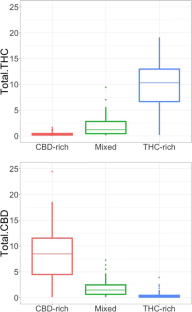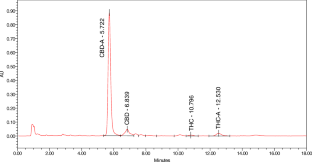 References
1.

Clarke RC, Merlin MD (2013) Cannabis - evolution and ethnobotany. University of California Press

2.

Elsohly MA, Slade D (2005) Chemical constituents of marijuana: the complex mixture of natural cannabinoids. Life Sci 78(5):539–548. https://doi.org/10.1016/j.lfs.2005.09.011

3.

Costa B (2007) On the pharmacological properties of Delta9-tetrahydrocannabinol (THC). Chem Biodivers 4(8):1664–1677. https://doi.org/10.1002/cbdv.200790146

4.

Freeman D, Dunn G, Murray RM, Evans N, Lister R, Antley A, Slater M, Godlewska B, Cornish R, Williams J, Di Simplicio M, Igoumenou A, Brenneisen R, Tunbridge EM, Harrison PJ, Harmer CJ, Cowen P, Morrison PD (2015) How cannabis causes paranoia: using the intravenous administration of 9-tetrahydrocannabinol (THC) to identify key cognitive mechanisms leading to paranoia. Schizophr Bull 41(2):391–399. https://doi.org/10.1093/schbul/sbu098

5.

Morrison PD, Zois V, McKeown DA, Lee TD, Holt DW, Powell JF, Kapur S, Murray RM (2009) The acute effects of synthetic intravenous Delta9-tetrahydrocannabinol on psychosis, mood and cognitive functioning. Psychol Med 39(10):1607–1616. https://doi.org/10.1017/s0033291709005522

6.

Freeman TP, Winstock AR (2015) Examining the profile of high-potency cannabis and its association with severity of cannabis dependence. Psychol Med 45(15):3181–3189. https://doi.org/10.1017/s0033291715001178

7.

Ohlsson A, Lindgren JE, Wahlen A, Agurell S, Hollister LE, Gillespie HK (1980) Plasma delta-9 tetrahydrocannabinol concentrations and clinical effects after oral and intravenous administration and smoking. Clin Pharmacol Ther 28(3):409–416

8.

Iffland K, Grotenhermen F (2017) An update on safety and side effects of cannabidiol: a review of clinical data and relevant animal studies. Cannabis Cannabinoid Res 2(1):139–154. https://doi.org/10.1089/can.2016.0034

9.

Pisanti S, Malfitano AM, Ciaglia E, Lamberti A, Ranieri R, Cuomo G, Abate M, Faggiana G, Proto MC, Fiore D, Laezza C, Bifulco M (2017) Cannabidiol: state of the art and new challenges for therapeutic applications. Pharmacol Ther 175:133–150. https://doi.org/10.1016/j.pharmthera.2017.02.041

10.

Potter DJ (2014) A review of the cultivation and processing of cannabis (Cannabis sativa L.) for production of prescription medicines in the UK. Drug Test Anal 6(1–2):31–38. https://doi.org/10.1002/dta.1531

11.

Chandra S, Lata H, ElSohly MA, Walker LA, Potter D (2017) Cannabis cultivation: methodological issues for obtaining medical-grade product. Epilepsy Behav 70(Pt B):302–312. https://doi.org/10.1016/j.yebeh.2016.11.029

12.

Hanus LO, Meyer SM, Munoz E, Taglialatela-Scafati O, Appendino G (2016) Phytocannabinoids: a unified critical inventory. Nat Prod Rep 33(12):1357–1392. https://doi.org/10.1039/c6np00074f

13.

Swiss_Ordinance_on_the_lists_of_narcotics ps, _precursors_and_auxiliary_chemicals. https://www.admin.ch/opc/de/classified-compilation/20101220/index.html. Accessed Jul 21 2017

14.

Ambach L, Penitschka F, Broillet A, Konig S, Weinmann W, Bernhard W (2014) Simultaneous quantification of delta-9-THC, THC-acid A, CBN and CBD in seized drugs using HPLC-DAD. Forensic Sci Int 243:107–111. https://doi.org/10.1016/j.forsciint.2014.06.008

15.

Schläpfer M (2018) Cannabis Typisierung - differenzierung auf der Strasse. Kriminalistik - Schweiz 4:258–261

16.

Verstraete AG, Knoche A, Jantos R, Skopp G, Gjerde H, Vindenes V, Mørland J, Langel K, Lillsunde P (2011) Per se limits - methods of defining cut-off values for zero tolerance. https://biblio.ugent.be/publication/1988464/file/1988490.pdf. Accessed 12 Dec 2018

17.

Wiencek JR, Colby JM, Nichols JH (2017) Rapid assessment of drugs of abuse. Adv Clin Chem 80:193–225. https://doi.org/10.1016/bs.acc.2016.11.003

18.

Gerostamoulos D (2013) Urinary drug screening. Aust Prescr 36:62–64

19.

Tsai J (2007) Immunoassays for the detection of cannabis abuse: technologies, development strategies, and multilevel applications. In: ElSohly M (ed) Marijuana and the cannabinoids. Human Press Inc., Totowa

20.

R_Core_Team (2018) R: a language and environment for statistical computing. R Foundation for Statistical Computing, Vienna

21.

König S, Aebi B, Lanz S, Gasser M, Weinmann W (2011) On-line SPE LC-MS/MS for the quantification of Delta9-tetrahydrocannabinol (THC) and its two major metabolites in human peripheral blood by liquid chromatography tandem mass spectrometry. Anal Bioanal Chem 400(1):9–16. https://doi.org/10.1007/s00216-011-4708-x

22.

Cone EJ, Caplan YH, Moser F, Robert T, Shelby MK, Black DL (2009) Normalization of urinary drug concentrations with specific gravity and creatinine. J Anal Toxicol 33(1):1–7. https://doi.org/10.1093/jat/33.1.1

23.

Luginbühl M, Weinmann W (2017) Creatinine in urine – a method comparison. Drug Test Anal 9(10):1537–1541. https://doi.org/10.1002/dta.2166

24.

SGRM (2017) THC Statistik 2017. https://www.sgrm.ch/inhalte/Forensische-Chemie-und-Toxikologie/THC_Statistik_SGRM_2017.pdf. Accessed Sep 07 2018

25.

Huestis MA (2005) Pharmacokinetics and metabolism of the plant cannabinoids, Δ9-tetrahydrocannibinol, cannabidiol and cannabinol. Handb Exp Pharmacol 168. https://doi.org/10.1007/3-540-26573-2-23

26.

Hazekamp A, Simons R, Peltenburg-Looman A, Sengers M, Van Zweden R, Verpoorte R (2004) Preparative isolation of cannabinoids from Cannabis sativa by centrifugal partition chromatography. J Liq Chromatogr Relat Technol 27(15):2421–2439. https://doi.org/10.1081/JLC-200028170

27.

Grauwiler SB, Drewe J, Scholer A (2008) Sensitivity and specificity of urinary cannabinoid detection with two immunoassays after controlled oral administration of cannabinoids to humans. Ther Drug Monit 30(4):530–535. https://doi.org/10.1097/FTD.0b013e318180c7c2

28.

Ujváry I, Hanuš L (2016) Human metabolites of cannabidiol: a review on their formation, biological activity, and relevance in therapy. Cannabis Cannabinoid Res 1(1):90–101. https://doi.org/10.1089/can.2015.0012

29.

Harvey DJ, Mechoulam R (1990) Metabolites of cannabidiol identified in human urine. Xenobiotica 20(3):303–320. https://doi.org/10.3109/00498259009046849

30.

Bergamaschi MM, Barnes A, Queiroz RHC, Hurd YL, Huestis MA (2013) Impact of enzymatic and alkaline hydrolysis on CBD concentration in urine. Anal Bioanal Chem 405(14):4679–4689. https://doi.org/10.1007/s00216-013-6837-x

31.

Huestis MA (2007) Human cannabinoid pharmacokinetics. Chem Biodivers 4(8):1770–1804. https://doi.org/10.1002/cbdv.200790152

32.

Grotenhermen F (2003) Pharmacokinetics and pharmacodynamics of cannabinoids. Clin Pharmacokinet 42:327–360. https://doi.org/10.2165/00003088-200342040-00003

33.

Meier U, Dussy F, Scheurer E, Mercer-Chalmers-Bender K, Hangartner S (2018) Cannabinoid concentrations in blood and urine after smoking cannabidiol joints. Forensic Sci Int 291:62–67. https://doi.org/10.1016/j.forsciint.2018.08.009

34.

Agurell S, Halldin M, Lindgren JE, Ohlsson A, Widman M, Gillespie H, Hollister L (1986) Pharmacokinetics and metabolism of Δ1-tetrahydrocannabinol and other cannabinoids with emphasis on man. Pharmacol Rev 38(1):21–43

35.

Schwope DM, Karschner EL, Gorelick DA, Huestis MA (2011) Identification of recent cannabis use: whole-blood and plasma free and glucuronidated cannabinoid pharmacokinetics following controlled smoked cannabis administration. Clin Chem 57(10):1406–1414. https://doi.org/10.1373/clinchem.2011.171777

36.

Toennes SW, Ramaekers JG, Theunissen EL, Moeller MR, Kauert GF (2008) Comparison of cannabinoid pharmacokinetic properties in occasional and heavy users smoking a marijuana or placebo joint. J Anal Toxicol 32(7):470–477. https://doi.org/10.1093/jat/32.7.470

37.

Fabritius M, Chtioui H, Battistella G, Annoni JM, Dao K, Favrat B, Fornari E, Lauer E, Maeder P, Giroud C (2013) Comparison of cannabinoid concentrations in oral fluid and whole blood between occasional and regular cannabis smokers prior to and after smoking a cannabis joint. Anal Bioanal Chem 405(30):9791–9803. https://doi.org/10.1007/s00216-013-7412-1

38.

Ohlsson A, Lindgren JE, Andersson S, Agurell S, Gillespie H, Hollister LE (1986) Single-dose kinetics of deuterium-labelled cannabidiol in man after smoking and intravenous administration. Biol Mass Spectrom 13(2):77–83. https://doi.org/10.1002/bms.1200130206

39.

Giroud C, Menetrey A, Augsburger M, Buclin T, Sanchez-Mazas P, Mangin P (2001) Delta(9)-THC, 11-OH-Delta(9)-THC and Delta(9)-THCCOOH plasma or serum to whole blood concentrations distribution ratios in blood samples taken from living and dead people. Forensic Sci Int 123(2–3):159–164
Acknowledgements
The authors gratefully acknowledge Alain Broillet, Beatrice Grossen, and Severine Krönert for the evaluation of the on-site test kit and the analyses of confiscated cannabis samples, Thomas Wüthrich for his support with LC-MS/MS data acquisition and the whole team of the Forensic Toxicology laboratory at the Institute of Forensic Medicine Bern for supporting this project.
Ethics declarations
According to the ethics committee of the Canton of Bern, Switzerland, this study does not apply to Art. 3a of the Federal Act on Research involving Human Beings (Human Research Act) since it is a study only involving one participant—who was the principal investigator himself in a self-experiment. Therefore, they did not decide on the application listed with the project ID No. 2018-01037. However, written informed consent was obtained from the participant of the cannabis smoking study.
All procedures performed were in accordance with the ethical standards of the institutional research committee and the 1964 Helsinki declaration and its later amendments or comparable ethical standards.
Conflict of interest
The authors declare that they have no conflict of interest.
Additional information
Publisher's Note
Springer Nature remains neutral with regard to jurisdictional claims in published maps and institutional affiliations.
About this article
Cite this article
Hädener, M., Gelmi, T.J., Martin-Fabritius, M. et al. Cannabinoid concentrations in confiscated cannabis samples and in whole blood and urine after smoking CBD-rich cannabis as a "tobacco substitute". Int J Legal Med 133, 821–832 (2019). https://doi.org/10.1007/s00414-018-01994-y
Received:

Accepted:

Published:

Issue Date:
Keywords
Tetrahydrocannabinol

Cannabidiol

Classification

Drug of abuse testing

Driving while impaired