Abstract
The analysis of 12 X-STR loci included in the Investigator® Argus X-12 kit was performed on a sample of 325 unrelated persons from Vojvodina Province, Republic of Serbia. No significant differences were observed in the allele frequencies in males and females. Heterozygosity values among the studied loci ranged from 67.62 to 94.28%. All loci in female individuals were consistent with the Hardy-Weinberg equilibrium test. The combined power of discrimination values in male and female individuals was 0.9999999994 and 0.999999999999999, respectively. The combined mean exclusion chance was 0.999998 in deficiency cases, 0.9999999977 in normal trio cases, and 0.9999994 in duo cases. Loci DXS10135 and DXS10101 were found to be most polymorphic. The haplotype diversity was found to be greater than 0.993 for all linkage groups. The exact test for pairwise linkage disequilibrium for the 12 loci in the male samples showed significant linkage disequilibrium for the DXS10103-DXS10101 and DXS10134-DXS10146 pairs of loci. The results from the current study confirmed that the panel of 12 X-STR loci is highly polymorphic and informative and can be implemented as a powerful tool in deficient paternity testing and kinship analysis, as well as a useful complement tool of autosomal short tandem repeats (STRs) in forensic investigation. Population differentiation analyses indicated significant differences in genetic structure between the Serbian population and the geographically and ethno-linguistically distant populations, while genetic homogeneity was present in populations with similar geographic origin.
This is a preview of subscription content, log in to check access.
Access options
Buy single article
Instant access to the full article PDF.
US$ 39.95
Price includes VAT for USA
Subscribe to journal
Immediate online access to all issues from 2019. Subscription will auto renew annually.
US$ 199
This is the net price. Taxes to be calculated in checkout.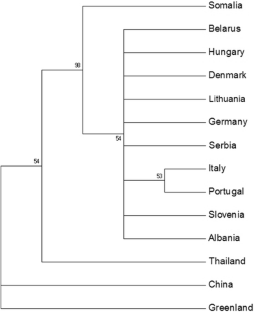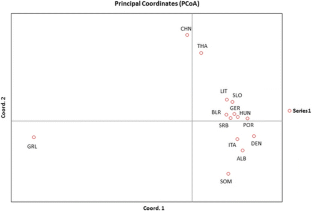 References
1.

Szibor R (2007) X-chromosomal markers: past, present and future. Forensic Sci Int Genet 1(2):93–99. https://doi.org/10.1016/j.fsigen.2007.03.003

2.

Szibor R, Krawczak M, Hering S, Edelmann J, Kuhlisch E, Krause D (2003) Use of X-linked markers for forensic purposes. Int J Legal Med 117(2):67–74. https://doi.org/10.1007/s00414-002-0352-5

3.

Walsh PS, Metzger DA, Higuchi R (1991) Chelex 100 as a medium for simple extraction of DNA for PCR-based typing from forensic material. BioTechniques 10(4):506–551

4.

Excoffier L, Lischer HEL (2010) Arlequin suite ver 3.5: a new series of programs to perform population genetics analyses under Linux and Windows. Mol Ecol Resour 10(3):564–567. https://doi.org/10.1111/j.1755-0998.2010.02847.x

5.

Tomas C, Pereira V, Morling N (2012) Analysis of 12 X-STRs in Greenlanders, Danes and Somalis using Argus X-12. Int J Legal Med 126:121–128. https://doi.org/10.1007/s00414-011-0609-y

6.

Sufian A, Hosen MI, Fatema K, Hossain T, Hasan MM, Mazumder AK, Akhteruzzaman S (2017) Genetic diversity study on 12 X-STR loci of Investigator® Argus X STR kit in Bangladeshi population. Int J Legal Med. https://doi.org/10.1007/s00414-016-1513-2

7.

Takezaki N, Nei M, Tamura K (2014) POPTREEW: web version of POPTREE for constructing population trees from allele frequency data and computing some other quantities. Mol Biol Evol 31(6):1622–1624. https://doi.org/10.1093/molbev/msu093

8.

Peakall R, Smouse PE (2012) GenAlEx 6.5: genetic analysis in Excel. Population genetic software for teaching and research—an update. Bioinformatics 28:2537–2539. https://doi.org/10.1093/bioinformatics/bts460

9.

Poetsch M, Bajanowski T, Pfeiffer H (2012) The publication of population genetic data in the international journal of legal medicine: guidelines. Int J Legal Med 126:489–490. https://doi.org/10.1007/s00414-012-0700-z

10.

Bar W, Brinkmann B, Budowle B, Carracedo A, Gill P, Lincoln P, Olaisen B (1997) DNA recommendations: further report of the DNA commission of the ISFH regarding the use of short tandem repeat systems. Int J Legal Med 110(4):175–176
Acknowledgments
This study was supported by the Ministry of Education, Science and Technological Development of the Republic of Serbia (project no 175093).
Ethics declarations
Informed consent was obtained from all individual participants included in the study.
The ethical considerations in this study were approved by The Institutional Review Board of Clinical Centre of Vojvodina, Novi Sad, IRB No 00-08/332.
Conflict of interest
The authors declare that they have no conflict of interest.
Electronic supplementary material
About this article
Cite this article
Veselinović, I., Vapa, D., Djan, M. et al. Genetic analysis of 12 X-STR loci in the Serbian population from Vojvodina Province. Int J Legal Med 132, 405–408 (2018). https://doi.org/10.1007/s00414-017-1677-4
Received:

Accepted:

Published:

Issue Date:
Keywords
Genetic polymorphisms

X-STR

Haplotype

Linkage groups

Forensics

Kinship analysis