Abstract
Introduction
Postmortem CT angiography is the method of choice for the postmortem imaging investigations of the cardiovascular (CV) system. However, autopsy still remains the gold standard for CV measurement. Nevertheless, there are not any studies on CV measurements on the multi-phase postmortem angiography (MPMCTA) which includes comparisons with autopsy. Therefore, the aim of this study is to compare CV measurements between the native CT scan and the three phases of the MPMCTA to find out which of these modalities correlate the best with autopsy measurements.
Methods
For this study, we selected retrospectively 50 postmortem cases that underwent both MPMCTA and autopsy. A comparison was carried out between the CV measurements obtained with imaging (aorta; heart cavities and cardiac wall thicknesses; maximum cardiac diameter and cardiothoracic ratio) and at the autopsy (aorta; cardiac valves, ventricular thicknesses, and weight).
Results
Our results show that the dynamic phase displays an advantage for the measurement of the aortas. However, the MPMCTA is not accurate to measure the cardiac wall thicknesses. The measurements of the heart cavities show no correlation with the heart valves. The cardiothoracic ratio measured by the MPMCTA shows no correlation with the heart weight. Nevertheless, the maximum cardiac diameter exhibits a correlation with the latter on the venous and dynamic phase.
Conclusions
These results show that only few CV parameters measured with imaging correlate with measurement obtained at the autopsy. These results indicate that in order to better estimate values obtained at the autopsy, we need to define new reference values for the CV measurement on MPMCTA.
Access options
Buy single article
Instant access to the full article PDF.
US$ 39.95
Tax calculation will be finalised during checkout.
Subscribe to journal
Immediate online access to all issues from 2019. Subscription will auto renew annually.
US$ 119
Tax calculation will be finalised during checkout.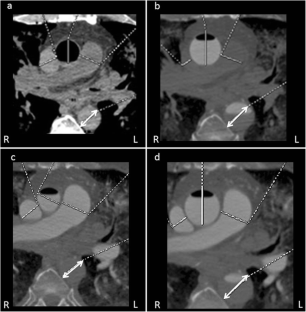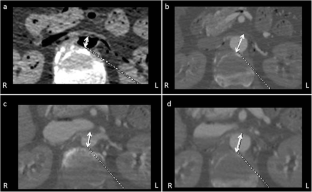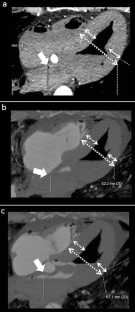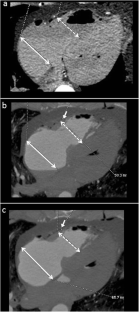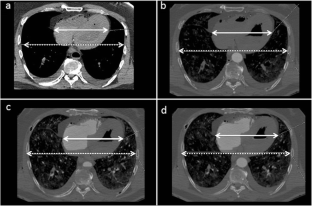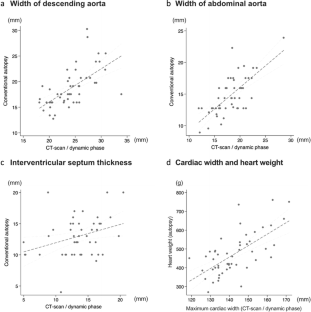 References
1.

Jackowski C, Persson A, Thali MJ (2008) Whole body postmortem angiography with a high viscosity contrast agent solution using poly ethylene glycol as contrast agent dissolver. J Forensic Sci 53:465–468. doi:10.1111/j.1556-4029.2008.00673.x

2.

Grabherr S, Djonov V, Yen K, Thali MJ, Dirnhofer R (2007) Postmortem angiography: review of former and current methods. AJR Am J Roentgenol 188:832–838. doi:10.2214/AJR.06.0787

3.

Saunders SL, Morgan B, Raj V, Rutty GN (2011) Post-mortem computed tomography angiography: past, present and future. Forensic Sci Med Pathol 7:271–277. doi:10.1007/s12024-010-9208-3

4.

Grabherr S, Grimm J, Dominguez A, Vanhaebost J, Mangin P (2014) Advances in post-mortem CT-angiography. Br J Radiol 87:20130488. doi:10.1259/bjr.20130488

5.

Chevallier C, Doenz F, Vaucher P, Palmiere C, Dominguez A, Binaghi S, Mangin P, Grabherr S (2013) Postmortem computed tomography angiography vs. conventional autopsy: advantages and inconveniences of each method. Int J Legal Med 127:981–989. doi:10.1007/s00414-012-0814-3

6.

Grabherr S, Grimm J, Heinemann A (2016) Atlas of postmortem angiography. Springer Int. doi:10.1007/978-3-319-28537-5

7.

Saunders SL, Morgan B, Raj V, Robinson CE, Gn R (2011) Targeted post-mortem computed tomography cardiac angiography: proof of concept. Int J Legal Med 125:609–616. doi:10.1007/s00414-011-0559-4

8.

Jackowski C, Sonnenschein M, Thali MJ, Aghayev E, von Allmen G, Yen K, Dirnhofer R, Vock P (2005) Virtopsy: postmortem minimally invasive angiography using cross section techniques—implementation and preliminary results. J Forensic Sci 50:1175–1186

9.

Ross S, Spendlove D, Bolliger S, Christe A, Oesterhelweg L, Grabherr S, Thali MJ, Gygax E (2008) Postmortem whole-body CT angiography: evaluation of two contrast media solutions. AJR Am J Roentgenol 190:1380–1389. doi:10.2214/AJR.07.3082

10.

Grabherr S, Grimm J, Baumann P, Mangin P (2015) Application of contrast media in post-mortem imaging (CT and MRI). Radiol Med 120:824–834. doi:10.1007/s11547-015-0532-2

11.

Grabherr S, Gygax E, Sollberger B, Ross S, Oesterhelweg L, Bolliger S, Christe A, Djonov V, Thali MJ, Dirnhofer R (2008) Two-step postmortem angiography with a modified heart-lung machine: preliminary results. AJR Am J Roentgenol 190:345–351. doi:10.2214/AJR.07.2261

12.

Grabherr S, Doenz F, Steger B, Dirnhofer R, Dominguez A, Sollberger B, Gygax E, Rizzo E, Chevallier C, Meuli R, Mangin P (2011) Multi-phase post-mortem CT angiography: development of a standardized protocol. Int J Legal Med 125:791–802. doi:10.1007/s00414-010-0526-5

13.

Wichmann D, Heinemann A, Weinberg C, Vogel H, Hoepker WW, Grabherr S, Pueschel K, Kluge S (2014) Virtual autopsy with multiphase postmortem computed tomographic angiography versus traditional medical autopsy to investigate unexpected deaths of hospitalized patients: a cohort study. Ann Intern Med 160:534–541. doi:10.7326/M13-2211

14.

Basso C, Burke M, Fornes P, Gallagher PJ, de Gouveia RH, Sheppard M, Thiene G, van der Wal A, Association for European Cardiovascular Pathology (2008) Guidelines for autopsy investigation of sudden cardiac death. Virchows Arch 452:11–18. doi:10.1007/s00428-007-0505-5

15.

Maleszewski JJ, Lai CK, Veinot JP. (2016) Anatomic considerations and examination of cardiovascular specimens (excluding devices). In: Buja LM, Butany J, eds. Cardiovascular pathology, 4th edition. Elsevier. Pp. 1-56

16.

Sheppard MN (2011) Practical cardiovascular pathology, 2nd edn. Oxford University Press, London

17.

Okuma H, Gonoi W, Ishida M, Shintani Y, Takazawa Y, Fukayama M, Ohtomo K (2013) Heart wall is thicker on postmortem computed tomography than on antemortem [corrected] computed tomography: the first longitudinal study. PLoS One 8:e76026. doi:10.1371/journal.pone.0076026

18.

Hyodoh H, Sato T, Onodera M, Washio H, Hasegawa T, Hatakenaka M (2012) Vascular measurement changes observed using postmortem computed tomography. Jpn J Radiol 30:840–845. doi:10.1007/s11604-012-0134-z

19.

Takahashi N, Higuchi T, Hirose Y, Yamanouchi H, Takatsuka H, Funayama K (2013) Changes in aortic shape and diameters after death: comparison of early postmortem computed tomography with antemortem computed tomography. Forensic Sci Int 225:27–31. doi:10.1016/j.forsciint.2012.04.037

20.

Shiotani S, Kohno M, Ohashi N, Yamazaki K, Nakayama H, Watanabe K, Itai Y (2003) Dilatation of the heart on postmortem computed tomography (PMCT): comparison with live CT. Radiat Med 21:29–35

21.

Jotterand M, Doenz F, Grabherr S, Faouzi M, Boone S, Mangin P, Michaud K (2016) The cardiothoracic ratio on post-mortem computer tomography. Int J Legal Med. doi:10.1007/s00414-016-1328-1

22.

Aghayev E, Sonnenschein M, Jackowski C, Thali M, Buck U, Yen K, Bolliger S, Dirnhofer R, Vock P (2006) Postmortem radiology of fatal hemorrhage: measurements of cross-sectional areas of major blood vessels and volumes of aorta and spleen on MDCT and volumes of heart chambers on MRI. AJR Am J Roentgenol 187:209–215. doi:10.2214/AJR.05.0222

23.

Winklhofer S, Berger N, Ruder T, Elliott M, Stolzmann P, Thali M, Alkadhi H, Ampanozi G (2014) Cardiothoracic ratio in postmortem computed tomography: reliability and threshold for the diagnosis of cardiomegaly. Forensic Sci Med Pathol 10:44–49. doi:10.1007/s12024-013-9504-9

24.

Shiotani S, Kohno M, Ohashi N, Yamazaki K, Nakayama H, Ito Y, Kaga K, Ebashi T, Itai Y (2002) Hyperattenuating aortic wall on postmortem computed tomography (PMCT). Radiat Med 20:201–206

25.

Grabherr S, Hess A, Karolczak M, Thali MJ, Friess SD, Kalender WA, Dirnhofer R, Djonov V (2008) Angiofil-mediated visualization of the vascular system by microcomputed tomography: a feasibility study. Microsc Res Tech 71:551–556. doi:10.1002/jemt.20585

26.

Lu MT, Ersoy H, Whitmore AG, Lipton MJ, Rybicki FJ (2007) Reformatted four-chamber and short-Axis views of the heart using thin section (≤2mm) MDCT images. Acad Radiol 14:1108–1112. doi:10.1016/j.acra.2007.05.019

27.

Brinkmann B (1999) Harmonization of medico-legal autopsy rules. Committee of Ministers. Council of Europe. Int J Legal Med 113:1–14

28.

Société Suisse de Médecine Légale (2007). Swiss Principles and Rules for Medico-Legal Autopsy https://www.sgrm.ch/inhalte/Forensische-Medizin/Durchfuehrung_Rechtsmed_Obduktion_01.pdf. Accessed 20 December 2016

29.

Vanhaebost J, Faouzi M, Mangin P, Michaud K (2014) New reference tables and user-friendly internet application for predicted heart weights. Int J Legal Med 128:615–620. doi:10.1007/s00414-013-0958-9

30.

Raftery AE (1995) Bayesian model selection in social research. Sociol Methodol 25:111–163. doi:10.2307/271063

31.

Guthaner DF, Wexler L, Harell G (1979) CT demonstration of cardiac structures. AJR Am J Roentgenol 133:75–81. doi:10.2214/ajr.133.1.75

32.

Roberts WT, Bax JJ, Davies LC (2008) Cardiac CT and CT coronary angiography: technology and application. Heart 94:781–792. doi:10.1136/hrt.2007.116392

33.

Kumamaru KK, Hoppel BE, Mather RT, Rybicki FJ (2010) CT angiography: current technology and clinical use. Radiol Clin N Am 48(213–35):vii. doi:10.1016/j.rcl.2010.02.006

34.

Rubin GD, Leipsic J, Joseph Schoepf U, Fleischmann D, Napel S (2014) CT angiography after 20 years: a transformation in cardiovascular disease characterization continues to advance. Radiology 271:633–652. doi:10.1148/radiol.14132232

35.

Kitzman DW, Scholz DG, Hagen PT, Ilstrup DM, Edwards WD (1988) Age-related changes in normal human hearts during the first 10 decades of life. Part II (maturity): a quantitative anatomic study of 765 specimens from subjects 20 to 99 years old. Mayo Clin Proc 63:137–146

36.

de la Grandmaison GL, Clairand I, Durigon M (2001) Organ weight in 684 adult autopsies: new tables for a Caucasoid population. Forensic Sci Int 119:149–154. doi:10.1016/s0379-0738(00)00401-1

37.

Burke AP, Tavora F (2010) Practical cardiovascular pathology. Lippincott Williams and Wilkins, Philadelphia

38.

Halushka MK, Angelini A, Bartoloni G et al (2016) Consensus statement on surgical pathology of the aorta from the Society for Cardiovascular Pathology and the Association For European Cardiovascular Pathology: II. Noninflammatory degenerative diseases - nomenclature and diagnostic criteria. Cardiovasc Pathol 25:247–257. doi:10.1016/j.carpath.2016.03.002

39.

Stone JR, Bruneval P, Angelini A et al (2015) Consensus statement on surgical pathology of the aorta from the Society for Cardiovascular Pathology and the Association for European Cardiovascular Pathology: I. Inflammatory diseases. Cardiovasc Pathol 24:267–278. doi:10.1016/j.carpath.2015.05.001

40.

Frik W, Persch WF (1969) The effect of contrast media type on the vascular caliber in experimental angiography. Fortschr Geb Röntgenstr Nuklearmed 111:620–629

41.

Ampanozi G, Hatch GM, Flach PM, Thali MJ, Ruder TD (2015) Postmortem magnetic resonance imaging: reproducing typical autopsy heart measurements. Legal Med 17:493–498. doi:10.1016/j.legalmed.2015.10.008

42.

Ariyarajah V, Soni A, Morris A (2008) Giant right atrium in an adult. Echocardiography 25:1121–1123. doi:10.1111/j.1540-8175.2008.00742.x

43.

Kelesidis T, Maysky M, Kelesidis I (2010) Giant right atrium with severe pulmonary hypertension. Can Med Assoc J 182:E147–E147. doi:10.1503/cmaj.090671

44.

Thompson SI, Vieweg WV, Iacovoni VE, Alpert JS, Haggan AD (1978) Idiopathic enlargement of the right atrium: report of three cases. Maryl Med J 27

45.

Anzouan-Kacou JB, Konin C, Coulibaly I, N'guetta R, Adoubi A, Soya E, Boka B (2011) Unusual giant right atrium in rheumatic mitral stenosis and tricuspid insufficiency. Case Rep Cardiol 2011:1–4. doi:10.1155/2011/762873

46.

Biscione C, Sergnese O, Forleo GB, Costantino MF, Andreotta P, Romeo F (2013) Giant left atrium 30years after surgical mitral valve replacement: an assessment of conservative therapy. Int J Cardiol 166:e6–e8. doi:10.1016/j.ijcard.2012.12.079

47.

Chick JFB, Sheehan SE, Miller JD, Bair RJ, Madan R (2013) Giant left atrium in rheumatic heart disease: the classic signs of left atrial enlargement. J Emerg Med 44:393–394. doi:10.1016/j.jemermed.2012.11.066

48.

Mainwaring RD, Pirolli T, Punn R, Hanley FL (2012) Late repair of the native pulmonary valve in patients with pulmonary insufficiency after surgery for tetralogy of fallot. Ann Thorac Surg 93:677–679. doi:10.1016/j.athoracsur.2011.09.016

49.

Mercer-Rosa L, Ingall E, Zhang X et al (2015) The impact of pulmonary insufficiency on the right ventricle: a comparison of isolated valvar pulmonary stenosis and tetralogy of Fallot. Pediatr Cardiol 36:796–801. doi:10.1007/s00246-014-1087-z

50.

Gaasch WH, Carroll JD, Levine HJ, Criscitiello MG (1983) Chronic aortic regurgitation: prognostic value of left ventricular end-systolic dimension and end-diastolic radius/thickness ratio. J Am Coll Cardiol 1:775–782. doi:10.1016/S0735-1097(83)80190-9

51.

Fioretti P, Roelandt J, Sclavo M, Domenicucci S, Haalebos M, Bos E, Hugenholtz PG (1985) Postoperative regression of left ventricular dimensions in aortic insufficiency: a long-term echocardiographic study. J Am Coll Cardiol 5:856–861. doi:10.1016/S0735-1097(85)80423-X

52.

Miller JA, Singer A, Hinrichs C, Contractor S, Doddakashi S (1999) Cardiac dimensions derived from helical CT: correlation with plain film radiography. Internet J Radiol 1

53.

Gollub MJ, Panu N, Delaney H, Sohn M, Zheng J, Moskowitz CS, Rademaker J, Liu J (2012) Shall we report cardiomegaly at routine computed tomography of the chest? J Comput Assist Tomogr 36:67–71. doi:10.1097/RCT.0b013e318241e585
Ethics declarations
The following study was approved by the Cantonal Ethics Committees on research involving humans (CER-VD; No. 130/15).
Conflict of interest
The authors declare that they have no conflict of interest.
Electronic supplementary material
About this article
Cite this article
Troxler, R., Minoiu, C., Vaucher, P. et al. The role of angiography in the congruence of cardiovascular measurements between autopsy and postmortem imaging. Int J Legal Med 132, 249–262 (2018). https://doi.org/10.1007/s00414-017-1652-0
Received:

Accepted:

Published:

Issue Date:
Keywords
Forensic imaging

MPMCTA

Cardiovascular measurement

Autopsy