Abstract
Age at death estimation in burnt human remains is problematic due to the severe heat-induced modifications that may affect the skeleton after a burning event. The objective of this paper was to assess if cementochronology, which focuses on the cementum incremental lines, is a reliable method of age estimation in burnt remains. Besides the classical approach based on the counting of incremental lines, another approach based on the extrapolation of incremental lines taking into account the cement layer thickness and the incremental line thickness was investigated. A comparison of the performance of the two techniques was carried out on a sample of 60 identified monoradicular teeth that were recently extracted at dentist offices and then experimentally burnt at two maximum temperatures (400 and 900 °C). Micrographs of cross-sections of the roots were taken via an optical microscope with magnification of ×100, ×200 and ×400. Incremental line counting and measurements were carried out with the ImageJ software. Age estimation based on incremental line counting in burnt teeth had no significant correlation with chronological age (p = 0.244 to 0.914) and led to large absolute mean errors (19 to 21 years). In contrast, age estimation based on the extrapolation approach showed a significant correlation with known age (p = 0.449 to 0.484). In addition, the mean absolute error of the latter was much smaller (10 to 14 years). The reason behind this discrepancy is the heat-induced dimensional changes of incremental lines that affect their visibility and individualization thus complicating line counting. Our results indicated that incremental lines extrapolation is successful at solving this problem and that the resulting age estimation is much more reliable.
This is a preview of subscription content, log in to check access.
Access options
Buy single article
Instant access to the full article PDF.
US$ 39.95
Price includes VAT for USA
Subscribe to journal
Immediate online access to all issues from 2019. Subscription will auto renew annually.
US$ 199
This is the net price. Taxes to be calculated in checkout.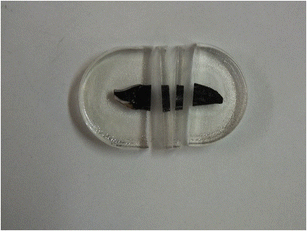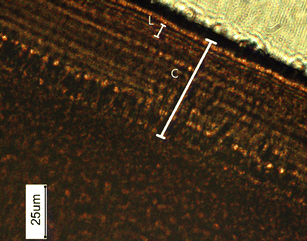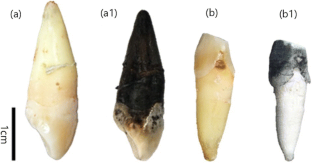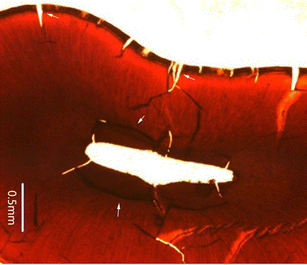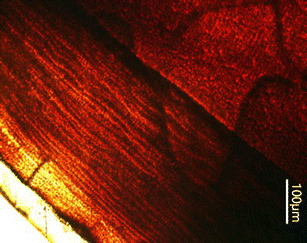 References
1.

Fairgrieve SI (2008) Forensic cremation recovery and analysis. CRC Press, USA

2.

Ubelaker DH (2009) The forensic evaluation of burned skeletal remains: a synthesis. Forensic Sci Int 183(1):1–5

3.

Harbeck M, Schleuder R, Schneider J, Wiechmann I, Schmahl WW, Grupe G (2011) Research potential and limitations of trace analyses of cremated remains. Forensic Sci Int 204(1):191–200

4.

Alunni V, Grevin G, Buchet L, Quatrehomme G (2014) Forensic aspect of cremations on wooden pyre. Forensic Sci Int 241:167–172

5.

Thompson TJU (2004) Recent advances in the study of burned bone and their implications for forensic anthropology. Forensic Sci Int 146:S203–S205

6.

Gonçalves D (2011) The reliability of osteometric techniques for the sex determination of burned human skeletal remains. Homo 62(5):351–358

7.

Cunha E, Baccino E, Martrille L, Ramsthaler F, Prieto J, Schuliar Y, Lynnerup N, Cattaneo C (2009) The problem of aging human remains and living individuals: a review. Forensic Sci Int 193(1):1–13

8.

Gocha TP, Schutkowski H (2013) Tooth cementum annulation for estimation of age‐at‐death in thermally altered remains. J Forensic Sci 58(s1):S151–S155

9.

Absolonova K, Veleminsky P, Dobisikova M, Beran M, Zocova J (2013) Histological estimation of age at death from the compact bone of burned and unburned human ribs. J Forensic Sci 58(s1):S135–S145

10.

Rösing FW, Graw M, Marré B, Ritz-Timme S, Rothschild MA, Rötzscher K, Schmeling A, Schröder I, Geserick G (2007) Recommendations for the forensic diagnosis of sex and age from skeletons. Homo 58(1):75–89

11.

Schmidt CW (2008) The recovery and study of burned human teeth. In: Schmidt CW, Symes SA (eds) The analysis of burned human remains. Academic, London, pp 55–74

12.

Merlati G, Danesino P, Savio C, Fassina G, Osculati A, Menghini P (2002) Observations on dental prostheses and restorations subjected to high temperatures: experimental studies to aid identification processes. J Forensic Odontostomatol 20(2):17–24

13.

Savio C, Merlati G, Danesino P, Fassina G, Menghini P (2006) Radiographic evaluation of teeth subjected to high temperatures: experimental study to aid identification processes. Forensic Sci Int 158(2):108–116

14.

Reesu GV, Augustine J, Urs AB (2015) Forensic considerations when dealing with incinerated human dental remains. J Forensic Leg Med 29:13–17

15.

Fereira JL, Fereira ÁED, Ortega AI (2008) Methods for the analysis of hard dental tissues exposed to high temperatures. Forensic Sci Int 178(2):119–124

16.

Gouveia M (2015) Avaliação do potencial da odontometria para a diagnose sexual em vestígios humanos queimados. University of Coimbra, Dissertation

17.

Morse DR (1991) Age-related changes of the dental pulp complex and their relationship to systemic aging. Oral Surg Oral Med Oral Pathol 72(6):721–745

18.

Gustafson G (1950) Age determination on teeth. J Am Dent Assoc 41(1):45–54

19.

Lamendin H, Baccino E, Humbert JF, Tavernier JC, Nossintchouk RM, Zerilli A (1992) A simple technique for age estimation in adult corpses: the two criteria dental method. J Forensic Sci 37(5):1373–1379

20.

Yekkala R, Meers C, Van Schepdael A, Hoogmartens J, Lambrichts I, Willems G (2006) Racemization of aspartic acid from human dentin in the estimation of chronological age. Forensic Sci Int 159:S89–S94

21.

Cameriere R, Ferrante L, Belcastro MG, Bonfiglioli B, Rastelli E, Cingolani M (2007) Age estimation by pulp/tooth ratio in Canines by peri‐apical x‐rays. J Forensic Sci 52(1):166–170

22.

Großkopf B (1989) Incremental lines in prehistoric cremated teeth. A technical note. Z Morphol Anthropol 77(3):309–311

23.

Großkopf B (1990) Individualaltersbestimmung mit Hilfe von Zuwachsringen im Zement bodengelagerter menschlicher Zähne [abstract]. Z Rechtsmed 103(5):351–359

24.

Czermak A, Masanz R, Brather S (2012) Age at death evaluation of urn burials (Friedenhain-Přešťovice type) from the Late Roman and Migration Period - TCA applied to cremated teeth using automated line counting (Auto-TCA). 19th European Meeting of the Paleopathology Association (PPA), Lille, p 27

25.

Schroeder HE, Amstad-Jossi M, Kroni R, Scherle W (1986) The periodontium. In: Schroeder HE, Amstad-Jossi M, Kroni R, Scherle W (eds) Hanbook of microscopic anatomy. Springer, Berlin, p V/5

26.

Azaz B, Ulmansky M, Moshev R, Sela J (1974) Correlation between age and thickness of cementum in impacted teeth. Oral Surg Oral Med Oral Pathol 38(5):691–694

27.

Azaz B, Michaeli Y, Nitzan D (1977) Aging of tissues of the roots of nonfunctional human teeth (impacted canines). Oral Surg Oral Med Oral Pathol 43(4):572–578

28.

Solheim T (1990) Dental cementum apposition as an indicator of age. Eur J Oral Sci 98(6):510–519

29.

Stott GG, Sis RF, Levy BM (1982) Cemental annulation as an age criterion in forensic dentistry. J Dent Res 61(6):814–817

30.

Charles DK, Condon K, Cheverud JM, Buikstra JE (1986) Cementum annulation and age determination in Homo sapiens. I. Tooth variability and observer error. Am J Phys Anthropol 71(3):311–320

31.

Kagerer P, Grupe G (2001) Age-at-death diagnosis and determination of life-history parameters by incremental lines in human dental cementum as an identification aid. Forensic Sci Int 118(1):75–82

32.

Wittwer‐Backofen U, Gampe J, Vaupel JW (2004) Tooth cementum annulation for age estimation: results from a large known‐age validation study. Am J Phys Anthropol 123(2):119–129

33.

Renz H, Radlanski RJ (2006) Incremental lines in root cementum of human teeth—a reliable age marker? Homo 57(1):29–50

34.

Roksandic M, Vlak D, Schillaci MA, Voicu D (2009) Technical note: applicability of tooth cementum annulation to an archaeological population. Am J Phys Anthropol 140(3):583–588

35.

Kvaal SI, Solheim T, Bjerketvedt D (1996) Evaluation of preparation, staining and microscopic techniques for counting incremental lines in cementum of human teeth. Biotech Histochem 71(4):165–172

36.

Naji S, Colard T, Blondiaux J, Bertrand B, d'Incau E, Bocquet-Appel JP (2014) Cementochronology, to cut or not to cut? J Paleopathol, Int, dx.doi.org/10.1016/j.ijpp.2014.05.003

37.

Colard T, Bertrand B, Naji S, Delannoy Y, Bécart A (2015) Toward the adoption of cementochronology in forensic context. Int J Legal Med 1-8, doi:10.1007/s00414-015-1172-8.

38.

Gupta P, Kaur H, Madhu Shankari GS, Jawanda MK, Sahi N (2014) Human age estimation from tooth cementum and dentin. J Clin Diagn Res 8(4):ZC07

39.

Gauthier J, Schutkowski H (2013) Assessing the application of tooth cementum annulation relative to macroscopic aging techniques in an archeological sample. Homo 64(1):42–57

40.

Haavikko K (1970) The formation and the alveolar and clinical eruption of the permanent teeth: an orthopantomographic study. Suom Hammaslaak Toim 66(3):103

41.

Perini TA, Oliveira GLD, Ornellas JDS, Oliveira FPD (2005) Technical error of measurement in anthropometry. Rev Bras Med Esporte 11(1):81–85

42.

Lipsinic FE, Paunovich E, Houston GD, Robison SF (1986) Correlation of age and incremental lines in the cementum of human teeth. J Forensic Sci 31(3):982–989

43.

Shipman P, Foster G, Schoeninger M (1984) Burnt bones and teeth: an experimental study of color, morphology, crystal structure and shrinkage. J Archaeol Sci 11(4):307–325

44.

Endris R, Berrsche R (1985) Color change in dental tissue as a sign of thermal damage. Z Rechtsmed 94(2):109

45.

Sandholzer MA, Walmsley AD, Lumley PJ, Landini G (2013) Radiologic evaluation of heat-induced shrinkage and shape preservation of human teeth using micro-CT. J Forensic Radiol Imaging 1(3):107–111

46.

Bush PJ, Bush MA (2011) The next level in victim identification: materials proper-ties as an aid in victim identification. In: Bowers C (ed) Forensic dental evidence. Elsevier Academic Press, London, pp 55–72

47.

Whyte TR (2001) Distinguishing remains of human cremations from burned animal bones. J Field Archaeol 28(3-4):437–448

48.

Gonçalves D, Thompson TJU, Cunha E (2011) Implications of heat-induced changes in bone on the interpretation of funerary behaviour and practice. J Archaeol Sci 38(6):1308–1313

49.

Thompson TJU (2005) Heat-induced dimensional changes in bone and their consequences for forensic anthropology. J Forensic Sci 50(5):1008–1015

50.

Sandholzer MA, Sui T, Korsunsky AM, Damien Walmsley A, Lumley PJ, Landini G (2014) X‐ray scattering evaluation of ultrastructural changes in human dental tissues with thermal treatment. J Forensic Sci 59(3):769–774

51.

Condon K, Charles DK, Cheverud JM, Buikstra JE (1986) Cementum annulation and age determination in Homo sapiens. II Estimates and accuracy. Am J Phys Anthropol 71(3):321–330

52.

Maat GJ, Gerretsen RRR, Aarents MJ (2006) Improving the visibility of tooth cementum annulations by adjustment of the cutting angle of microscopic sections. Forensic Sci Int 159(Suppl: 1):S95–S99

53.

Furseth R, Johansen E (1968) A microradiographic comparison of sound and carious human dental cementum. Arch Oral Biol 13(10):1197–IN13

54.

Broucker A, Colard T, Penel G, Blondiaux J, Naji S (2015) The impact of periodontal disease on cementochronology age estimation. Int. J. Paleopathol ISSN 1879-9817, http://dx.doi.org/10.1016/j.ijpp.2015.09.004

55.

Dias PEM, Beaini TL, Melani RFH (2010) Age estimation from dental cementum incremental lines and periodontal disease. J Forensic Odontostomatol 28(1):13–21

56.

DeHaan JD (2008) Fire and bodies. In: Schmidt CW, Symes SA (eds) The analysis of burned human remains. Academic, London, pp 1–13
Acknowledgments
The authors would like to thank all the donor and dentists who collaborated in this research. A special thanks goes to Cláudia Brites and the Hard Tissues Laboratory of the Dentistry Department of the Faculty of Medicine of the University of Coimbra. Also, to Maria Teresa Ferreira, for taking her time in revising the text and to Benoit Bertrand for giving valuable advice for this research. David Gonçalves is funded through a postdoctoral research grants (SFRH/BPD/84268/2012) from the Portuguese Foundation for Science and Technology.
About this article
Cite this article
Oliveira-Santos, I., Gouveia, M., Cunha, E. et al. The circles of life: age at death estimation in burnt teeth through tooth cementum annulations. Int J Legal Med 131, 527–536 (2017). https://doi.org/10.1007/s00414-016-1432-2
Received:

Accepted:

Published:

Issue Date:
Keywords
Forensic anthropology

Cementochronology

Heat-induced changes

Incremental lines

Dental age estimation