Abstract
A total of 1225 unrelated Han males from Henan province were analyzed with the prototype Yfiler® Plus kit (Life Technologies, Thermo Fisher Scientific, Waltham, MA, USA). The calculated gene diversity (GD) values ranged from 0.3855 to 0.9673 for the DYS391 and DYS385a/b loci, respectively. The discriminatory capacity (DC) was 86.94 % with 1065 observed haplotypes using 17 Yfiler loci, by the addition of 10 Y-STRs to the Yfiler® Plus system, the DC was increased to 98.94 % while showing 1212 observed haplotypes. Among the new incorporated Y-STRs, DYS576, DYF387S1, DYS518, DYS627, and DYS449 were major contributors to enhancing discrimination. In the analysis of molecular variance, the Henan Han population clustered with Asian origin populations and showed significant differences from other reference populations. In this study, the improvement of adding additional Y-STR markers with the Yfiler® Plus kit provided substantially stronger discriminatory power in the Henan Han population.
Access options
Buy single article
Instant access to the full article PDF.
US$ 39.95
Tax calculation will be finalised during checkout.
Subscribe to journal
Immediate online access to all issues from 2019. Subscription will auto renew annually.
US$ 119
Tax calculation will be finalised during checkout.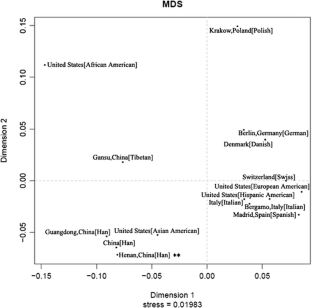 References
1.

Roewer L (2009) Y chromosome STR typing in crime casework. Forensic Sci Med Pathol 5:77–84

2.

de Knijff P, Kayser M, Caglià A, Corach D, Fretwell N, Gehrig C, Graziosi G, Heidorn F, Herrmann S, Herzog B, Hidding M, Honda K, Jobling M, Krawczak M, Leim K, Meuser S, Meyer E, Oesterreich W, Pandya A, Parson W, Penacino G, Perez-Lezaun A, Piccinini A, Prinz M, Roewer L (1997) Chromosome Y microsatellites: population genetic and evolutionary aspects. Int J Legal Med 110:134–149

3.

Hall A, Ballantyne J (2003) Novel Y-STR typing strategies reveal the genetic profile of the semen donor in extended interval postcoital cervico vaginal samples. Forensic Sci Int 136:58–72

4.

Thompson JM, Ewing MM, Frank WE, Pogemiller JJ, Nolde CA, Koehler DJ, Shaffer AM, Rabbach DR, Fulmer PM, Sprecher CJ, Storts DR (2013) Developmental validation of the PowerPlex® Y23 System: a single multiplex Y-STR analysis system for casework and database samples. Forensic Sci Int Genet 7:240–250

5.

Ballantyne KN, Keerl V, Wollstein A, Choi Y, Zuniga SB, Ralf A, Vermeulen M, de Knijff P, Kayser M (2012) A new future of forensic Y-chromosome analysis: rapidly mutating Y-STRs for differentiating male relatives and paternal lineages. Forensic Sci Int Genet 6:208–218

6.

Shi MS, Liu YJ, Zhang JT, Bai RF, Lv XJ, Ma SH (2015) Analysis of 24 Y chromosomal STR haplotypes in a Chinese Han population sample from Henan Province, Central China. Forensic Sci Int Genet 17:83–86

7.

Willuweit S, Roewer L (2015) The new Y chromosome haplotype reference database. Forensic Sci Int Genet 15:43–48

8.

Nei M (1987) Molecular evolutionary genetics. Columbia University Press, New York, pp 176–179

9.

Excoffier L, Lischer HEL (2010) Arlequin suite ver 3.5: a new series of programs to perform population genetics analyses under Linux and Windows. Mol Ecol Resour 10:564–567

10.

Enrica O, Stefano V, Paola A, Alessandro A, Paola M (2015) Preliminary assessment of the prototype Yfiler® Plus kit in a population study of Northern Italian males. Int J Legal Med 129:729–730

11.

Olofsson JK, Mogensen HS, Buchard A, Børsting C, Morling N (2015) Forensic and population analyses of Danes, Greenlanders and Somalis typed with the Yfiler® Plus PCR amplification kit. Forensic Sci Int Genet 16:232–236

12.

García O, Yurrebaso I, Mancisidor ID, López S, Alonso S, Gusmão L (2015) Data for 27 Y-chromosome STR loci in the Basque Country autochthonous population. Forensic Sci Int Genet. doi:10.1016/j.fsigen.2015.09.010

13.

Parson W, Roewer L (2010) Publication of population data of linearly inherited DNA markers in the International Journal of Legal Medicine. Int J Legal Med 124:505–509

14.

Poetsch M, Bajanowski T, Pfeiffer H (2012) The publication of population genetic data in the International Journal of Legal Medicine: guidelines. Int J Legal Med 126:489–490
Acknowledgments
We thank all sample donors for their contributions to this work and all those who helped with sample collection. This study was supported by The National Natural Science Foundation of China (NSFC. Nos. 81172902, 81471821, and 81373745), the Program for New Century Excellent Talents in University (No.NCET-10-0773), the China Postdoctoral Science Foundation funded project (No.2013 M530371), and the Collaborative Innovation Center of Judicial Civilization, China.
About this article
Cite this article
Bai, R., Liu, Y., Zhang, J. et al. Analysis of 27 Y-chromosomal STR haplotypes in a Han population of Henan province, Central China. Int J Legal Med 130, 1191–1194 (2016). https://doi.org/10.1007/s00414-016-1326-3
Received:

Accepted:

Published:

Issue Date:
Keywords
Y-STR

Yfiler®Plus

Haplotypes

Multidimensional scaling

Henan Han