Abstract
The six-dye GlobalFiler™ Express PCR amplification kit incorporates 21 commonly used autosomal short tandem repeat (STR) loci and three gender determination loci. In this study, we analyzed the GlobalFiler STR loci on 748 unrelated individuals from a Chinese Kazakh population of Xinjiang, China. No significant deviations from Hardy-Weinberg equilibrium and linkage disequilibrium were observed within and between 21 autosomal STR loci. SE33 showed the greatest power of discrimination in Kazakh population. The combined power of discrimination of Kazakh was 99.999999999999999999999996797 %. No significant differences of allele frequencies were observed between Kazakh and Uyghur at all 15 tested STR loci, as well as Mongolian. Significant differences were only observed between Kazakh and the other Chinese populations at TH01. Multiple STR loci showed significant differences between Kazakh and Arab, as well as South Portuguese. The multidimensional scaling plot (MDS) plot and neighbor-joining tree also showed Kazakh is genetically close to Uyghur.
This is a preview of subscription content, log in to check access.
Access options
Buy single article
Instant access to the full article PDF.
US$ 39.95
Price includes VAT for USA
Subscribe to journal
Immediate online access to all issues from 2019. Subscription will auto renew annually.
US$ 199
This is the net price. Taxes to be calculated in checkout.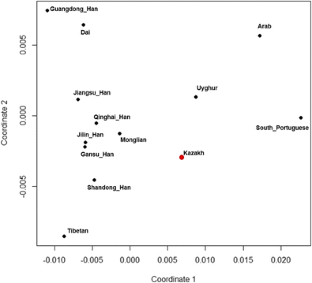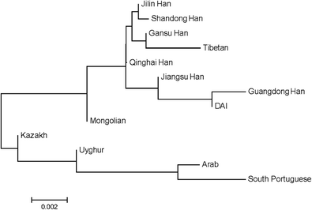 References
1.

Hammond HA, Jin L, Zhong Y, Caskey CT, Chakraborty R (1994) Evaluation of 13 short tandem repeat loci for use in personal identification applications. Am J Hum Genet 55(1):175–189

2.

Gettings KB, Aponte RA, Vallone PM, Butler JM (2015) STR allele sequence variation: current knowledge and future issues. Forensic Sci Int-Genet 18:118–130. doi:10.1016/j.fsigen.2015.06.005

3.

Wang DY, Gopinath S, Lagacé RE, Norona W, Hennessy LK, Short ML, Mulero JJ (2015) Developmental validation of the GlobalFiler® Express PCR Amplification Kit: a 6-dye multiplex assay for the direct amplification of reference samples. Forensic Sci Int-Genet 19:148–155. doi:10.1016/j.fsigen.2015.07.013

4.

Flores S, Sun J, King J, Budowle B (2014) Internal validation of the GlobalFiler (TM) Express PCR Amplification Kit for the direct amplification of reference DNA samples on a high-throughput automated workflow. Forensic Sci Int-Genet 10:33–39. doi:10.1016/j.fsigen.2014.01.005

5.

Martin P, de Simon LF, Luque G, Farfan MJ, Alonso A (2014) Improving DNA data exchange: validation studies on a single 6 dye STR kit with 24 loci. Forensic Sci Int-Genet 13:68–78. doi:10.1016/j.fsigen.2014.07.002

6.

Almeida C, Ribeiro T, Oliveira AR, Porto MJ, Santos JC, Dias D, Dario P (2015) Population data of the GlobalFiler® Express loci in South Portuguese population. Forensic Sci Int-Genet 19:39–41. doi:10.1016/j.fsigen.2015.06.001

7.

Alhmoudi OA, Jones RJ, Tay GK, Alsafar H, Hadi S (2015) Population genetics data for 21 autosomal STR loci for United Arab Emirates (UAE) population using next generation multiplex STR kit. Forensic Sci Int-Genet 19:190–191. doi:10.1016/j.fsigen.2015.07.009

8.

Yuan JY, Wang XY, Shen CM, Liu WJ, Yan JW, Wang HD, Pu HW, Wang YL, Yang G, Zhang YD, Meng HT, Jing H, Zhu BF (2014) Genetic profile characterization and population study of 21 autosomal STR in Chinese Kazak ethnic minority group. Electrophoresis 35(4):503–510. doi:10.1002/elps.201300398

9.

Bar W, Brinkmann B, Budowle B, Carracedo A, Gill P, Lincoln P, Mayr W, Olaisen B (1997) DNA recommendations—further report of the DNA Commission of the ISFH regarding the use of short tandem repeat systems. Int J Legal Med 110(4):175–176. doi:10.1007/s004140050061

10.

Olaisen B, Bar W, Brinkmann B, Budowle B, Carracedo A, Gill P, Lincoln P, Mayr WR, Rand S (1998) DNA recommendations 1997 of the International Society for Forensic Genetics. Vox Sang 74(1):61–63. doi:10.1046/j.1423-0410.1998.7410061.x

11.

Excoffier L, Lischer HEL (2010) Arlequin suite ver 3.5: a new series of programs to perform population genetics analyses under Linux and Windows. Mol Ecol Resour 10(3):564–567. doi:10.1111/j.1755-0998.2010.02847.x

12.

Zhao F, Wu X, Cai G, Xu C (2003) The application of Modified-Powerstates software in forensic biostatistics (in Chinese). Chinese Journal of Forensic Medicine 18(5):297–298

13.

Weir BS, Hill WG (2002) Estimating F-statistics. Annual Review of Genetics 36:721–750

14.

Tamura K, Stecher G, Peterson D, Filipski A, Kumar S (2013) MEGA6: Molecular Evolutionary Genetics Analysis version 6.0. Mol Biol Evol 30(12):2725–2729

15.

Chakraborty R, Kidd KK (1991) The utility of DNA typing in forensic work. Science 254(5039):1735–1739. doi:10.1126/science.1763323

16.

Li L, Xu J, Liu X, Chen W, Xia M, Yang S, Jiang P, Ma T, Yang Y, Qian J, Sun H, Hu R, Miqin, Feng Z, Zuo Y, Zhou R, Ping Y, Zhou H, Zhao Z, Jin L, Li S (2015) Population data of 15 short tandem repeat loci in 1084 individuals from six Han and four ethnic populations in China. Forensic Sci Int-Genet 19:146–147. doi:10.1016/j.fsigen.2015.06.015

17.

Lou HY, Li SL, Jin WF, Fu RQ, Lu DS, Pan XW, Zhou HG, Ping Y, Jin L, Xu SH (2015) Copy number variations and genetic admixtures in three Xinjiang ethnic minority groups. Eur J Hum Genet 23(4):536–542. doi:10.1038/ejhg.2014.134
Acknowledgments
This study was supported by grants from the National Science Foundation of China (31271338), Project of Chinese Ministry of Education (113022A) and the National High Technology Research and Development Program (2012AA021802).
Ethics declarations
Conflict of interest
The authors declare that they have no competing interests.
Additional information
Honghua Zhang and Shuping Yang contributed equally to this work.
Electronic supplementary material
Below is the link to the electronic supplementary material.
About this article
Cite this article
Zhang, H., Yang, S., Guo, W. et al. Population genetic analysis of the GlobalFiler STR loci in 748 individuals from the Kazakh population of Xinjiang in northwest China. Int J Legal Med 130, 1187–1189 (2016). https://doi.org/10.1007/s00414-016-1319-2
Received:

Accepted:

Published:

Issue Date:
Keywords
Short tandem repeat

GlobalFiler

Kazakh

Xinjiang