Abstract
To assess the effects of cannabis on the ability required to ride a bicycle, repetitive practical cycling tests and medical examinations were carried out before and after inhalative consumption of cannabis. A maximum of three joints with body weight-adapted THC content (300 μg THC per kg body weight) could be consumed by each test subject. Fourteen regular cannabis-consuming test subjects were studied (12 males, 2 females). In summary, only a few driving faults were observed even under the influence of very high THC concentrations. A defined THC concentration that leads to an inability to ride a bicycle cannot be presented. The test subjects showed only slight distinctive features that can be documented using a medical test routinely run for persons under suspicion of driving under the influence of alcohol or drugs.
This is a preview of subscription content, log in to check access.
Access options
Buy single article
Instant access to the full article PDF.
US$ 39.95
Price includes VAT for USA
Subscribe to journal
Immediate online access to all issues from 2019. Subscription will auto renew annually.
US$ 199
This is the net price. Taxes to be calculated in checkout.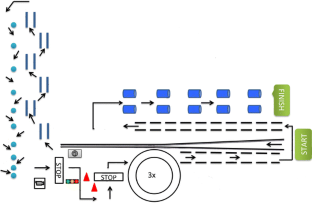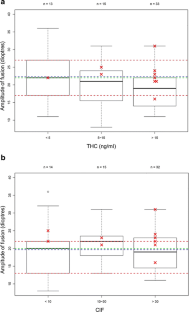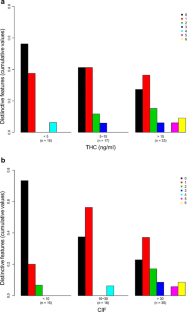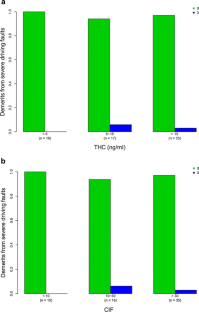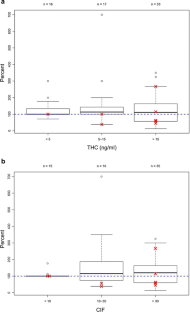 References
1.

Federal Highway Research Institute: DRUID project Final report 2012 http://www.druid-project.eu/Druid/EN/Dissemination/downloads_and_links/Final_Report.pdf?__blob=publicationFile&v=1

2.

United Nations Office on Drugs and Crime: World Drug Report 2014 (United Nations publication, Sales No. E.14.XI.7)

3.

Ashton H (2001) Pharmacology and effects of cannabis: a brief review. Br J Psychiatry 178:201–206

4.

Hartung B, Kauferstein S, Ritz-Timme S, Daldrup T (2014) Sudden unexpected death under acute influence of cannabis. Forensic Sci Int 237:e11–3

5.

Moskowitz H (1976) Marihuana: effects on simulated driving performance. Accid Anal Prev 8:45–50

6.

Moskowitz H (1985) Marijuana and driving. Accid Anal Prev 17:323–345

7.

Kauert GF, Ramaekers JG, Schneider E, Moeller MR, Toennes SW (2007) Pharmacokinetic properties of Δ9-tetrahydrocannbinol in serum and oral fluid. J Anal Toxicol 31:288–293

8.

Maatz KR (2006) Driving inability after drug use. Blutalkohol 43:451–465

9.

Drasch G, von Meyer L, Roider G, Jaegerhuber A (2003) Absolute driving inability under the influence of cannabis. Proposal Threshold Limit 40:269–286

10.

Ramaekers JG, Berghaus G, van Laar M, Drummer OH (2004) Dose related risk of motor vehicle crashes after cannabis use. Drug Alcohol Depend 73:109–119

11.

Grotenhermen F, Leson G, Berghaus G, Drummer OH, Krüger H-P, Longo M, Moskowitz H, Perrine B, Ramaekers JG, Smiley A, Tunbridge R (2007) Developing limits for driving under cannabis. Addiction 102:1910–1917

12.

Hartung B, Mindiashvili N, Maatz R, Schwender H, Roth EH, Ritz-Timme S, Moody J, Malczyk A, Daldrup T (2014) Regarding the fitness to ride a bicycle under the acute influence of alcohol. Int J Legal Med. doi:10.1007/s00414-014-1104-z

13.

Schewe G, Schuster R, Englert L, Ludwig O, Stertmann WA (1980) Experimentelle Untersuchungen zur Frage der alkoholbedingten Fahruntüchtigkeit von Fahrrad- und Mofafahrern. Blutalkohol 17:298–328

14.

Schewe G, Knoess HP, Schaeufele A, Schuster R (1984) Experimentelle Untersuchungen zur Frage der alkoholbedingten Fahruntüchtigkeit bei Fahrradfahrern. Blutalkohol 21:97–109

15.

Paul LD, Mußhoff F, Untergruppe "Richtlinienerstellung" des Arbeitskreises Qualitätssicherung (2009) Richtlinie der GTFCh zur Qualitätssicherung bei forensisch-toxikologischen Untersuchungen. https://www.gtfch.org/cms/images/stories/files/GTFCh_Richtlinie_For-Tox_Version%201.pdf (last access on 4th November 2015)

16.

Hartung B, Ritz-Timme S, Schwender H, Mindiashvili N, Daldrup T (2015) Differences between male and female cyclists' performances under the acute influence of alcohol. Int J Legal Med 129(5):1011–1020. doi:10.1007/s00414-015-1182-6

17.

Hartung B, Schwender H, Mindiashvili N, Ritz-Timme S, Malczyk A, Daldrup T (2015) The effect of alcohol hangover on the ability to ride a bicycle. Int J Legal Med 129(4):751–8. doi:10.1007/s00414-015-1194-2

18.

Robbe HWJ (1994) Influence of marijuana on driving. Institute for human psychopharmacology. University of Limburg, Maastricht
Acknowledgments
This study was sponsored by VEGaS e. V. (Verein zur Erforschung der Gefahren durch Drogen und andere Rauschmittel im Straßenverkehr).
Ethics declarations
Ethical standards
The experiments of this study comply with the current German laws. The study protocol was pre-approved by the ethics committee of the University Hospital Düsseldorf.
Conflict of interest
The authors declare that they have no competing interests.
About this article
Cite this article
Hartung, B., Schwender, H., Roth, E.H. et al. The effect of cannabis on regular cannabis consumers' ability to ride a bicycle. Int J Legal Med 130, 711–721 (2016). https://doi.org/10.1007/s00414-015-1307-y
Received:

Accepted:

Published:

Issue Date:
Keywords
Cannabis

THC

Bicycle

Ability to ride

Ability to drive

Driving under the influence

DUI

Cannabis influence factor

CIF