Abstract
We present a case of fatal intoxication by the application of a transdermal fentanyl patch upon a superficial bleeding abrasion of a 2-year-old girl. The grandmother discovered the body of the child in bed at approximately 7 a.m. External examination revealed a properly developed, nourished, and hydrated child, with some vomit in the nostrils and inside the mouth. There was no evidence of trauma besides small contusions and abrasions on the knees, with a patch placed over the largest abrasion. Closer inspection revealed that this was transdermal fentanyl patch. Internal examination and microscopic analysis revealed regurgitation of stomach content, cerebral and pulmonary edema, and liver congestion. Toxicology analysis revealed trace levels of fentanyl in the blood just above the limit of detection (2 ng/mL), while concentrations in the urine, liver, and kidney were approximately 102, 28, and 10 ng/mL, respectively. Investigation discovered that the child injured her knee while playing the evening before. The grandmother applied the patch to cover the injury, unaware that she had used a fentanyl transdermal patch instead of simple band-aid. Although fatal intoxications are uncommon among young children in high-income countries, it is of major interest to raise awareness of such events especially since a great majority of these are preventable. The presented case points at the need for more thorough education of users and more strict rules in prescribing and handling of this potent medicine. As well, we find this case to be a useful contribution to the evaluation of postmortem fentanyl concentrations in fatal intoxication in a small child.
Access options
Buy single article
Instant access to the full article PDF.
USD 39.95
Price excludes VAT (USA)
Tax calculation will be finalised during checkout.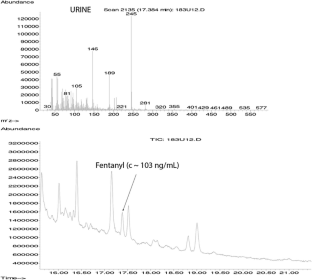 References
Anonymous (2011) Causes of death 2008 summary tables. Health Statistics and Informatics Department, World Health Organization, Geneva, Switzerland http://www.google.com/url?sa=t&rct=j&q=&esrc=s&source=web&cd=3&ved=0CDAQFjAC&url=http%3A%2F%2Fwww.who.int%2Fgho%2Fmortality_burden_disease%2Fglobal_burden_disease_DTHMDG_2008.xls&ei=GorOVLnuBebOygPdvoGYCA&usg=AFQjCNF99dF9V77uAjzLyDbENLDpKBU3jQ&bvm=bv.85076809,d.bGQ Accessed 1 February 2015

Bronstein AC, Spyker DA, Cantilena LR Jr, Rumack BH, Dart RC (2012) 2011 Annual report of the American Association of Poison Control Centers' National Poison Data System (NPDS): 29th Annual Report. Clin Toxicol (Phila) 50(10):911–1164

Bond GR, Woodward RW, Ho M (2012) The growing impact of pediatric pharmaceutical poisoning. J Pediatr 160(2):265–270

Bronstein AC, Spyker DA, Cantilena LR, Green JL, Rumack BH, Dart RC (2011) 2010 Annual report of the American Association of Poison Control Centers' National Poison Data System (NPDS): 28th Annual Report. Clin Toxicol (Phila) 49:910–941

Hardwick WE Jr, King WD, Palmison PA (1997) Respiratory depression in a child unintentionally exposed to transdermal fentanyl patch. South Med J 90:962–964

Meyer D, Tobias JD (2005) Adverse effects following the inadvertent administration of opioids to infants and children. Clin Pediatr (Phila) 44(6):499–503

Foy L, Seeyave DM, Bradin SA (2011) Toxic leukoencephalopathy due to transdermal fentanyl overdose. Pediatr Emer Care 27:854–856

Lyttle MD, Verma S, Isaac R (2012) Transdermal fentanyl in deliberate overdose in pediatrics. Pediatr Emer Care 28:436–464

Watson WA, Litovitz TL, Rodgers GC Jr, Klein-Schwartz W, Youniss J, Rose SR, Borys D, May ME (2003) 2002 Annual report of the American Association of Poison Control Centers Toxic Exposure Surveillance System. Am J Emerg Med 21(5):353–421

Teske J, Weller JP, Larsch K, Troger HD, Karst M (2007) Fatal outcome in a child after ingestion of a transdermal fentanyl patch. Int J Legal Med 121:147–151

Anonymous (2012) Fentanyl patch can be deadly to children. Consumer health information Food and Drug Administration http://www.fda.gov/ForConsumers/ConsumerUpdates/ucm300803.htm Accessed 30 January 2015

Anonymous (2005) FDA issues public health advisory on the fentanyl patch. Consumer health information Food and Drug Administration http://www.fda.gov/NewsEvents/Newsroom/PressAnnouncements/2005/ucm108461.htm Accessed 30 Jan 2015

Anonymous (2007) Second safety warning on fentanyl skin patch. Consumer health information Food and Drug Administration http://www.fda.gov/ForConsumers/ConsumerUpdates/ucm100223.htm Accessed 30 Jan 2015

Roy SD, Flynn GL (1990) Transdermal delivery of narcotic analgesics: pH, anatomical, and subject influences on cutaneous permeability of fentanyl and sufentanil. Pharm Res 7:842–847

Gupta SK, Southam M, Gale R, Hwang SS (1992) System functionality and physicochemical model of fentanyl transdermal system. J Pain Symptom Manage 7:S17–S26

Peng PW, Sandler AN (1999) A review of the use of fentanyl analgesia in the management of acute pain in adults. Anesthesiology 90:576–599

Andresen H, Gullans A, Veselinovic M, Anders S, Schmoldt A, Iwersen-Bergmann S, Mueller A (2012) Fentanyl: toxic or therapeutic? Postmortem and antemortem blood concentrations after transdermal fentanyl application. J Anal Toxicol 36(3):182–194

Grond S, Radbruch L, Lehmann KA (2000) Clinical pharmacokinetics of transdermal opioids: focus on transdermal fentanyl. Clin Pharmacokinet 38:59–89

McClain DA, Hug CC (1980) Intravenous fentanyl kinetics. Clin Pharmacol Ther 128:106–114

Mather LE, Gourlay GK (1991) Pharmacokinetics of fentanyl. In: Lehmann KA, Zech D (eds) Transdermal fentanyl: a new approach to prolonged pain control. Springer, Berlin Heidelberg, pp 73–97

Anderson B, Lerman J, Cote CJ (2013) Pharmacokinetics and pharmacology of drugs used in children. In: Cote CJ, Lerman J, Anderson B (eds) A practice of anesthesia for infants and children, 5th edn. Elsevier Saunders, Philadelphia, pp 77–150

Kuhlman JJ, McCaulley R, Valouch TJ, Behonick GS (2003) Fentanyl use, misuse, and abuse: a summary of 23 postmortem cases. J Anal Toxicol 27:499–504

Martin TL, Woodall KL, McLellan BA (2006) Fentanyl-related deaths in Ontario, Canada: toxicological findings and circumstances of death in 112 cases (2002–2004). J Anal Toxicol 30:603–610
Compliance with ethical standards
The presented content completely complies with the laws in Croatia.
Conflicts of interest
The authors declare that they have no conflicts of interest.
About this article
Cite this article
Bakovic, M., Nestic, M. & Mayer, D. Death by band-aid: fatal misuse of transdermal fentanyl patch. Int J Legal Med 129, 1247–1252 (2015). https://doi.org/10.1007/s00414-015-1209-z
Received:

Accepted:

Published:

Issue Date:

DOI: https://doi.org/10.1007/s00414-015-1209-z
Keywords
Child fatality

Fatal intoxication

Transdermal fentanyl patch

Postmortem

Skin abrasion