Abstract
As early as the nineteenth century, measurements of the face and body were used for forensic identification. It was believed that no two individuals had the exact same measurements. However, this was overtaken by fingerprint analysis because it was considered more reliable in court proceedings as the probabilities of finding matching individuals could be calculated. With the standardisation of photographs, identification primarily occurs from the face. With the ability to take measurements from photographs, why not use the body? The Army Anthropometry Survey (ANSUR) database contains anthropometric measurements of 3982 individuals. Eight facial and eight body measurements were compared to investigate whether or not there is enough information on the body to use for identification. Measurements were compared by adding one measurement to the other(s) in a stepwise approach until there were no duplicate cases where two or more individuals share the same combination of measurements. Results consistently show that less body measurements are needed to find no duplicates when compared to the face. The larger the range of each of the measurements, the less chance there is of finding a duplicate. With the combination of eight body measurements, it is possible to achieve a probability of finding a duplicate to the order of 10−20 or 1 in a quintillion. These results are comparable with fingerprint analysis. The body is more variable than the face and should be used in identification. An advantage to using the body is that larger dimensions are easier to locate on images and not affected by facial expression.
Access options
Buy single article
Instant access to the full article PDF.
US$ 39.95
Tax calculation will be finalised during checkout.
Subscribe to journal
Immediate online access to all issues from 2019. Subscription will auto renew annually.
US$ 119
Tax calculation will be finalised during checkout.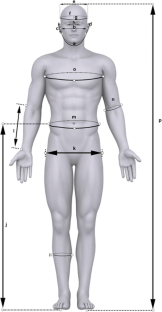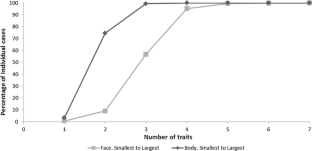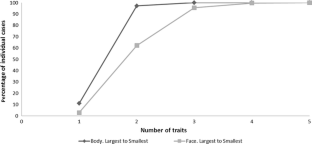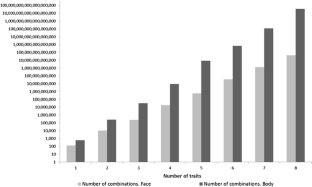 References
1.

Barrett HC (2008) Evolved cognitive mechanisms of human behaviour. In: Crawford C, Krebs D (eds) Foundations of evolutionary psychology: ideas, issues, applications and findings, 2nd edn. Erlbaum Associates, New Jersey, pp 173–190

2.

Henneberg M (2007) Facial mapping, body mapping and the duties of an expert witness. http://www.lawlink.nsw.gov.au/lawlink/pdo/ll_pdo.nsf/pages/PDO_facialmapping

3.

Bertillon A (1886) Identification anthropometriques. Methode nouvelle de determination de L'iidentiteindividuelle. Masson, Paris

4.

Bertillon A (1890) La photographiejudiciaire, avec unappendicesur la classification et l'identificationanthropometrique. Gauthier-Villars, Paris

5.

Jain AK, Prabhakar S, Pankanti S (2002) On the similarity of identical twin fingerprints. Pattern Recogn 35:2653–2663

6.

Pankanti S, Prabhakar S, Jain AK (2002) On the individuality of fingerprints. IEEE Trans Pattern Anal Mach Intell 24:1010–1025

7.

Bagchi P, Bhattacharjee D, Nasipuri M, Basu DK (2014) Registration of three dimensional human face images across pose and their applications in digital forensic. Springer International Publishing, Switzerland

8.

Best-Rowden L, Han H, Otto C, Klare B, Jain AK (2014) Unconstrained face recognition: identifying a person of interest from a media collection. MSU Technical report. p 14-1

9.

Mukane D, Hundiwale SM, Dere P (2014) Emerging forensic face matching technology to apprehend criminals: a survey. IJAET 7:255–262

10.

Jain AK, Klare B, Park U (2012) Face matching and retrieval in forensic applications. Multimed IEEE 19:20–28

11.

Chen S, Mau S, Harandi M, Sanderson C, Bigdeli A, Lovell B (2010) Face recognition from still images to video sequences: a local-feature-based framework. J Image Video Process 2011:1–14

12.

Knussmann R (1988) Anthropologie. Bd I/1. Gustav Fischer, Stuttgart

13.

Knussmann R (1983) Die vergleichendemorphologischeAnalysealsIdentitatsnachweis. Strafverteidiger 3:127–129

14.

Rösing F (2006) Identification von Personen auf Bildern. Verlag C.H Beck, München

15.

Rösing F (2013) Morphologische Identifikation von Personen. Grundlagen, Merkmale, Häufigkeiten. In: Buck J, Hrg KB (eds) Sachverständigenbeweis im Verkehrs- und Strafrecht, 2nd edn. Nomos-Verlag, Baden-Baden, pp 287–440

16.

Edmond G (2008) Specialised knowledge, the exclusionary discretions and reliability: Reassessing incriminating expert opinion evidence. UNSW Law J 31:1–55

17.

Edmond G, Biber K, Kemp R, Porter G (2009) Law's looking glass: expert identification evidence derived from photographic and video images. CurrIss Crim Just 20:337–376

18.

Edmond G (2010) Impartiality, efficiency or reliability? A critical response to expert evidence law and procedure in Australia. Aust J Forensic Sci 42:83–99

19.

Biber K (2009) Visual jurisprudence: the dangers of photographic identification evidence. CJM 78:35–37

20.

Scoleri T, Henneberg M (2012) View-independent prediction of body dimensions in crowded environments. International conference on Digital Image Computing Techniques and Applications (DICTA); 3–5 December 2012; Fremantle. 2 p

21.

Scoleri T, Lucas T, Henneberg M (2014) Effect of garments on photoanthropometry of body parts: application of stature estimation. Forensic Sci Int 237:1–12

22.

Zhao W, Chellappa R, Phillips PJ, Rosenfeld A (2003) Face recognition: a literature survey. ACM Comput Surv 35:399–458

23.

Frith H, Gleeson K (2004) Clothing and embodiment: men managing body image and appearance. Psych Men Masc 5:40–48

24.

Fan J, Yu W, Hunter L (2004) Clothing appearance and fit: science and technology. Woodhead Publishing, Cambridge

25.

Meekins F (2006) Optical illusion wear. US Patent. Patent no. US:7,107,621, B2

26.

Lucas T, Kumaratilake J, Henneberg M (2014) The extent to which garments affect the body shapes of males from faceless CCTV images. J Biol Clin Anthrop 71:259–274

27.

Larsen PK, Hansen L, Simonsen EB, Lynnerup N (2008) Variability of bodily measures of normally dressed people using photomodeler pro 5. J Forensic Sci 53:1393–1399

28.

Hancock P, Bruce V, Burton M (2000) Recognition of unfamiliar faces. Trends Cogn Sci 4:330–337

29.

Henderson Z, Bruce V, Burton M (2001) Matching the faces of robbers captured on video. Appl Cogn Psych 15:445–464

30.

Bouchrika I, Goffredo M, Carter J, Nixon M (2011) On using gait in forensic biometrics. J Forensic Sci 56:882–889

31.

Larsen PK, Simonsen EB, Lynnerup N (2008) Gait analysis in forensic medicine. J Forensic Sci 53:1149–1153

32.

BenAbdelkader C, Davis LS (2006) Estimation of anthropomeasures from a single calibrated camera. International conference on automatic face and gesture recongnition; 2–6 April 2006; Southhampton. p 5

33.

BenAbdelkader C, Yacoob Y (2008) Statistical body height estimation from a single image. International conference on automatic face and gesture recognition; 17–19 September 2008; Amsterdam. p 7

34.

Jain AK, Dass SC, Nandakumar K (2004) Can soft biometric traits assist user recognition?. Proc SPIE; 12 April 2004; Bellingham. p 12

35.

ANSUR database (1988) Clauser CE, Tebbetts IO, Bradtmiller B, McConville JT, Gordon CC Measurer's Handbook: US ArmyAnthropometric Survey 1987–1988, Technical Report NATICK/TR-88/043. Gordon CC, Bradtmiller B, Churchill T, Clauser CE, McConville JT, Tebbetts IO, Walker RA 1988. Anthropometric Survey of US Army Personnel: Methods and Summary Statistics, Technical Report NATICK/TR-89/044, United States Army Natick Research, Development and Engineering Center, Natick, Massachusetts

36.

Henneberg M (1990) Brain size/body weight variability in Homo sapiens: consequences for interpreting hominid evolution. HOMO 39:121–130

37.

Henneberg M (2010) The Illusive concept of human variation: thirty years of teaching biological anthropology on four continents. In: Štrkalj G (ed) Teaching human variation. Nova Science, New York, pp 33–43

38.

Cavalli-Sforza LL, Bodmer WF (1971) The genetics of human population. WH Freeman and company, San Francisco

39.

Gordon, Claire C, Blackwell CL, Bradtmiller B, Parham JL, Hotzman J, Paquette SP, Corner BD, Hodge BM (2010) Anthropometric Survey of US Marine Corps Personnel: Methods and Summary Statistics. No. NATICK/TR-13/018. Army Natick Soldier Research Development and Engineering Center MA, 2013

40.

Wang Y, Tan T, Jain AK (2003) Combining face and iris biometrics for identity verification. In Audio and video based biometric person authentication. Berlin: Springer, p 805–813

41.

Jobling MA, Gill P (2004) Encoded evidence: DNA in forensic analysis. Nat Rev Genet 5:739–751

42.

Farkas LG, Katic MJ, Forrest CR (2005) Internation anthropometric study of facial morphology in various ethnic groups/races. J Craniofac Surg 16:615–646

43.

Zhuang Z, Landsittel D, Benson S, Roberge R, Shaffer R (2010) Facial anthropometric differences among gender, ethnicity and age groups. Ann Occup Hyg 1:1–12

44.

Henneberg M, Veitch D (2003) National size and shape survey of Australia. Kinanthreport 16:34–39

45.

Henneberg M, Veitch D (2005) Is obesity as measured by body mass index, and waist circumference in adult Australian women 2002 just a result of the lifestyle? J Hum Ecol (Spec Issue) 13:85–89
Electronic supplementary material
Below is the link to the electronic supplementary material.
About this article
Cite this article
Lucas, T., Henneberg, M. Comparing the face to the body, which is better for identification?. Int J Legal Med 130, 533–540 (2016). https://doi.org/10.1007/s00414-015-1158-6
Received:

Accepted:

Published:

Issue Date:
Keywords
Physical anthropometry

Forensics

Duplication

ANSUR