Abstract
To determine the threshold for the absolute inability to ride a bicycle, practical cycling tests and medical examinations at different blood alcohol concentrations were performed. Special attention was given to additional medical examinations, reaction tests and alcohol consumption under real-life conditions. Seventy-eight test subjects were included in the trials (37 females, 41 males). Five test subjects participated twice; thus, there were a total of 83 evaluable trials. Alcohol-related deficits were already identifiable at very low BACs. A significant increase in gross motoric disturbances compared to the soberness state did not regularly occur until a BAC of at least 0.8 g/kg was reached. At the BAC of 1.4 g/kg and above, no test subjects were able to achieve or surpass their sober driving results. Isolated highly alcoholised test subjects rode the bike in a manner that was not conspicuously different than the other sober test persons. Contrary to the assumptions of current German legal practise, it cannot be stated that all people are 'absolutely impaired' to the point of being incapable of riding bicycle at BACs of at least 1.6 g/kg.
Access options
Buy single article
Instant access to the full article PDF.
USD 39.95
Price excludes VAT (USA)
Tax calculation will be finalised during checkout.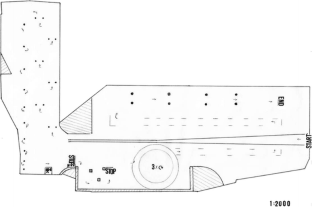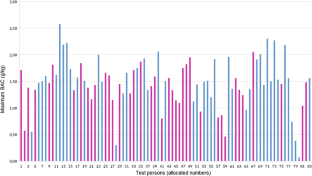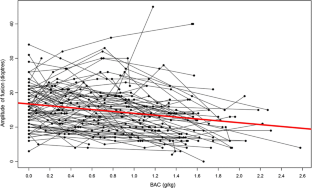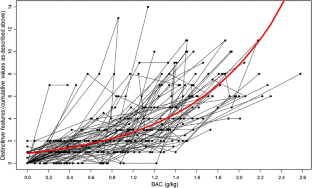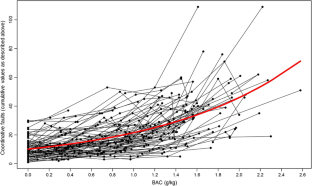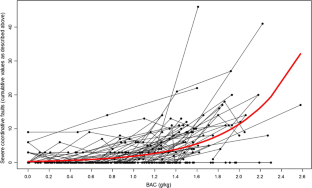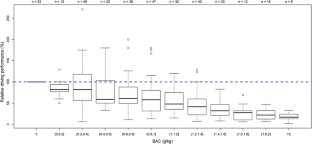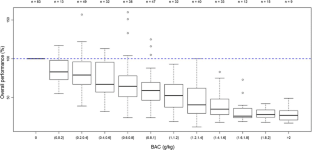 Notes
In Germany, forensic relevant blood alcohol concentrations are expressed in gram of alcohol per kilogram of blood.
References
Juhra C, Wieskötter B, Chu K, Trost L, Weiss U, Messerschmidt M, Malczyk A, Heckwolf M, Raschke M (2012) Bicycle accidents—Do we only see the tip of the iceberg? A prospective multi-centre study in a large German city combining medical and police data. Injury 43:2026–2034

European Road Safety Observatory (2014) Traffic Safety Basic Facts 2012—Cyclists. http://ec.europa.eu/transport/road_safety/pdf/statistics/dacota/bfs20xx_dacota-swov-cyclists.pdf (last accessed on 30 July 2014)

Schepers P, Agerholm N, Amoros E, Benington R, Bjørnskau T, Dhondt S, de Geus B, Hagemeister C, Loo BPY, Niska A (2014) An international review of the frequency of single-bicycle crashes (SBCs) and their relation to bicycle modal share. Injury prevention 2014 doi:10.1136/injuryprev-2013-040964 (last accessed on 30 July 2014)

Statistisches Bundesamt (2013) Unfälle unter dem Einfluss von Alkohol oder anderen berauschenden Mitteln im Straßenverkehr 2012. https://www.destatis.de/DE/Publikationen/Thematisch/TransportVerkehr/Verkehrsunfaelle/UnfaelleAlkohol5462404127004.pdf?__blob=publicationFile (last accessed on 30 July 2014)

Smith GS, Kraus JF (1988) Alcohol and residential, recreational, and occupational injuries: a review of the epidemiologic evidence. Annu Rev Public Health 9:99–121

Kraus JF, Fife D, Conroy C (1987) Incidence, severity, and outcomes of brain injuries involving bicycles. Am J Public Health 77:76–78

Crocker P, King B, Cooper H, Milling TJ (2012) Self-reported alcohol use is an independent risk factor for head and brain injury among cyclists but does not confound helmets' protective effect. J Emerg Med 43:244–250

Grant SA, Millar K, Kenny GNC (2000) Blood alcohol concentration and psychomotor effects. Br J Anaesthesiol 85:401–406

Parks V, Leister C, Palat A, Troy S, Vermeeren A, Volkerts ER, Verster JC (2002) Effects of ethanol at a blood alcohol concentration of 0.4 g/L on actual driving and memory. Eur Neuropsychopharmacol 12:S432–S433

Fromme K, Katz E, D'Amico E (1997) Effects of alcohol intoxication on the perceived consequences of risk taking. Exp Clin Psychopharmacol 5:14–23

Blomberg RD, Peck RC, Moskowitz H, Burns M, Fiorentino D (2009) The Long Beach/Fort Lauderdale relative risk study. J Saf Res 40:285–292

Borkenstein RF, Crowther RF, Shumate RP, Ziel WB, Zylman R, Dale A (Eds.) (1990), Role of the drinking driver in traffic accidents. Bloomington. IN: Indiana University, Department of Police Administration

Allgemeiner Deutscher Automobil Club—ADAC (2013) Promillegrenzen für Fahrradfahren im Straßenverkehr—Ausland http://www.adac.de/_mmm/pdf/1304_PromilleRadfahrer_170835.pdf (last accessed on 11 July 2014)

Decision of the Federal Court of Justice from 17 July 1986—4StR 543/86, BGHSt 34, 133

Schewe G, Schuster R, Englert L, Ludwig O, Stertmann WA (1980) Experimentelle Untersuchungen zur Frage der alkoholbedingten Fahruntüchtigkeit von Fahrrad—und Mofafahrern. Blutalkohol 17:298–328

Schewe G, Knoess HP, Schaeufele A, Schuster R (1984) Experimentelle Untersuchungen zur Frage der alkoholbedingten Fahruntüchtigkeit bei Fahrradfahrern. Blutalkohol 21:97–109
Acknowledgments
The study was funded by the German Insurance Association/German Insurers Accident Research.
About this article
Cite this article
Hartung, B., Mindiashvili, N., Maatz, R. et al. Regarding the fitness to ride a bicycle under the acute influence of alcohol. Int J Legal Med 129, 471–480 (2015). https://doi.org/10.1007/s00414-014-1104-z
Received:

Accepted:

Published:

Issue Date:

DOI: https://doi.org/10.1007/s00414-014-1104-z
Keywords
Alcohol

Bicycle

Impairment to drive

Driving performance

overall performance