Abstract
Individuals of Basque origin migrated in large numbers to the Western USA in the second half of the nineteenth century, and the flow continued with less intensity during the last century. The European source population, that of the Basque Country, has long been a cultural and geographical isolate. Previous studies have demonstrated that Y-STR frequencies of Basques are different from those of other Spanish and European populations [1]. The Basque diaspora in the Western USA is a recent migration, but the founder effect and the incorporation of new American Y chromosomes into the paternal genetic pool of the Basque diaspora could have influenced its genetic structure and could thus have practical implications for forensic genetics. To check for genetic substructure among the European source and Basque diaspora populations and determine the most suitable population database for the Basque diaspora in the Western USA, we have analysed the haplotype distribution of 17 Y-STRs in both populations. We have found that the Basque diaspora in the Western USA largely conserve the Y chromosome lineage characteristic of the autochthonous European Basque population with no statistically significant differences. This implies that a common 17 Y-STR Basque population database could be used to calculate identification or kinship parameters regardless of whether the Basque individuals are from the European Basque Country or from the Basque diaspora in the Western USA.
This is a preview of subscription content,
to check access.
Access this article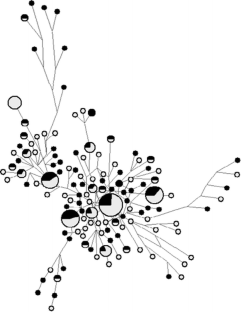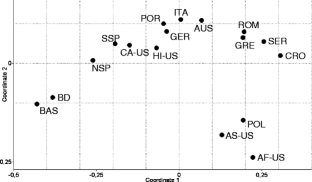 References
García O, Martín P, Gusmão L, Albarrán C, Alonso S, de la Rua C, Flores C, Izagirre N, Peñas R, Pérez JA, Uriarte I, Yurrebaso I, Alonso A (2004) A Basque Country autochthonous population study of 11 Y-chromosome STR loci. Forensic Sci Int 145:65–68

Totoricagüena G (2004) Basque diaspora: migration and transnational identity. Basque Textbook Series, Center for Basque Studies, University of Nevada, Reno, Nevada

Douglas W, Bilbao J (1975) Amerikanuak: los vascos en el nuevo mundo. University of Nevada Press, Reno, Nevada

Jobling MA, Tyler-Smith C (2003) The human Y chromosome: an evolutionary marker comes of age. Nat Rev Genet 4:598–612

Gusmao L, Butler JM, Carracedo A, Gill P, Kayser M, Mayr WR, Morling N, Prinz M, Roewer L, Tyler-Smith C, Schneider PM (2006) Commission of the International Society of Forensic Genetics (ISFG): an update of the recommendations on the use of Y-STRs in forensic analysis. Forensic Sci Int 157:187–197

Parson W, Roewer L (2010) Publication of population data of linearly inherited DNA markers in the International Journal of Legal Medicine. Int J Legal Med 124(5):505–509

Excoffier L, Laval G, Schneider S (2005) Arlequin ver 3.0: an integrated software package for population genetics data analysis. Evol Bioinform Online 1:47–50

Bandelt HJ, Forster P, Rohl A (1999) Median-joining networks for inferring intraspecific phylogenies. Mol Biol Evol 16:37–48

Kayser M, Krawczak M, Excoffier L, Dieltjes P, Corach D, Pascali V, Gehrig C, Bernini LF, Jespersen J, Bakker E, Roewer L, de Knijff P (2001) An extensive analysis of Y-chromosomal microsatellite haplotypes in globally dispersed human populations. Am J Hum Genet 68:990–1018

Hammer O, Harper DAT, Ryan PD (2001) PAST: Paleontological Statistics software package for education and data analysis. Palaeontol Electron 4(1):9

Dupanloup I, Bertorelle G (2001) Inferring admixture proportions from molecular data: extension to any number of parental populations. Mol Biol Evol 18(4):672–675

Willuweit S, Roewer L (2007) On behalf of the International Forensic Y chromosome User Group, Y Chromosome Haplotype Reference Database (YHRD): update. Forensic Sci Int Genet 1:83–87

Decker AE, Kline MC, Redman JW, Reid TM, Butler JM (2008) Analysis of mutations in father–son pairs with 17 Y-STR loci. Forensic Sci Int Genet 2:e31–e35

Bryc K, Velez C, Karafet T, Moreno-Estrada A, Reynolds A, Auton A, Hammer M, Bustamante CD, Ostrer H (2010) Colloquium paper: genome-wide patterns of population structure and admixture among Hispanic/Latino populations. Proc Natl Acad Sci USA 107(Suppl 2):8954–8961

Gaibar M, Esteban E, Moral P, Gómez-Gallego F, Santiago C, Bandrés F, Luna F, Fernández-Santander A (2010) STR genetic diversity in a Mediterranean population from the south of the Iberian Peninsula. Ann Hum Biol 37(2):254–267

Alves C, Gomes V, Prata MJ, Amorim A, Gusmão L (2007) Population data for Y-chromosome haplotypes defined by 17 STRs (AmpFlSTR YFiler) in Portugal. Forensic Sci Int 171:250–255

Turrina S, Atzei R, De Leo D (2006) Y-chromosomal STR haplotypes in a Northeast Italian population sample using 17plex loci PCR assay. Int J Legal Med 120:56–59

Berger B, Lindinger A, Niederstätter H, Grubwieser P, Parson W (2005) Y-STR typing of an Austrian population sample using a 17-loci multiplex PCR assay. Int J Legal Med 119:241–246

Goedbloed M, Vermeulen M, Fang RN, Lembring M, Wollstein A, Ballantyne K, Lao O, Brauer S, Krüger C, Roewer L, Lessig R, Ploski R, Dobosz T, Henke L, Henke J, Furtado MR, Kayser M (2009) Comprehensive mutation analysis of 17 Y-chromosomal short tandem repeat polymorphisms included in the AmpFlSTR® Yfiler® PCR amplification kit. Int J Legal Med 123:471–482

Stanciu F, Cuţăr V, Pîrlea S, Stoian V, Stoian IM, Sevastre O, Popescu OR (2010) Population data for Y-chromosome haplotypes defined by 17 STRs in South-East Romania. Leg Med (Tokyo) 12(5):259–264

Kovatsi L, Saunier JL, Irwin JA (2009) Population genetics of Y-chromosome STRs in a population of Northern Greeks. Forensic Sci Int Genet 4:e21–e22

Mirabal S, Varljen T, Gayden T, Regueiro M, Vujovic S, Popovic D, Djuric M, Stojkovic O, Herrera RJ (2010) Human Y-chromosome short tandem repeats: a tale of acculturation and migrations as mechanisms for the diffusion of agriculture in the Balkan Peninsula. Am J Phys Anthropol 142:380–390

Ljubković J, Stipisić A, Sutlović D, Definis-Gojanović M, Bucan K, Andelinović S (2008) Y-chromosomal short tandem repeat haplotypes in southern Croatian male population defined by 17 loci. Croat Med J 49(2):201–206

Bertorelle G, Excoffier L (1998) Inferring admixture proportions from molecular data. Mol Biol Evol 15:1298–1311

Kayser M, Brauer S, Schadlich H, Prinz M, Batzer MA, Zimmerman PA, Boatin BA, Stoneking M (2003) Y chromosome STR haplotypes and the genetic structure of U.S. populations of African, European, and Hispanic ancestry. Genome Res 13:624–634

Hammer MF, Chamberlain VF, Kearney VF, Stover D, Zhang G, Karafet T, Walsh B, Redd AJ (2006) Population structure of Y chromosome SNP haplogroups in the United States and forensic implications for constructing Y chromosome STR databases. Forensic Sci Int 1(164):45–55

Hardy OJ, Charbonnel N, Freville H, Heuertz M (2003) Microsatellite allele sizes: a simple test to assess their significance on genetic differentiation. Genetics 163:1467–1482

Balloux F, Goudet J (2002) Statistical properties of population differentiation estimators under stepwise mutation in a finite model. Mol Ecol 11:771–783

Slatkin M (1995) A measure of population subdivision based on microsatellite allele frequencies. Genetics 139:457–462
Acknowledgements
Funds were provided by the Basque Government (BIOMICs Research Group IT424-07). LV received a grant from the University of the Basque Country UPV/EHU. The technical and human support provided by DNA Bank-General Research Services SGIker (UPV/EHU, Spanish Ministry of Science and Innovation MICINN, Basque Government GV/EJ, European Regional Development Fund ERDF and European Science Foundation ESF) is gratefully acknowledged, especially to M.A. The authors would like to thank Alfonso Sánchez for his statistical support. The authors would also like to thank the Basque Foundation for Health Research and Innovation (BIOEF). We are grateful to G. Eguskiza for his technical support and to E. Sanz and O. Alvarez for their assistance in sample collection. The authors are deeply indebted to the Basque communities of the Western USA, which cooperated generously to the development of this study, especially to P. Miller, J. Navarte and J. Isurza.
Conflicts of interest
The authors declare that they have no conflicts of interest.
Electronic supplementary materials
Below is the link to the electronic supplementary material.
About this article
Cite this article
Valverde, L., Rosique, M., Köhnemann, S. et al. Y-STR variation in the Basque diaspora in the Western USA: evolutionary and forensic perspectives. Int J Legal Med 126, 293–298 (2012). https://doi.org/10.1007/s00414-011-0644-8
Received:

Accepted:

Published:

Issue Date:

DOI: https://doi.org/10.1007/s00414-011-0644-8
Keywords