Abstract
Y chromosome variation at 12 STR (the Powerplex® Y system core set) and 18 binary markers was investigated in two major (the Ghegs and the Tosks) and two minor (the Gabels and the Jevgs) populations from Albania (Southern Balkans). The large proportion of haplotypes shared within and between groups makes the Powerplex 12-locus set inadequate to ensure a suitable power of discrimination for the forensic practice. At least 85% of Y lineages in the Jevgs, the cultural minority claiming an Egyptian descent, turned out to be of either Roma or Balkan ancestry. They also showed unequivocal signs of a common genetic history with the Gabels, the other Albanian minority practising social and cultural Roma traditions.
Access options
Buy single article
Instant access to the full article PDF.
US$ 39.95
Tax calculation will be finalised during checkout.
Subscribe to journal
Immediate online access to all issues from 2019. Subscription will auto renew annually.
US$ 119
Tax calculation will be finalised during checkout.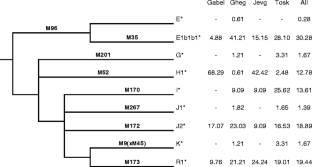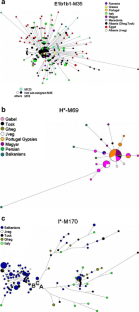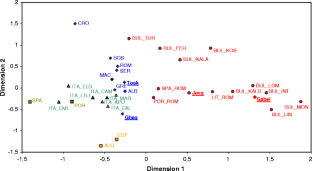 References
1.

Derhemi E (2003) New Albanian immigrants in the old Albanian diaspora: Piana degli Albanesi. J Ethn Migr Stud 29(6):1015–1032

2.

King R (2003) Across the sea and over the mountains: documenting Albanian migration. Scot Geog J 119(3):283–309

3.

Barjaba K (2000) Contemporary patterns in Albanian emigration. South-East Europe Review 3(2):57–64

4.

Marushiakova E, Boev I, Rychlik J, Ragaru N, Popov V, Zemon R, Friedman V. Identity formation among minorities in the Balkans: the cases of Roms, Egyptians and Ashkali in Kosovo (2001) Minority Studies Society Studii Romani Sofia

5.

Marushiakova E, Popov V (2001) New ethnic identities in the Balkans: the case of the Egyptians. FACTA UNIVERSITATIS. Philos Sociol 2:467–477

6.

Zemon R (2006) Differences of prejudices and collective blames toward to the Balkan's Egyptians community and their integration in some Balkan's states. "Prejudices & stereotypes are stimulating the racial discrimination" Organized by NGO of Balkan's Egyptians in Albania "Nefreta", Tirana 24 February

7.

Zemon R (2003) Balkans Egyptians: a short presentation about their history of identity building, migration waves and ethnocultural characteristics Strasbourg

8.

Courthiades M (2000) CEDIME-SE electronic interview with Marcel Courthiades (a linguist, specialist on the Roma dialectecs), March-April, 2000. Accessed on: 23 November 2009. Available at www.greekhelsinki.gr/pdf/cedime-se-albania-roma.doc

9.

Courthiades M (2000) Center for Documentation and Information on minorities in Europe-Southeast Europe (CEDIME-SE), Roma of Albania, August, 2000. Accessed on: 23 November 2009. Available at www.greekhelsinki.gr/pdf/cedime-se-albania-roma.doc

10.

Union of Balkan Egyptians. Accessed on: 23 November 2009. Available at: http://www.balkanaegypter.com

11.

Council of Europe. Accessed on: 23 November 2009. Available at: http://www.coe.int/t/dg3/romatravellers/documentation/culture/repseminaronCulturalIdentities_en.asp

12.

World Directory of Minorities and Indigenous Peoples. Accessed on: 23 November 2009. Available at: http://www.minorityrights.org/1377/albania/egyptians.html

13.

Zarrabeitia MT, Riancho JA, Lareu MV, Leyva-Cobián F, Carracedo A (2003) Significance of micro-geographical population structure in forensic cases: a Bayesian exploration. Int J Legal Med 117(5):302–305

14.

Brion M, Quintans B, Zarrabeitia M, Gonzalez-Neira A, Salas A, Lareu V, Tyler-Smith C, Carracedo A (2004) Micro-geographical differentiation in Northern Iberia revealed by Y-chromosomal DNA analysis. Gene 329:17–25

15.

Walsh PS, Metzger DA, Higuchi R (1991) Chelex 100 as a medium for simple extraction of DNA for PCR-based typing from forensic material. Biotechniques 10:506–513

16.

Onofri V, Alessandrini F, Turchi C, Pesaresi M, Buscemi L, Tagliabracci A (2006) Development of multiplex PCRs for evolutionary and forensic applications of 37 human Y chromosome SNPs. Forensic Sci Int 157(1):23–35

17.

Karafet TM, Mendez FL, Meilerman MB, Underhill PA, Zegura SL, Hammer MF (2008) New binary polymorphisms reshape and increase resolution of the human Y chromosomal haplogroup tree. Genome Res 18(5):830–838

18.

Gusmão L, Butler JM, Carracedo A, Gill P, Kayser M, Mayr WR, Morling N, Prinz M, Roewer L, Tyler-Smith C, Schneider PM (2006) DNA commission of the international society of forensic genetics. Forensic Sci Int 157(2–3):187–197

19.

Willuweit S, Roewer L (2007) Y chromosome haplotype reference database (YHRD): update. Forensic Sci Int-Gen 1(2):83–87

20.

Nei M (1987) Molecular evolutionary genetics. Columbia University Press, New York

21.

Excoffier L, Laval G, Schneider S (2005) Arlequin ver. 3.0: an integrated software package for population genetics data analysis. Evol Bioinform Online 1:47–50

22.

Bandelt HJ, Forster P, Sykes BC, Richards MB (1995) Mitochondrial portraits of human populations using median networks. Genetics 141(2):743–753

23.

Fluxus technology, Accessed on: 23 November 2009. http://www.fluxus-engineering.com

24.

Walsh B (2001) Estimating the time to the most recent common ancestor for the Y chromosome or mitochondrial DNA for a pair of individuals. Genetics 158:897–912

25.

Budowle B, Bieber FR, Eisenberg AJ (2005) Forensic aspects of mass disasters: strategic considerations for DNA-based human identification. Leg Med 7(4):230–243

26.

Gresham D, Morar B, Underhill PA, Passarino G, Lin AA, Wise C, Angelicheva D, Calafell F, Oefner PJ, Shen P, Tournev I, de Pablo R, Kuĉinskas V, Perez-Lezaun A, Marushiakova E, Popov V, Kalaydjieva L (2001) Origins and divergence of the Roma (gypsies). Am J Hum Genet 69(6):1314–1331

27.

Pokupcić K, Cukrov S, Klarić IM, Salihović MP, Lauc, Blazanović A, Janićijević B (2008) Y-STR genetic diversity of Croatian (Bayash) Roma. Forensic Sci Int-Gen 2(2):e11–e13

28.

Nagy M, Henke L, Henke J, Chatthopadhyay PK, Völgyi A, Zalán A, Peterman O, Bernasovská J, Pamjav H (2007) Searching for the origin of Romanies: Slovakian Romani, Jats of Haryana and Jat Sikhs. Y-STR data in comparison with different Romani populations. Forensic Sci Int 169(1):19–26

29.

Gusmão A, Gusmão L, Gomes V, Alves C, Calafell F, Amorim A, Prata MJ (2008) A perspective on the history of the Iberian gypsies provided by phylogeographic analysis of Y-chromosome lineages. Ann Hum Genet 72(2):215–227

30.

Bosch E, Calafell F, González-Neira A, Flaiz C, Mateu E, Scheil HG, Huckenbeck W, Efremovska L, Mikerezi I, Xirotiris N, Grasa C, Schmidt H, Comas D (2006) Paternal and maternal lineages in the Balkans show a homogeneous landscape over linguistic barriers, except for the isolated Aromuns. Ann Hum Genet 70(4):459–487

31.

Robino C, Crobu F, Di Gaetano C, Bekada A, Benhamamouch S, Cerutti N, Piazza A, Inturri S, Torre C (2008) Analysis of Y-chromosomal SNP haplogroups and STR haplotypes in an Algerian population sample. Int J Legal Med 122(3):251–255

32.

Klarić IM, Lauc LB, Pericić M, Janićijević B, Terzić R, Colak I, Kvesić A, Rudan P (2005) Evaluation of Y-STR variation in Bosnian and Herzegovinian population. Forensic Sci Int 154(2–3):252–256

33.

Zaharova B, Andonova S, Gilissen A, Cassiman JJ, Decorte R, Kremensky I (2001) Y-chromosomal STR haplotypes in three major population groups in Bulgaria. Forensic Sci Int 124(2–3):182–186

34.

Haliti N, Carapina M, Masić M, Strinović D, Klarić IM, Kubat M (2009) Evaluation of population variation at 17 autosomal STR and 16 Y-STR haplotype loci in Croatians. Forensic Sci Int-Gen 3(4):e137–e138

35.

Zastera J, Roewer L, Willuweit S, Sekerka P, Benesova L, Minarik M Assembly of a large (2009)Y-STR haplotype database for the Czech population and investigation of its substructure. Forensic Sci Int-Gen doi:10.1016/j.fsigen.2009.06.005

36.

El-Sibai M, Platt DE, Haber M, Xue Y, Youhanna SC, Wells RS, Izaabel H, Sanyoura MF, Harmanani H, Bonab MA, Behbehani J, Hashwa F, Tyler-Smith C, Zalloua PA (2009) Geographical structure of the Y-chromosomal genetic landscape of the Levant: a coastal-inland contrast. Ann Hum Genet 73(6):568–581

37.

Kovatsi L, Saunier JL, Irwin JA (2009) Population genetics of Y-chromosome STRs in a population of Northern Greeks. Forensic Sci Int-Gen. doi:10.1016/j.fsigen.2009.01.001

38.

Capelli C, Brisighelli F, Scarnicci F, Arredi B, Caglià A, Vetrugno G, Tofanelli S, Onofri V, Tagliabracci A, Paoli G, Pascali VL (2007) Y chromosome genetic variation in the Italian peninsula is clinal and supports an admixture model for the Mesolithic–Neolithic encounter. Mol Phylogenet Evol 44(1):228–239

39.

Ferri G, Ceccardi S, Lugaresi F, Bini C, Ingravallo F, Cicognani A, Falconi M, Pelotti S (2008) Male haplotypes and haplogroups differences between urban (Rimini) and rural area (Valmarecchia) in Romagna region (North Italy). Forensic Sci Int 175(2–3):250–255

40.

Ferri G, Alù M, Corradini B, Radheshi E, Beduschi G (2009) Slow and fast evolving markers typing in Modena males (North Italy). Forensic Sci Int-Gen 3(2):e31–e33

41.

Onofri V, Alessandrini F, Turchi C, Fraternale B, Buscemi L, Pesaresi M, Tagliabracci A (2007) Y-chromosome genetic structure in sub-Apennine populations of Central Italy by SNP and STR analysis. Int J Legal Med 121(3):234–237

42.

Adams SM, Bosch E, Balaresque PL, Ballereau SJ, Lee AC, Arroyo E, López-Parra AM, Aler M, Grifo MS, Brion M, Carracedo A, Lavinha J, Martínez-Jarreta B, Quintana-Murci L, Picornell A, Ramon M, Skorecki K, Behar DM, Calafell F, Jobling MA (2008) The genetic legacy of religious diversity and intolerance: paternal lineages of Christians, Jews, and Muslims in the Iberian Peninsula. Am J Hum Genet 83(6):725–736

43.

Veselinovic IS, Zgonjanin DM, Maletin MP, Stojkovic O, Djurendic-Brenesel M, Vukovic RM, Tasic MM (2008) Allele frequencies and population data for 17 Y-chromosome STR loci in a Serbian population sample from Vojvodina province. Forensic Sci Int 176(2–3):e23–e28

44.

Rodríguez V, Tomàs C, Sánchez JJ, Castro JA, Ramon MM, Barbaro A, Morling N, Picornell A (2009) Genetic sub-structure in western Mediterranean populations revealed by 12 Y-chromosome STR loci. Int J Legal Med 123(2):137–141

45.

Rapone C, Geraci A, Capelli C, De Meo A, D'Errico G, Barni F, Berti A, Lago G (2007) Y chromosome haplotypes in Central-South Italy: implication for reference database. Forensic Sci Int 172(1):67–71

46.

Turrina S, Atzei R, De Leo D (2006) Y-chromosomal STR haplotypes in a Northeast Italian population sample using 17plex loci PCR assay. Int J Legal Med 120(1):56–59

47.

Kalaydjieva L, Calafell F, Jobling MA, Angelicheva D, de Knijff P, Rosser ZH, Hurles ME, Underhill P, Tournev I, Marushiakova E, Popov V (2001) Patterns of inter- and intra-group genetic diversity in the Vlax Roma as revealed by Y chromosome and mitochondrial DNA lineages. Eur J Hum Genet 9(2):97–104

48.

Rootsi S, Magri C, Kivisild T, Benuzzi G, Help H, Bermisheva M, Kutuev I, Barać L, Pericić M, Balanovsky O, Pshenichnov A, Dion D, Grobei M, Zhivotovsky LA, Battaglia V, Achilli A, Al-Zahery N, Parik J, King R, Cinnioğlu C, Khusnutdinova E, Rudan P, Balanovska E, Scheffrahn W, Simonescu M, Brehm A, Goncalves R, Rosa A, Moisan JP, Chaventre A, Ferak V, Füredi S, Oefner PJ, Shen P, Beckman L, Mikerezi I, Terzić R, Primorac D, Cambon-Thomsen A, Krumina A, Torroni A, Underhill PA, Santachiara-Benerecetti AS, Villems R, Semino O (2004) Phylogeography of Y-chromosome haplogroup I reveals distinct domains of prehistoric gene flow in europe. Am J Hum Genet 75(1):128–137

49.

Semino O, Magri C, Benuzzi G, Lin AA, Al-Zahery N, Battaglia V, Maccioni L, Triantaphyllidis C, Shen P, Oefner PJ, Zhivotovsky LA, King R, Torroni A, Cavalli-Sforza LL, Underhill PA, Santachiara-Benerecetti AS (2004) Origin, diffusion, and differentiation of Y-chromosome haplogroups E and J: inferences on the Neolithization of Europe and later migratory events in the Mediterranean area. Am J Hum Genet 74(5):1023–1034

50.

Tofanelli S, Ferri G, Bulayeva K, Caciagli L, Onofri V, Taglioli L, Bulayev O, Boschi I, Alù M, Berti A, Rapone C, Beduschi G, Luiselli D, Cadenas AM, Awadelkarim KD, Mariani-Costantini R, Elwali NE, Verginelli F, Pilli E, Herrera RJ, Gusmão L, Paoli G, Capelli C (2009) J1-M267 Y lineage marks climate-driven pre-historical human displacements. Eur J Hum Genet 17(11):1520–1524

51.

Fraser A (1992) The gypsies. Blackwell, Cambridge

52.

Morar B, Gresham D, Angelicheva D, Tournev I, Gooding R, Guergueltcheva V, Schmidt C, Abicht A, Lochmuller H, Tordai A, Kalmar L, Nagy M, Karcagi V, Jeanpierre M, Herczegfalvi A, Beeson D, Venkataraman V, Warwick Carter K, Reeve J, de Pablo R, Kucinskas V, Kalaydjieva L (2004) Mutation history of the Roma/gypsies. Am J Hum Genet 75(4):596–609

53.

Phillips C, Prieto L, Fondevila M, Salas A, Gómez-Tato A, Alvarez-Dios J, Alonso A, Blanco-Verea A, Brión M, Montesino M, Carracedo A, Lareu MV (2009) Ancestry analysis in the 11-M Madrid bomb attack investigation. PLoS ONE 4(8):e6583. doi:10.1371/journal.pone.0006583

54.

King TE, Parkin EJ, Swinfield G, Cruciani F, Scozzari R, Rosa A, Lim SK, Xue Y, Tyler-Smith C, Jobling MA (2007) Africans in Yorkshire. The deepest-rooting clade of the Y phylogeny within an English genealogy. Eur J Hum Genet 15(3):288–293

55.

Capelli C, Onofri V, Brisighelli F, Boschi I, Scarnicci F, Masullo M, Ferri G, Tofanelli S, Tagliabracci A, Gusmao L, Amorim A, Gatto F, Kirin M, Merlitti D, Brion M, Verea AB, Romano V, Cali F, Pascali V (2009) Moors and Saracens in Europe: estimating the medieval North African male legacy in southern Europe. Eur J Hum Genet 17(6):848–852

56.

Sturrock K, Rocha J (2000) A multidimensional scaling stress evaluation table. Field Methods 12(1):49–60
Acknowledgements
We thank all DNA donors and those who made possible the contacts with Albanian communities, in particular Mrs. Nirvana Radheshi. The authors would also like to thank Francesca Ferrari of the Section of Legal Medicine, Department of Diagnostic and Laboratory Service and Legal Medicine, University of Modena and Reggio Emilia, for her efforts with this research.
Additional information
Gianmarco Ferri and Sergio Tofanelli contributed equally to the paper.
Electronic Supplementary Material
Below is the link to the electronic supplementary material.
Haplotype and haplogroup frequency distribution of the 12 Y-STRs and SNPs in four Albanian populations (PDF 16 kb)
Haplotype sharing (HS), statistical significance of pairwise R ST distances, and haplotype diversity (HD) for seven and 12 Y-STR loci in the examined Albanians and other European populations (XLS 44 kb)
About this article
Cite this article
Ferri, G., Tofanelli, S., Alù, M. et al. Y-STR variation in Albanian populations: implications on the match probabilities and the genetic legacy of the minority claiming an Egyptian descent. Int J Legal Med 124, 363–370 (2010). https://doi.org/10.1007/s00414-010-0432-x
Received:

Accepted:

Published:

Issue Date:
Keywords
Albania

Ethnic minorities

Y chromosome lineages

Y-SNP haplogroups

Y-STR haplotypes