Abstract
Historically, radiographical identification has been done by comparing conventional antemortem and postmortem X-ray images. The advent of new technologies such as multislice computed tomography (MSCT) is making traditional antemortem examination increasingly less frequent. The authors present the results of MSCT study of 35 corpses, which demonstrated features potentially useful for identification purposes in ten cases. These features, which relate to abnormalities of postcranial bone as well as of the internal organs, are presented. Attempts were made to find any antemortem X-rays or MSCTs on the cases described to compare the two antemortem and postmortem images. Although antemortem imaging was recovered for only two cases (one case with a skeletal abnormality and one case with a visceral abnormality), it permitted for both cases the comparison of antemortem and postmortem MSCTs.
Access options
Buy single article
Instant access to the full article PDF.
USD 39.95
Price excludes VAT (USA)
Tax calculation will be finalised during checkout.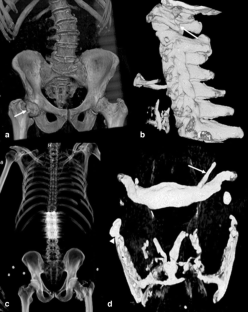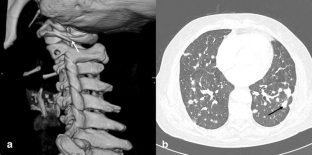 References
Interpol (2005) Disaster victim identification guide. Available at: http://www.interpol.int/Public/DisasterVictim/guide/default.asp

Pan American Health Organization, World Health Organization (2004) Management of dead bodies in disaster situations. Available at: http://www.paho.org/english/dd/ped/DeadBodiesBook.pdf

Smith DR, Limbird KG, Hoffman JM (2002) Identification of human skeletal remains by comparison of bony details of the cranium using computerized tomographic (CT) scans. J Forensic Sci 47:937–939

Rouge D, Telmon N, Arrue P, Larrouy G, Arbus L (1993) Radiographic identification of human remains through deformities and anomalies of post-cranial bones: a report of two cases. J Forensic Sci 38:997–1007

Haglund WD, Fligner CL (1993) Confirmation of human identification using computerized tomography (CT). J Forensic Sci 38:708–712

Sidler M, Jackowski C, Dirnhofer R, Vock P, Thali MJ (2007) Use of multislice computed tomography in disaster victim identification—advantages and limitations. Forensic Sci Int 169:118–128

Thali MJ, Yen K, Schweitzer W et al (2003) Virtopsy, a new imaging horizon in forensic pathology: virtual autopsy by postmortem multislice computed tomography (MSCT) and magnetic resonance imaging (MRI)—a feasibility study. J Forensic Sci 48:386–403

Jackowski C, Aghayev E, Sonnenschein M, Dirnhofer R, Thali MJ (2006) Maximum intensity projection of cranial computed tomography data for dental identification. Int J Legal Med 120:165–167

Thali MJ, Markwalder T, Jackowski C, Sonnenschein M, Dirnhofer R (2006) Dental CT imaging as a screening tool for dental profiling: advantages and limitations. J Forensic Sci 51:113–119

Dedouit F, Otal Ph, Costagliola R, Loubes Lacroix FL, Telmon N, Blanc A, Rouge D, Joffre F (2005) Introduction à l'imagerie thanatologique moderne. Syllabus 2005 de formation médicale continue des journées Française de Radiologie. Formation Médicale Continue, Paris, pp 321–339

Telmon N, Gaston A, Chemla P, Blanc A, Joffre F, Rouge D (2005) Application of the Suchey-Brooks method to three-dimensional imaging of the pubic symphysis. J Forensic Sci 50:507–512

Dedouit F, Telmon N, Costagliola R, Otal P, Joffre F, Rougé D (2007) Virtual anthropology and forensic identification. Report of one case. Forensic Sci Int (in press), DOI 10.1016/j.forsciint.2007.01.002
Acknowledgments
The authors wish to thank the staff of the Radiology and Forensic Medicine departments of Rangueil Hospital, Toulouse. Sincere appreciation is also expressed to Nina Crowte for her assistance in the preparation of this manuscript.
About this article
Cite this article
Dedouit, F., Telmon, N., Costagliola, R. et al. New identification possibilities with postmortem multislice computed tomography. Int J Legal Med 121, 507–510 (2007). https://doi.org/10.1007/s00414-007-0200-8
Received:

Accepted:

Published:

Issue Date:

DOI: https://doi.org/10.1007/s00414-007-0200-8
Keywords