Abstract
Finnish postmortem toxicology data from 1995 to 2002 was analyzed to obtain improved estimates of fatal toxicity indices for the newer antidepressants and to evaluate their interaction with alcohol. Altogether 284 fatal poisonings were attributed to 12 different newer antidepressants. Venlafaxine, mianserin, moclobemide, and mirtazapine were responsible for significantly more deaths than expected from their sales. Their fatal toxicity indices were higher than those of selective serotonin reuptake inhibitors (SSRIs) but lower than those of tricyclic antidepressants. In fatal poisonings involving alcohol in combination with venlafaxine, mianserin, moclobemide, or mirtazapine, the median blood alcohol concentration (BAC) ranged from 2.35 to 2.7 mg/g, whereas in those involving alcohol in combination with citalopram or fluoxetine the median BAC was 2.9 and 3.4 mg/g, respectively. The BAC was significantly lower in venlafaxine-related deaths than in those involving fluoxetine or citalopram. We conclude that among the newer antidepressants differences are present both in toxicity and in interaction potential with alcohol. The SSRIs appear to present a low risk of fatal poisoning when taken alone or in combination with alcohol, whereas venlafaxine is associated with an elevated risk.
Access options
Buy single article
Instant access to the full article PDF.
USD 39.95
Price excludes VAT (USA)
Tax calculation will be finalised during checkout.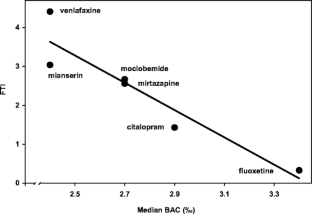 References
Anderson IM (2001) Meta-analytical studies on new antidepressants. Br Med Bull 57:161–178

Peretti S, Judge R, Hindmarch I (2000) Safety and tolerability considerations: tricyclic antidepressants vs. selective serotonin reuptake inhibitors. Acta Psychiatr Scand, Suppl 403:17–25

Nelson JC (1997) Safety and tolerability of the new antidepressants. J Clin Psychiatry 58:26–31

Barbey JT, Roose SP (1998) SSRI safety in overdose. J Clin Psychiatry 59(Suppl 15):42–48

Henry JA, Alexander CA, Sener EK (1995) Relative mortality from overdose of antidepressants. Br Med J 310:221–224

Whyte IM, Dawson AH, Buckley NA (2003) Relative toxicity of venlafaxine and selective serotonin reuptake inhibitors in overdose compared to tricyclic antidepressants. QJM 96:369–374

Ray WA, Meredith S, Thapa PB, Hall K, Murray KT (2004) Cyclic antidepressants and the risk of sudden cardiac death. Clin Pharmacol Ther 75:234–241

Delgado PL (2004) How antidepressants help depression: mechanisms of action and clinical response. J Clin Psychiatry 65(Suppl 4):25–30

Elhwuegi AS (2004) Central monoamines and their role in major depression. Prog Neuro-Psychopharmacol Biol Psychiatry 28:435–451

Cheeta S, Schifano F, Oyefeso A, Webb L, Ghodse AH (2004) Antidepressant-related deaths and antidepressant prescriptions in England and Wales, 1998–2000. Br J Psychiatry 184:41–47

Frey R, Schreinzer D, Stimpfl T, Vycudilik W, Berzlanovich A, Kasper S (2000) Suicide by antidepressant intoxication identified at autopsy in Vienna from 1991–1997: the favourable consequences of the increasing use of SSRIs. Eur Neuropsychopharmacol 10:133–142

Buckley NA, McManus PR (2002) Fatal toxicity of serotoninergic and other antidepressant drugs: analysis of United Kingdom mortality data. Br Med J 325:1332–1333

Cassidy S, Henry J (1987) Fatal toxicity of antidepressant drugs in overdose. Br Med J 295:1021–1024

Öhberg A, Vuori E, Klaukka T, Lönnqvist J (1998) Antidepressants and suicide mortality. J Affect Disord 50:225–233

Koski A, Ojanperä I, Vuori E (2003) Interaction of alcohol and drugs in fatal poisonings. Human Exp Toxicol 22:281–287

Jönsson A, Holmgren P, Ahlner J (2004) Fatal intoxications in a Swedish forensic autopsy material during 1992–2002. Forensic Sci Int 143:53–59

Vuori E, Ojanperä I, Rasanen I (1997) Fatal poisonings in Finland during 1993–1995 based on forensic toxicological investigations. Suom Laakaril 54:421–425

Vuori E, Ojanperä I, Ojansivu RL, Nieminen R (1999) Drug, poison, drug of abuse, or alcohol again? Duodecim 115:1531–1535

Vuori E, Ojanperä I, Nokua J, Ojansivu RL (2001) Fatal poisonings in Finland during 1998 and 1999 based on forensic toxicological investigations. Suom Laakaril 56:2521–2525

Vuori E, Ojanperä I, Nokua J, Ojansivu RL (2003) Fatal poisonings in Finland during 2000 and 2001 based on forensic toxicological investigations. Suom Laakaril 58:3403–3407

Jones AW, Schuberth J (1989) Computer-aided headspace gas chromatography applied to blood-alcohol analysis: importance of online process control. J Forensic Sci 34:1116–1127

Rasanen I, Ojanperä I, Vuori E (2000) Quantitative screening for benzodiazepines in blood by dual-column gas chromatography and comparison of the results with urine immunoassay. J Anal Toxicol 24:46–53

Koski A, Ojanperä I, Vuori E (2002) Alcohol and benzodiazepines in fatal poisonings. Alcohol Clin Exp Res 26:956–959

Worm K, Dragsholt C, Simonsen K, Kringsholm B (1998) Citalopram concentrations in samples from autopsies and living persons. Int J Leg Med 111:188–190

Kelly CA, Dhaun N, Laing WJ, Strachan FE, Good AM, Bateman DN (2004) Comparative toxicity of citalopram and the newer antidepressants after overdose. J Toxicol Clin Toxicol 42:67–71

Egberts AC, Lenderink AW, de Koning FH, Leufkens HG (1997) Channeling of three newly introduced antidepressants to patients not responding satisfactorily to previous treatment. J Clin Psychopharmacol 17:149–155

Heerdink ER, Hugenholtz GW, Meijer WE, Egberts AC (2003) Channelling new antidepressants to problem patients may be factor in fatal toxicity. Br Med J 325:600

Preskorn SH (1997) Clinically relevant pharmacology of selective serotonin reuptake inhibitors. An overview with emphasis on pharmacokinetics and effects on oxidative drug metabolism. Clin Pharmacokinet 32(Suppl 1):1–21

Bateman DN, Chick J, Good AM, Kelly CA, Masterton G (2004) Are selective serotonin re-uptake inhibitors associated with an increased risk of self-harm by antidepressant overdose? Eur J Clin Pharmacol 60:221–224

Bentur Y, Raikhlin-Eisenkraft B, Lavee M (2004) Toxicological features of deliberate self-poisonings. Human Exp Toxicol 23:331–337
Acknowledgements
This study was supported by a grant from the Finnish Foundation for Alcohol Studies.
About this article
Cite this article
Koski, A., Vuori, E. & Ojanperä, I. Newer antidepressants: evaluation of fatal toxicity index and interaction with alcohol based on Finnish postmortem data. Int J Legal Med 119, 344–348 (2005). https://doi.org/10.1007/s00414-005-0528-x
Received:

Accepted:

Published:

Issue Date:

DOI: https://doi.org/10.1007/s00414-005-0528-x
Keywords
Drugs

Alcohol

Interaction

Forensic

Fatal toxicity index