Abstract
Supernumerary chromosomes sporadically arise in many eukaryotic species as a result of genomic rearrangements. If present in a substantial part of species population, those are called B chromosomes, or Bs. This is the case for 70 mammalian species, most of which are rodents. In humans, the most common types of extra chromosomes, sSMCs (small supernumerary marker chromosomes), are diagnosed in approximately 1 of 2000 postnatal cases. Due to low frequency in population, human sSMCs are not considered B chromosomes. Genetic content of both B-chromosomes and sSMCs in most cases remains understudied. Here, we apply microdissection of single chromosomes with subsequent low-pass sequencing on Ion Torrent PGM and Illumina MiSeq to identify unique and repetitive DNA sequences present in a single human sSMC and several B chromosomes in mice Apodemus flavicollis and Apodemus peninsulae. The pipeline for sequencing data analysis was made available in Galaxy interface as an addition to previously published command-line version. Human sSMC was attributed to the proximal part of chromosome 15 long arm, and breakpoints leading to its formation were located into satellite DNA arrays. Genetic content of Apodemus B chromosomes was species-specific, and minor alterations were observed in both species. Common features of Bs in these Apodemus species were satellite DNA and ERV enrichment, as well as the presence of the vaccinia-related kinase gene Vrk1. Understanding of the non-essential genome elements content provides important insights into genome evolution in general.
Access options
Buy single article
Instant access to the full article PDF.
USD 39.95
Price excludes VAT (USA)
Tax calculation will be finalised during checkout.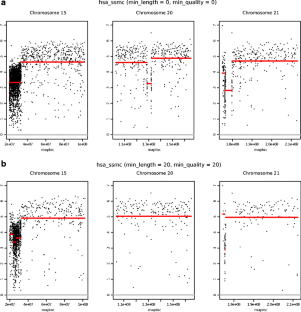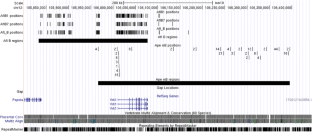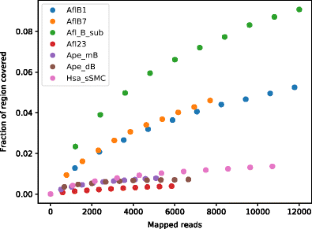 References
Bailey JA, Gu Z, Clark RA, Reinert K, Samonte RV, Schwartz S, Adams MD, Myers EW, Li PW, Eichler EE (2002) Recent segmental duplications in the human genome. Science 297(5583):1003–1007. https://doi.org/10.1126/science.1072047

Baker RJ, Haiduk MW, Robbins LW et al (1982) Chromosomal studies of South American bats and their systematic implications. Mamm Biol S Am 4:303–327

Bugarski-Stanojević V, Stamenković G, Blagojević J, Liehr T, Kosyakova N, Rajičić M, Vujošević M (2016) Exploring supernumeraries—a new marker for screening of B-chromosomes presence in the yellow necked mouse Apodemus flavicollis. PLoS One 11(8):e0160946. https://doi.org/10.1371/journal.pone.0160946

Bundey S, Hardy C, Vickers S, Kilpatrick MW, Corbett JA (1994) Duplication of the 15q11-13 region in a patient with autism, epilepsy and ataxia. Dev Med Child Neurol 36(8):736–742

Burnside RD, Pasion R, Mikhail FM, Carroll AJ, Robin NH, Youngs e, Gadi IK, Keitges E, Jaswaney VL, Papenhausen PR, Potluri VR, Risheg H, Rush B, Smith JL, Schwartz S, Tepperberg JH, Butler MG (2011) Microdeletion/microduplication of proximal 15q11. 2 between BP1 and BP2: a susceptibility region for neurological dysfunction including developmental and language delay. Hum Genet 130(4):517–528. https://doi.org/10.1007/s00439-011-0970-4

Chen W, Kalscheuer V, Tzschach A, Menzel C, Ullmann R, Schulz MH, Erdogan F, Li N, Kijas Z, Arkesteijn G, Pajares IL, Goetz-Sothmann M, Heinrich U, Rost I, Dufke A, Grasshoff U, Glaeser B, Vingron M, Ropers HH (2008) Mapping translocation breakpoints by next-generation sequencing. Genome Res 18(7):1143–1149. https://doi.org/10.1101/gr.076166.108

Chen W, Ullmann R, Langnick C, Menzel C, Wotschofsky Z, Hu H, Döring A, Hu Y, Kang H, Tzschach A, Hoeltzenbein M, Neitzel H, Markus S, Wiedersberg E, Kistner G, van Ravenswaaij-Arts CMA, Kleefstra T, Kalscheuer VM, Ropers HH (2010) Breakpoint analysis of balanced chromosome rearrangements by next-generation paired-end sequencing. Eur J Hum Genet EJHG 18(5):539–543. https://doi.org/10.1038/ejhg.2009.211

Cingolani P, Platts A, Wang LL, Coon M, Nguyen T, Wang L, Land SJ, Lu X, Ruden DM (2012) A program for annotating and predicting the effects of single nucleotide polymorphisms, SnpEff: SNPs in the genome of Drosophila melanogaster strain w1118; iso-2; iso-3. Fly (Austin) 6(2):80–92. https://doi.org/10.4161/fly.19695

Duke Becker SE, Thomas R, Trifonov VA, Wayne RK, Graphodatsky AS, Breen M (2011) Anchoring the dog to its relatives reveals new evolutionary breakpoints across 11 species of the Canidae and provides new clues for the role of B chromosomes. Chromosom Res 19(6):685–708. https://doi.org/10.1007/s10577-011-9233-4

Graphodatsky AS, Kukekova AV, Yudkin DV, Trifonov VA, Vorobieva NV, Beklemisheva VR, Perelman PL, Graphodatskaya d, Trut LN, Yang F, Ferguson-Smith MA, Acland GM, Aguirre GD (2005) The proto-oncogene C-KIT maps to canid B-chromosomes. Chromosom Res 13(2):113–122. https://doi.org/10.1007/s10577-005-7474-9

Groenen MAM, Archibald AL, Uenishi H, Tuggle CK, Takeuchi Y, Rothschild MF, Rogel-Gaillard C, Park C, Milan D, Megens HJ, Li S, Larkin DM, Kim H, Frantz LAF, Caccamo M, Ahn H, Aken BL, Anselmo A, Anthon C, Auvil L, Badaoui B, Beattie CW, Bendixen C, Berman D, Blecha F, Blomberg J, Bolund L, Bosse M, Botti S, Bujie Z, Bystrom M, Capitanu B, Carvalho-Silva D, Chardon P, Chen C, Cheng R, Choi SH, Chow W, Clark RC, Clee C, Crooijmans RPMA, Dawson HD, Dehais P, de Sapio F, Dibbits B, Drou N, du ZQ, Eversole K, Fadista J, Fairley S, Faraut T, Faulkner GJ, Fowler KE, Fredholm M, Fritz E, Gilbert JGR, Giuffra E, Gorodkin J, Griffin DK, Harrow JL, Hayward A, Howe K, Hu ZL, Humphray SJ, Hunt T, Hornshøj H, Jeon JT, Jern P, Jones M, Jurka J, Kanamori H, Kapetanovic R, Kim J, Kim JH, Kim KW, Kim TH, Larson G, Lee K, Lee KT, Leggett R, Lewin HA, Li Y, Liu W, Loveland JE, Lu Y, Lunney JK, Ma J, Madsen O, Mann K, Matthews L, McLaren S, Morozumi T, Murtaugh MP, Narayan J, Truong Nguyen D, Ni P, Oh SJ, Onteru S, Panitz F, Park EW, Park HS, Pascal G, Paudel Y, Perez-Enciso M, Ramirez-Gonzalez R, Reecy JM, Rodriguez-Zas S, Rohrer GA, Rund L, Sang Y, Schachtschneider K, Schraiber JG, Schwartz J, Scobie L, Scott C, Searle S, Servin B, Southey BR, Sperber G, Stadler P, Sweedler JV, Tafer H, Thomsen B, Wali R, Wang J, Wang J, White S, Xu X, Yerle M, Zhang G, Zhang J, Zhang J, Zhao S, Rogers J, Churcher C, Schook LB (2012) Analyses of pig genomes provide insight into porcine demography and evolution. Nature 491(7424):393–398. https://doi.org/10.1038/nature11622

Houben A, Banaei-Moghaddam AM, Klemme S, Timmis JN (2014) Evolution and biology of supernumerary B chromosomes. Cell Mol Life Sci 71(3):467–478. https://doi.org/10.1007/s00018-013-1437-7

Jones RN (1991) B-chromosome drive. Am Nat 137(3):430–442. https://doi.org/10.1086/285175

Karamysheva TV, Andreenkova OV, Bochkaerev MN, Borissov YM, Bogdanchikova N, Borodin PM, Rubtsov NB (2002) B chromosomes of Korean field mouse Apodemus peninsulae (Rodentia, Murinae) analysed by microdissection and FISH. Cytogenet Genome Res 96(1-4):154–160. https://doi.org/10.1159/000063027

Kichigin IG, Giovannotti M, Makunin AI, Ng BL, Kabilov MR, Tupikin AE, Barucchi VC, Splendiani A, Ruggeri P, Rens W, O'Brien PCM, Ferguson-Smith MA, Graphodatsky AS, Trifonov VA (2016) Evolutionary dynamics of Anolis sex chromosomes revealed by sequencing of flow sorting-derived microchromosome-specific DNA. Mol Gen Genomics 291(5):1955–1966. https://doi.org/10.1007/s00438-016-1230-z

Kim J, Farré M, Auvil L, Capitanu B, Larkin DM, Ma J, Lewin HA (2017) Reconstruction and evolutionary history of eutherian chromosomes. Proc Natl Acad Sci 114(27):E5379–E5388. https://doi.org/10.1073/pnas.1702012114

Koepfli K-P, Paten B, O'Brien SJ (2015) The genome 10K project: a way forward. Annu Rev Anim Biosci 3(1):57–111. https://doi.org/10.1146/annurev-animal-090414-014900

Kour G, Kour B, Kaul S, Dhar MK (2009) Genetic and epigenetic instability of amplification-prone sequences of a novel B chromosome induced by tissue culture in Plantago lagopus L. Plant Cell Rep 28(12):1857–1867. https://doi.org/10.1007/s00299-009-0789-9

Lamatsch DK, Trifonov V, Schories S, Epplen JT, Schmid M, Schartl M (2011) Isolation of a cancer-associated microchromosome in the sperm-dependent parthenogen Poecilia formosa. Cytogenet Genome Res 135(2):135–142. https://doi.org/10.1159/000331271

Langmead B, Salzberg SL (2012) Fast gapped-read alignment with bowtie 2. Nat Methods 9(4):357–359. https://doi.org/10.1038/nmeth.1923

Larkin DM, Pape G, Donthu R, Auvil L, Welge M, Lewin HA (2009) Breakpoint regions and homologous synteny blocks in chromosomes have different evolutionary histories. Genome Res 19(5):770–777. https://doi.org/10.1101/gr.086546.108

Liehr T, Claussen U, Starke H (2004) Small supernumerary marker chromosomes (sSMC) in humans. Cytogenet Genome Res 107(1-2):55–67. https://doi.org/10.1159/000079572

Liehr T, Mrasek K, Kosyakova N, Ogilvie C, Vermeesch J, Trifonov V, Rubtsov N (2008) Small supernumerary marker chromosomes (sSMC) in humans; are there B chromosomes hidden among them. Mol Cytogenet 1(1):12. https://doi.org/10.1186/1755-8166-1-12

Liehr T, Weise A (2007) Frequency of small supernumerary marker chromosomes in prenatal, newborn, developmentally retarded and infertility diagnostics. Int J Mol Med 19(5):719–731

Lien S, Koop BF, Sandve SR, Miller JR, Kent MP, Nome T, Hvidsten TR, Leong JS, Minkley DR, Zimin A, Grammes F, Grove H, Gjuvsland A, Walenz B, Hermansen RA, von Schalburg K, Rondeau EB, di Genova A, Samy JKA, Olav Vik J, Vigeland MD, Caler L, Grimholt U, Jentoft S, Inge Våge D, de Jong P, Moen T, Baranski M, Palti Y, Smith DR, Yorke JA, Nederbragt AJ, Tooming-Klunderud A, Jakobsen KS, Jiang X, Fan D, Hu Y, Liberles d, Vidal R, Iturra P, Jones SJM, Jonassen I, Maass A, Omholt SW, Davidson WS (2016) The Atlantic salmon genome provides insights into rediploidization. Nature 533(7602):200–205. https://doi.org/10.1038/nature17164

Makunin AI, Kichigin IG, Larkin DM, O'Brien PCM, Ferguson-Smith MA, Yang F, Proskuryakova AA, Vorobieva NV, Chernyaeva EN, O'Brien SJ, Graphodatsky AS, Trifonov VA (2016) Contrasting origin of B chromosomes in two cervids (Siberian roe deer and grey brocket deer) unravelled by chromosome-specific DNA sequencing. BMC Genomics 17(1):618. https://doi.org/10.1186/s12864-016-2933-6

Martin M (2011) Cutadapt removes adapter sequences from high-throughput sequencing reads. EMBnetjournal 17(1):10–12. https://doi.org/10.14806/ej.17.1.200

Matsubara K, Nishida-Umehara C, Tsuchiya K, Nukaya D, Matsuda Y (2004) Karyotypic evolution of Apodemus (Muridae, Rodentia) inferred from comparative FISH analyses. Chromosom Res 12(4):383–395. https://doi.org/10.1023/B:CHRO.0000034103.05528.83

Matsubara K, Yamada K, Umemoto S, Tsuchiya K, Ikeda N, Nishida C, Chijiwa T, Moriwaki K, Matsuda Y (2008) Molecular cloning and characterization of the repetitive DNA sequences that comprise the constitutive heterochromatin of the A and B chromosomes of the Korean field mouse (Apodemus peninsulae, Muridae, Rodentia). Chromosom Res 16(7):1013–1026. https://doi.org/10.1007/s10577-008-1259-x

McKenna A, Hanna M, Banks E, Sivachenko A, Cibulskis K, Kernytsky A, Garimella K, Altshuler D, Gabriel S, Daly M, DePristo MA (2010) The Genome Analysis Toolkit: a MapReduce framework for analyzing next-generation DNA sequencing data. Genome Res 20(9):1297–1303. https://doi.org/10.1101/gr.107524.110

Miller W, Rosenbloom K, Hardison RC, Hou M, Taylor J, Raney B, Burhans R, King DC, Baertsch R, Blankenberg D, Kosakovsky Pond SL, Nekrutenko A, Giardine B, Harris RS, Tyekucheva S, Diekhans M, Pringle TH, Murphy WJ, Lesk A, Weinstock GM, Lindblad-Toh K, Gibbs RA, Lander ES, Siepel A, Haussler D, Kent WJ (2007) 28-Way vertebrate alignment and conservation track in the UCSC Genome Browser. Genome Res 17(12):1797–1808. https://doi.org/10.1101/gr.6761107

Navarro-Domínguez B, Ruiz-Ruano FJ, Cabrero J, Corral JM, López-León MD, Sharbel TF, Camacho JPM (2017) Protein-coding genes in B chromosomes of the grasshopper Eyprepocnemis plorans. Sci Rep 7:45200. https://doi.org/10.1038/srep45200

Novák P, Neumann P, Macas J (2010) Graph-based clustering and characterization of repetitive sequences in next-generation sequencing data. BMC Bioinformatics 11(1):378. https://doi.org/10.1186/1471-2105-11-378

Novák P, Neumann P, Pech J et al (2013) RepeatExplorer: a galaxy-based web server for genome-wide characterization of eukaryotic repetitive elements from next-generation sequence reads. Bioinformatics 29(6):792–793. https://doi.org/10.1093/bioinformatics/btt054

Quinlan AR, Hall IM (2010) BEDTools: a flexible suite of utilities for comparing genomic features. Bioinforma Oxf Engl 26(6):841–842. https://doi.org/10.1093/bioinformatics/btq033

Rajičić M, Romanenko SA, Karamysheva TV, Blagojević J, Adnađević T, Budinski I, Bogdanov AS, Trifonov VA, Rubtsov NB, Vujošević M (2017) The origin of B chromosomes in yellow-necked mice (Apodemus flavicollis)—break rules but keep playing the game. PLoS One 12(3):e0172704. https://doi.org/10.1371/journal.pone.0172704

Raudsepp T, Chowdhary BP (2015) The eutherian pseudoautosomal region. Cytogenet Genome Res 147(2-3):81–94. https://doi.org/10.1159/000443157

Romanenko SA, Biltueva LS, Serdyukova NA et al (2015) Segmental paleotetraploidy revealed in sterlet (Acipenser ruthenus) genome by chromosome painting. Mol Cytogenet 8:1

Rubtsov NB, Karamisheva TV, Astakhova NM, Liehr T, Claussen U, Zhdanova NS (2000) Zoo-FISH with region-specific paints for mink chromosome 5q: delineation of inter-and intrachromosomal rearrangements in human, pig, and fox. Cytogenet Genome Res 90(3-4):268–270. https://doi.org/10.1159/000056786

Rubtsov NB, Karamysheva TV, Andreenkova OV, Bochkaerev MN, Kartavtseva IV, Roslik GV, Borissov YM (2004) Comparative analysis of micro and macro B chromosomes in the Korean field mouse Apodemus peninsulae (Rodentia, Murinae) performed by chromosome microdissection and FISH. Cytogenet Genome Res 106(2-4):289–294. https://doi.org/10.1159/000079301

Seifertova E, Zimmerman LB, Gilchrist MJ, Macha J, Kubickova S, Cernohorska H, Zarsky V, Owens NDL, Sesay AK, Tlapakova T, Krylov V (2013) Efficient high-throughput sequencing of a laser microdissected chromosome arm. BMC Genomics 14(1):357. https://doi.org/10.1186/1471-2164-14-357

Session AM, Uno Y, Kwon T, Chapman JA, Toyoda A, Takahashi S, Fukui A, Hikosaka A, Suzuki A, Kondo M, van Heeringen SJ, Quigley I, Heinz S, Ogino H, Ochi H, Hellsten U, Lyons JB, Simakov O, Putnam N, Stites J, Kuroki Y, Tanaka T, Michiue T, Watanabe M, Bogdanovic O, Lister R, Georgiou G, Paranjpe SS, van Kruijsbergen I, Shu S, Carlson J, Kinoshita T, Ohta Y, Mawaribuchi S, Jenkins J, Grimwood J, Schmutz J, Mitros T, Mozaffari SV, Suzuki Y, Haramoto Y, Yamamoto TS, Takagi C, Heald R, Miller K, Haudenschild C, Kitzman J, Nakayama T, Izutsu Y, Robert J, Fortriede J, Burns K, Lotay V, Karimi K, Yasuoka Y, Dichmann DS, Flajnik MF, Houston DW, Shendure J, DuPasquier L, Vize PD, Zorn AM, Ito M, Marcotte EM, Wallingford JB, Ito Y, Asashima M, Ueno N, Matsuda Y, Veenstra GJC, Fujiyama A, Harland RM, Taira M, Rokhsar DS (2016) Genome evolution in the allotetraploid frog Xenopus laevis. Nature 538(7625):336–343. https://doi.org/10.1038/nature19840

Stephens PJ, Greenman CD, Fu B, Yang F, Bignell GR, Mudie LJ, Pleasance ED, Lau KW, Beare D, Stebbings l, McLaren S, Lin ML, McBride DJ, Varela I, Nik-Zainal S, Leroy C, Jia M, Menzies A, Butler AP, Teague JW, Quail MA, Burton J, Swerdlow H, Carter NP, Morsberger l, Iacobuzio-Donahue C, Follows GA, Green AR, Flanagan AM, Stratton MR, Futreal PA, Campbell PJ (2011) Massive genomic rearrangement acquired in a single catastrophic event during cancer development. Cell 144(1):27–40. https://doi.org/10.1016/j.cell.2010.11.055

Telenius H, Carter NP, Bebb CE, Nordenskjo¨ld M, Ponder BAJ, Tunnacliffe A (1992) Degenerate oligonucleotide-primed PCR: general amplification of target DNA by a single degenerate primer. Genomics 13(3):718–725. https://doi.org/10.1016/0888-7543(92)90147-K

Traut W, Vogel H, Glöckner G, Hartmann E, Heckel DG (2013) High-throughput sequencing of a single chromosome: a moth W chromosome. Chromosom Res 21(5):491–505. https://doi.org/10.1007/s10577-013-9376-6

Trifonov VA, Dementyeva PV, Larkin DM et al (2013) Transcription of a protein-coding gene on B chromosomes of the Siberian roe deer (Capreolus pygargus). BMC Biol 11:1–11

Utsunomia R, de Andrade Silva DMZ, Ruiz-Ruano FJ et al (2016) Uncovering the ancestry of B chromosomes in Moenkhausia sanctaefilomenae (Teleostei, Characidae). PLoS One 11(3):e0150573. https://doi.org/10.1371/journal.pone.0150573

Valente GT, Conte MA, Fantinatti BEA, Cabral-de-Mello DC, Carvalho RF, Vicari MR, Kocher TD, Martins C (2014) Origin and evolution of B chromosomes in the cichlid fish Astatotilapia latifasciata based on integrated genomic analyses. Mol Biol Evol 31(8):2061–2072. https://doi.org/10.1093/molbev/msu148

Weise A, Timmermann B, Grabherr M, Werber M, Heyn P, Kosyakova N, Liehr T, Neitzel H, Konrat K, Bommer C, Dietrich C, Rajab A, Reinhardt R, Mundlos S, Lindner TH, Hoffmann K (2010) High-throughput sequencing of microdissected chromosomal regions. Eur J Hum Genet EJHG 18(4):457–462. https://doi.org/10.1038/ejhg.2009.196

Yang F, Trifonov V, Ng BL, et al (2017) Generation of paint probes from flow-sorted and microdissected chromosomes. In: Liehr T (ed) Fluorescence in situ Hybridization (FISH) Application Guide. Springer, Berlin, Heidelberg, pp 63–79

Yoshida K, Terai Y, Mizoiri S, Aibara M, Nishihara H, Watanabe M, Kuroiwa A, Hirai H, Hirai Y, Matsuda Y, Okada N (2011) B chromosomes have a functional effect on female sex determination in Lake Victoria cichlid fishes. PLoS Genet 7(8):e1002203. https://doi.org/10.1371/journal.pgen.1002203

Yudkin DV, Trifonov VA, Kukekova AV, Vorobieva NV, Rubtsova NV, Yang F, Acland GM, Ferguson-Smith MA, Graphodatsky AS (2007) Mapping of KIT adjacent sequences on canid autosomes and B chromosomes. Cytogenet Genome Res 116(1-2):100–103. https://doi.org/10.1159/000097424

Zlotina A, Kulikova T, Kosyakova N, Liehr T, Krasikova A (2016) Microdissection of lampbrush chromosomes as an approach for generation of locus-specific FISH-probes and samples for high-throughput sequencing. BMC Genomics 17(1):126. https://doi.org/10.1186/s12864-016-2437-4
Acknowledgments
We would like to thank Dr. Aleksey Bogdanov (Kol'tsov Institute of Developmental Biology RAS), Dr. Irina Kartavtseva (Institute of Biology and Soil Science FEB RAS), and Dr. Yuri Borissov (Severtsov Institute of Ecology and Evolution RAS) for providing animal samples and Fedor Goncharov (Institute of Molecular and Cellular Biology SB RAS) for IMCB Galaxy server maintenance. DNA sequencing was performed by the "Molecular and cellular biology" facility at IMCB SB RAS (Illumina) and by sequencing facility at ICG SB RAS (Ion Torrent).
Funding
The study was supported by Russian Science Foundation grant 16-14-10009; by Ministry of Education, Science and Technological Development, Republic of Serbia, grant 173003; and by the project #0324-2016-0003 of the Institute Cytology and Genetics SB RAS.
Ethics declarations
Conflict of interest
The authors declare that they have no conflict of interest.
Human studies
All procedures performed in studies involving human participant were in accordance with the ethical standards of the institutional and/or national research committee and with the 1964 Helsinki Declaration and its later amendments or comparable ethical standards.
Informed consent
Informed consent was obtained from the individual participant included in the study.
Animal studies
All applicable international, national, and/or institutional guidelines for the care and use of animals were followed.
Electronic supplementary material
About this article
Cite this article
Makunin, A.I., Rajičić, M., Karamysheva, T.V. et al. Low-pass single-chromosome sequencing of human small supernumerary marker chromosomes (sSMCs) and Apodemus B chromosomes. Chromosoma 127, 301–311 (2018). https://doi.org/10.1007/s00412-018-0662-0
Received:

Revised:

Accepted:

Published:

Issue Date:

DOI: https://doi.org/10.1007/s00412-018-0662-0
Keywords
Genome instability

Apodemus peninsulae
Apodemus flavicollis

Galaxy

Pipeline