Abstract
Supernumerary chromosomes have been studied in many species of eukaryotes, including the cichlid fish, Astatotilapia latifasciata. However, there are many unanswered questions about the maintenance, inheritance, and functional aspects of supernumerary chromosomes. The cichlid family has been highlighted as a model for evolutionary studies, including those that focus on mechanisms of chromosome evolution. Individuals of A. latifasciata are known to carry up to two B heterochromatic isochromosomes that are enriched in repetitive DNA and contain few intact gene sequences. We isolated and characterized a transcriptionally active repeated DNA, called B chromosome noncoding DNA (BncDNA), highly represented across all B chromosomes of A. latifasciata. BncDNA transcripts are differentially processed among six different tissues, including the production of smaller transcripts, indicating transcriptional variation may be linked to B chromosome presence and sexual phenotype. The transcript lengths and lack of similarity with known protein/gene sequences indicate BncRNA might represent a novel long noncoding RNA family (lncRNA). The potential for interaction between BncRNA and known miRNAs were computationally predicted, resulting in the identification of possible binding of this sequence in upregulated miRNAs related to the presence of B chromosomes. In conclusion, Bnc is a transcriptionally active repetitive DNA enriched in B chromosomes with potential action over B chromosome maintenance in somatic cells and meiotic drive in gametic cells.
Access options
Buy single article
Instant access to the full article PDF.
US$ 39.95
Tax calculation will be finalised during checkout.
Subscribe to journal
Immediate online access to all issues from 2019. Subscription will auto renew annually.
US$ 119
Tax calculation will be finalised during checkout.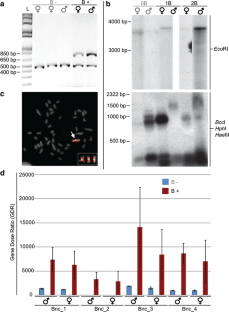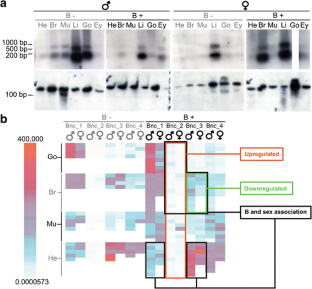 References
Ahnert SE, Fink TMA, Zinovyev A (2008) How much non-coding DNA do eukaryotes require? J Theor Biol 252:587–592

Altschul SF, Gish W, Miller W, Myers EW, Lipman DJ (1990) Basic local alignment search tool. J Mol Biol 215:403–410

Banaei-Moghaddam AM, Meier K, Karimi-Ashtiyani R, Houben A (2013) Formation and expression of pseudogenes on the B chromosome of rye. Plant Cell 25:2536–44

Basu S, Müller F, Sanges R (2013) Examples of sequence conservation analyses capture a subset of mouse long non-coding RNAs sharing homology with fish conserved genomic elements. BMC Bioinformatics 14:S14

Bougourd SM, Jones RN (1997) B chromosomes: a physiological enigma. New Phytol 137:43–54

Brockdorff N, Ashworth A, Kay GF, McCabe VM, Norris DP, Cooper PJ, Swift S, Rastan S (1992) The product of the mouse Xist gene is a 15 kb inactive X-specific transcript containing no conserved ORF and located in the nucleus. Cell 71:515–526

Brodsky LI, Ivanov VV, YaL K d, Leontovich AM, Nikolaev VK, Feranchuk SI, Drachev VA (1995) GeneBee-NET: internet-based server for analyzing biopolymers structure. Biokhimiia 60:923–928

Brown CJ, Hendrich BD, Rupert JL, Lafrenière RG, Xing Y, Lawrence J, Willard HF (1992) The human XIST gene: analysis of a 17 kb inactive X-specific RNA that contains conserved repeats and is highly localized within the nucleus. Cell 71:527–542

Bueno D, Palacios-Gimenez OM, Cabral-de-Mello DC (2013) Chromosomal mapping of repetitive DNAs in the grasshopper Abracris flavolineata reveal possible ancestry of the B chromosome and H3 histone spreading. PLoS One 8, e66532

Burt A, Trivers R (2006) Genes in conflict: the biology of selfish genetic elements. Belknap Press of Harvard University, Cambridge

Cabral-de-Mello DC, Valente GT, Nakajima RT, Martins C (2012) Genomic organization and comparative chromosome mapping of the U1 snRNA gene in cichlid fish, with an emphasis in Oreochromis niloticus. Chromosome Res 20:279–292

Camacho JP (2005) B chromosomes. In: Gregory TR (ed) The evolution of the genome. Elsevier, San Diego, pp 223–286

Camacho JP, Sharbel TF, Beukeboom LW (2000) B-chromosome evolution. Philos T Roy Soc B 355:163–178

Cao J, Shen Y, Zhu L, Xu Y, Zhou Y, Wu Z, Li Y, Yan X, Zhu X (2012) miR-129-3p controls cilia assembly by regulating CP110 and actin dynamics. Nat Cell Biol 14:697–706

Carchilan M, Kumke K, Mikolajewski S, Houben A (2009) Rye B chromosomes are weakly transcribed and might alter the transcriptional activity of A chromosome sequences. Chromosoma 118:607–616

Carlson W (2009) The B chromosome of maize, in: Bennetzen JL, Hake S (Eds.), Maize handbook—Volume II: genetics and genomics, Springer, pp. 459–480

Carone DM, Longo MS, Ferreri GC, Hall L, Harris M, Shook N, Bulazel KV, Carone BR, Obergfell C, O'Neill MJ (2009) A new class of retroviral and satellite encoded small RNAs emanates from mammalian centromeres. Chromosoma 118:113–125

Carvalho AB (2002) Origin and evolution of the Drosophila Y chromosome. Curr Opin Genet Dev 12:664–668

Coolen M, Katz S, Bally-Cuif L (2013) mir-9: a versatile regulator of neurogenesis. Front Cell Neurosci 7:220

Ebert MS, Neilson JR, Sharp PA (2007) MicroRNA sponges: competitive inhibitors of small RNAs in mammalian cells. Nat Methods 4:721–726

Eddy SR (2001) Non-coding RNA genes and the modern RNA world. Nat Rev Genet 2:919–929

Enright AJ, John B, Gaul U, Tuschl T, Sander C, Marks DS (2003) MicroRNA targets in Drosophila. Genome Biol 5:R1

Fantinatti BEA, Mazzuchelli J, Valente GT, Cabral-de-Mello DC, Martins C (2011) Genomic content and new insights on the origin of the B chromosome of the cichlid fish Astatotilapia latifasciata. Genetica 139:1273–1282

Feldberg E, Bertollo LAC (1984) Discordance in chromosome number among somatic and gonadal tissue cells of Gymnogeonhagus balzani. Braz J Genet 8:639–645

Feldberg E, Porto JIR, Brinn MNA, Mendonça MNC, Benzaquem DC (2004) B-chromosomes in Amazonian cichlid species. Cytogenet Genome Res 106:195–198

Finn RD, Clements J, Eddy SR (2011) HMMER Web Server: interactive sequence similarity searching. Nucleic Acids Res 39:W29–W37

Finn RD, Bateman A, Clements J, Coggill P, Eberhardt RY, Eddy SR, Heger A, Hetherington K, Holm L, Mistry J, Sonnhammer ELL, Tate J, Punta M (2014) The Pfam protein families database. Nucleic Acids Res 42:D222–D230

Gong C, Maquat LE (2011) lncRNAs transactive STAU1-mediated mRNA decay by duplexing with 3′ UTR via Alu elements. Nature 470:284–288

Graphodatsky AS, Kukekova AV, Yudkin DV, Trifonov VA, Vorobieva NV, Beklemisheva VR, Perelman PL, Graphodatskaya DA, Trut LN, Yang F, Ferguson-Smith MA, Acland GM, Aguirre GD (2005) The proto-oncogene C-KIT maps to canid B-chromosomes. Chromosome Res 13:113–122

Griffiths-Jones S (2004) The microRNA registry. Nucleic Acids Res 32:D109–D111

Gupta RA, Shah N, Wang KC, Jeewon K, Horlings HM, Wong DJ, Tsai M-C, Hung T, Argani P, Rinn JL, Wang Y, Brzoska P, Kong B, Li R, West RB, van de Vijver MJ, Sukumar S, Chang HY (2010) Long non-coding RNA HOTAIR reprograms chromatin state to promote cancer metastasis. Nature 464:1071–1076

Han P, Li W, Lin C-H, Yang J, Shang C, Nurnberg ST, Jin KK, Xu W, Lin C-Y, Lin C-J, Xiong Y, Chien H-C, Zhou B, Ashley E, Bernstein D, Chen P-S, Chen H-SV, Quertermous T, Chang C-P (2014) A long noncoding RNA protects the heart from pathological hypertrophy. Nature 514:102–106

He LP, Ling FY, Zheng XZ, Wang W, Kuang RP (2000) The effect of B chromosome on the reproduction of Drosophila albomicans. Yi Chuan Xue Bao 27:114–120

Houben A, Banaei-Moghaddam AM, Klemme S (2013) Biology and evolution of B chromosomes. In: Leitch IJ (ed) Plant genome diversity, vol 2. Berlin, Springer, pp 149–165

Johnson R, Guigó R (2014) The RIDL hypothesis: transposable elements as functional domains of long noncoding RNAs. RNA 20:959–976

Jones RN (1991) B-chromosome drive. Am Nat 137:430–442

Jones R, Rees H (1982) B chromosomes. Academic Press, London

Jones RN, Gonzalez-Sanchez M, Gonzalez-Garcia M, Vega JM, Puertas MJ (2008) Chromosomes with a life of their own. Cytogenet Genome Res 120:265–280

Jurka J, Kapitonov VV, Pavlicek A, Klonowski P, Kohany O, Walichiewicz J (2005) Repbase update, a database of eukaryotic repetitive elements. Cytogenet Genome Res 110:462–467

Kapranov P, Cheng J, Dike S, Nix DA, Duttagupta R, Willingham AT, Stadler PF, Hertel J, Hackermüller J, Hofacker IL, Ganesh M, Ghosh S, Piccolboni A, Sementchenko V, Tammana H, Gingeras TR (2007) RNA maps reveal new RNA classes and a possible function for pervasive transcription. Science 316:1484–1488

Kearse M, Moir R, Wilson A, Stones-Havas S, Cheung M, Sturrock S, Buxton S, Cooper A, Markowitz S, Duran C, Thierer T, Ashton B, Mentjies P, Drummond A (2012) Geneious basic: an integrated and extendable desktop software platform for the organization and analysis of sequence data. Bioinformatics 28:1647–1649

Kelley D, Rinn J (2012) Transposable elements reveal a stem cell-specific class of long noncoding RNAs. Gen Biol 13:R107

Kertesz M, Iovino N, Unnerstall U, Gaul U, Segal E (2007) The role of accessibility in microRNA target recognition. Nature Genet 39:1278–1284

Kocher TD (2004) Adaptive evolution and explosive speciation: the cichlid fish model. Nat Rev Genet 5:288–98

Kuroiwa A, Terai Y, Kobayashi N, Yoshida K, Suzuki M, Nakanishi A, Matsuda Y, Watanabe M, Okada N (2014) Construction of chromosome markers from the Lake Victoria cichlid Paralabidochromis chilotes and their application to comparative mapping. Cytogenet Genome Res 142:112–120

Langmead B, Salzberg S (2012) Fast gapped-read alignment with Bowtie 2. Nat Methods 9:357–359

Laurent GS, Wahlestedt C, Kapranov P (2015) The landscape of long noncoding RNA classification. Trends in Genet 31:239–251

Leach CR, Houben A, Field B, Pistrick K, Demidov D, Timmis JN (2005) Molecular evidence for transcription of genes on a B chromosome in Crepis capillaries. Genetics 171:269–278

Leucci E, Patella F, Waage J, Holmstrøm K, Lindow M, Porse B (2013) microRNA-9 targets the long non-coding RNA MALAT1 for degradation in the nucleus. Sci Rep 3:2535

Lin HZ, Lin WD, Lin CY, Peng SF, Cheng YM (2014) Characterization of maize B-chromosome-related transcripts isolated via cDNA-AFLP. Chromosoma 123:597–607

Lorenz R, Bernhart SH, Siederdissen C, Tafer H, Flamm C, Stadler PF, Hofacker IL (2011) ViennaRNA package 2.0. Algorithm Mol Biol 6:26

Martins-Santos IC, Portela-Castro ALB, Julio HF Jr (1995) Chromosome analysis of 5 species of the Cichlidae family (Pisces, Perciformes) from the Paraná River. Cytologia 60:223–231

Martis MM, Klemme S, Banaei-Moghaddam AM, Blattner FR, Macas J, Schmutzer T, Scholz U, Gundlach H, Wicker T, Šimková H et al (2012) Selfish supernumerary chromosome reveals its origin as a mosaic of host genome and organellar sequences. Proc Natl Acad Sci U S A 109:13343–13346

Mattick JS, Makunin V (2006) Non-coding RNA. Hum Mol Genet 15:R17–R29

McHugh CA, Chen CK, Chow A, Surka CF, Tran C, McDonel P, Pandya-Jones A, Blanco M, Burghard C, Moradian A, Sweredoski MJ, Shishkin AA, Su J, Lander ES, Hess S, Plath K, Guttman M (2015) The Xist lncRNA interacts directly with SHARP to silence transcription through HDAC3. Nature 521:232–236

Miao VP, Covert SF, VanEtten HD (1991) A fungal gene for antibiotic resistance on a dispensable ("B") Chromosome. Science 254:1773–1776

Muller PY, Janovjak H, Miserez AR, Dobbie Z (2002) Processing of gene expression data generated by quantitative real-time RT-PCR. BioTechniques 32:1372–1379

Nawrocki EP, Burge SW, Bateman A, Daub J, Eberhardt RY, Eddy SR, Floden EW, Gardner PP, Jones TA, Tate J, Finn RD (2014) Rfam 12.0: updates to the RNA families database. Nucleic Acids Res 43:D130–D137

Neo DM, Moreira-Filho O, Camacho JMP (2000) Altitudinal variation for B chromosome frequency in the characid fish Astyanax scabripinnis. Heredity 85:136–141

Nokkala S, Grozeva S, Kuznetsova V, Maryañska-Nadachowska A (2003) The origin of the achiasmatic XY sex chromosome system in Cacopsylla peregrina (Frst.) (Psylloidea, Homoptera). Genetica 119:327–32

Palestis BG, Trivers R, Burt A, Jones RN (2004) The distribution of B chromosomes across species. Cytogenet Genome Res 106:151–158

Pang KC, Frith MC, Mattick JS (2006) Rapid evolution of noncoding RNAs: lack of conservation does not mean lack of function. Trends in Genet 22:1–5

Pang KC, Dinger ME, Mercer TR, Malquori L, Grimmond SM, Chen W, Mattick JS (2009) Genome-wide identification of long noncoding RNAs in CD8+ T cells. J Immunol 182:7738–7748

Pickard MR, Williams GT (2014) Regulation of apoptosis by long non-coding RNA GAS5 in breast cancer cells: implications for chemotherapy. Breast Cancer Res Tr 145:359–370

Pinkel D, Straume T, Gray JW (1986) Cytogenetic analysis using quantitative, high-sensitivity, fluorescence hybridization. Proc Natl Acad Sci U S A 83:2934–2938

Poletto AB, Ferreira IA, Martins C (2010a) The B chromosomes of the African cichlid fish Haplochromis obliquidens harbour 18S rRNA gene copies. BMC Genet 11:1

Poletto AB, Ferreira IA, Cabral-de-Mello DC, Nakajima RT, Mazzuchelli J, Ribeiro HB, Venere PC, Nirchio M, Kocher TD, Martins C (2010b) Chromosome differentiation patterns during cichlid fish evolution. BMC Genet 11:50

Quek XC, Thomson DW, Maag JL, Bartonicek N, Signal B, Clark MB, Gloss BS, Dinger ME (2014) lncRNAdb v2.0: expanding the reference database for functional long noncoding RNAs. Nucleic Acids Res 43:D168–D173

Rajicic M, Adnadevic T, Stamenkovic G, Blagojevic J, Vujosevic M (2015) Screening of B chromosomes for presence of two genes in yellow-necked mice, Apodemus flavicollis (Mammalia, Rodentia). Genetika 47:311–321

Ruiz-Estévez M, López-León MD, Cabrero J, Camacho JPM (2012) B chromosome ribosomal DNA is functional in the Grasshopper Eyprepocnemis plorans. PLoS One 7, e36600

Sambrook J, Russel DW (2001) Molecular cloning. A laboratory manual (3rd ed) Cold Spring, New York

Sandelin A, Bailey P, Bruce S, Engström PG, Klos JM, Wasserman WW, Ericson J, Lenhard B (2004) Arrays of ultraconserved non-coding regions span the loci of key developmental genes in vertebrate genomes. BMC Genomics 5:99

Simon P (2003) Q-gene: processing quantitative real-time RT-PCR data. Bioinformatics 19:1439–1440

Skelton P (2001) A complete guide to the freshwater fishes of Southern Africa (2th) New Holland publishing, South Africa

Smit AFA, Hubley R, Green P (2013–2015) RepeatMasker Open-4.0. <http://www.repeatmasker.org>

Solovyev V, Kosarev P, Seledsov I, Vorobyev D (2006) Automatic annotation of eukaryotic genes, pseudogenes and promoters. Genome Biol 7:S10

Standaert L, Adriaens C, Radaelli E, Keymeulen AV, Blanpain C, Hirose T, Nakagawa S, Marine J-C (2014) The long noncoding RNA Neat1is required for mammary gland development and lactation. RNA 20:1844–1849

The UniProt Consortium (2015) UniProt: a hub for protein information. Nucleic Acids Res 43:D204–D212

Tian E, Borset M, Sawyer JR, Brede G, Vatsveen TK, Hov H, Waage A, Barlogie B, Shaughnessy JD Jr, Epstein J, Sundan A (2015) Allelic mutations in noncoding genomic sequences construct novel transcription factor binding sites that promote gene overexpression. Genes Chromosomes Cancer 54:692–701

Treangen TJ, Salzberg SL (2011) Repetitive DNA and next-generation sequencing: computational challenges and solutions. Nat Rev Genet 13:36–46

Trifonov VA, Dementyeva PV, Larkin DM, O'Brien PC, Perelman PL, Yang F, Ferguson-Smith MA, Graphodatsky AS (2013) Transcription of a protein-coding gene on B chromosomes of the Siberian roe deer (Capreolus pygargus). BMC Biol 6:90

Ulitsky I, Shkumatava A, Jan CH, Sive H, Bartel DP (2011) Conserved function of lincRNAs in vertebrate embryonic development despite rapid sequence evolution. Cell 147:1537–1550

Valente GT, Conte MA, Fantinatti BEA, Cabral-de-Mello DC, Carvalho RF, Vicari MR, Kocher TD, Martins C (2014) Origin and evolution of B chromosomes in the cichlid fish Astatotilapia latifasciata based on integrated genomic analyses. Mol Biol Evol 31:2061–2072

Vicente VE, Moreira-Filho O, Camacho JPM (1996) Sex-ratio distortion associated with the presence of a B chromosome in Astyanax scabripinnis (Teleostei Characidae). Cytogenet Cell Genet 74:70–75

Wang KC, Chang HY (2011) Molecular mechanisms of long noncoding RNAs. Mol Cell 43:904–914

White MJD (1973) Animal cytology and evolution. Cambridge University Press, London

Wilusz JE, Sunwoo H, Spector DL (2009) Long noncoding RNAs: functional surprises from the RNA world. Genes Dev 23:1494–1504

Yao H, Ma R, Yang L, Hu G, Chen X, Duan M, Kook Y, Niu F, Liao K, Fu M, Hu G, Kolattukudy P, Buch S (2014) MIR-9 promotes microglial activation by targeting MCPIP1. Nat Commun 5:4386

Yoon J-H, Abdelmohsen K, Gorospe M (2014) Functional interactions among microRNAs and long noncoding RNAs. Semin Cell Dev Biol 34:9–14

Yoshida K, Terai Y, Mizoiri S, Aibara M, Nishihara H, Watanabe M, Kuroiwa A, Hirai H, Hirai Y, Matsuda Y et al (2011) B chromosomes have a functional effect on female sex determination in Lake Victoria cichlid fishes. PLoS Genet 7, e1002203

Zhou Q, Zhu H, Huang Q, Li Z, Zhang G, Roy SW, Vicoso B, Xuan Z, Ruan J, Zhang Y, Zhao R, Ye C, Zhang X, Wang J, Wang W, Bachtrog D (2012) Deciphering neo-sex and B chromosome evolution by the draft genome of Drosophila albomicans. BMC Genomics 13:109
Acknowledgments
This work was supported by grants from São Paulo Research Foundation (13/04533-3, 10/17212-2, 12/20959-8, 13/01688-6), National Council for Scientific and Technological Development (474684/2013-0, 301728/2011-9), and São Paulo State University (0045/021/13-PROPe/CDC).
Ethics declarations
All procedures performed in studies involving animals were in accordance with the ethical standards of the institution or practice at which the studies were conducted.
This article does not contain any studies with human participants performed by any of the authors.
Conflict of interest
The authors declare that they have no conflict of interest.
Electronic supplementary material
Below is the link to the electronic supplementary material.
About this article
Cite this article
Ramos, É., Cardoso, A.L., Brown, J. et al. The repetitive DNA element BncDNA, enriched in the B chromosome of the cichlid fish Astatotilapia latifasciata, transcribes a potentially noncoding RNA. Chromosoma 126, 313–323 (2017). https://doi.org/10.1007/s00412-016-0601-x
Received:

Revised:

Accepted:

Published:

Issue Date:
Keywords
Cytogenomics

Repetitive element

Evolution

Supernumerary chromosome