Abstract
Anoles are a clade of iguanian lizards that underwent an extensive radiation between 125 and 65 million years ago. Their karyotypes show wide variation in diploid number spanning from 26 (Anolis evermanni) to 44 (A. insolitus). This chromosomal variation involves their sex chromosomes, ranging from simple systems (XX/XY), with heterochromosomes represented by either micro- or macrochromosomes, to multiple systems (X1X1X2X2/X1X2Y). Here, for the first time, the homology relationships of sex chromosomes have been investigated in nine anole lizards at the whole chromosome level. Cross-species chromosome painting using sex chromosome paints from A. carolinensis, Ctenonotus pogus and Norops sagrei and gene mapping of X-linked genes demonstrated that the anole ancestral sex chromosome system constituted by microchromosomes is retained in all the species with the ancestral karyotype (2n = 36, 12 macro- and 24 microchromosomes). On the contrary, species with a derived karyotype, namely those belonging to genera Ctenonotus and Norops, show a series of rearrangements (fusions/fissions) involving autosomes/microchromosomes that led to the formation of their current sex chromosome systems. These results demonstrate that different autosomes were involved in translocations with sex chromosomes in closely related lineages of anole lizards and that several sequential microautosome/sex chromosome fusions lead to a remarkable increase in size of Norops sagrei sex chromosomes.
Access options
Buy single article
Instant access to the full article PDF.
US$ 39.95
Tax calculation will be finalised during checkout.
Subscribe to journal
Immediate online access to all issues from 2019. Subscription will auto renew annually.
US$ 119
Tax calculation will be finalised during checkout.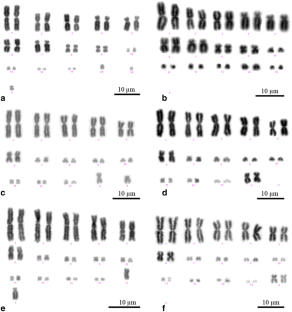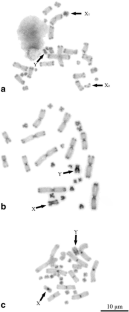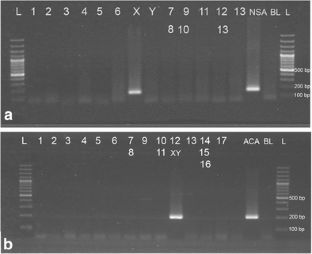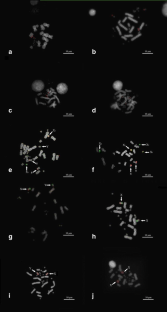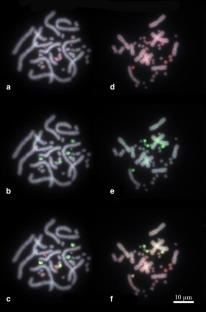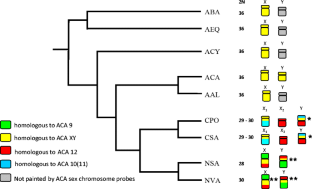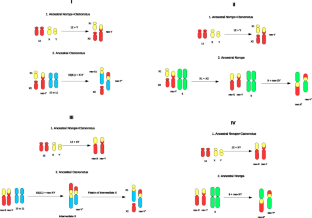 References
Alföldi J, Di Palma F, Grabherr M et al (2011) The genome of the green anole lizard and a comparative analysis with birds and mammals. Nature 477:587–591. doi:10.1038/nature10390

Altschul SF, Gish W, Miller W, Myers EW, Lipman DJ (1990) Basic local alignment search tool. J Mol Biol 215:403–410

Bachtrog D, Kirkpatrick M, Mank JE et al (2011) Are all sex chromosomes created equal? Trends Genet 27:350–357

Brandley MC, Wynn A, de Queiroz K (2006) Karyotype and relationships of Anolis desechensis. J Herpetol 40:136–139

Castiglia R, Annesi F, Bezerra AMR, García A, Flores-Villela O (2010) Cytotaxonomy and DNA taxonomy of lizards (Squamata, Sauria) from a tropical dry forest in the Chamela-Cuixmala Biosphere Reserve on the coast of Jalisco, Mexico. Zootaxa 2508:1–29

Castiglia R, Flores-Villela O, Ramos Bezerra AM, Muñoz A, Gornung E (2013) Pattern of chromosomal changes in 'beta' Anolis (Norops group) (Squamata: Polychrotidae) depicted by an ancestral state analysis. Zool Stud 52:60

De Smet WHO (1981) Description of the orcein stained karyotypes of 27 lizard species (Lacertilia Reptilia) belonging to the families Iguanidae, Agamidae, Chameleontidae and Gekkonidae (Ascalabota). Acta Zool Pathol Antverp 76:35–72

Ezaz T, Sarre SD, O'Meally D, Graves JAM (2009a) Sex chromosome evolution in lizards: independent origins and rapid transitions. Cytogenet Genome Res 127:249–260. doi:10.1159/000300507

Ezaz T, Moritz B, Waters P, Graves JAM, Georges A, Sarre SD (2009b) The ZW sex microchromosomes of an Australian dragon lizard share no homology with those of other reptiles or birds. Chromosome Res 17:965–973. doi:10.1007/s10577-009-9102-6

Ezaz T, Quinn AE, Sarre SD, O'Meally D, Georges A, Graves JAM (2009c) Molecular marker suggests rapid changes of sex-determining mechanisms in Australian dragon lizards. Chromosome Res 17:91–98. doi:10.1007/s10577-008-9019-5

Gamble T, Geneva AJ, Glor RE, Zarkover D (2014) Anolis sex chromosomes are derived from a single ancestral pair. Evolution 68(4):1027–1041. doi:10.1111/evo.12328

Gorman GC (1973) The chromosomes of the reptilian: a cytotaxonomic interpretation. In: Chiarelli B, Capanna E (eds) Cytotaxonomy and vertebrate evolution. Academic, London, pp 349–424

Gorman GC, Atkins L (1969) The zoogeography of Lesser Antillean Anolis lizards—an analysis based upon chromosomes and lactic dehydrogenases. Bull Mus Comp Zool 138:53–80

Graves JAM (2008) Weird animal genomes and evolution of vertebrate sex and sex chromosomes. Annu Rev Genet 42:565–586. doi:10.1146/annurev.genet.42.110807.091714

Kawagoshi T, Uno Y, Matsubara K, Matsuda Y, Nishida C (2009) The ZW micro-sex chromosomes of the Chinese soft-shelled turtle (Pelodiscus sinensis, Trionychidae, Testudines) have the same origin as chicken chromosome 15. Cytogenet Genome Res 125:125–131. doi:10.1159/000227837

Kawai A, Ishijima J, Nishida C, Kosaka A, Ota H, Kohno S, Matsuda Y (2009) The ZW sex chromosomes of Gekko hokouensis (Gekkonidae, Squamata) represent highly conserved homology with those of avian species. Chromosoma 118:43–51. doi:10.1007/s00412-008-0176-2

Losos JB (2009) Lizards in an evolutionary tree: ecology and adaptive radiation of anoles. University of California Press, Berkeley

Matsubara K, Tarui H, Toriba M, Yamada K, Nishida-Umehara C, Agata K, Matsuda Y (2006) Evidence for different origin of sex chromosomes in snakes, birds, and mammals and step-wise differentiation of snake sex chromosomes. Proc Natl Acad Sci U S A 103:18190–18195. doi:10.1073/pnas.0605274103

Muller HJ (1914) A gene for the fourth chromosome of Drosophila. J Exp Zool 17:325–336

Nicholson KE, Crother BI, Guyer C, Savage JM (2012) It is time for a new classification of anoles (Squamata: Dactyloidae). Zootaxa 3477:1–108

Ohno S (1967) Sex chromosomes and sex-linked genes. Springer Verlag, Berlin, Germany

Olmo E, Signorino G (2005) Chromorep: a reptile chromosomes database., http://chromorep.univpm.it/. Accessed 28 August 2015

Pala I, Naurin S, Stervander M et al (2011) Evidence of a neo-sex chromosome in birds. Heredity 108:264–272. doi:10.1038/hdy.2011.70

Poe S (2013) 1986 Redux: new genera of anoles (Squamata: Dactyloidae) are unwarranted. Zootaxa 3626:295–299. doi:10.11646/zootaxa.3626.2.7

Pokorná M, Giovannotti M, Kratochvíl L, Kasai F, Trifonov VA, O'Brien PCM, Caputo V, Olmo E, Ferguson-Smith MA, Rens W (2011) Strong conservation of the bird Z chromosome in reptilian genomes is revealed by comparative painting despite 275 million years divergence. Chromosoma 120:455–468. doi:10.1007/s00412-011-0322-0

Rens W, O'Brien PCM, Yang F, Graves JAM, Ferguson-Smith MA (1999) Karyotype relationships between four distantly related marsupials revealed by reciprocal chromosome painting. Chromosome Res 7:461–474

Rens W, Fu B, O'Brien PCM, Ferguson-Smith MA (2006) Cross-species chromosome painting. Nat Protoc 1:783–790. doi:10.1038/nprot.2006.91

Rovatsos M, Altmanová M, Pokorná M, Kratochvíl L (2014a) Conserved sex chromosomes across adaptively radiated Anolis lizards. Evolution 68(7):2079–2085. doi:10.1111/evo.12357

Rovatsos M, Pokorná M, Altmanová M, Kratochvíl L (2014b) Cretaceous park of sex determination: sex chromosomes are conserved across iguanas. Biol Lett 10(3):20131093. doi:10.1098/rsbl.2013.1093

Shetty S, Griffin DK, Graves JAM (1999) Comparative painting reveals strong chromosome homology over 80 million years of bird evolution. Chromosome Res 7:289–295

Sumner AT (1972) A simple technique for demonstrating centromeric heterochromatin. Expl Cell Res 75:304–306

Telenius H, Pelmear AH, Tunnacliffe A, Carter NP, Behmel A, Ferguson-Smith MA, Nordenrkjöld M, Pfragner R, Ponder BAJ (1992) Cytogenetic analysis by chromosome painting using DOP-PCR amplified flow-sorted chromosomes. Genes Chromosomes Cancer 4:257–263

Townsend TM, Mulcahy DG, Noonan BP, Sites JW Jr, Kuczynski CA, Wiens JJ, Reeder TW (2011) Phylogeny of iguanian lizards inferred from 29 nuclear loci, and a comparison of concatenated and species-tree approaches for an ancient, rapid radiation. Mol Phylogenet Evol 61:363–380. doi:10.1016/j.ympev.2011.07.008

Vicoso B, Kaiser VB, Bachtrog D (2013) Sex-biased gene expression at homomorphic sex chromosomes in emus and its implication for sex chromosome evolution. Proc Natl Acad Sci U S A 110(16):6453–6458. doi:10.1073/pnas.1217027110

Webster TP, Williams EE, Hall WP (1972) Fission in the evolution of a lizard karyotype. Science 177:611–613

Yang F, Carter NP, Shi L, Ferguson-Smith MA (1995) A comparative study of karyotypes of muntjacs by chromosome painting. Chromosoma 103:642–652
Acknowledgments
This research was supported by: funds provided by the Ministry of Education, University and Research (Italy) ("Ricerche di citogenetica molecolare sui sistemi di determinazione del sesso nei rettili squamati, sottordine Sauria", grant number: PRIN2009/20093HYH97) to Vincenzo Caputo Barucchi, by Budget Projects 0310-2014-0003, 0310-2014-0008, 0310-2014-0009 provided to Vladimir A. Trifonov.
Ethics declarations
It was not necessary to get an approval of the institutional animal care and use committee (IACUC) or any relevant ethics body since this study on animal tissues complies with article 2e of D.L. 26/2014 of the Italian Government derived from Directive 2010/63/EU of the European Parliament and of the Council (article 1, paragraph 5e) on the protection of animals used for scientific purposes.
Conflict of interest
The authors declare that they have no conflict of interest.
Informed consent
Informed consent was obtained from all individual participants included in the study.
About this article
Cite this article
Giovannotti, M., Trifonov, V.A., Paoletti, A. et al. New insights into sex chromosome evolution in anole lizards (Reptilia, Dactyloidae). Chromosoma 126, 245–260 (2017). https://doi.org/10.1007/s00412-016-0585-6
Received:

Revised:

Accepted:

Published:

Issue Date:
Keywords
Anolis

Comparative mapping

Chromosome rearrangements

Ctenonotus
Norops

Sex chromosome homology