Abstract
Number, position and structure of the 5S and 18S-5.8S-26S ribosomal DNA (rDNA) loci are important species characteristics. In recent decades, we have witnessed accumulation of rDNA data, and there is a need to compile, store and analyse this information, and to make it accessible to a broader scientific community. An online resource, accessible at www.plantrdnadatabase.com, has been developed to accomplish these goals. Current knowledge regarding chromosomal rDNA sites is provided for more than 1,000 plant species (including more than 1,400 different accessions). The data comes from fluorescent in situ hybridisation experiments (FISH) from more than 300 publications. Additional information is also displayed, such as ploidy level, mutual arrangement of rRNA genes, genome size and life cycle. The webpage is intuitive and user-friendly, including different search options, and currently holds information published (or in press) up until January 2011; frequent updates are planned. We expect this database to be used for data-mining, analysing rDNAs from different angles, unit organisation, distribution, evolution and linkage of rDNA patterns with phylogenetic relationships.
Access options
Buy single article
Instant access to the full article PDF.
USD 39.95
Price excludes VAT (USA)
Tax calculation will be finalised during checkout.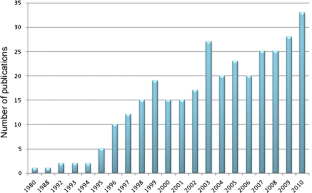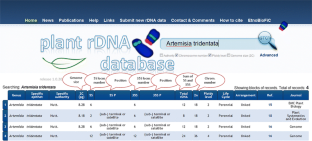 References
Baeza C, Schrader O (2005) Comparative karyotype analysis in Haplopappus Cass. and Grindelia Willd. (Asteraceae) by double FISH with rRNA specific genes. Plant Syst Evol 251:161–172

Bedini G, Garbari F, Peruzzi L (eds.) (2010 onwards) Chrobase.it—Chromosome numbers for the Italian flora. http://www.biologia.unipi.it/chrobase/

Bennett MD, Leitch IJ (2010) Plant DNA C-values database (release 5.0, Dec. 2010). Available online at: http://data.kew.org/cvalues/

Benson DA, Karsch-Mizrachi I, Lipman DJ, Ostell J, Sayers EW (2011) GenBank. Nucleic Acids Res 39:D32–D37

Garcia S, Garnatje T, Hidalgo O, McArthur ED, Siljak-Yakovlev S, Vallès J (2007) Extensive ribosomal DNA (18S-5.8S-26S and 5S) colocalization in the North American endemic sagebrushes (subgenus Tridentatae, Artemisia, Asteraceae) revealed by FISH. Plant Syst Evol 267:79–92

Garcia S, Lim KY, Chester M, Garnatje T, Pellicer J, Vallès J, Leitch AR, Kovařík A (2009a) Linkage of 35S and 5S rRNA genes in Artemisia (family Asteraceae): first evidence from angiosperms. Chromosoma 118:85–97

Garcia S, Garnatje T, McArthur ED, Pellicer J, Siljak-Yakovlev S, Vallès J (2009b) Ribosomal DNA, heterochromatin, and correlation with genome size in diploid and polyploid North American endemic sagebrushes (Artemisia, Asteraceae). Genome 52:1012–1024

Garcia S, Panero JL, Siroky J, Kovařík A (2010) Repeated reunions and splits feature the highly dynamic evolution of 5S and 35S ribosomal RNA genes (rDNA) in the Asteraceae family. BMC Plant Biol 10:176

Garnatje T, Canela MA, Garcia S, Hidalgo O, Pellicer J, Sánchez-Jimenez I, Siljak-Yakovlev S, Vitales D, Vallès J (2010) GSAD: a genome size database in the Asteraceae (release 1.0, July 2010). Available online at: http://www.asteraceaegenomesize.com/

Garnatje T, Canela MA, Garcia S, Hidalgo O, Pellicer J, Sánchez-Jimenez I, Siljak-Yakovlev S, Vitales D, Vallès J (2011) GSAD: a genome size database in the Asteraceae. Cytom A 79A:401–404

Goldblatt P, Lowry PP (2011) The Index to Plant Chromosome Numbers (IPCN): three decades of publication by the Missouri Botanical Garden come to an end. Ann Mo Bot Gard 98:226–227

Jara-Seguel P, Urrutia J (2010a) Base de datos citogenéticos de plantas chilenas. Chloris chilensis 13(2)

Jara-Seguel P, Urrutia J (2010b) Base de datos citogenéticos de plantas chilenas. Available online at: http://www.chileanpcd.com

Macas J, Mészáros T, Nouzová M (2002) PlantSat: a specialized database for plant satellite repeats. Bioinformatics 18:28–35

Neves N, Delgado M, Silva M, Caperta A, Morais-Cecilio L, Viegas W (2005) Ribosomal DNA heterochromatin in plants. Cytogenet Genome Res 109:104–111

Nieto Feliner G, Rosselló JA (2007) Better the devil you know? Guidelines for insightful utilization of nrDNA ITS in species-level evolutionary studies in plants. Mol Phylogenet Evol 44:911–919

Pires JC, Lim KY, Kovařík A, Matyásek R, Boyd A, Leitch AR, Leitch IJ, Bennett MD, Soltis PS, Soltis DE (2004) Molecular cytogenetic analysis of recently evolved Tragopogon (Asteraceae) allopolyploids reveal a karyotype that is additive of the diploid progenitors. Am J Bot 97:1022–1035

Preuss S, Pikaard CS (2007) rRNA gene silencing and nucleolar dominance: insights into a chromosome-scale epigenetic on/off switch. Biochim Biophys Acta 1769:383–392

Robledo G, Lavia GI, Seijo G (2009) Species relations among wild Arachis species with the A genome as revealed by FISH mapping of rDNA loci and heterochromatin detection. Theor Appl Genet 118:1295–1307

Stevens PF (2001 onwards). Angiosperm Phylogeny Website. Version 9, June 2008 (and updates since). Available online at: http://www.mobot.org/MOBOT/research/APweb/

The Angiosperm Phylogeny Group (2009) An update of the Angiosperm Phylogeny Group classification for the orders and families of flowering plants: APG III. Bot J Linn Soc 161:105–121

Volkov RA, Medina FJ, Zentgraf U, Hemleben V (2004) Molecular cell biology: organization and molecular evolution of rDNA, nucleolar dominance and nucleolus structure. In: Esser K, Lüttge U, Beyschlag W, Murata J (eds) Progress in Botany, vol 65. Springer, Berlin, pp 106–146

Volkov RA, Komarova NY, Hemleben V (2007) Ribosomal DNA in plant hybrids: inheritance, rearrangement, expression. Syst Biodivers 5:261–276

Xu YH, Yang F, Cheng YL, Ma L, Wang JB, Li LJ (2007) Comparative analysis of rDNA distribution in metaphase chromosomes of Cucurbitaceae species. Yi Chuan 29:614–620
Acknowledgments
The authors thank researchers that contributed and continue contributing to molecular cytogenetic knowledge in plants. The comments and suggestions on the manuscript of Professor Joan Vallès and Dr. Oriane Hidalgo (Universitat de Barcelona) have also been much appreciated. Similarly, authors thank Francisco Gálvez (@iguannaweb and @bioscripts) for implementing and designing the database within the internet environment. Librarians helping with the literature compilation, Karina Barros and Isidora Manso (Institut Botànic de Barcelona) and Hana Hudcová (Institute of Biophysics) are also thanked. This work has been supported by the Spanish and Catalan governments (projects CGL2010-22234-C02-01 and 02/BOS, and project 2009SGR00439, respectively) and the Czech Science Foundation (P501-10-0208; P501/12/G090). SG benefited from a Beatriu de Pinós postdoctoral contract with the support of the Comissionat per a Universitats i Recerca (CUR) del Departament d'Innovació, Universitats i Empresa de la Generalitat de Catalunya (Catalan government). The authors declare that they have no conflict of interest.
Additional information
Communicated by Ingo Schubert
About this article
Cite this article
Garcia, S., Garnatje, T. & Kovařík, A. Plant rDNA database: ribosomal DNA loci information goes online. Chromosoma 121, 389–394 (2012). https://doi.org/10.1007/s00412-012-0368-7
Received:

Revised:

Accepted:

Published:

Issue Date:

DOI: https://doi.org/10.1007/s00412-012-0368-7
Keywords
Ploidy Level

rDNA Locus

rDNA Site

Query Form

Angiosperm Phylogeny