Abstract
The chromosomal arrangement of different transgenic repeat arrays inserted at various chromosomal positions was tested by FISH in Arabidopsis 2C leaf and root nuclei. Large lacO (∼10 kb) but not tetO (4.8 kb) or small lacO (∼2 kb) arrays were, in general, more often spatially associated with heterochromatic chromocenters (CC) than flanking regions (that either overlap the array insert position or are between 5 and 163 kb apart from the insert site). Allelic and ectopic pairing frequencies of lacO arrays were significantly increased only in nuclei of lines with two large lacO arrays inserted at different positions on the same chromosome arm. Within the same lines, root nuclei showed a significantly lower increase of pairing frequencies at the insert position compared to leaf nuclei but still a higher frequency than in the wild-type situation. Thus, the frequencies of homologous pairing and association with heterochromatin of transgenic repeats may differ with the construct, the chromosomal insertion position, the cell type and with the number and repetitiveness of inserts. Strong CpG methylation is correlated with a high frequency of homologous pairing at large repeat array loci in somatic cells but has no impact on their association with CCs. These results show that single low-copy arrays apparently do not alter interphase chromatin architecture and are more suitable for chromatin tagging than multiple high copy arrays.
Access options
Buy single article
Instant access to the full article PDF.
USD 39.95
Price includes VAT (USA)
Tax calculation will be finalised during checkout.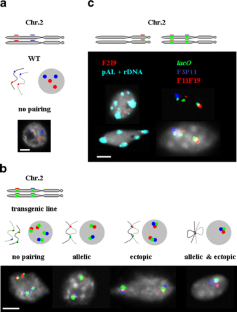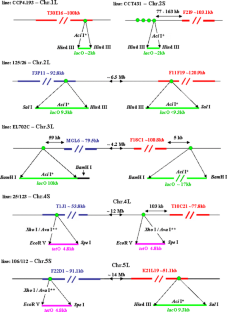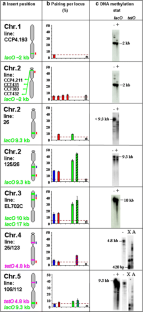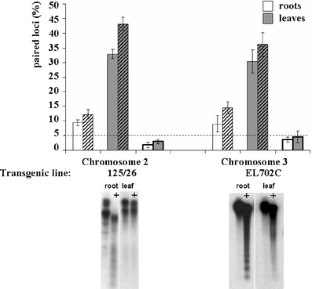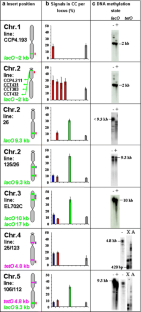 References
Bartova E, Kozubek S (2006) Nuclear architecture in the light of gene expression and cell differentiation studies. Biol Cell 98:323–336

Berr A, Pecinka A, Meister A, Kreth G, Fuchs J, Blattner FR, Lysak MA, Schubert I (2006) Chromosome arrangement and nuclear architecture but not centromeric sequences are conserved between Arabidopsis thaliana and Arabidopsis lyrata. Plant J 48:771–783

Cremer T, Cremer C (2006) Rise, fall and resurrection of chromosome territories: a historical perspective Part II. Fall and resurrection of chromosome territories during the 1950s to 1980s. Part III. Chromosome territories and the functional nuclear architecture: experiments and models from the 1990s to the present. Eur J Histochem 50:223–272

Espada J, Esteller M (2007) Epigenetic control of nuclear architecture. Cell Mol Life Sci 64:449–457

Fransz P, de Jong JH, Lysak M, Ruffini Castiglione M, Schubert I (2002) Interphase chromosomes in Arabidopsis are organized as well defined chromocenters from which euchromatin loops emanate. Proc Natl Acad Sci U S A 99:14584–14589

Fuchs J, Lorenz A, Loidl J (2002) Chromosome associations in budding yeast caused by integrated tandemly repeated transgenes. J Cell Sci 115:1213–1220

Jasencakova Z, Meister A, Walter J, Turner BM, Schubert I (2000) Histone H4 acetylation of euchromatin and heterochromatin is cell cycle dependent and correlated with replication rather than with transcription. Plant Cell 12:2087–2100

Kato N, Lam E (2001) Detection of chromosomes tagged with green fluorescent protein in live Arabidopsis thaliana plants. Genome Biol 2:research0045.1–0045.10

Kato N, Lam E (2003) Chromatin of endoreduplicated pavement cells has greater range of movement than that of diploid guard cells in Arabidopsis thaliana. J Cell Sci 116:2195–2201

Kruhlak MJ, Celeste A, Dellaire G, Fernandez-Capetillo O, Müller WG, McNally JG, Bazett-Jones DP, Nussenzweig A (2006) Changes in chromatin structure and mobility in living cells at sites of DNA double-strand breaks. J Cell Biol 172:823–834

Lam E (2005) Chromatin charting: organization and dynamics of plant Nuclear DNA in situ. http://charting.cshl.org/ and http://aesop.rutgers.edu/~lamlab/pccharting.html. Last updated August, 2005

Lam E, Kato N, Watanabe K (2004) Visualizing chromosome structure/organization. Annu Rev Plant Biol 55:537–554

Martinez-Zapater JM, Estelle A, Somerville R (1986) A highly repeated DNA sequence in Arabidopsis thaliana. Mol Gen Genet 204:417–423

Matzke AJM, van der Winden J, Matzke M (2003) Tetracycline operator/repressor system to visualize fluorescence-tagged T-DNAs in interphase nuclei of Arabidopsis. Plant Mol Biol Rep 21:9–19

Matzke AJM, Huettel B, van der Winden J, Matzke M (2005) Use of two-color fluorescence-tagged transgenes to study interphase chromosomes in living plants. Plant Physiol 139:1586–1596

Matzke AJM, Huettel B, van der Winden J, Matzke MA (2008) Fluorescent transgenes to study interphase chromosomes in living plants. Methods Mol Biol (in press)

Mittelsten Scheid O, Paszkowski J, Potrykus I (1991) Reversible inactivation of a transgene in Arabidopsis thaliana. Mol Gen Genet 228:104–112

Mittelsten Scheid O, Afsar K, Paszkowski J (1998) Release of epigenetic gene silencing by trans-acting mutations in Arabidopsis. Proc Natl Acad Sci U S A 95:632–637

Pecinka A, Schubert V, Meister A, Kreth G, Klatte M, Lysak MA, Fuchs J, Schubert I (2004) Chromosome territory arrangement and homologous pairing in nuclei of Arabidopsis thaliana are predominantly random except for NOR-bearing chromosomes. Chromosoma 113:258–269

Pecinka A, Kato N, Meister A, Probst AV, Schubert I, Lam E (2005) Tandem repetitive transgenes and fluorescent chromatin tags alter the local interphase chromosome arrangement in Arabidopsis thaliana. J Cell Sci 118:3751–3758

Probst AV, Fransz PF, Paszkowski J, Mittelsten Scheid O (2003) Two means of transcriptional reactivation within heterochromatin. Plant J 33:743–749

Schubert V, Klatte M, Pecinka A, Meister A, Jasencakova Z, Schubert I (2006) Sister chromatids are often incompletely aligned in meristematic and endopolyploid interphase nuclei of Arabidopsis thaliana. Genetics 172:467–475

Taddei A, Hediger F, Neumann FR, Gasser SM (2004) The function of nuclear architecture: a genetic approach. Ann Rev Genet 38:305–345

Tessadori F, van Driel R, Fransz P (2004) Cytogenetics as a tool to study gene regulation. Trends Plant Sci 9:147–153

Thomann D, Rines DR, Sorger PK, Danuser G (2002) Automatic fluorescent tag detection in 3D with super-resolution: application to the analysis of chromosome movement. J Microscopy 208:49–64

Watanabe K, Pecinka A, Meister A, Schubert I, Lam E (2005) DNA hypomethylation reduces homologous pairing of inserted tandem repeat arrays in somatic nuclei of Arabidopsis thaliana. Plant J 44:531–540
Acknowledgements
We thank Antonius J.M. Matzke, GMI Vienna, for providing us transgenic lines with lacO and tetO arrays before the publication and for helpful discussions, Martina Kühne for technical assistance, Rigomar Rieger and Jörg Fuchs for critical reading of the manuscript, and two anonymous reviewers for helpful remarks. This work was supported by a grant of the Land Sachsen-Anhalt.
About this article
Cite this article
Jovtchev, G., Watanabe, K., Pecinka, A. et al. Size and number of tandem repeat arrays can determine somatic homologous pairing of transgene loci mediated by epigenetic modifications in Arabidopsis thaliana nuclei. Chromosoma 117, 267–276 (2008). https://doi.org/10.1007/s00412-007-0146-0
Received:

Revised:

Accepted:

Published:

Issue Date:
Keywords
Bacterial Artificial Chromosome

Bacterial Artificial Chromosome Clone

lacO

Homologous Pairing

Repeat Array