Abstract
Environmental contamination and ingestion of the radionuclide Cesium-137 (137Cs) is a large concern in fallout from a nuclear reactor accident or improvised nuclear device, and highlights the need to develop biological assays for low-dose rate, internal emitter radiation. To mimic low-dose rates attributable to fallout, we have developed a VAriable Dose-rate External 137Cs irradiatoR (VADER), which can provide arbitrarily varying and progressive low-dose rate irradiations in the range of 0.1–1.2 Gy/day, while circumventing the complexities of dealing with radioactively contaminated biomaterials. We investigated the kinetics of mouse peripheral leukocytes DNA damage response in vivo after variable, low-dose rate 137Cs exposure. C57BL/6 mice were placed in the VADER over 7 days with total accumulated dose up to 2.7 Gy. Peripheral blood response including the leukocyte depletion, apoptosis as well as its signal protein p53 and DNA repair biomarker γ-H2AX was measured. The results illustrated that blood leukocyte numbers had significantly dropped by day 7. P53 levels peaked at day 2 (total dose = 0.91 Gy) and then declined; whereas, γ-H2AX fluorescence intensity (MFI) and foci number generally increased with accumulated dose and peaked at day 5 (total dose = 2.08 Gy). ROC curve analysis for γ-H2AX provided a good discrimination of accumulated dose < 2 Gy and ≥ 2 Gy, highlighting the potential of γ-H2AX MFI as a biomarker for dosimetry in a protracted, environmental exposure scenario.
Access options
Buy single article
Instant access to the full article PDF.
USD 39.95
Price excludes VAT (USA)
Tax calculation will be finalised during checkout.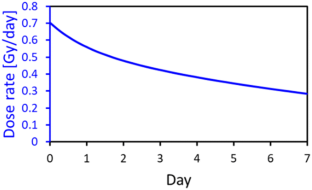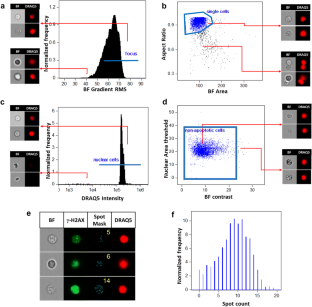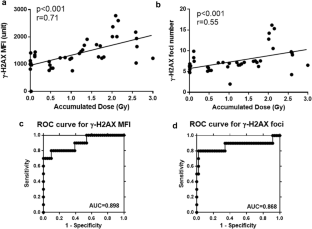 Availability of data and material
The data that support the findings of this study are available from the corresponding author upon reasonable request.
References
Buddemeier B, Dillon M (2009) Key response planning factors for the aftermath of nuclear terrorism. Lawrence Livermore National Lab, Livermore

Cao L et al (2014) A novel ATM/TP53/p21-mediated checkpoint only activated by chronic γ-irradiation. PLoS One 9:e104279

Eberlein U et al (2016) DNA damage in peripheral blood lymphocytes of thyroid cancer patients after radioiodine therapy. J Nucl Med 57:173–179

Eriksson D, Stigbrand T (2010) Radiation-induced cell death mechanisms. Tumour Biol 31:363–372

Fliedner TM, Graessle DH, Meineke V, Feinendegen LE (2012) Hemopoietic response to low dose-rates of ionizing radiation shows stem cell tolerance and adaptation. Dose-Response 10:12-014

Garty G, Xu Y, Elliston C, Marino SA, Randers-Pehrson G, Brenner DJ (2017) Mice and the A-bomb: irradiation systems for realistic exposure scenarios. Radiat Res 187:475–485

Garty G et al (2019a) VADER: a VAriable Dose-rate External 137Cs irradiatoR for internal emitter and low dose rate studies. arXiv:1905.04169

Garty G, Pujol-Canadell M, Brenner DJ (2019b) An injectable dosimeter for small animal irradiations. Phys Med Biol 64:18nt01. https://doi.org/10.1088/1361-6560/ab3bb9

Goudarzi M et al (2013) Development of urinary biomarkers for internal exposure by cesium-137 using a metabolomics approach in mice. Radiat Res 181:54–64

Gridley D, Pecaut M, Miller GM, Mouers M, Nelson G (2001) Dose and dose rate effects of whole body y-irradiation: II. Hematological variables and cytokines. In Vivo Attiki 15:209–216

Heller A (2015) Helping cities prepare for a disaster. Sci Technol Rev 3:4–13

Hu S, Blakely WF, Cucinotta FA (2015) HEMODOSE: a biodosimetry tool based on multi-type blood cell counts. Health Phys 109:54

Kajioka EH et al (2000) Acute effects of whole-body proton irradiation on the immune system of the mouse. Radiat Res 153:587–594

Lacombe J, Sima C, Amundson SA, Zenhausern F (2018) Candidate gene biodosimetry markers of exposure to external ionizing radiation in human blood: a systematic review. PLoS One 13:e0198851

Lassmann M, Hänscheid H, Gassen D, Biko J, Meineke V, Reiners C, Scherthan H (2010) In vivo formation of γ-H2AX and 53BP1 DNA repair foci in blood cells after radioiodine therapy of differentiated thyroid cancer. J Nucl Med 51:1318–1325

Lee Y, Wang Q, Shuryak I, Brenner DJ, Turner HC (2019) Development of a high-throughput gamma-H2AX assay based on imaging flow cytometry. Radiat Oncol (London, England) 14:150. https://doi.org/10.1186/s13014-019-1344-7

López-Vicente M, Onda Y, Takahashi J, Kato H, Chayama S, Hisadome K (2018) Radiocesium concentrations in soil and leaf after decontamination practices in a forest plantation highly polluted by the Fukushima accident. Environ Pollut 239:448–456

Moysich KB, Menezes RJ, Michalek AM (2002) Chernobyl-related ionising radiation exposure and cancer risk: an epidemiological review. Lancet Oncol 3:269–279

Nakamura AJ et al (2017) The causal relationship between DNA damage induction in bovine lymphocytes and the Fukushima Nuclear Power Plant Accident. Radiat Res 187:630–636

Paul S, Ghandhi SA, Weber W, Doyle-Eisele M, Melo D, Guilmette R, Amundson SA (2014) Gene expression response of mice after a single dose of 137CS as an internal emitter. Radiat Res 182:380–389

Prep E (2005) Generic procedures for medical response during a nuclear or radiological emergency

Redon CE, Nakamura AJ, Gouliaeva K, Rahman A, Blakely WF, Bonner WM (2010) The use of gamma-H2AX as a biodosimeter for total-body radiation exposure in non-human primates. PLoS One 5:e15544

Rodier F et al (2009) Persistent DNA damage signalling triggers senescence-associated inflammatory cytokine secretion. Nat Cell Biol 11:973

Rothkamm K, Horn S (2009) gamma-H2AX as protein biomarker for radiation exposure. Ann Ist Super Sanita 45:265–271

Rufini A, Tucci P, Celardo I, Melino G (2013) Senescence and aging: the critical roles of p53. Oncogene 32:5129

Simon SL, Bouville A, Beck HL (2004) The geographic distribution of radionuclide deposition across the continental US from atmospheric nuclear testing. J Environ Radioact 74:91–105

Solier S, Pommier Y (2014) The nuclear gamma-H2AX apoptotic ring: implications for cancers and autoimmune diseases. Cell Mol Life Sci 71:2289–2297. https://doi.org/10.1007/s00018-013-1555-2

Steinhausler F (2005) Chernobyl and Goiania lessons for responding to radiological terrorism. Health Phys 89:566–574

Sullivan JM, Prasanna PG, Grace MB, Wathen L, Wallace RL, Koerner JF, Coleman CN (2013) Assessment of biodosimetry methods for a mass-casualty radiological incident: medical response and management considerations. Health Phys 105:540–554

Turner HC et al (2014) The RABiT: high-throughput technology for assessing global DSB repair. Radiat Environ Biophys 53:265–272

Turner HC et al (2015a) gamma-H2AX kinetic profile in mouse lymphocytes exposed to the internal emitters Cesium-137 and Strontium-90. PLoS One 10:e0143815. https://doi.org/10.1371/journal.pone.0143815

Turner HC et al (2015b) Effect of dose rate on residual γ-H2AX levels and frequency of micronuclei in X-irradiated mouse lymphocytes. Radiat Res 183:315–324

Turner HC et al (2019) Effect of dose and dose rate on temporal γ-H2AX kinetics in mouse blood and spleen mononuclear cells in vivo following Cesium-137 administration. BMC Mol Cell Biol 20:13

Vorobjev IA, Barteneva NS (2016) Quantitative functional morphology by imaging flow cytometry. Methods Mol Biol 1389:3–11. https://doi.org/10.1007/978-1-4939-3302-0_1

Wang Q et al (2019) Automated triage radiation biodosimetry: integrating imaging flow cytometry with high-throughput robotics to perform the cytokinesis-block micronucleus assay. Radiat Res 191:342–351

Williams BB, Flood AB, Demidenko E, Swartz HM (2016) ROC analysis for evaluation of radiation biodosimetry technologies. Radiat Prot Dosim 172:145–151

Yasunari TJ, Stohl A, Hayano RS, Burkhart JF, Eckhardt S, Yasunari T (2011) Cesium-137 deposition and contamination of Japanese soils due to the Fukushima nuclear accident. Proc Natl Acad Sci 108:19530–19534
Acknowledgements
We thank Bezalel A. Bacon for sample measurement. We are also grateful to Matthew A. Rodrigues for valuable discussion of this work.
Funding
This work was supported by the Center for High-Throughput Minimally-Invasive Radiation Biodosimetry, National Institute of Allergy and Infectious Diseases (Grant number U19AI067773).
Ethics declarations
Conflict of interest
The authors declare that they have no competing interests.
Ethics approval
All applicable international, national, and/or institutional guidelines for the care and use of animals were followed. All procedures performed in studies involving animals were in accordance with the ethical standards Columbia University Institutional Animal Care and Use Committee (IACUC, #AC-AAAQ2410).
Consent for publication
Not applicable.
Additional information
Publisher's Note
Springer Nature remains neutral with regard to jurisdictional claims in published maps and institutional affiliations.
About this article
Cite this article
Wang, Q., Pujol-Canadell, M., Taveras, M. et al. DNA damage response in peripheral mouse blood leukocytes in vivo after variable, low-dose rate exposure. Radiat Environ Biophys 59, 89–98 (2020). https://doi.org/10.1007/s00411-019-00825-x
Received:

Accepted:

Published:

Issue Date:

DOI: https://doi.org/10.1007/s00411-019-00825-x
Keywords
Biodosimetry

Cesium-137

Variable low-dose rate

Protein p53

γ-H2AX