Abstract
In this study, the ability of the C60 fullerene derivative DF-1 to protect radiosensitive cells from the effects of high doses of gamma irradiation was examined. Earlier reports of DF-1's lack of toxicity in these cells were confirmed, and DF-1 was also observed to protect both human lymphocytes and rat intestinal crypt cells against radiation-induced cell death. We determined that DF-1 protected both cell types against radiation-induced DNA damage, as measured by inhibition of micronucleus formation. DF-1 also reduced the levels of reactive oxygen species in the crypt cells, a unique capability of fullerenes because of their enhanced reactivity toward electron-rich species. The ability of DF-1 to protect against the cytotoxic effects of radiation was comparable to that of amifostine, another ROS-scavenging radioprotector. Interestingly, localization of fluorescently labeled DF-1 in fibroblast was observed throughout the cell. Taken together, these results suggest that DF-1 provides powerful protection against several deleterious cellular consequences of irradiation in mammalian systems including oxidative stress, DNA damage, and cell death.
This is a preview of subscription content,
to check access.
Access this article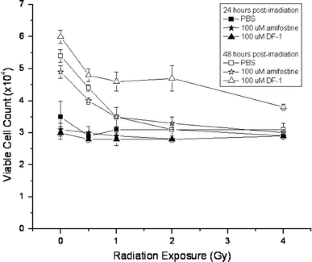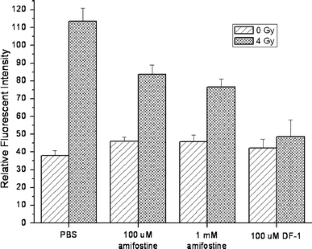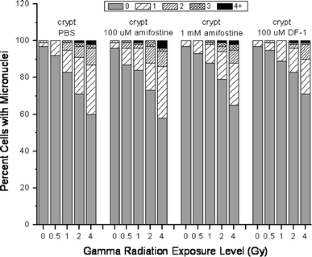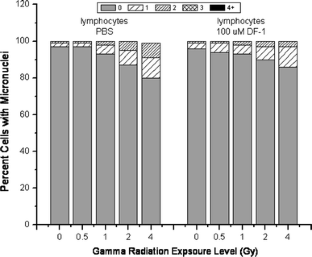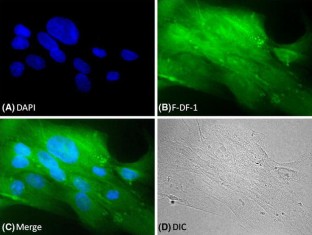 Similar content being viewed by others
Abbreviations
DCFH-DA:

2′,7′-Dichlorofluoroscein diacetate

DF-1:

Dendro[C60]fullerene-1

f-DF-1:

Fluorescently labeled df-1

FBS:

Fetal bovine serum

PHA:

Phytohemagglutinin

PBS:

Phosphate buffered saline

ROS:

Reactive oxygen species
References
Ali SS, Hardt JI, Quick KL, Kim-Han JS, Erlanger BF, Huang TT, Epstein CJ, Dugan LL (2004) A biologically effective fullerene (c60) derivative with superoxide dismutase mimetic properties. Free Radic Biol Med 37:1191–1202

Boccia R (2002) Improved tolerability of amifostine with rapid infusion and optimal patient preparation. Semin Oncol 29:9–13

Bogdanovic G, Kojic V, Dordevic A, Canadanovic-Brunet J, Vojinovic-Miloradov M, Baltic VV (2004) Modulating activity of fullerol c60(oh)22 on doxorubicin-induced cytotoxicity. Toxicol In Vitro 18:629–637

Brettreich M, Hirsch A (1998) A highly water-soluble dendro[60]fullerene. Tetrahedron Lett 39:2731–2734

Chen HH, Yu C, Ueng TH, Chen S, Chen BJ, Huang KJ, Chiang LY (1998) Acute and subacute toxicity study of water-soluble polyalkylsulfonated c60 in rats. Toxicol Pathol 26:143–151

Chen C, Xing G, Wang J, Zhao Y, Li B, Tang J, Jia G, Wang T, Sun J, Xing L, Yuan H, Gao Y, Meng H, Chen Z, Zhao F, Chai Z, Fang X (2005) Multihydroxylated [gd@c82(oh)22]n nanoparticles: antineoplastic activity of high efficiency and low toxicity. Nano Lett 5:2050–2057

Cornforth MN (2006) Perspectives on the formation of radiation-induced exchange aberrations. DNA Repair (Amst) 5:1182–1191

Corona-Morales AA, Castell A, Escobar A, Drucker-Colin R, Zhang L (2003) Fullerene c60 and ascorbic acid protect cultured chromaffin cells against levodopa toxicity. J Neurosci Res 71:121–126

Daroczi B, Kari G, McAleer MF, Wolf JC, Rodeck U, Dicker AP (2006) In vivo radioprotection by the fullerene nanoparticle df-1 as assessed in a zebrafish model. Clin Cancer Res 12:7086–7091

Gharbi N, Pressac M, Hadchouel M, Szwarc H, Wilson SR, Moussa F (2005) [60]fullerene is a powerful antioxidant in vivo with no acute or subacute toxicity. Nano Lett 5:2578–2585

Hall EJ (1994) Radiobioloy for the radiobiologist. Lippincott-Raven Publishers, Philadelphia

Hensley ML, Schuchter LM, Lindley C, Meropol NJ, Cohen GI, Broder G, Gradishar WJ, Green DM, Langdon RJ Jr, Mitchell RB, Negrin R, Szatrowski TP, Thigpen JT, Von Hoff D, Wasserman TH, Winer EP, Pfister DG (1999) American society of clinical oncology clinical practice guidelines for the use of chemotherapy and radiotherapy protectants. J Clin Oncol 17:3333–3355

Iyer R, Lehnert BE (2000) Effects of ionizing radiation in targeted and nontargeted cells. Arch Biochem Biophys 376:14–25

Kim TH, Lee YS, Cho CK, Park S, Choi SY, Yool SY (1996) Protective effect of ginseng on radiation-induced DNA double strand breaks and repair in murine lymphocytes. Cancer Biother Radiopharm 11:267–272

Klumpp C, Lacerda L, Chaloin O, Da Ros T, Kostarelos K, Prato M, Bianco A (2007) Multifunctionalised cationic fullerene adducts for gene transfer: design, synthesis and DNA complexation. Chem Commun (Camb) 36:3762–3764

Koc M, Taysi S, Emin Buyukokuroglu M, Bakan N (2003) The effect of melatonin against oxidative damage during total-body irradiation in rats. Radiat Res 160:251–255

Lai YL, Murugan P, Hwang KC (2003) Fullerene derivative attenuates ischemia-reperfusion-induced lung injury. Life Sci 72:1271–1278

Lee KS, Lee WS, Suh SI, Kim SP, Lee SR, Ryoo YW, Kim BC (2003) Melatonin reduces ultraviolet-b induced cell damages and polyamine levels in human skin fibroblasts in culture. Exp Mol Med 35:263–268

Lee TK, Allison RR, O'Brien KF, Khazanie PG, Johnke RM, Brown R, Bloch RM, Tate ML, Dobbs LJ, Kragel PJ (2004) Ginseng reduces the micronuclei yield in lymphocytes after irradiation. Mutat Res 557:75–84

Lindahl T, Wood RD (1999) Quality control by DNA repair. Science 286:1897–1905

Monti D, Moretti L, Salvioli S, Straface E, Malorni W, Pellicciari R, Schettini G, Bisaglia M, Pincelli C, Fumelli C, Bonafe M, Franceschi C (2000) C60 carboxyfullerene exerts a protective activity against oxidative stress-induced apoptosis in human peripheral blood mononuclear cells. Biochem Biophys Res Commun 277:711–717

Porter AE, Muller K, Skepper J, Midgley P, Welland M (2006) Uptake of c60 by human monocyte macrophages, its localization and implications for toxicity: studied by high resolution electron microscopy and electron tomography. Acta Biomater 2:409–419

Prasad KN (2005) Rationale for using multiple antioxidants in protecting humans against low doses of ionizing radiation. Br J Radiol 78:485–492

Rubin P, Casarett GW (1968) Clinical radiation pathology as applied to curative radiotherapy. Cancer 22:767–778

Sayes CM, Fortner JD, Guo W, Lyon D, Boyd AM, Ausman KD, Tao YJ, Sitharaman B, Wilson LJ, Hughes JB, West JL, Colvin VL (2004) The differential cytotoxicity of water-soluble fullerenes. Nano Lett 4:1881–1887

Sayes CM, Gobin AM, Ausman KD, Mendez J, West JL, Colvin VL (2005) Nano-c60 cytotoxicity is due to lipid peroxidation. Biomaterials 26:7587–7595

Slupphaug G, Kavli B, Krokan HE (2003) The interacting pathways for prevention and repair of oxidative DNA damage. Mutat Res 531:231–251

Song JY, Han SK, Bae KG, Lim DS, Son SJ, Jung IS, Yi SY, Yun YS (2003) Radioprotective effects of ginsan, an immunomodulator. Radiat Res 159:768–774

Swain DE, Mill AJ (2000) An 11 year follow-up of individual radiation responses as assessed by micronuclei induction in peripheral blood lymphocytes. J Radiol Prot 20:189–196

Trajkovic S, Dobric S, Jacevic V, Dragojevic-Simic V, Milovanovic Z, Dordevic A (2007) Tissue-protective effects of fullerenol c60(oh)24 and amifostine in irradiated rats. Colloids Surf B Biointerfaces 58:39–43

Wang IC, Tai LA, Lee DD, Kanakamma PP, Shen CK, Luh TY, Cheng CH, Hwang KC (1999) C(60) and water-soluble fullerene derivatives as antioxidants against radical-initiated lipid peroxidation. J Med Chem 42:4614–4620

Wang J, Chen C, Li B, Yu H, Zhao Y, Sun J, Li Y, Xing G, Yuan H, Tang J, Chen Z, Meng H, Gao Y, Ye C, Chai Z, Zhu C, Ma B, Fang X, Wan L (2006) Antioxidative function and biodistribution of [gd@c82(oh)22]n nanoparticles in tumor-bearing mice. Biochem Pharmacol 71:872–881

Ward JF (1994) The complexity of DNA damage: relevance to biological consequences. Int J Radiat Biol 66:427–432

Xiao L, Takada H, Maeda K, Haramoto M, Miwa N (2005) Antioxidant effects of water-soluble fullerene derivatives against ultraviolet ray or peroxylipid through their action of scavenging the reactive oxygen species in human skin keratinocytes. Biomed Pharmacother 59:351–358

Zhao X, Striolo A, Cummings PT (2005) C60 binds to and deforms nucleotides. Biophys J 89:3856–3862
Acknowledgments
We would like to thank Delia Danila (University of Texas Medical School at Houston) for her expertise in covalent labeling of nanoparticles, and Tego Biosciences for providing DF-1. This research was supported by the NASA Focused Investment Group program. The research conducted by C. Theriot was supported by an appointment to the NASA Postdoctoral Program at the Johnson Space Center, administered by Oak Ridge Associated Universities through a contract with NASA. Sources of Support for Research: NASA Technology Investment Fund EXCX22008D.
Additional information
This manuscript is based on a contribution given at the "Heavy Ions in Therapy and Space Symposium 2009," July 6–10, 2009, Cologne, Germany.
About this article
Cite this article
Theriot, C.A., Casey, R.C., Moore, V.C. et al. Dendro[C60]fullerene DF-1 provides radioprotection to radiosensitive mammalian cells. Radiat Environ Biophys 49, 437–445 (2010). https://doi.org/10.1007/s00411-010-0310-4
Received:

Accepted:

Published:

Issue Date:

DOI: https://doi.org/10.1007/s00411-010-0310-4
Keywords