Abstract
Cl-36 is an important component of nuclear waste. The concentrations of stable chlorine (Cl) in pig and cow tissues were measured to provide information which can be used to parameterize models of 36Cl transfer into agricultural animals. The concentration of stable Cl in cows' milk was 1.0 ± 0.2 g L−1, in cow muscle it was 0.7 ± 0.2 g kg−1 wet mass (wm) and in pig muscle 0.4 ± 0.1 g kg−1 wm. The concentration of stable Cl in cow and pig liver was 0.9 ± 0.3 g kg−1 wm, which was about two-fold higher than that in the kidney and lung. Due to homeostatic control, stable Cl concentrations in animal tissues are not related to the amount ingested daily in herbage at intake rates in the normal physiological range of up to 188 g day−1 for cows and up to 40 g day−1 for pigs. Therefore, the commonly used transfer coefficient is not suitable for use in quantifying the transfer of 36Cl to milk and meat. Since the metabolism of stable Cl and 36Cl in an animal's body is identical, the average equilibrium ratios of 36Cl to stable Cl in the daily ration (36Cl (g kg−1)/Cl (g kg−1)) and animal tissues will be the same. We therefore conclude that the average equilibrium Cl isotopic ratio in the dietary daily intake should be used to predict the contamination of meat and milk with 36Cl.
Access options
Buy single article
Instant access to the full article PDF.
US$ 39.95
Tax calculation will be finalised during checkout.
Subscribe to journal
Immediate online access to all issues from 2019. Subscription will auto renew annually.
US$ 119
Tax calculation will be finalised during checkout.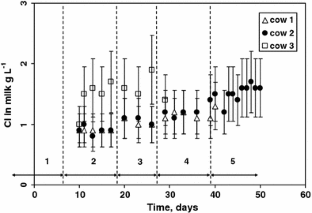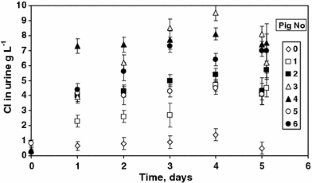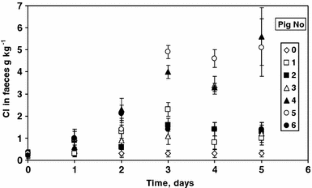 References
1.

Sheppard SC, Johnson LH, Goodwin BW, Tait JC, Wuschke DM, Davison CC (1996) Chlorine-36 in nuclear waste disposal—1. Assessment results for used fuel with comparison to 129I and 14C. Waste Manage 16:607–614

2.

Kashparov V, Colle C, Levchuk S, Yoschenko V, Svydynuk N (2007) Transfer of chlorine from the environment to agricultural foodstuffs. J Environ Radioact 94:1–15

3.

Sheppard SC, Sheppard MI, Tait JC, Sanipelli BL (2006) Review. Revision and meta-analysis of selected biosphere parameter values for chlorine, iodine, neptunium, radium, radon and uranium. J Environ Radioact 89:115–137

4.

Shaw G, Wadey P, Bell JN (2004) Radionuclide transport above a near-surface water table IV. Soil migration and crops uptake of clorine-36 and technetium-99, 1990 to 1993. J Environ Quality 33:2272–2280

5.

Ashworth DJ, Shaw G (2006) A comparison of the soil migration and plant uptake of radioactive chlorine and iodine from contaminated groundwater. J Environ Radioact 89:61–80

6.

Colle C, Mauger S, Massiani C, Kashparov V, Grasset G (2002) Behaviour of chlorine 36 in cultivated terrestrial ecosystems. Proceedings of the international congress ECORAD 2001, Aix-en-Provence (France), 3–7 September 2001. Radioprotection 37(C1):491–496

7.

Kashparov V, Colle C, Zvarich S, Yoschenko V, Levchuk S, Lundin S (2005) Studies of soil-to-plant transfer of halogens. 2. Root uptake of radiochlorine by plants. J Environ Radioact 79:233–253

8.

Kashparov V, Colle C, Levchuk S, Yoschenko V, Zvarich S (2007) Radiochlorine concentration ratios for agricultural plants in various soil conditions. J Environ Radioact 95:10–22

9.

Sheppard SC (2003) An index of radioecology, what has been important? J Environ Radioact 68:1

10.

Bioprota (2006) Report of an International Forum on Cl-36 in the Biosphere. http://www.bioprota.com/Cl-36%20Forum%20Report%20final%201%20Nov%2006.pdf. Cited 07 June 2007

11.

IUR (2006) Recommendations for improving predictions of the long-term environmental behaviour of 14C, 36Cl, 99Tc, 237Np and 238U. Findings of the IUR "Radioecology and Waste" Task Force. IUR Report 6

12.

Bishop GP, Beetham CJ, Cuff YS (1989) Review of literature for chlorine, technetium, iodine and neptunium. Nirex Radioactive Waste Disposal Safety Studies, NSS/R193. UK Nirex Ltd, Harwell

13.

Mikyushin VV (1984) Early post natal development of the water and salt balance of calves. Veterinariya 8:57–59 (In Russian)

14.

Burch GE, Threefoot SA, Ray C (1950) Rates of turnover and biologic decay of chloride and chloride space in the dog determined with the long-life isotope Cl36. J Lab Cli Med 35:331–347

15.

Su DH. Abdel-Rahman MS (1983) Kinetics study of chloride in rat. J Toxicol Environ Health 12:467–473

16.

Tucker WB Hogue JF (1990) Influence of sodium chloride or potassium chloride on systemic acid-base status, milk yield, and mineral metabolism in lactating dairy cows. J Dairy Sci 73:3485–3493

17.

Coughtrey PJ, Jackson D, Thorne MC (1983) Radionuclide distribution and transport in terrestrial and aquatic ecosystems. A critical review of data 3. A.A.Balkema, Rotterdam, pp 77–90

18.

Commonwealth Agricultural Bureaux (1980) The nutrient requirements of livestock. CAB International, Wallingford

19.

Food Standards Agency (2002) McCance and Widdowson's the composition of foods, 6th edn. Royal Society of Chemistry, Cambridge, 554 p

20.

Staven LN, Napier BA, Rhoads K, Strenge DL (2003) A compendium of transfer factors for agricultural and animal products. PNNL-13421, Pacific Northwest National Laboratory, Richland

21.

Ohno S, Itoh T, Morishima H, Honda Y (1989) Relationship among iodine, bromine and chlorine concentrations in cow's milk in Japan. Radioisotopes 38:279–281

22.

Lengemann FW, Aines PD, Smith SE (1952) The normal chloride concentration of blood plasma, milk, and urine of dairy cattle. Cornell Vet 42:28–35

23.

ICRU (2001) Quantities, Units and Terms in Radioecology. J ICRU 1(2):48

24.

Ng YC, Colsher CS, Quinn DJ, Thompson SE (1977) Transfer coefficients for the prediction of the dose to man via the forage-cow-milk pathway from radionuclides released to the biosphere. UCRL-51939, Lawrence Livermore National Laboratory, Livermore

25.

Howard BJ, Beresford NA, Mayes RW, Lamb CS, Barnett CL (2007) The transfer of different forms of 35S to goat milk. J Environ Radioact (in press)

26.

Standing Committee on tables of feed composition (1990) UK tables of nutritive value and chemical composition of feedingstuffs. Rowett Research Services Ltd, Aberdeen

27.

National Research Council (1998) Nutrient requirements of swine, 10th revised edition. National Academy press, Washington

28.

National Research Council (2001) Nutrient requirements of dairy cattle. 7th revised edition. National Academy press, Washington

29.

National Research Council (2005) Mineral tolerances of animals. 2nd revised edition. National Academy press, Washington

30.

Sanchez WK, Beede DK (1994) Interactions of sodium, potassium, and chloride on lactation, acid-base status, and mineral concentrations. J Dairy Sci 77:1661–1675

31.

Huber T, Rühm W, Kato K, Edbert SD, Kubo F, Lazarev V, Nolte E. (2005) The Hiroshima thermal-neutron discrepancy for 36Cl at large distances. Part I: New 36Cl measurements in granite samples exposed to A-bomb neutrons. Radiat Environ Biophys 44(2):75–86

32.

Nolte E, Huber T, Rühm W, Kato K, Lazarev V, Schultz L (2005) The Hiroshima thermal-neutron discrepancy for 36Cl at large distances. Part II: Natural in situ production as a source. Radiat Environ Biophys 44(2):87–96
Acknowledgment
This research was carried out within the framework of the MITRIC-UA Project (a contract between IRSN and UIAR titled "Studies on radionuclides transfer in agricultural ecosystem", 31001327). The authors express their gratitude to IRSN for supporting this work.
About this article
Cite this article
Levchuk, S., Kashparov, V., Lazarev, N. et al. Transfer of Cl from herbage into tissues and milk products of dairy cattle and pigs. Radiat Environ Biophys 47, 111–119 (2008). https://doi.org/10.1007/s00411-007-0137-9
Received:

Accepted:

Published:

Issue Date:
Keywords
Salt Intake

Transfer Factor

Accelerator Mass Spectrometry

Dietary Daily Intake

Agricultural Animal