Abstract
Corrosion and leaching of depleted uranium (DU) was investigated for 3 years using six DU munitions (145–264 g DU) each buried in a column with a soil core of about 3.3 kg dry soil mass. The columns were installed in an air-conditioned laboratory. Each week they were irrigated and 238U was determined in the effluents by inductively coupled plasma mass spectrometry. In addition, 235U was measured occasionally to assure that the 238U was predominantly from the DU munition. On average, 14.5 g corresponding to 7.9% of the initial DU mass was corroded after 3 years, indicating an increased corrosion as compared to the first year of observation. The leaching rates increased much stronger than the corrosion rates by factors of more than 100, resulting in a mean total amount of leached 238U of 13 mg as compared to 0.03 mg after the first year. Uranium species identified in the seepage water by time-resolved laser-induced fluorescence spectroscopy were mainly hydroxo and carbonate compounds, while those in the corroded material were phosphate compounds. It is concluded that the dramatic increase of the leaching and its large temporal variability do not allow any extrapolation for the future. However, the high 238U concentrations observed in the seepage water highlight the need for further investigations on the transport of 238U through soil, in particular with regard to the potential future 238U contamination of groundwater in areas affected by DU weapons.
This is a preview of subscription content,
to check access.
Access this article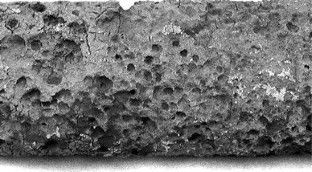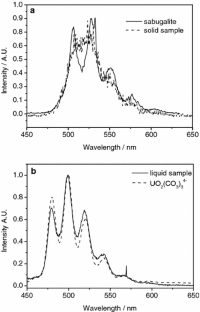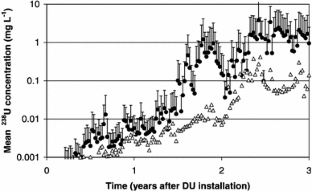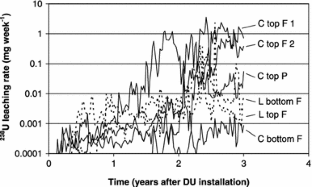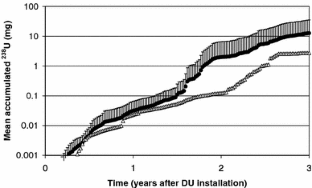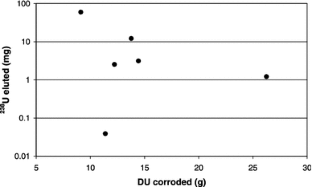 References
Royal Society (2001) The health hazards of depleted uranium munitions: Part I. Royal Society, London, 75 pp

Royal Society (2002) The health hazards of depleted uranium munitions: Part II. Royal Society, London, 134 pp

Durante M, Pugliese M (2002) Estimates of radiological risk from depleted uranium weapons in war scenarios. Health Phys 82:14–20

Di Lella LA, Nannoni F, Protano G, Riccobono F (2005) Uranium contents and 235U/238U atom ratios in soil and earthworms in western Kosovo after the 1999 war. Sci Total Environ 337:109–118

Schimmack W, Gerstmann U, Oeh U, Schultz W, Schramel P (2005) Leaching of depleted uranium in soil as determined by column experiments. Radiat Environ Biophys 44:183–191

Oeh U, Roth P, Gerstmann U, Schimmack W, Szymczak W, Höllriegl V, Li W, Schramel P, Paretzke HG (2005) Untersuchungen zur Gesundheitsgefährdung durch Munition mit abgereichertem Uran (DU). GSF-Bericht 03/05. GSF-Forschungszentrum, Neuherberg (in German)

Baumann N, Brendler V, Arnold T, Geipel G, Bernhard G (2005) Uranyl sorption onto gibbsite studied by time-resolved laser-induced fluorescence spectroscopy (TRLFS) J Colloid Interface Sci 290:318–324

Geipel G (2006) Some aspects of actinide speciation by laser-induced spectroscopy. Coord Chem Rev 250:844–854

Erikson RL, Hostetler CJ, Divine JR, Price KR (1990) A review of the environmental behavior of uranium derived from depleted uranium alloy penetrators. Report PNL-7213, Pacific Northwest Laboratory, Richland, 25 pp

Sheppard MI, Thibault DH (1992) Desorption and Extraction of selected heavy metals from soils. Soil Sci Soc Am J 56:415–423

Echevarria G, Sheppard MI, Morel JL (2001) Effect of pH on the sorption of uranium in soils. J Environ Radioact 53:257–264

Elles MP, Lee SY (1998) Uranium solubility of carbonate-rich uranium-contaminated soils. Water Air Soil Pollut 107:147–162

Anderson RT, Lovley DR (2002) Microbial redox interactions with uranium: an environmental perspective. In: Keith-Roach MJ, Livens FR (eds) Interactions of microorganisms with radionuclides. Elsevier, Amsterdam, pp. 205–223

Sheppard SC, Evenden WG, Pollock RJ (1989) Uptake of natural radionuclides by field and garden crops. Can J Soil Sci 69:751–767

WHO (2004) Guidelines for drinking-water quality, 3rd edn. Volume 1: recommendations. World Health Organisation, Geneva
Acknowledgment
The authors gratefully acknowledge the identification of the fern species by F. Schuhwerk and the stimulating discussions with K. Bunzl.
About this article
Cite this article
Schimmack, W., Gerstmann, U., Schultz, W. et al. Long-term corrosion and leaching of depleted uranium (DU) in soil. Radiat Environ Biophys 46, 221–227 (2007). https://doi.org/10.1007/s00411-007-0114-3
Received:

Accepted:

Published:

Issue Date:

DOI: https://doi.org/10.1007/s00411-007-0114-3
Keywords