Abstract
After the Chernobyl accident a statistically significant increase in the number of children with thyroid tumours was observed. In this study 166 children with and 75 without thyroid tumours were analysed for micronucleus formation in peripheral blood lymphocytes using the cytochalasin B approach. The following factors did not significantly affect micronucleus formation: gender, age at the time of the first 131I treatment, tumour stage, tumour type, or metastases; a statistically significant increase in the number of micronuclei, however, was observed for the residents of Gomel compared to other locations, such as Brest, Grodno, and Minsk. The children with tumours received 131I treatment after surgical resection of the tumours. This gave us the opportunity to systematically follow the effect of 131I on micronucleus formation. A marked increase was observed 5 days after the 131I treatment followed by a decrease within a 4–7 months interval up to the next application, but the pre-treatment levels were not achieved. Up to 10 therapy cycles were followed each including an analysis of micronucleus formation before and 5 days after 131I application. The response of the children was characterised by clear individual differences and the increase/decrease pattern of micronucleus frequencies induced by iodine-131 was correlated with a decrease/increase pattern in the number of lymphocytes.
This is a preview of subscription content, log in to check access.
Access options
Buy single article
Instant access to the full article PDF.
US$ 39.95
Price includes VAT for USA
Subscribe to journal
Immediate online access to all issues from 2019. Subscription will auto renew annually.
US$ 199
This is the net price. Taxes to be calculated in checkout.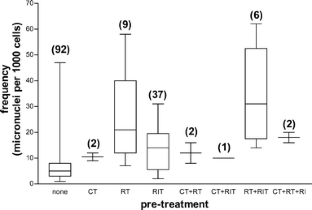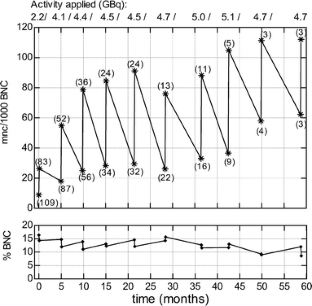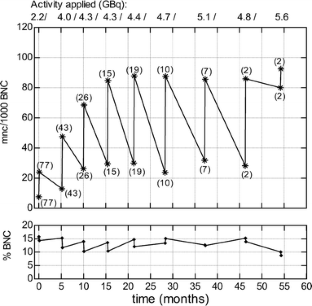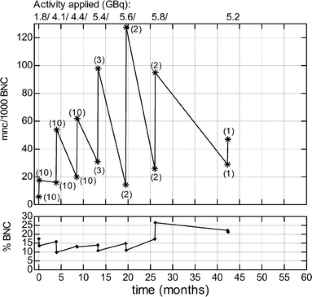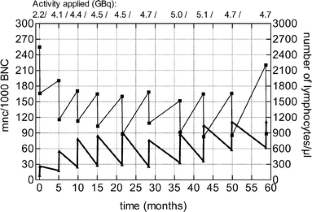 References
1.

Wuttke K, Streffer C, Müller W-U, Reiners C, Biko J, Demidchik E (1996) Micronuclei in lymphocytes of children from the vicinity of Chernobyl before and after 131I therapy for thyroid cancer. Int J Radiat Biol 69:259–268

2.

Gantenberg H-W, Wuttke K, Streffer C, Müller W-U (1991) Micronuclei in human lymphocytes irradiated in vitro or in vivo. Radiat Res 128:276–281

3.

Fenech M, Morley AA (1985) Measurement of micronuclei in lymphocytes. Mutat Res 147:29–36

4.

Livingston GK, Foster AE, Elson HR (1993) Effect of in vivo exposure to iodine-131 on the frequency and persistence of micronuclei in human lymphocytes. J Toxicol Environ Health 40:367–375

5.

Catena C, Villani P, Nastasi R et al. (1994) Micronuclei and 3AB-index in patients receiving iodine-131 therapy. J Nucl Biol Med 38:586–593

6.

Gutierrez S, Carbonell E, Galofrea P, Xamena N, Creus A, Marcos R (1995) A cytogenetic follow-up study of thyroid cancer patients treated with131I. Cancer Lett 91:199–204

7.

Ramirez MJ, Surralles J, Galofre P, Creus A, Marcos R (1997) Radioactive iodine induces clastogenic and age-dependent aneugenic effects in lymphocytes of thyroid cancer patients as revealed by interphase FISH. Mutagenesis 12:449–455

8.

Watanabe N, Yokoyama K, Kinuya S et al. (1998) Radiotoxicity after iodine-131 therapy for thyroid cancer using the micronucleus assay. J Nucl Med 39:436–440

9.

Gutierrez S, Carbonell E, Galofre P, Creus A, Marcos R (1999) Cytogenetic damage after 131-iodine treatment for hyperthyroidism and thyroid cancer. A study using the micronucleus test. Eur J Nucl Med 26:1589–1596

10.

Monsieurs MA, Thierens HM, Wiele CV van de et al. (1999) Estimation of risk based on biological dosimetry for patients treated with radioiodine. Nucl Med Commun 20:911–907

11.

Catena C, Conti D, Trenta G et al. (2001) Micronucleus yield and colorimetric test as indicators of damage in patients' lymphocytes after 131I therapy. J Nucl Med 41:1522–1524

12.

Monsieurs MA, Thierens HM, Vral AM, Wiele C Van De, Ridder LI, Dierckx RA De (2001) Adaptive response in patients treated with 131I. J Nucl Med 41:17–22

13.

Monteiro Gil O, Oliveira NG, Rodrigues AS et al. (2001) Cytogenetic alterations and oxidative stress in thyroid cancer patients after iodine-131 therapy. Mutagenesis 15:69–75

14.

Mikhalevich LS, Zwart FA de, Perepetskaya GA, Chebotareva NV, Mikhalevich EA, Tates AD (2000) Radiation effects in lymphocytes of children living in a Chernobyl contaminated region of Belarus. Int J Radiat Biol 76:1377–1385

15.

Müller W-U, Streffer C (1994) Micronucleus assays. Adv Mutag Res 5:1–133

16.

Barale R, Chelotti L, Davini T et al. (1998) Sister chromatid exchange and micronucleus frequency in human lymphocytes of 1,650 subjects in an Italian population: II. Contribution of sex, age, and lifestyle. Environ Mol Mutagen 31:228–242
Acknowledgements
This work was supported by a grant from the "Vereinigung Deutscher Elektrizitätswerke (VDEW) e.V.".
About this article
Cite this article
Müller, W., Dietl, S., Wuttke, K. et al. Micronucleus formation in lymphocytes of children from the vicinity of Chernobyl after 131I therapy. Radiat Environ Biophys 43, 7–13 (2004). https://doi.org/10.1007/s00411-004-0233-z
Received:

Accepted:

Published:

Issue Date:
Keywords
Thyroid Cancer

Chernobyl Accident

Binucleated Cell

131I Therapy

Radioiodine Treatment