Abstract
Cloud-to-ground lightning can cause high-temperature and high-pressure deformation features in rock at the strike point, forming fulgurite. Although cloud-to-ground lightning is a frequent phenomenon, rock fulgurites are rarely reported. Here, we present field, optical microscope, X-ray fluorescence, scanning and transmission electron microscope, in situ synchrotron projection X-ray microscopy and X-ray diffraction, and Raman data to investigate the formation and preservation of a recently formed rock fulgurite from Kinmen Island, Taiwan. In the field, the fulgurite is asymmetrically distributed on the surface over an ~ 12 m2 area. In detail, the fulgurite contains an opaque glassy layer comprised of quartz and feldspar clasts, voids, iron-rich spheres, and barite aggregates that overlies fractured quartz grains and feldspar grains with planar features. Secondary minerals found locally adhering to the glassy layer as greenish patches are mainly jarosite group minerals, which commonly form as a secondary hydrothermal alteration product. We interpret the jarosite to have formed during the solidification of melt in the presence of raindrops, suggesting the rapid alteration of glass and short preservation potential of rock fulgurite. Finally, we estimate the production ratio of fulgurite by calculating the energy required for fulgurite formation and that released to the ground by the lightning event. A calculated energy ratio of 0.026% is within the range of 10–2 to 10–4 of the lightning total energy delivered to the strike point. We suggest that the scarcity of rock fulgurite in the geological record may be due to both the low production possibility and rapid alteration.
Access options
Buy single article
Instant access to the full article PDF.
USD 39.95
Price excludes VAT (USA)
Tax calculation will be finalised during checkout.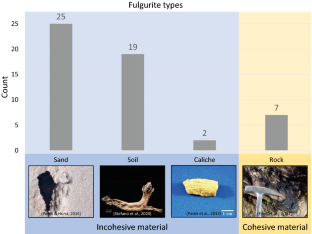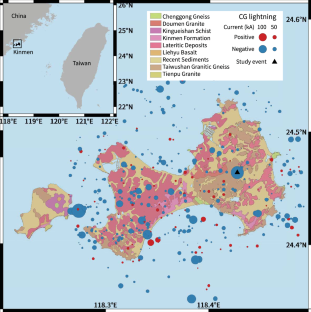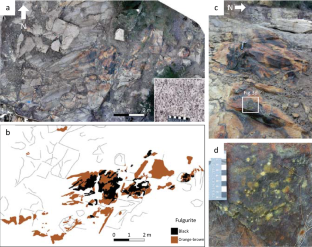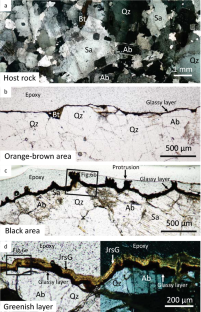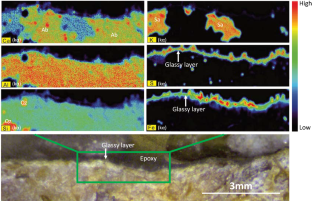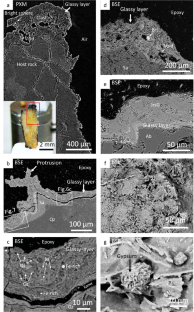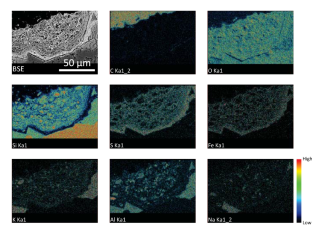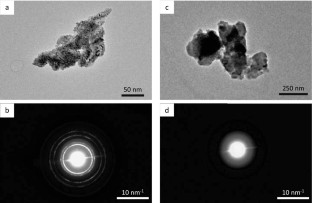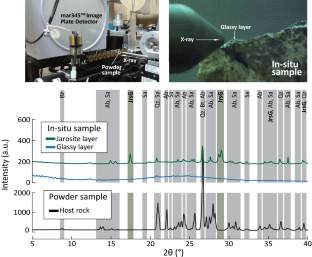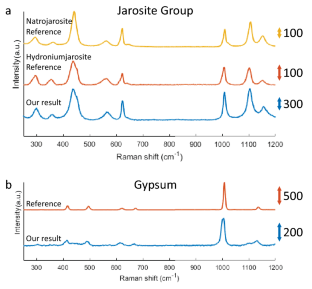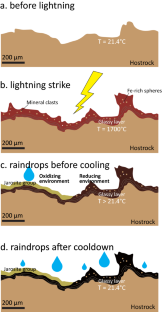 Data availability
All microstructural observations used in this study are available by contacting the corresponding author L.-W. Kuo (liweikuo@ncu.edu.tw).
References
Appel PWU, Abrahamsen N, Rasmussen TM (2006) Unusual features caused by lightning impact in West Greenland. Geol Mag 143(5):737–741. https://doi.org/10.1017/S0016756806002391

Baccolo G, Delmonte B, Niles PB, Cibin G, Di Stefano E, Hampai D, Frezzotti M (2021) Jarosite formation in deep Antarctic ice provides a window into acidic, water-limited weathering on Mars. Nat Commun 12(1):436. https://doi.org/10.1038/s41467-020-20705-z

Basciano LC, Peterson RC (2008) Crystal chemistry of the natrojarosite-jarosite and natrojarosite-hydronium jarosite solid-solution series: a synthetic study with full Fe site occupancy. Am Miner 93(5–6):853–862. https://doi.org/10.2138/am.2008.2731

Castro JM, Keller F, Feisel Y, Lanari P, Helo C, Mueller SP, Thomas C (2020) Lightning-induced weathering of Cascadian volcanic peaks. Earth Planet Sci Lett 552:116595. https://doi.org/10.1016/j.epsl.2020.116595

Chen JZ, Elmi C, Goldsby D, Giere R (2017) Generation of shock lamellae and melting in rocks by lightning-induced shock waves and electrical heating. Geophys Res Lett 44(17):8757–8768. https://doi.org/10.1002/2017gl073843

Christian HJ, Blakeslee RJ, Boccippio DJ, Boeck WL, Buechler DE, Driscoll KT, Stewart MF (2003) Global frequency and distribution of lightning as observed from space by the Optical Transient Detector. J Geophys Res Atmos. https://doi.org/10.1029/2002JD002347

Clark BC, Morris RV, McLennan SM, Gellert R, Jolliff B, Knoll AH, Rieder R (2005) Chemistry and mineralogy of outcrops at Meridiani Planum. Earth Planet Sci Lett 240(1):73–94. https://doi.org/10.1016/j.epsl.2005.09.040

Cogram P (2018) Jarosite. Reference module in earth systems and environmental sciences. Elsevier

Daly TK, Buseck PR, Williams P, Lewis CF (1993) Fullerenes from a fulgurite. Science 259(5101):1599–1601. https://doi.org/10.1126/science.259.5101.1599

Di Toro G, Pennacchioni G, Teza G (2005) Can pseudotachylytes be used to infer earthquake source parameters? An example of limitations in the study of exhumed faults. Tectonophysics 402(1):3–20. https://doi.org/10.1016/j.tecto.2004.10.014

Elmi C, Chen JZ, Goldsby D, Giere R (2017) Mineralogical and compositional features of rock fulgurites: a record of lightning effects on granite. Am Miner 102(7):1470–1481. https://doi.org/10.2138/am-2017-5971

Elmi C, Coleman N, Miu K, Schruba E (2018) Experimental simulation of lightning current discharge on rocks. Appl Sci 8(12):2394. https://doi.org/10.3390/app8122394

Elwood Madden ME, Bodnar RJ, Rimstidt JD (2004) Jarosite as an indicator of water-limited chemical weathering on Mars. Nature 431(7010):821–823. https://doi.org/10.1038/nature02971

Eppelbaum L, Kutasov, i., & Pilchin, A. (2014) Applied Geothermics. Springer, Berlin-Heidelberg

Essene EJ, Fisher DC (1986) Lightning strike fusion: extreme reduction and metal-silicate liquid immiscibility. Science 234(4773):189–193. https://doi.org/10.1126/science.234.4773.189

Farrand WH, Glotch TD, Rice JW, Hurowitz JA, Swayze GA (2009) Discovery of jarosite within the Mawrth Vallis region of Mars: implications for the geologic history of the region. Icarus 204(2):478–488. https://doi.org/10.1016/j.icarus.2009.07.014

Fondriest M, Mecklenburgh J, Passelegue FX, Artioli G, Nestola F, Spagnuolo E, Di Toro G (2020) Pseudotachylyte alteration and the rapid fade of earthquake scars from the geological record. Geophys Res Lett. https://doi.org/10.1029/2020GL090020

Giere R, Wimmenauer W, Muller-Sigmund H, Wirth R, Lumpkin GR, Smith KL (2015) Lightning-induced shock lamellae in quartz. Am Miner 100(7):1645–1648. https://doi.org/10.2138/am-2015-5218

Gill R (2010) Igneous rocks and processes: a practical guide. Wiley-Blackwell

Golombek MP, McSween HY (2014) Chapter 19 - Mars: landing site geology, mineralogy, and geochemistry. In: Spohn T, Breuer D, Johnson TV (eds) Encyclopedia of the solar system, 3rd edn. Elsevier, Boston, pp 397–420

Grapes RH, Müller-Sigmund H (2010) Lightning-strike fusion of gabbro and formation of magnetite-bearing fulgurite, Cornone di Blumone, Adamello, Western Alps, Italy. Mineral Petrol 99(1):67–74. https://doi.org/10.1007/s00710-009-0100-3

Hernández-Lazcano E, Cerecedo-Sáenz E, Hernández-Ávila J, Toro N, Karthik TVK, Mendoza-Anaya D, Salinas-Rodríguez E (2021) Synthesis of hydronium-potassium jarosites: the effect of ph and aging time on their structural, morphological, and electrical properties. Minerals 11(1):80. https://doi.org/10.3390/min11010080

Hsieh P-S, Lin W (2012) Mineral composition characteristic analysis of core samples of K area granite. Retrieved from The Spent Nuclear Fuel Final Disposal Program: Potential Host Rock SNFD-GEL-90-288 / SNFD-ITRI-TR2012-0288

Julien A (1901) A study of the structure of fulgurites. J Geol 9:673–693. https://doi.org/10.1086/620966

Kenny GG, Pasek MA (2021) The response of zircon to the extreme pressures and temperatures of a lightning strike. Sci Rep. https://doi.org/10.1038/s41598-021-81043-8

King PL, McSween HY Jr (2005) Effects of H2O, pH, and oxidation state on the stability of Fe minerals on Mars. J Geophys Res Planets. https://doi.org/10.1029/2005JE002482

Kuo L-W, Smith SAF, Chen C-C, Ku C-S, Chiang C-Y, Brown D, Chen T-Y (2021) Lightning-induced high temperature and pressure microstructures in surface and subsurface fulgurites. Sci Rep 11(1):22031. https://doi.org/10.1038/s41598-021-01559-x

Kuo L-W, Song S-R, Huang L, Yeh E-C, Chen H-F (2011) Temperature estimates of coseismic heating in clay-rich fault gouges, the Chelungpu fault zones, Taiwan. Tectonophysics 502(3):315–327. https://doi.org/10.1016/j.tecto.2011.02.001

Kuo L-W, Song S-R, Yeh E-C, Chen H-F (2009) Clay mineral anomalies in the fault zone of the Chelungpu Fault, Taiwan, and their implications. Geophys Res Lett. https://doi.org/10.1029/2009GL039269

Kuo L-W, Song Y-F, Yang C-M, Song S-R, Wang C-C, Dong J-J, Shimamoto T (2015) Ultrafine spherical quartz formation during seismic fault slip: natural and experimental evidence and its implications. Tectonophysics 664:98–108. https://doi.org/10.1016/j.tecto.2015.09.008

Lafuente B, Downs RT, Yang H, Stone N (2015) The power of databases: The RRUFF project. In: Thomas A, Micaela DR (eds) Highlights in mineralogical crystallography. De Gruyter (0), pp 1–30

Lavallée Y, Mitchell TM, Heap MJ, Vasseur J, Hess K-U, Hirose T, Dingwell DB (2012) Experimental generation of volcanic pseudotachylytes: constraining rheology. J Struct Geol 38:222–233. https://doi.org/10.1016/j.jsg.2012.02.001

Lesher CE, Spera FJ (2015) Chapter 5 - thermodynamic and transport properties of silicate melts and magma. In: Sigurdsson H (ed) The encyclopedia of volcanoes, 2nd edn. Academic Press, Amsterdam, pp 113–141

Likens GE, Butler TJ, Claybrooke R, Vermeylen F, Larson R (2021) Long-term monitoring of precipitation chemistry in the U.S.: insights into changes and condition. Atmos Environ 245:118031. https://doi.org/10.1016/j.atmosenv.2020.118031

Lin W, Lee C-Y, Yang H-C, Chen C-H (2011) Explanatory text of the geologic map of Taiwan scale 1: 50,000 Kinmen area. Central Geological Survey, MOEA, New Taipei City

Mackerras D, Darveniza M, Orville RE, Williams ER, Goodman SJ (1998) Global lightning: total, cloud and ground flash estimates. J Geophys Res Atmos 103(D16):19791–19809. https://doi.org/10.1029/98JD01461

Martin Crespo T, Lozano Fernandez RP, Gonzalez Laguna R (2009) The fulgurite of Torre de Moncorvo (Portugal): description and analysis of the glass. Eur J Mineral 21(4):783–794. https://doi.org/10.1127/0935-1221/2009/0021-1948

McLennan SM, Bell JF, Calvin WM, Christensen PR, Clark BC, de Souza PA, Yen A (2005) Provenance and diagenesis of the evaporite-bearing Burns formation, Meridiani Planum, Mars. Earth Planetary Sci Lett 240(1):95–121. https://doi.org/10.1016/j.epsl.2005.09.041

Mishima T, Hirono T, Nakamura N, Tanikawa W, Soh W, Song S-R (2009) Changes to magnetic minerals caused by frictional heating during the 1999 Taiwan Chi-Chi earthquake. Earth, Planets and Space 61(6):797–801. https://doi.org/10.1186/BF03353185

Morris RV, Klingelhöfer G, Schröder C, Rodionov DS, Yen A, Ming DW, Arvidson RE (2006a) Mössbauer mineralogy of rock, soil, and dust at Gusev crater, Mars: Spirit's journey through weakly altered olivine basalt on the plains and pervasively altered basalt in the Columbia Hills. J Geophys Res Planets. https://doi.org/10.1029/2005JE002584

Morris RV, Klingelhöfer G, Schröder C, Rodionov DS, Yen A, Ming DW, Arvidson RE (2006b) Mössbauer mineralogy of rock, soil, and dust at Meridiani Planum, Mars: opportunity's journey across sulfate-rich outcrop, basaltic sand and dust, and hematite lag deposits. J Geophys Res Planets. https://doi.org/10.1029/2006JE002791

Navarro-Gonzalez R, Mahan SA, Singhvi AK, Navarro-Aceves R, Rajot JL, McKay CP, Raulin F (2007) Paleoecology reconstruction from trapped gases in a fulgurite from the late Pleistocene of the Libyan Desert. Geology 35(2):171–174. https://doi.org/10.1130/g23246a.1

Olona J, Pulgar JA, Fernández-Viejo G, López-Fernández C, González-Cortina JM (2010) Weathering variations in a granitic massif and related geotechnical properties through seismic and electrical resistivity methods. Near Surface Geophys 8(6):585–599. https://doi.org/10.3997/1873-0604.2010043

Papike JJ, Karner JM, Shearer CK (2006) Comparative planetary mineralogy: implications of martian and terrestrial jarosite. A crystal chemical perspective. Geochim Cosmochim Acta 70(5):1309–1321. https://doi.org/10.1016/j.gca.2005.11.004

Pasek M, Block K (2009) Lightning-induced reduction of phosphorus oxidation state. Nat Geosci 2(8):553–556. https://doi.org/10.1038/ngeo580

Pasek MA, Block K, Pasek V (2012) Fulgurite morphology: a classification scheme and clues to formation. Contrib Miner Petrol 164(3):477–492. https://doi.org/10.1007/s00410-012-0753-5

Pasek MA, Hurst M (2016) A fossilized energy distribution of lightning. Sci Rep. https://doi.org/10.1038/srep30586

Plooster MN (1971) Numerical model of the return stroke of the lightning discharge. Phys Fluids 14(10):2124–2133. https://doi.org/10.1063/1.1693303

Rakov VA, Uman MA (2003) Lightning: physics and effects. Cambridge University Press

Roberts SE, Sheffer AA, McCanta MC, Dyar MD, Sklute EC (2019) Oxidation state of iron in fulgurites and Trinitite: implications for redox changes during abrupt high-temperature and pressure events. Geochim Cosmochim Acta 266:332–350. https://doi.org/10.1016/j.gca.2019.08.021

Robertson EC (1988) Thermal properties of rocks (88-441). Retrieved from http://pubs.er.usgs.gov/publication/ofr88441

Sheffer AA (2007) Chemical reduction of silicates by meteorite impacts and lightning strikes. (Ph.D.). The University of Arizona, Ann Arbor. ProQuest Dissertations & Theses A&I database. (3284362)

Song YF, Chang CH, Liu CY, Chang SH, Jeng US, Lai YH, Liu DG, Chung SC, Tsang KL, Yin GC, Lee JF, Sheu HS, Tang MT, Hwang CS, Hwu YK, Liang KS (2007) X-ray beamlines for structural studies at the NSRRC superconducting wavelength shifter. J Synchrotron Radiat 14(Pt 4):320–325. https://doi.org/10.1107/S0909049507021516

Sponholz B (2009) New discovery of rock fulgurites in the Central Sahara. Holocene Palaeoenvironmental History of the Central Sahara. CRC Press, pp 149–158

Squyres SW, Knoll AH (2005) Sedimentary rocks at Meridiani Planum: origin, diagenesis, and implications for life on Mars. Earth Planet Sci Lett 240(1):1–10. https://doi.org/10.1016/j.epsl.2005.09.038

Tosca NJ, McLennan SM, Clark BC, Grotzinger JP, Hurowitz JA, Knoll AH, Squyres SW (2005) Geochemical modeling of evaporation processes on Mars: insight from the sedimentary record at Meridiani Planum. Earth Planet Sci Lett 240(1):122–148. https://doi.org/10.1016/j.epsl.2005.09.042

Tosca NJ, McLennan SM, Dyar MD, Sklute EC, Michel FM (2008) Fe oxidation processes at Meridiani Planum and implications for secondary Fe mineralogy on Mars. J Geophys Res Planets. https://doi.org/10.1029/2007JE003019

Whitney DL, Evans BW (2010) Abbreviations for names of rock-forming minerals. Am Miner 95(1):185–187. https://doi.org/10.2138/am.2010.3371

Yui TF, Heaman L, Lan CY (1996) U-Pb and Sr isotopic studies on granitoids from Taiwan and Chinmen-Lieyü and tectonic implications. Tectonophysics 263(1):61–76. https://doi.org/10.1016/S0040-1951(96)00023-6

Zolotov MY, Shock EL (2005) Formation of jarosite-bearing deposits through aqueous oxidation of pyrite at Meridiani Planum, Mars. Geophys Res Lett. https://doi.org/10.1029/2005GL024253
Acknowledgements
We thank Dr. Chi-Ming Peng and WeatherRisk Explore Inc for providing the lightning data. We thank Kinmen National Park and Taiwan Power Company for providing the fulgurites and the chemical data of the Taiwushan formation, respectively. We thank both Department of Atmospheric Sciences, National Central University, and Environmental Protection Administration, Executive Yuan for providing the rainwater data on Kinmen Island. We thank Mr. Chien-Yu Lee and Dr. Pei-Tzu Lee of NSRRC Experimental Technique Group for PXM image execution.
Funding
The research was supported by the Taiwan ROC (Republic of China) Ministry of Science and Technology (MOST 110–2116-M-008–002-MY2) and Earthquake-Disaster & Risk Evaluation and Management Center (E-DREaM) from the Ministry of Education (MOE) to Li-Wei Kuo. Dennis Brown acknowledges funding (PGC2018-094227-B-I00) from the Spanish Ministry of Science, Innovation, and Universities, as well as a Chaired Professor stipend from the Department of Earth Sciences at National Central University. Jialiang Si acknowledges funding from the National Natural Science Foundation of China (41872211).
Ethics declarations
Conflict of interest
The authors have no competing interests to declare that are relevant to the content of this article.
Additional information
Communicated by Gordon Moore.
Publisher's Note
Springer Nature remains neutral with regard to jurisdictional claims in published maps and institutional affiliations.
Supplementary Information
Below is the link to the electronic supplementary material.
Supplementary file1 (MP4 69704 KB)
Supplementary file2 (AVI 50278 KB)
Rights and permissions
Springer Nature or its licensor (e.g. a society or other partner) holds exclusive rights to this article under a publishing agreement with the author(s) or other rightsholder(s); author self-archiving of the accepted manuscript version of this article is solely governed by the terms of such publishing agreement and applicable law.
About this article
Cite this article
Chen, T.Y., Kuo, LW., Brown, D. et al. Lightning-induced features on granitic gneiss and its implication for rare lightning scars from the geological record. Contrib Mineral Petrol 177, 111 (2022). https://doi.org/10.1007/s00410-022-01973-y
Received:

Accepted:

Published:

DOI: https://doi.org/10.1007/s00410-022-01973-y
Keywords