Abstract
Primary carbonates in kimberlites are the main CO2 carriers in kimberlites and thus can be used to constrain the original carbon and oxygen-isotope composition of kimberlite melts and their deep mantle sources. However, the contribution of syn- and post-emplacement processes to the modification of the C–O-isotope composition of kimberlites is yet to be fully constrained. This study aims to shed new light on this topic through a detailed textural, compositional (major and trace elements), and in situ C–O–Sr isotopic characterisation of carbonates in the Benfontein kimberlite sills (Kimberley, South Africa). Our multi-technique approach not only reveals the petrographic and geochemical complexity of carbonates in kimberlites in unprecedented detail, but also allows identification of the processes that led to their formation, including: (1) magmatic crystallisation of Sr-rich calcite laths and groundmass; (2) crystallisation of late groundmass calcite from hydrothermal fluids; and (3) variable degrees of crustal contamination in carbonate-rich diapirs and secondary veins. These diapirs most likely resulted from a residual C–O–H fluid or carbonate melt with contributions from methane-rich fluids from the Dwyka shale wall rock, leading to higher 87Sr/86Sr and δ18O, but lower δ13C values than in pristine magmatic calcite. Before coalescing into the diapiric segregations, these fluids/melts also variably entrained early formed calcite laths and groundmass phases. Comparison between in situ and bulk-carbonate analyses confirms that O isotopic analyses of bulk carbonates from kimberlite rocks are not representative of the original isotopic signature of the kimberlite magma, whereas bulk C-isotope compositions are similar to those of the pristine magmatic carbonates. Calcite laths and most groundmass grains at Benfontein preserve isotopic values (δ18O = 6–8‰ and δ13C = − 4 to − 6‰), similar to those of unaltered carbonatites worldwide, which, therefore, probably correspond to those of their parental melts. This narrow range suggests kimberlite derivation from a mantle source with little contribution from recycled crustal material unless the recycled material had isotopic composition indistinguishable from typical mantle values.
Access options
Buy single article
Instant access to the full article PDF.
US$ 39.95
Tax calculation will be finalised during checkout.
Subscribe to journal
Immediate online access to all issues from 2019. Subscription will auto renew annually.
US$ 119
Tax calculation will be finalised during checkout.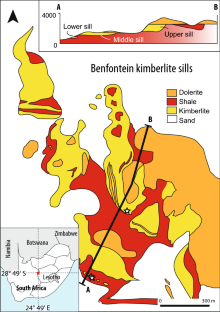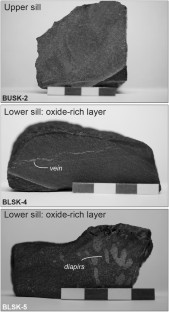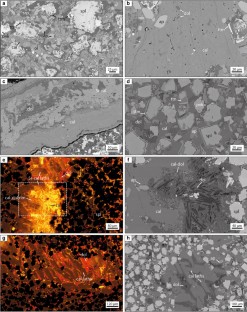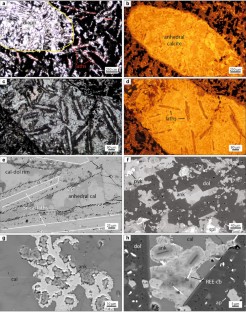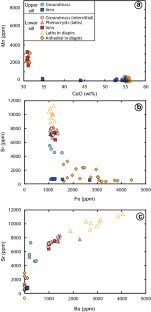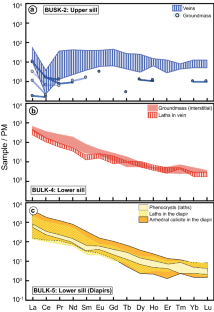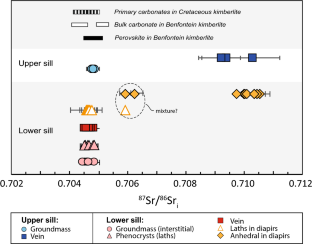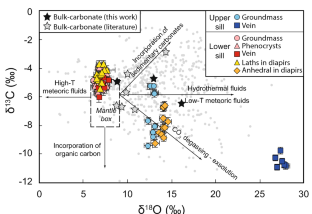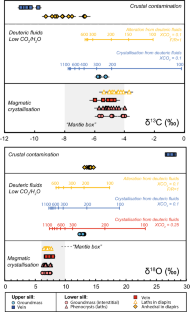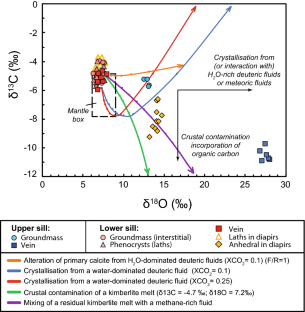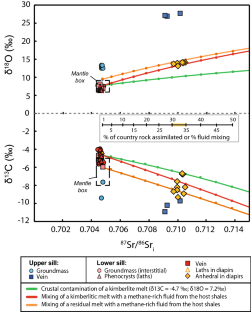 References
Abersteiner A, Kamenetsky VS, Goemann K et al (2019) Composition and emplacement of the Benfontein Kimberlite Sill Complex: textural, petrographic and melt inclusion constraints (Kimberley, South Africa). Lithos 324–325:297–314

Armstrong JP, Wilson M, Barnett RL et al (2004) Mineralogy of primary carbonate-bearing hypabyssal kimberlite, Lac de Gras, Slave Province, Northwest Territories, Canada. Lithos 76:415–433. https://doi.org/10.1016/j.lithos.2004.03.025

Baertschi P (1976) Absolute 18O content of standard mean ocean water. Earth Planet Sc Lett 31:341–344. https://doi.org/10.1016/0012-821X(76)90115-1

Barrett DR, Berg GW (1975) Complementary petrographic and strontium-isotope ratio studies of South African kimberlite. Phys Chem Earth 9:619–635

Batumike JM, Griffin WL, Belousova EA et al (2008) LAM-ICPMS U-Pb dating of kimberlitic perovskite: eocene-Oligocene kimberlites from the Kundelungu Plateau, D.R. Congo. Earth Planet Sc Lett 267:609–619. https://doi.org/10.1016/j.epsl.2007.12.013

Becker M, Le Roex AP (2006) Geochemistry of South African on- and off-craton, group I and group II kimberlites: petrogenesis and source region evolution. J Petrol 47:673–703. https://doi.org/10.1093/petrology/egi089

Boctor NZ, Boyd FR (1981) Oxide minerals in a layered kimberlite-carbonate sill from Benfontein, South Africa. Contrib Mineral Petr 76:253–259. https://doi.org/10.1007/BF00375452

Cartigny P, Palot M, Thomassot E, Harris JW (2014) Diamond formation: a stable isotope perspective. Annu Rev Earth Planet Sci 42:699–732. https://doi.org/10.1146/annurev-earth-042711-105259

Castillo-Oliver M, Giuliani A, Griffin WL, O'Reilly SY (2018) Characterisation of primary and secondary carbonates in hypabyssal kimberlites : an integrated compositional and Sr-isotopic approach. Miner Petrol 112:S555–S567

Chen W, Simonetti A (2013) In-situ determination of major and trace elements in calcite and apatite, and U–Pb ages of apatite from the Oka carbonatite complex: insights into a complex crystallization history. Chem Geol 353:151–172. https://doi.org/10.1016/j.chemgeo.2012.04.022

Chen W, Simonetti A (2015) Isotopic (Pb, Sr, Nd, C, O ) evidence for plume-related sampling of an ancient, depleted mantle reservoir. Lithos 216–217:81–92. https://doi.org/10.1016/j.lithos.2014.11.024

Chiba H, Chacko T, Clayton RN, Goldschmith JR (1989) Oxygen isotope fractionations involving diopside, forsterite, magnetite, and calcite: application to geothermometry. Geochim Cosmochim Ac 53:2985–2995. https://doi.org/10.1063/1.3295161

Dawson JB, Hawthorne JB (1973) Magmatic sedimentation and carbonatitic differentiation in kimberlite sills at Benfontein, South Africa. J Geol Soc Lond 12:61–85

de Oliveira Cordeiro PF, Brod JA, Santos RV et al (2011) Stable (C, O) and radiogenic (Sr, Nd) isotopes of carbonates as indicators of magmatic and post-magmatic processes of phoscorite-series rocks and carbonatites from Catalão I, central Brazil. Contrib Mineral Petr 161:451–464. https://doi.org/10.1007/s00410-010-0542-y

Deines P (1989) Stable isotope variations in carbonatites. In: Bell K (ed) Carbonatites: genesis and evolution. Unwin Hyman, pp 301–359

Deines P (2002) The carbon isotope geochemistry of mantle xenoliths. Earth-Sci Rev 58:247–278. https://doi.org/10.1016/S0012-8252(02)00064-8

Deines P, Gold DP (1973) The isotopic composition of carbonatite and kimberlite carbonates and their bearing on the isotopic composition of deep-seated carbon. Geochim Cosmochim Ac 37:1709–1733. https://doi.org/10.1016/0016-7037(73)90158-0

Demény A, Ahijado A, Casillas R, Vennemann TW (1998) Crustal contamination and fluid/rock interaction in the carbonatites of Fuerteventura (Canary Islands, Spain): A C, O, H isotope study. Lithos 44:101–115. https://doi.org/10.1016/S0024-4937(98)00050-4

Donaldson CH, Reid AM (1977) Emplacement and crystallisation of a kimberlite dyke from the De Beers mine, Kimberley, South Africa. In: Extended abstr., 2nd international kimberlite conference: extended abstracts, vol 2, Santa Fe, New Mexico, pp 370–372

Exley RA, Jones AP (1983) 87Sr/86Sr in kimberlitic carbonates by ion microprobe: hydrothermal alteration, crustal contamination and relation to carbonatite. Contrib Mineral Petr 83:288–292. https://doi.org/10.1007/BF00371197

Faure K, Cole D (1999) Geochemical evidence for lacustrine microbial blooms in the vast Permian Main Karoo, Parana, Falkland Islands and Huab basins of southwestern Gondwana. Palaeogeogr Palaeoclimatol Palaeoecol 152:189–213. https://doi.org/10.1016/S0031-0182(99)00062-0

Giuliani A (2018) Insights into kimberlite petrogenesis and mantle metasomatism from a review of the compositional zoning of olivine in kimberlites worldwide. Lithos 312–313:322–342. https://doi.org/10.1016/j.lithos.2018.04.029

Giuliani A, Phillips D, Kamenetsky VS et al (2014) Stable isotope (C, O, S) compositions of volatile-rich minerals in kimberlites: a review. Chem Geol 374–375:61–83. https://doi.org/10.1016/j.chemgeo.2014.03.003

Giuliani A, Soltys A, Phillips D et al (2017) The final stages of kimberlite petrogenesis: Petrography, mineral chemistry, melt inclusions and Sr–C–O isotope geochemistry of the Bultfontein kimberlite (Kimberley, South Africa). Chem Geol 455:342–356. https://doi.org/10.1016/j.chemgeo.2016.10.011

Griffin WL, Powell WJ, Pearson N., O'Reilly SY (2008) GLITTER: data reduction software for laser ablation ICP-MS. In: Sylvester P (ed) Laser Ablation–ICP–MS in the earth sciences. Short Course Series. Mineralogical Association of Canada, pp 204–207

Griffin WL, Batumike JM, Greau Y et al (2014) Emplacement ages and sources of kimberlites and related rocks in southern Africa: U–Pb ages and Sr–Nd isotopes of groundmass perovskite. Contrib Mineral Petr. https://doi.org/10.1007/s00410-014-1032-4

Hanson EK, Moore JM, Bordy EM et al (2009) Cretaceous erosion in central South Africa: evidence from upper-crustal xenoliths in kimberlite diatremes. S Afr J Geol 112:125–140

Harris C, Buthelezi N, Kahle B et al (2019) Stable isotope constraints on the fluid source of hydrothermal breccia pipes in the Tankwa Karoo depocentre, South Africa: breakdown of authigenic minerals during sill intrusion. Basin Res 31:114–135. https://doi.org/10.1111/bre.12311

Hawthorne JB (1968) Kimberlite sills. S Afr J Geol 71:291–311

Heaman LM (1989) The nature of subcontinental mantle from Sr–Nd–Pb isotopic studies on kimberlitic perovskite. Earth Planet Sc Lett 92:323–334

Hesselbo SP, Jenkyns HC, Duarte LV, Oliveira LCV (2007) Carbon-isotope record of the Early Jurassic (Toarcian) Oceanic Anoxic Event from fossil wood and marine carbonate (Lusitanian Basin, Portugal). Earth Planet Sc Lett 253:455–470. https://doi.org/10.1016/j.epsl.2006.11.009

Hiatt EE, Pufahl PK (2014) Cathodoluminescence petrography of carbonate rocks: a review of applications for understanding diagenesis, reservoir quality and pore system evolution. In: Coulson I (ed) Cathodoluminescence and its application to geoscience. Short Course Series. Mineralogical Association of Canada, pp 75–96

Hornig-kjarsgaard I (1998) Rare earth elements in sovitic carbonatites and their mineral phases. J Petrol 39:2105–2121

Howarth GH, Taylor LA (2016) Multi-stage kimberlite evolution tracked in zoned olivine from the Benfontein sill. S Afr Lithos 262:384–397. https://doi.org/10.1016/j.lithos.2016.07.028

Jenkyns HC, Clayton CJ (1986) Black shales and carbon isotopes in pelagic sediments from the Tethyan Lower Jurassic. Sedimentology 33:87–106. https://doi.org/10.1111/j.1365-3091.1986.tb00746.x

Jones AP, Wyllie PJ (1985) Paragenetic trends of oxide minerals in carbonate-rich kimberlites, with new analyses from the benfontein sill. S Afr J Petrol 26:210–222. https://doi.org/10.1093/petrology/26.1.210

Kamenetsky VS, Grütter H, Kamenetsky MB, Gömann K (2013) Parental carbonatitic melt of the Koala kimberlite (Canada): Constraints from melt inclusions in olivine and Cr-spinel, and groundmass carbonate. Chem Geol 353:96–111. https://doi.org/10.1016/j.chemgeo.2012.09.022

Kirkley MB, Smith HS, Gurney JJ (1989) Kimberlite carbonates—a carbon–oxygen stable isotope study. In: Kimberlites and related rocks, pp 264–281

Kita NT, Ushikubo T, Fu B, Valley JW (2009) High precision SIMS oxygen isotope analysis and the effect of sample topography. Chem Geol 264:43–57. https://doi.org/10.1016/j.chemgeo.2009.02.012

Kobelski BJ, Gold DP, Deines P (1982) Variations in stable isotope compositions for carbon and oxygen in some South African and Lesothan kimberlites. In: Meyer HOA, Boyd FR (eds) Kimberlites, diatremes, and diamonds: their geology, petrology, and geochemistry. American Geophysical Union, Washington, pp 252–271

Kozdon R, Ushikubo T, Kita NT et al (2009) Intratest oxygen isotope variability in the planktonic foraminifer N. pachyderma: real vs. apparent vital effects by ion microprobe. Chem Geol 258:327–337. https://doi.org/10.1016/j.chemgeo.2008.10.032

Le Roex AP, Bell DR, Davis P (2003) Petrogenesis of Group I Kimberlites from Kimberley, South Africa: evidence from Bulk-rock Geochemistry. J Petrol 44:2261–2286. https://doi.org/10.1093/petrology/egg077

Liu YH, Tang GQ, Ling XX et al (2015) Speleothem annual layers revealed by seasonal SIMS δ18O measurements. Sci China Earth Sci 58:1741–1747. https://doi.org/10.1007/s11430-015-5114-6

Malarkey J, Pearson DG, Kjarsgaard BA et al (2010) From source to crust: tracing magmatic evolution in a kimberlite and a melilitite using microsample geochemistry. Earth Planet Sc Lett 299:80–90. https://doi.org/10.1016/j.epsl.2010.08.020

Mattey D, Lowry D, Macpherson C (1994) Oxygen isotope composition of mantle peridotite. Earth Planet Sc Lett 128:231–241. https://doi.org/10.1016/0012-821X(94)90147-3

Maynard JB (1981) Carbon isotopes as indicators of dispersal patterns in Devonian-Mississippian shales of the Appalachian Basin. Geology 9:262–265. https://doi.org/10.1130/0091-7613(1981)9%3c262:CIAIOD%3e2.0.CO;2

McDonough WF, Sun S-S (1995) The composition of the earth. Chem Geol 120:223–253

McMahon B, Haggerty SE (1984) The benfontein kimberlite sills: magmatic reactions and high intrusion temperatures. Am J Sci 284:893–941

Mitchell RH (1984) Mineralogy and origin of carbonate-rich segregations in a composite kimberlite sill. Neues Jb Miner Abh 150:185–197

Mitchell RH (1986) Kimberlites, mineralogy, geochemistry and petrology. Springer, New York

Mitchell RH (2013) Paragenesis and oxygen isotopic studies of serpentine in kimberlite. In: Pearson DG, Grütter HS, Harris JW et al (eds) 10th international kimberlite conference. Springer, New Delhi, pp 1–12

Mitchell RH, Crocket JH (1971) The isotopic composition of strontium in some South African Kimberlites. Contrib Mineral Petr 30:277–290

Mitchell RH, Giuliani A, O'Brien H (2019) What is a Kimberlite? Petrology and mineralogy of Hypabyssal Kimberlites. Elements 15(6):381–386. https://doi.org/10.2138/gselements.15.6.381

Neumann E-R, Griffin WL, Pearson NJ, O'Reilly SY (2004) The evolution of the upper mantle beneath the Canary Islands: information from trace elements and Sr isotope ratios in minerals in mantle xenoliths. J Petrol 45:2573–2612. https://doi.org/10.1093/petrology/egh063

Nowell GM, Pearson DG, Bell DR et al (2004) Hf Isotope systematics of kimberlites and their megacrysts: new constraints on their source regions. J Petrol 45:1583–1612. https://doi.org/10.1093/petrology/egh024

Peng X, Guo Z, House CH et al (2016) SIMS and NanoSIMS analyses of well-preserved microfossils imply oxygen-producing photosynthesis in the Mesoproterozoic anoxic ocean. Chem Geol 441:24–34. https://doi.org/10.1016/j.chemgeo.2016.08.011

Pouchou JL, Pichoir F (1984) A new model for quantitative X-ray microanalysis. Part 1. Applications to the analysis of homogeneous samples. Rech Aerospatiale 3:11–38

Santos RV, Clayton RN (1995) Variations of oxygen and carbon isotopes in carbonatites: a study of Brazilian alkaline complexes. Geochim Cosmochim Ac 59:1339–1352. https://doi.org/10.1016/0016-7037(95)00048-5

Scott Smith BH, Danchin RV, Harris JW, Stracke KJ (1984) Kimberlites near Orroroo, South Australia. 3rd Int Kimberl Conf 1:121–142

Sheppard SMF, Dawson JB (1975) Hydrogen, carbon and oxygen isotope studies of megacryst and matrix minerals from lesothan and South African kimberlites. Pergamon Press Ltd, Oxford

Shilobreeva S, Martinez I, Busigny V et al (1256D) Insights into C and H storage in the altered oceanic crust: results from ODP/IODP Hole 1256D. Geochim Cosmochim Ac 75:2237–2255. https://doi.org/10.1016/j.gca.2010.11.027

Smith CB (1983) Pb, Sr and Nd isotopic evidence for sources of southern African Cretaceous kimberlites. Nature 304:51–54. https://doi.org/10.1038/304051a0

Sobolev NV, Schertl H, Neuser RD et al (2017) Formation and evolution of hypabyssal kimberlites from the Siberian craton: Part 1—New insights from cathodoluminescence of the carbonates. J Asian Earth Sci 145B:670–678. https://doi.org/10.1016/j.jseaes.2017.06.009

Soltys A, Giuliani A, Phillips D (2018) A new approach to reconstructing the composition and evolution of kimberlite melts: a case study of the archetypal Bultfontein kimberlite (Kimberley, South Africa). Lithos 304–307:1–15. https://doi.org/10.1016/j.lithos.2018.01.027

Tang GQ, Li XH, Li QL et al (2015) Deciphering the physical mechanism of the topography effect for oxygen isotope measurements using a Cameca IMS-1280 SIMS. J Anal Atom Spectrom 30:950–956. https://doi.org/10.1039/c4ja00458b

Tappe S, Kjarsgaard BA, Kurszlaukis S et al (2014) Petrology and Nd–Hf isotope geochemistry of the Neoproterozoic Amon Kimberlite Sills, Baffin Island (Canada): evidence for deep mantle magmatic activity linked to supercontinent cycles. J Petrol 55:2003–2042

Tappe S, Brand NB, Stracke A et al (2017a) Plates or plumes in the origin of kimberlites : U/Pb perovskite and Sr–Nd–Hf–Os–C–O isotope constraints from the Superior craton (Canada). Chem Geol 455:57–83. https://doi.org/10.1016/j.chemgeo.2016.08.019

Tappe S, Romer RL, Stracke A et al (2017b) Sources and mobility of carbonate melts beneath cratons, with implications for deep carbon cycling, metasomatism and rift initiation. Earth Planet Sc Lett 466:152–167. https://doi.org/10.1016/j.epsl.2017.03.011

Taylor HP, Frechen J, Degens ET (1967) Oxygen and carbon isotope studies of carbonatites from the Laacher See District, West Germany and the Alnö District, Sweden. Geochim Cosmochim Ac 31:407–430. https://doi.org/10.1016/0016-7037(67)90051-8

Van Achterbergh E, Ryan CG, Jackson SE, Griffin WL (2001) Data reduction software for LA–ICP–MS: Appendix 3. In: Sylvester PJ (ed) LA–ICP–MS in the earth sciences. Short course, vol 29. Mineralogical Association of Canada, Québec, pp 239–243

Watanabe Y, Naraoka H, Wronkiewicz DJ et al (1997) Carbon, nitrogen, and sulfur geochemistry of Archean and Proterozoic shales from the Kaapvaal Craton, South Africa. Geochim Cosmochim Ac 61:3441–3459. https://doi.org/10.1016/S0016-7037(97)00164-6

Wilson MR, Kjarsgaard BA, Taylor B (2007) Stable isotope composition of magmatic and deuteric carbonate phases in hypabyssal kimberlite, Lac de Gras field, Northwest Territories, Canada. Chem Geol 242:438–457. https://doi.org/10.1016/j.chemgeo.2007.05.002

Woodhead J, Hergt J, Phillips D, Paton C (2009) African kimberlites revisited: In situ Sr-isotope analysis of groundmass perovskite. Lithos 112:311–317. https://doi.org/10.1016/j.lithos.2009.03.031

Woodhead J, Hergt J, Giuliani A et al (2019) Kimberlites reveal 2.5-billion-year evolution of a deep, isolated mantle reservoir. Nature 573:578–581. https://doi.org/10.1038/s41586-019-1574-8

Wu FY, Yang YH, Mitchell RH et al (2010) In situ U–Pb age determination and Nd isotopic analysis of perovskites from kimberlites in southern Africa and Somerset Island, Canada. Lithos 115:205–222

Zurevinski SE, Mitchell RH (2011) Highly evolved hypabyssal kimberlite sills from Wemindji, Quebec, Canada: insights into the process of flow differentiation in kimberlite magmas. Contrib Mineral Petr 161:765–776. https://doi.org/10.1007/s00410-010-0561-8
Acknowledgements
We would like to thank Jock Robey for invaluable support during field work in the Kimberley area, the De Beers group for providing access to the Benfontein Farm, and Ashton Soltys and Manal Bebbington for their help with sample selection and preparation. The authors also wish to acknowledge Juan Diego Martín, Xavier Llovet, and Eva Prats for their assistance with the CL system, EMPA, and SEM analysis at the Serveis Científico-Tècnics (UB); as well as Yoann Gréau, Sarah Gain, Rosanna Murphy, Yi-Jen Lai, and Hadrien Henry for their help with the SEM, LA-ICP-MS, and LA-MC-ICP-MS analysis at Macquarie University GeoAnalytical (MQGA, formerly GAU). We would also like to thank Etienne Deloule, Johan Villeneuve, and David Madre for their help with the SIMS analysis at Centre de Recherches Pétrographiques et Géochimiques (CRPG) in Nancy (France); as well as Hongxia Ma, Xiaoxiao Ling, Jiao Li, Yu Liu, and Guoqiang Tang at the Institute of Geology and Geophysics, Chinese Academy of Sciences in Beijing (China). This research was supported by the Australian Research Council (Discovery Early Career Researcher Award to AG; Grant no. DE-150100009); the Swiss National Science Foundation (Ambizione fellowship to AG; Grant no. PZ00P2_180126/1); the European Science Foundation—Europlanet 2020 Consortium (Project no. 16-EPN2-017); as well as funds from the ARC Centre of Excellence for Core to Crust Fluid Systems (CE110001017). This study used instrumentation funded by ARC Linkage Infrastructure, Equipment and Facilities (LIEF) and Department of Education, Science and Training (DEST) Systemic Infrastructure Grants, Macquarie University, National Collaborative Research Infrastructure Scheme (NCRIS) AuScope and Industry. This is contribution 1421 from the ARC Centre of Excellence for Core to Crust Fluid Systems (CCFS) and 1364 in the ARC National Key Centre for Geochemical Evolution and Metallogeny of Continents (GEMOC). Careful editorial handling by Daniela Rubato, and comments by Sebastian Tappe and an anonymous reviewer greatly improved the contents of this manuscript.
Additional information
Publisher's Note
Springer Nature remains neutral with regard to jurisdictional claims in published maps and institutional affiliations.
Communicated by Daniela Rubatto.
Electronic supplementary material
Below is the link to the electronic supplementary material.
About this article
Cite this article
Castillo-Oliver, M., Giuliani, A., Griffin, W.L. et al. New constraints on the source, composition, and post-emplacement modification of kimberlites from in situ C–O–Sr-isotope analyses of carbonates from the Benfontein sills (South Africa). Contrib Mineral Petrol 175, 33 (2020). https://doi.org/10.1007/s00410-020-1662-7
Received:

Accepted:

Published:
Keywords
In situ C–O–Sr isotopes

Primary kimberlitic carbonates

Deep mantle carbon

Petrography

Carbonate petrogenesis

SIMS